Cookie Dough-lympics: Million Layer Chocolate-Rum-Coconut-Guava-Caramel No Bake Cookie Dough Cake
As an Amazon Associate and member of other affiliate programs, I earn from qualifying purchases.
This is a cake that's extravagant, exquisite and unexpectedly easy to make. A million decadent flavors went into this spectacular dessert : a bottomless chocolate crust, cookie dough with choco morsels & marshmallows, coconut flakes, guava paste, butterscotch chips, condensed milk and finally, topped with an extra layer of cookie dough immersed with rum. Yum!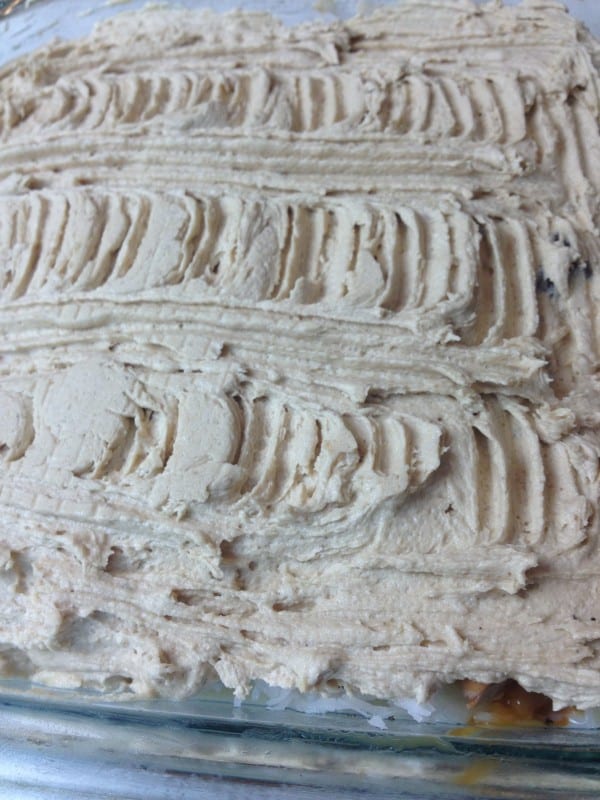 Warning! This is not for the faint of heart. You will simply quiver at the sight, the taste, the aroma of this multi-layered dessert full of flavors you love. The textures range from the smooth, silky, soft to crunchy and slick.
This is a no-holds barred layer upon layer of super sweetness. You may never recover from this food coma. And even better, this is the best dessert you can make for summer or anytime. It is a NO-BAKE CAKE. Yes, you heard right. You can have this entire glob of dessert divinity without ever having to turn on the oven.
And yes, you're allowed to sample each layer, or dip your finger into each level as you make it. After all, this is from the new "Cookie Dough Lover's Cookbook".
First, prepare the bottom crust by crushing 20 chocolate cookies. Yes, just toss it all in.
Second, prepare the first layer of Eggless Chocolate Chip Cookie Dough according to the recipe that follows here.
Start layering every morsel with total abandon.
Refrigerate this magical Million Layer No-Bake Cake overnight. And no need to cast a magic spell, the cake firms up on its own.
The next day, slice and serve some sheer indulgence !
Million Layer Chocolate-Rum-Coconut-Guava-Caramel Cookie Dough Cake
*Adapted from a basic recipe of "The Cookie Dough Lover's Cookbook"
Servings: 6 to 8
First, make this recipe twice:
Eggless Chocolate Chip Cookie Dough
*Makes 1 ½ cups Total time: 15 minutes
½ cup (1 stick) unsalted butter, room temperature
¼ cup granulated sugar
½ cup light brown sugar, packed
2 Tablespoons milk
½ teaspoon vanilla extract
1 ¼ cups all purpose flour
¼ teaspoon salt
½ cup chocolate morsels, for the 1st batch
1/2 cup mini marshmallows, for the 1st batch
2 Tablespoons rum, for the 2nd batch
* In a large bowl, beat butter and sugars with an electric mixer on medium speed until light and fluffy, 2 to 3 minutes. Mix in milk and vanilla. Stir in flour and salt an d mix on low spee until incorporated. Stir in chocolate morsels and mini marshmallows.
* Make a second batch using the same ingredients. For this 2nd layer, omit the vanilla, chocolate morsels and marshmallows, and add the rum.
*Dough can be enjoyed immediately. Or follow the next steps to make the Million Layer Cake.
Million Layer Cake
Ingredients:
2 Recipes Eggless Chocolate Chip Cookie Dough – 1st recipe with ½ cup chocolate morsels and ½ cup mini marshmallows; 2nd recipe with 2 Tablespoons rum
20 pieces chocolate Oreo cookies, with filling, crushed fine
¼ cup melted butter
1 cup coconut flakes
1 cup guava paste, canned
1 can condensed milk
1 cup butterscotch chips
½ cup dulce de leche / milk caramel spread, bottled
Procedure to assemble:
Prepare a glass square pan measuring 8 inches x 8 inches. Mix the melted butter and crushed chocolate Oreo cookies. Press this chocolate crust in the bottom of the pan.
On top of the Oreo cookie crust, place the first recipe of Chocolate Cookie Dough with the chocolate morsels and mini marshmallows. Cover with plastic wrap and refrigerate for 4 to 6 hours or overnight. The next day, pile up the other layers.
Next layer : slice the canned guava paste into thin slivers and place over the cookie dough.
Pour the condensed milk all over.
Layer the coconut flakes, butterscotch chips and drizzle the dulce de leche spread over everything.
Prepare the 2nd batch of Eggless Chocolate Chip Cookie Dough and add 2 Tablespoons of rum. Blend well. Spread as the top layer. Run a sharp fork edge on top to add a textured, decorative look. Cover with plastic wrap. Refrigerate overnight for cake to firm up. Serve chilled or cold. Slice with a cake cutter that has been previously chilled.
*Optional : Add any other layers desired like raisins, M & Ms, nuts, gummy candies, sprinkles or whatever suits your fancy. But always end with the top layer of Eggless Chocolate Cookie Dough to represent the icing for this cake.
Cook's Comments: The canned guava paste, bottled dulce de leche and other ingredients can be found in major supermakets.
Thanks for enjoying my entry to the Cookie Dough-lympics !
Why You Need To Get This ! The Cookie Dough Lover's Cookbook by Lindsay Landis
As the summer rolls in, if you can't stand the heat, turn off the oven and open this new cookie book !
My friends at Quirk Books sent me this glorious new cookie cookbook that has blazed the trail for all cookie cookbooks. Finally, we have recipes where it is legitimate to dip our fingers and take a good licking.
The Cookie Dough Lover's Cookbook: Cookies, Cakes, Candies and More! By "Love and Olive Oil" blogger Lindsay Landis is bakers' book for recipes that contain delicious, eggless, chocolate chip cookie dough that can be used to create a wide assortment of treats.
The Cookie Dough Lover's Cookbook features over 50 recipes. They range from an assortment of cookie and dessert ideas that all start with a basic homemade (and egg free) raw cookie dough. Make some bars, brownies, a crème brulee, macaroons, ice cream sandwiches, doughnuts or even a cake like I did. You're in for a treat because every recipe is a dream! And everything featured is easy to do.
The hard bound, spiral pages start with helpful measurement conversions at the inside book cover. The basic "Eggless Chocolate Chip Cookie Dough" recipe starts the cookie talk rolling. The next pages contain helpful info : key ingredients, equipment, or what happens if you bake it tips.
Recipes are divided into categories : Candy, Cookies and Brownies, Cakes, Custards and Pies, Frozen Treats, Indulgent Breakfasts and Fun Snacks and Party Fare.
Instructions and recipes are easy to follow and well-illustrated. This is definitely the cookbook for any type of baker or foodie. Whether you're just starting out or a baking veteran, you'll find something to love in any page. Best of all, it's a baker's book that's no-bake! Baking was never this easy!
The Cookie Dough Lover's Cookbook
By Lindsay Landis
Published by Quirk Books 18.95 where most books are sold
*Full Disclosure : I was not compensated to review this book. But it's such a great no-bake cookie dough cookbook, that I gladly recommend it for anyone who loves cookie dough or any sweet indulgence.