Domenica's Coffee-Spiked Banana Bread
As an Amazon Associate and member of other affiliate programs, I earn from qualifying purchases.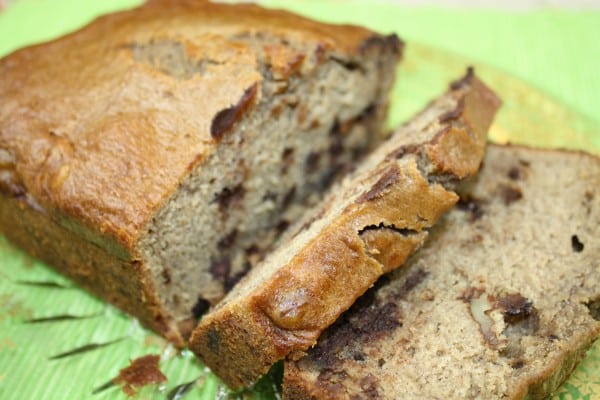 Got lots of leftover, over ripened bananas from the holidays? Family home for a long break after Christmas? Well, the quest to find something easy to bake and enjoyable enough to fill them up is over.
I found the perfect week-after the holidays COFFEE SPIKED BANANA BREAD from wonderful cookbook author, warm and gracious Domenica Marchetti. She posted this on her site a few months ago and I've done it several times since. The fragrant baked banana aroma infused with a hint of coffee seeping through the flavors was irresistable!
Domenica suggests this BANANA BREAD is good served warm, with butter or apple butter and a good beverage to pair it with : "cold milk, of course".
I first met cookbook author Domenica Marchetti at the "Eat Write Retreat" Conference in D.C. last May. Then we saw each other again at the recent NYC Cookie Swap, when she made the trip to join the rest of us food bloggers. Each time is always a treat to run into her. Domenica's kind, sweet and never fails to greet you like an old friend! And of course, her blog posts and recipes are just divine!
Here's Domenica's delish banana bread, a recipe she adapted from Mollie Katzen.
COFFEE-SPIKED BANANA BREAD
*From www.domenicacooks.com , as adapted from The Moosewood Cookbook by Mollie Katzen
4 cups unbleached all purpose flour (may substitute 2 cups unbleached all-purpose flour plus 2 cups whole-wheat flour). Plus more for dusting the loaf pans
1 teaspoon salt
3 teaspoons baking powder
½ teaspoon baking soda
2 teaspoons ground cinnamon
½ teaspoon freshly grated or ground nutmeg
3 ripe bananas mashed
1 cup strongly brewed black coffee
1 and ½ cups vegetable oil
1 and ¾ cups packed light brown sugar
4 large eggs, room temperature
2 teaspoons pure vanilla extract
12 ounces milk chocolate chips
Preheat the oven to 350 degrees. Use some oil to generously grease two 5- by 9-inch loaf pans, then dust them with flour, shaking out any excess.
Whisk together the 4 cups of flour, the salt, baking powder, baking soda, cinnamon and nutmeg in a medium bowl.
Stir together the mashed bananas and coffee in a medium bowl until thoroughly combined.
Combine the 1 and ½ cups of oil and the brown sugar in the bowl of a stand mixer or hand-held electric mixer. Beat on low speed until incorporated. Beat in the eggs, one at a time until well blended, then add the vanilla and almond extracts
Gradually and alternately add the flour mixture and the banana mixture to the beaten egg mixture, beginning and ending with the flour one. Do not overmix, or the batter will be tough. Gently fold in the chocolate chips.
Divide the batter evenly between the two loaf pans, smoothing the surfaces. Bake for 45 to 55 minutes, or until a cake tester inserted into the center of each loaf comes out clean. Transfer the pans to a wire rack to cool for 20 minutes before removing the bread from the pans.
Serve warm.
DOMENICA'S SUGGESTION : Make ahead. Serve one fresh and let the other cool completely, then wrap it tightly in aluminum foil, seal it in a resealable plastic food storage bag and freeze it for up to 3 months.
COOK'S COMMENTS: I did as Domenica suggested. But the banana bread loaves were so good, my family ate them all up. So there was nothing left to freeze!
*I found this Coffee-Spiked Banana Bread Recipe and other terrific recipes on her blog DOMENICA COOKS.