Beef Pochero-Spanish Stew in Tomato Sauce
As an Amazon Associate and member of other affiliate programs, I earn from qualifying purchases.
]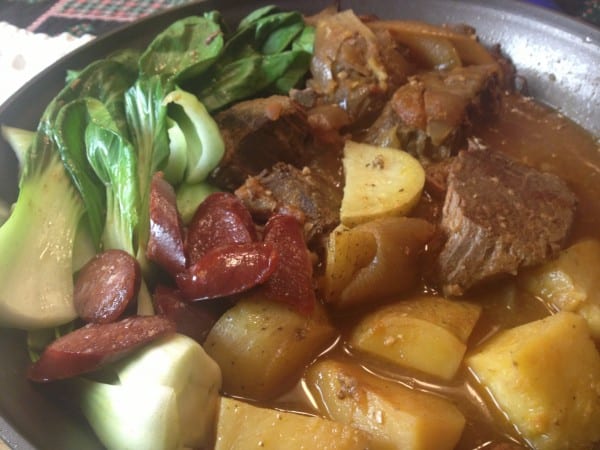 Today is the first day of fall here in America. The days will soon start to get chilly so I'm going to take out the large cauldrons, deep stockpots and the slow cooker for making all those hearty stews. One of my favorites is Beef Pochero. It is an all-in-one meal that brings the family together for so many reasons.
I relished Sunday big lunches after church which my parents made a tradition at our home when we were kids. The center of it all was a big meal and often Mom made a lavish Beef Pochero with all the trimmings. There were tender, succulent beef chunks and savory Spanish chorizos simmered in a tomato sauce-based stew. It was a complete meal that was a crowd pleaser because there was something in it for everyone. I used to enjoy scooping out lots of the sweet tomato sauce gravy and pouring it on the fragrant steamed white rice on my plate.
Mom always served Pochero with sides of a garlicky eggplant salad flavored with tangy vinegar and sweet boiled banana plantains or 'saging saba' as it's known in the Philippines.
It wasn't Sunday if there was no Pochero at our home. Nowadays, when I cook this scrumptious stew for my own family, it is as though I am in the loving embrace of my parents, who unconditionally cared for us, soothed and calmed our spirits.
This week my complete recipe of Beef Pochero is featured on 'The Happy Home Cook' section of Positively Filipino, the premiere online magazine enjoyed by millions of readers globally. My recipe version is below.
Beef Pochero - Spanish Stew in Tomato Sauce
This Beef Pochero is a classic Filipino stew, which is an all-in-one meal for family get-togethers .Every ingredient in this hearty tomato sauce-based stew. Hefty yet tender beef chunks are nestled next to spicy Spanish chorizos. The vegetables are half of the stew and there's a complete array of cabbages, green beans, potatoes, carrots and more. Liven up this stew with sides of an eggplant salad flavored with garlic and vinegar and sweet boiled banana plantains. It is indulgent, yet so simple and easy to do. This is an Asian in America recipe by Elizabeth Ann Quirino and serves 4 to 6.
Equipment
Large stockpot or Dutch oven
Ingredients
4

pounds

boneless beef stew cubes

1

Tablespoon

Worcestershire sauce

6

cloves

garlic,

peeled, minced

1

whole

large onion

sliced

1

cup

chopped celery

chopped celery

1

cup

tomato sauce

3/4

cup

tomato paste

6 to 8

cups

beef broth

1

teaspoon

salt

1

teaspoon

ground black pepper

2

pieces (6 oz. each)

Spanish chorizos, sliced

4

whole

medium-sized potatoes

peeled, quartered

1

whole

large carrot

peeled, sliced

1

cup

green beans

sliced into 2-inch length pieces

2

cups

coarsely sliced Bok Choy or Chinese Pechay

sliced into 2-inch pieces

2

stalks

scallions

sliced

6

whole

saging saba (plantains)

peeled, boiled

for serving : boiled rice
Instructions
Pre-marinate the beef pieces in the Worcestershire sauce. Cover with plastic wrap and refrigerate for at least 30 minutes to an hour or even overnight.

In a heavy stock pot, over medium high heat, add the vegetable oil and saute the garlic, onions and celery. Pan fry the Spanish chorizo slices for 1 to 2 minutes to flavor the oil, then remove the chorizos and set aside.

Add the beef chunks, and pan sear for about 5 to 8 minutes till beef gets brown.

Add the tomato sauce and paste. Blend in the beef broth and stir well so the tomato sauces are incorporated. Season with salt and pepper. Let the broth boil for 1 to 2 minutes, then lower heat to a slow simmer over a medium to low flame. Cover pot and cook on slow fire till beef chunks are soft and fork-tender for about 2 hours. Keep stirring every 20 to 30 minutes so the ingredients don't stick to the bottom.

In the last 30 minutes of cooking, add the potatoes and carrots. Cook them for about 20 minutes till they soften and blend in the tomato sauce flavors. Add the green beans and let this cook for 8 minutes. Finally add the bok choy and cabbage, which will take 3 to 5 minutes to soften. Add in the chorizos which were pan seared earlier. Garnish with chopped parsley. Serve hot with boiled banana plantains on the side and fragrant jasmine white rice.

Cook's Comments: When I don't have time, I make this dish ahead. I cook the beef cubes a day or two before. I pre-boiled the beef in my slow cooker or 'crock pot', set on 'High' for 6 hours till it was soft and tender. Cooking it stove top in the amount of time suggested in this recipe works well, too. You can add any other seasonal vegetables to this pot of stew and it will be just as wonderful.

Recipe Notes: I buy banana plantains from the Asian grocery and cover them in a brown bag to ripen fully. Then when I cook them, I boil the bananas with the skin on in a pot of water, for about 20 to 25 minutes. Remove the thick skin and serve the boiled bananas as a side to this Beef Pochero.

Hello, Friends! All the images and content on this blog are COPYRIGHT PROTECTED and owned by my media company Besa-Quirino LLC. This means BY LAW you are NOT allowed to copy, scrape, lift, frame, plagiarize or use my photos and  recipe content I wrote, on your website  without my permission. If you want to republish this recipe or content on another website or news article, please ASK my permission, re-write it in your own words and simply link back to this blog to give proper attribution. It's the legal thing to do. Thank you. Email me at [email protected]
Nutrition
Serving:
1
g
|
Calories:
102
kcal
|
Carbohydrates:
18
g
|
Protein:
8
g
|
Fat:
1
g
|
Saturated Fat:
1
g
|
Sodium:
2675
mg
|
Potassium:
1022
mg
|
Fiber:
4
g
|
Sugar:
10
g
|
Vitamin A:
1264
IU
|
Vitamin C:
21
mg
|
Calcium:
74
mg
|
Iron:
3
mg
Notes on Nutrition: The nutrition information provided in the recipe links is an estimate and will vary based on cooking methods and specific brands of ingredients used.
Copyright Notice: Hello, Friends! Please DO NOT LIFT OR PLAGIARIZE my original recipe, stories, photos or videos. All the images and content on this blog are COPYRIGHT PROTECTED and owned by my media company Besa-Quirino LLC. This means BY LAW you are NOT allowed to copy, scrape, lift, frame, plagiarize or use my photos, essays, stories and recipe content on your websites, books, films, television shows, videos, without my permission. If you wish to republish this recipe or content on media outlets mentioned above, please ASK MY PERMISSION, or re-write it in your own words and link back to my blog AsianInAmericaMag.com to give proper attribution. It is the legal thing to do. Thank you. Email me at [email protected]