Arroz Caldo- Chicken and Rice Porridge in Ginger Broth
As an Amazon Associate and member of other affiliate programs, I earn from qualifying purchases.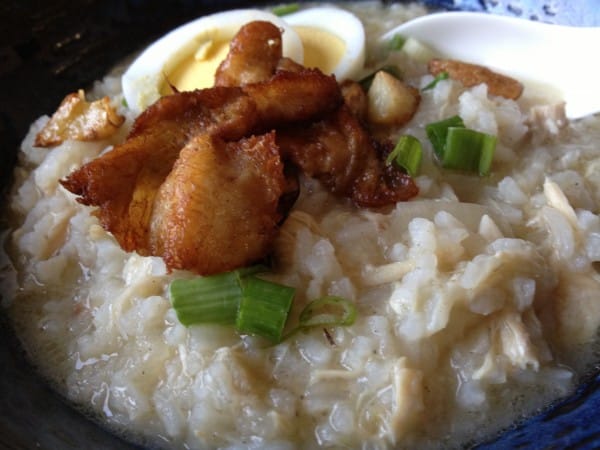 I cooked this delightful bowl of Arroz Caldo inspired by Burnt Lumpia's creator Marvin Gapultos, author of the "The Adobo Road Cookbook". When I started blogging a few years ago, I came across a Filipino food blog called "Burnt Lumpia". The blog Burnt Lumpia is anything but overcooked. In fact, it is one of the best Filipino food blogs there is. Marvin Gapultos offers excellent Philippine recipes from his mother and grandmothers. And now, he has transcended to putting all these in a cookbook.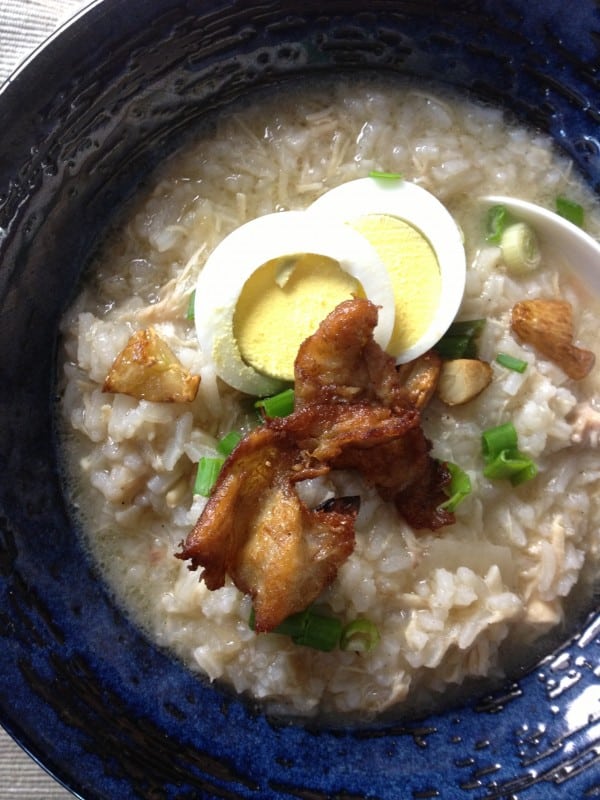 I had the pleasure of interviewing Marvin for an article I wrote which published in the "Food Magazine" December holiday issue (ABS-CBN Publishing Inc.). I asked him about his family and their holiday entrees. "Arroz Caldo" was Marvin's immediate answer to my question about their family's Noche Buena on Christmas Eve. He told me that it was his grandmother's recipe that symbolized their family reunions.
Arroz Caldo is one of the simplest Filipino soup dishes there is. It is a thick rice porridge made flavorful with a chicken-ginger broth simmered with a tasty garlicky and fish sauce goodness in it. A deep, large bowl of this sumptuous rice soup is enough to bring warmth and comfort to anyone. This is an all-weather, any season, all-time, in sickness and in good health kind of soupy chicken meal. I did Marvin's recipe and made sure to add the piece de resistance he recommended ~ crisp, deep-fried chicken skin slivers, topping the big bowl of rice porridge, nestled right next to the garlic bits and scallion slices. Sprinkle some fresh piercingly sweet calamansi (the Filipino lime) all over the bowl, scoop a spoonful of the Arroz Caldo and relish it.
Arroz Caldo - Chicken and Rice Porridge in Ginger Broth
I  enjoyed cooking this Filipino classic Arroz Caldo, Chicken and Rice Porridge in Ginger Broth. It was inspired by a recipe from "The Adobo Road Cookbook" by Marvin Gapultos of 
Burnt Lumpia, a Filipino recipe blog
. It was a pleasure to interview him for the December Holiday issue this year of
"Food Magazine"
(Manila; ABS-CBN Publishing). This is a favorite Philippine chicken- rice porridge  in a ginger broth flavored with fish sauce and enhanced with the limey calamansi. The best part was deep frying the chicken skin for the garnish on this warm, comforting soup meal. This Arroz Caldo recipe was inspired by "The Adobo Road Cookbook" by Marvin Gapultos (Tuttle Publishing) serves about 6 to 8.
Ingredients
2

pounds

chicken cutlets, bone-in, skin-on

1

Tablespoon

vegetable oil

1

teaspoon

salt

1

teaspoon

ground black pepper

4

cloves

fresh garlic

minced

1

whole

large white or yellow onion

sliced thinly

1

knob

fresh ginger

about 3-inches, sliced into thin matchstick sizes

4

Tablespoons

patis (fish sauce)

2

cups

uncooked medium-grain white rice

8

cups (2 liters)

water

1

teaspoon

ground black pepper

2

stalks

scallions

trimmed and sliced thin (for garnish)

2

whole

lemons or calamansi (Filipino lime)

sliced in halves; for sprinkling and garnish

1/4

cup

patis (fish sauce)

additional, for side dipping sauce fish sauce

2

whole

hard-boiled eggs

peeled and sliced, for garnish
Instructions
To use the chicken skin for the topping later, remove the skin from the thighs, legs or other chicken parts. Pull off gently with your fingers, making sure to get large skin pieces. Pat these dry with paper towels and set aside.

Over moderately high heat in a Dutch oven or deep pot, heat the oil. When oil is hot enough, lay the chicken skins flat, with the fat side down into the pot. Use a spatula or flat turner to press on the chicken skins. Brown each side for about 3 to 5 minutes till crispy. Flip the skins over and continue to fry other side. These fry quickly over the medium high heat, so watch them carefully. Transfer the crispy chicken skins to a plate lined with paper towels or parchment paper to drain off oil. Season the skins right away with salt and pepper while draining on towels. Set aside for topping later.

Use the same Dutch oven or deep pot. Pour off the excess oil and leave only 1 tablespoon of fat in the pot. Add the garlic into the hot oil and fry till brown and crisp for about 2 to 3 minutes. Watch the garlic to make sure it does not burn or this will affect the flavor of your soup broth. Remove the browned garlic from pot and drain on another set of paper towels. Set aside to put together on toppings later.

To the same pot, add the onion and ginger. Cook till the onion slices are soft and translucent for 3 to 5 minutes. Add the chicken pieces and fish sauce or Filipino patis to the pot. Stir to combine these ingredients. Cover the pot, reduce the heat to moderately low and cook for 5 minutes till the chicken meat turns from pink to white. This is also to release its juices for a flavorful dish.

Uncover the pot and add the uncooked rice, stirring while adding. Keep stirring till rice grains absorb most of the liquid in the pot. Do this for 2 to 3 minutes. Then pour the water into the pot. Raise the heat to a high and bring the rice and chicken mixture to a boil. The broth will boil in about 5 to 8 minutes. When it starts to boil, reduce the heat to a moderately low. Simmer uncovered for 20 minutes. Stir occasionally to keep rice from sticking in the bottom.

The chicken thighs and pieces should have cooked by now. Remove them from the pot and set aside to cool. When cool enough shred the chicken meat from the bones. Discard the bones. Return back the shredded chicken meat into the pot with the simmering rice. Add 1 teaspoon of black pepper.

Author's recipe notes: Marvin said in the cookbook " the porridge will thicken as the rice cooks and absorbs liquid. If the porridge becomes too thick after 30 minutes of simmering, more water can be added. If the porridge isn't thick enough, continue simmering until it reaches the desired consistency."

When the Arroz Caldo porridge is done, spoon it into individual bowls. Garnish each bowl with the crispy chicken cracklings, fried garlic and green onions.

Serve each Arroz Caldo bowl with a spritz of calamansi (the Philippine lime) or else with lemon. Sprinkle more fish sauce if needed, according to taste. Garnish with slices of hard boiled eggs ~ this was my personal preference.

Cook's comments : I cooked the Arroz Caldo on a cold winter day here on the east coast. To keep it warm, once cooked, I transferred all of it in a slow cooker with a 5 to 6 cup capacity, maintaining a Warm setting. Every now and then I stirred the contents to keep the rice from sticking to the bottom. I also set aside the toppings :  crisp chicken cracklings, fried garlic, scallions and hard boiled eggs for adding as we went along.

Ingredients used

: I have posted recipes using the

Calamansi (Filipino lime)

before both for baking and cooking. In the Philippines, it is a backyard produce and can easily be obtained anywhere. In America, you will find the fresh calamansi growing in warmer states. Where I live in the east coast, it is hard to find and expensive. As a substitute, you can use the Meyer lemons, which have the closest sweet citrus flavor to the calamansi.

Copyright Notice:Hello, Friends! All the images and content here are COPYRIGHT PROTECTED. This means BY LAW you are NOT allowed to use my photos or content on your website  without my permission. If you want to republish this recipe, please re-write it in your own words and simply link back to this blog to give proper attribution. It's the legal thing to do. Thank you. Email me at [email protected]
Nutrition
Serving:
1
g
|
Calories:
18
kcal
|
Carbohydrates:
1
g
|
Protein:
1
g
|
Fat:
2
g
|
Saturated Fat:
1
g
|
Cholesterol:
1
mg
|
Sodium:
303
mg
|
Potassium:
8
mg
|
Fiber:
1
g
|
Sugar:
1
g
|
Vitamin A:
30
IU
|
Vitamin C:
1
mg
|
Calcium:
9
mg
|
Iron:
1
mg
Nutrition Notes: The nutrition information provided is an estimate and will vary based on cooking methods and brands of ingredients used.