Beef Salpicado de Solomillo or Beef Salpicao
As an Amazon Associate and member of other affiliate programs, I earn from qualifying purchases.
[amazon_link asins='B01726HD72,B000RYFQ44,B00KPX4ICI,B00PKKJ09M,B00HEZ888K,B01IZ41K5G' template='ProductCarousel' store='queensnotcom-20′ marketplace='US' link_id='eaaf88dc-e6c8-11e8-a272-af7495eee7c1′]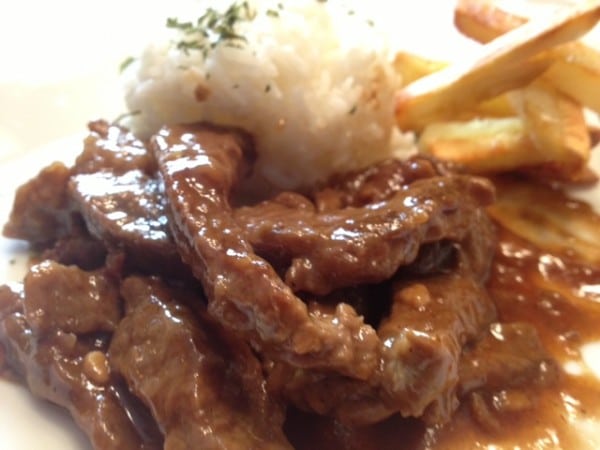 Meeting Nina brought back images from the past. Like coming home to the aroma of a sizzling Beef Salpicado dish mom cooked. Slow life in a small hometown. Classes at a Catholic girls' school. Friends I grew up with. My parents reading with pride my report card. So many memories that molded me into what I have become today.
As I prepared the beef slices for this easy Beef Salpicao dinner, I thought of the Nina I knew from years ago. She was one of those well-known people in our home town. She was a few grades older than me. She was pretty, popular and an active student leader in high school. I used to watch them during assemblies, on stage giving speeches, eloquent and confident. I was an awkward adolescent then and I envied their ability to shine. I wanted to be just like Nina and her accomplished classmates.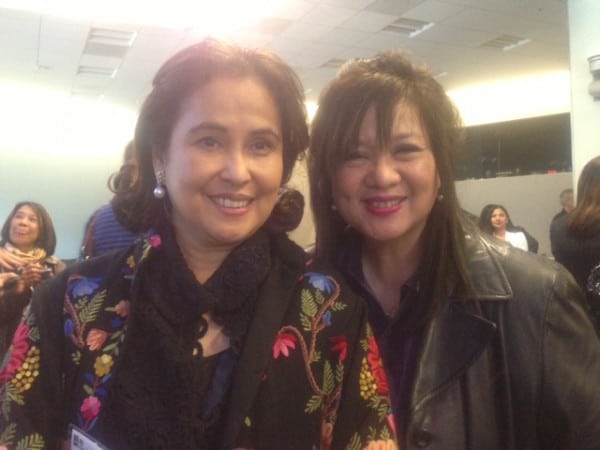 (With Nina Datu Aguas, after her keynote speech at the Filipina Women's Network Leadership Summit, San Francisco, California).
Many years and a lifetime later, we met again. Nina Datu Aguas was now a high powered global bank executive. Far from our hometown, we were together in San Francisco, California. We were fellow awardees at the Filipina Women's Network "100 Most Influential Filipina Women in the World". On the FWN program, I read that Nina Aguas was now the PBCom President and CEO in the Philippines. I was certain Nina would not remember me. She was famous, after all. She still is. Nina was busy shuffling papers and reading notes to her keynote speech.
Tentatively, I approached her at the hotel lobby while we waited to board the shuttle to our summit.
"Hi. I'm from Tarlac, too," I said as I went on to tell her we had gone to the same school since elementary, College of the Holy Spirit.
Nina looked up from her notes, and flashed a smile that brightened the room. She was warm, convivial and friendly. She still exuded the confidence and polish I remembered, but even better. She was and always will be a winner in my book. Later after the gala awards night and back in my home here in Jersey, I could not resist writing a profile on Nina. She inspires – that's what she does best.
I went back to my home and my kitchen feeling energized. Cooking and caring for my family was what I do best. As Filipinas, we are taught early on that our role is to keep the household running smoothly, so that our children can excel . One of the best ways to fuel our family is to serve them good food. This Salpicado de Solomillo was a dish my mom used to make for special occasions. Beef was an expensive ingredient in the Philippines. Mom taught me to cook it well. Our town's beef butcher only had good cuts available on Tuesdays and Saturdays back then. I can cook this dish now with my eyes closed, easily from memory.
.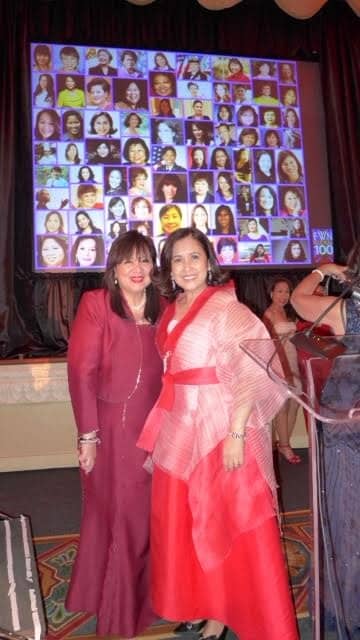 (With Nina Aguas, my fellow awardee at the Filipina Women's Network "100 Most Influential Filipina Women in the World", FWN Gala Awards, San Francisco, CA).
I'm making this Beef Salpicado for the holidays. My family will wolf it down in a sitting. But while they do, I'll tell them about meeting Nina, now an influential global bank executive. I'll share with them the profile I wrote about her. And I'll tell my sons about the lessons she taught me :
" Make the best of every situation you are presented. You can influence your circumstances and challenge destiny. Be strong, persevere and follow your dreams." (Nina Aguas shared this in an interview for PositivelyFilipino.com)
Read the rest of my inspiring story "Nina Aguas: Woman of Influence" on PositivelyFilipino.com. It will empower you!
Beef Salpicado de Solomillo - Beef Salpicao
Beef Salpicao or Salpicado de Solomillo is a Filipino dish, of Spanish origin, that can be served as an appetizer or entrée. My mom loved making this for us on holidays. She used to say in Spanish "Vamos a tener Salpicado de Solomillo esta noche." (We are having Salpicado de Solomillo tonight). In Spanish, the term 'salpicar' means to sprinkle. 'Solomillo' is Spanish for 'sirloin'. In this incredibly easy recipe, these beef tenderloin strips were sprinkled with the right amount of seasonings and plenty of garlic. When cooked, the seared beef strips are salty with a hint of sweetness from the wine, succulent from the seasonings and addictive with all the crisp garlic sprinkled on it. Some restaurants in Manila serve these beef pieces cubed. I sliced the beef thinly to pair up with the pan fried potato strips. This recipe was adapted from The Alba Cookbook by Senor Anastacio de Alba and Miguel Alba (edited by Nancy Reyes Lumen, book design by Ige Ramos). This recipe serves 4.
Equipment
Large Skillet: 12 inches in diameter
Ingredients
1

pound

beef sirloin

sliced thin in 2-inch strips (or tenderloin, skirt steak, flank)

4

Tablespoons

extra virgin olive oil

divided, use 2 Tablespoons for skillet to pan fry beef e

1/4

cup

red or white wine,

divided, use 2 Tablespoons for sauce in skillet

2

Tablespoons

mustard

2

Tablespoons

Worcestershire Sauce

divided, use 1 Tablespoon for marinade

2

teaspoons

salt

use 1 teaspoon for marinade

2

teaspoons

ground black pepper

use 1 teaspoon for marinade

2

Tablespoons

butter

6 to 8

cloves

garlic

chopped

1/2

cup

homemade or store bought beef gravy

3

whole

potatoes

peeled, sliced in 2-inch strips same as beef

2

teaspoons

salt

divided, use 1 teaspoon for water to soak potatoes

1

teaspoon

ground black pepper

for potatoes

1/4

cup

vegetable oil

for potatoes

for serving: steamed white rice
Instructions
In a medium sized bowl, marinate the beef strips in olive oil, wine, mustard, worcestershire sauce, salt,  pepper. Cover with a plastic wrap and refrigerate for at least an hour.

Over medium heat, add oil combined with butter to a grill pan (a skillet that has grilled ridges in it) or a shallow skillet. Pan fry the beef pieces and move them around to flavor the skillet – for about 1 to 2 minutes till the beef turns brown. Remove beef from the skillet and set aside.

Using the same grill pan, saute the garlic till brown for about 2 to 3 minutes (be careful not to burn garlic). Remove the garlic, set aside to add later. Add the Worcestershire sauce, gravy and wine to the skillet. Season with sea salt and freshly ground black pepper powder.

Add the steak strips back in and blend well with the sauce. Cook the beef strips for 2 to 3 minutes more to have a medium rare result; for 5 to 8 minutes if well done is desired.

Garnish with the crisp garlic. Serve with pan fried potato strips. Serve with jasmine white rice if desired.

To make potato strips: Peel and slice potatoes in 2-inch long strips. Soak in water with salt for at least 30 minutes. Drain water. Pat potato strips dry with paper towels. Over medium high heat, in a medium skillet add the cooking oil. Oil must be hot to about 350 F degrees. It will take about 3 to 5 minutes over medium high heat for the oil to get hot enough. Add the potato strips, a few at a time. Pan fry potatoes for about 8 to 10 minutes, turning them over to brown evenly. When cooked, place on parchment paper to remove excess oil. Sprinkle with sea salt.

Cook's comments: In the cookbook recipe, Senor Alba grilled the beef cubes "according to desired doneness" before adding to the pan where the sauce is cooking. If you prefer to grill the beef for this Salpicado de Solomillo dish, here's a suggested guide to the amount of time needed to cook the beef. Preheat the outdoor grill to a medium-high.  Grill beef slices on the middle racks of an outdoor grill over medium-high heat. For rare - 2 to 3 minutes per side; medium 3 to 4 minutes per side; well done 7 to 8 minutes per side. Note: these instructions vary depending on the type of grill.
Hello, Friends! All the images and content here are COPYRIGHT PROTECTED. This means BY LAW you are NOT allowed to use my photos or content on your website  without my permission. If you want to republish this recipe, please re-write it in your own words and simply link back to this blog to give proper attribution. It's the legal thing to do. Thank you.
Nutrition
Serving:
1
g
|
Calories:
452
kcal
|
Carbohydrates:
5
g
|
Protein:
25
g
|
Fat:
37
g
|
Saturated Fat:
18
g
|
Cholesterol:
77
mg
|
Sodium:
2611
mg
|
Potassium:
492
mg
|
Fiber:
1
g
|
Sugar:
1
g
|
Vitamin A:
175
IU
|
Vitamin C:
3
mg
|
Calcium:
49
mg
|
Iron:
3
mg
Notes on Nutrition: The nutrition information provided is an estimate and will vary based on cooking methods and specific brands of ingredients used.
Did you like this recipe?I have more Filipino Instant Pot recipes in my newest cookbook Instant Filipino Recipes: My Mother's Traditional Philippine Cooking in A Multicooker Pot by Elizabeth Ann Besa-Quirino. I also have more classic recipes inspired by my mother's cooking in my popular cookbook: My Mother's Philippine Recipes. If you're learning how to cook Filipino food or a fan of Philippine cuisine, buy my cookbooks and books on Amazon.com sold worldwide in paperback and Kindle format.
Copyright Notice: Hello, Friends! Please DO NOT LIFT OR PLAGIARIZE my original recipe, stories, photos or videos. All the images and content on this blog are COPYRIGHT PROTECTED and owned by my media company Besa-Quirino LLC. This means BY LAW you are NOT allowed to copy, scrape, lift, frame, plagiarize or use my photos, essays, stories and recipe content on your websites, books, films, television shows, videos, without my permission. If you wish to republish this recipe or content on media outlets mentioned above, please ASK MY PERMISSION, or re-write it in your own words and link back to my blog AsianInAmericaMag.com to give proper attribution. It is the legal thing to do. Thank you. Email me at [email protected]