Corned Beef Lumpia
As an Amazon Associate and member of other affiliate programs, I earn from qualifying purchases.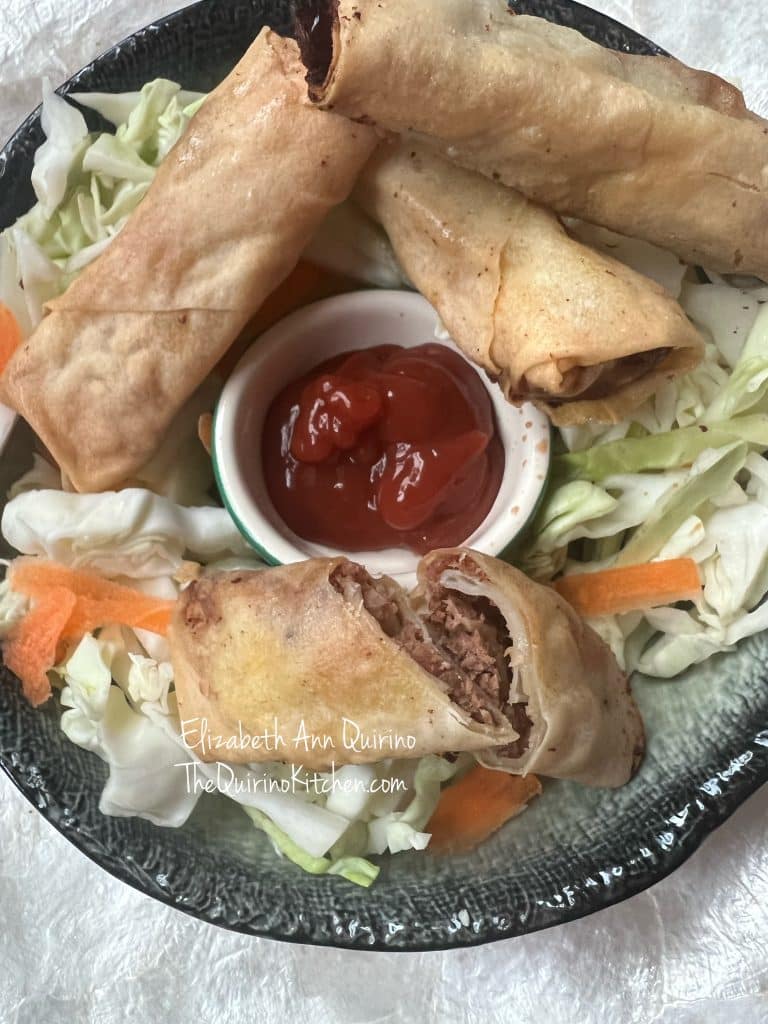 We had leftover corned beef guisado so I transformed that into a platter of crunchy Corned Beef Lumpia.
Like most Filipinos, I reach for that staple rectangular can of corned beef from my pantry when I have no dinner ready. Nothing else is as superb as corned beef guisado (sauteed) with cubes of potatoes, sliced tomatoes and onions. The shredded beef, which looks like pulled pork, is a savory combination with the wholesome potatoes. I toss in the tomatoes to tone down the somewhat saltiness of the minced canned meat.
Canned corned beef was supposedly invented by the British as a way to preserve and export Ireland's cattle in the early 19th century. The appeal of the canned meat has stayed on for so long, and has fed so many, in various ways.
But to Filipinos, corned beef, sauteed as a hash, is a popular favorite – as breakfast fare with sinangag (garlic rice), eggs, and sliced tomatoes. The canned corn beef are also regular goodies which are packed in those balikbayan boxes sent to relatives in the Philippines. It also makes for great pasalubong (gifts from travel) when we go back to Manila for family visits. I've loved corned beef since I was a child, when my mom used to buy the imported American brands from the PX stores ( meaning post exchange, for retail stores in military installations) in Angeles City, near Clark Air Force Base. And when I was in college, canned corned beef was part of my survival kit, when I couldn't stand dorm food.
"If you know how to saute anything, you will never go hungry", my mother used to tell me. And I believe if you have a can of corned beef in your pantry, then the possibilities for various meals are unlimited.
How do you cook corned beef into a hash? Start by sauteing the garlic, onions, tomatoes and potatoes together till the latter is soft and the sizzling ingredients are fragrant. Then mix in the corned beef and blend everything. In under ten minutes, you have dinner ready to pair with the newly cooked steamed rice. But I didn't stop there. We had enough corned beef hash leftover for another meal.
So, I took out the lumpia wrappers from the freezer and thawed them to room temperature. I filled each wrap with about 1 ½ tablespoons of corned beef. After brushing on egg wash over the edges, I wrapped the roll tight, like a long, thin burrito. Freezing the logs for at least an hour helped keep them easy to handle. Soon, my skillet was ready with the oil for the deep fry. You only need to add the uncooked lumpia gently in the oil. In about 2 minutes, the wrapper is golden brown and crisp. Lay them on paper towels to remove the grease. Serve with a side of thick, rich banana ketchup for dipping. Bite it. Feel the crunch. You'll wonder why you didn't do this sooner.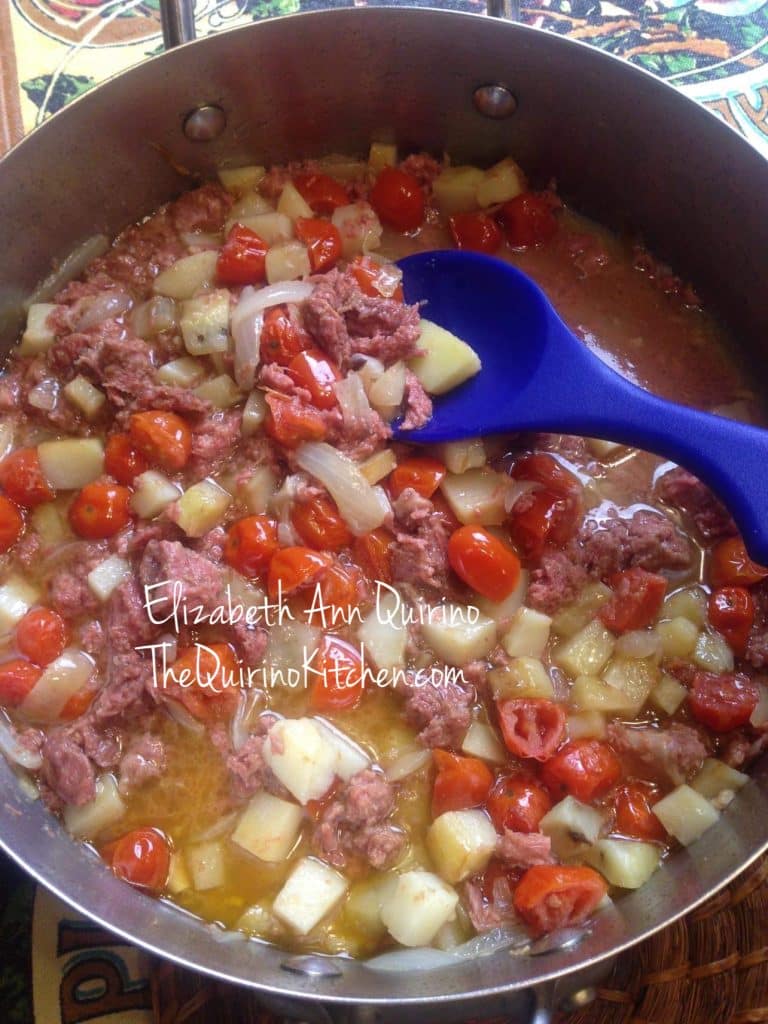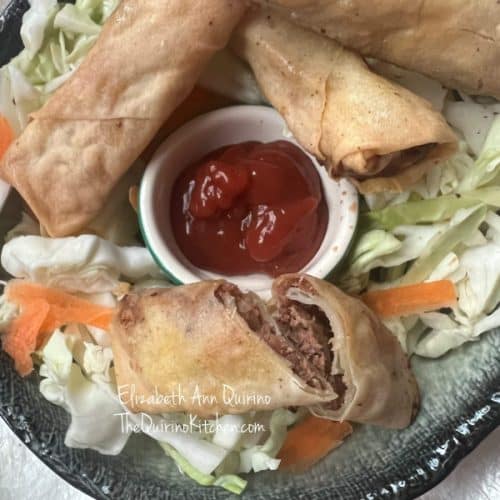 Print Recipe
Corned Beef Lumpia
Transform the Filipino favorite corned beef guisado (hash) into crisp Corned Beef Lumpia, by filling lumpia egg wrappers, then deep-frying the rolls. Serve these crunchy lumpia with banana or tomato ketchup for a side dipping sauce. This is great for appetizers or as a main course served with rice. This is a recipe from The Quirino Kitchen by Elizabeth Ann Quirino.
Equipment
Large Skillet: 12-inches diameter

for saute

Large skillet or Wok: 12 to 14 inches diameter

for deep frying
Ingredients
For Corned Beef Hash
2

Tablespoons

vegetable oil

2

cloves

garlic, minced

1

whole

medium-sized white or yellow onion, chopped

1 to 2

whole

red potatoes, peeled, cubed into 1/2-inch pieces

1

cup

cherry tomatoes, sliced in halves; or 2 tomatoes, chopped

1

can (12 ounces)

corned beef (like Libby's or Hereford)

salt and pepper to taste
For Corned Beef Lumpia
30

pieces

lumpia (egg roll) wrappers; (like a Chinese brand);

at room temperature

1

whole

egg, for egg wash

1/2

cup

water, for egg wash

1

cup

vegetable oil, for deep frying
For serving:
1

cup

banana or tomato ketchup

steamed rice
Instructions
To cook the corned beef hash:
In a large skillet, over medium-high heat, add the oil. When the oil is hot enough, saute the garlic, onions, potatoes. Cook for about 8 to 10 minutes till potatoes are soft.

Add the sliced tomatoes and blend well with ingredients.

Add the corned beef. Incorporate well with the rest of ingredients. Season with salt and black pepper.

Set aside to cool at room temperature, so that it's easy to fill the wrappers.
To prepare and cook the Corned Beef Lumpia:
Make sure the lumpia wrappers are thawed and are at room temperature. *Note : Do not microwave to thaw or else the wraps get glued together.

Separate the lumpia wrappers individually. Set them on a dry, work surface – I like to use a large tray or else a large chopping board for the wrapping area.

In a small bowl, mix together 1 egg and the water, to make the egg wash. Set aside.

Lay one lumpia wrapper on the dry surface. If these are square wrappers, make sure one pointed edge is facing you.

Place 1 1/2 tablespoons of the corned beef hash in the middle of the wrapper, forming a long, thin, horizontal line.

Brush egg wash on the edges of the wrapper.

Fold the wrapper over the filling, to form a large triangle.

Tuck in the left and right sides of the wrapper, so it looks like an envelope.

Roll the wrapper, away from you, forming a long, thin roll. The lumpia roll should be around 4 or 5 inches long, and about 1 to 1 1/2 inches wide.

Set the rolled lumpia on a dry plate or container.

Repeat the process with all the wrappers. Fast freeze the lumpia for 1 hour, so that it is manageable when deep-frying.

After 1 hour, take the lumpias out of the freezer. Give it around 10 minutes to slightly thaw. Separate any lumpia from one another if they got stuck.

In another large skillet or wok, pour the oil. The oil has to be at least 350 F degrees if using a digital or candy thermometer.

Using a slotted spoon, slowly slide in around 4 to 5 pieces of lumpia in the hot oil. Do not overcrowd. Leave room for the lumpia to float freely.

Deep fry the lumpia for 2 to 3 minutes till golden brown and crisp. Flip the lumpia to cook evenly.

Remove the lumpia from the skillet and lay them on paper towels to remove excess grease.

Serve the corned beef lumpia with a side of banana or tomato ketchup as a dipping sauce. Serve while warm and crisp, with rice for a main course.
Cook's comments:
Banana ketchup: You can use bottled banana ketchup or if you have time, you can make your own. I shared my Homemade Banana Ketchup recipe on Simply Recipes – click here. Other brands : I also use the Palm Corned Beef brand in round cans, and they have an 11.5 ounce content. This amount works well with the recipe above.Storage: Freeze uncooked lumpia in air-tight plastic containers or resealable freezer bags for up to 1 month. When ready to serve, remove from freezer, thaw a few minutes and deep fry. You can deep fry the lumpia even if they're still frozen.

If there are leftover cooked lumpia, keep refrigerated for up to 2 days. Reheat in an oven toaster, or pan fry in hot oil for 1 to 2 minutes.
Nutrition
Notes on Nutrition: The nutrition information provided in the recipe links is an estimate and will vary based on cooking methods and specific brands of ingredients used.
Copyright Notice: Hello, Friends! Please DO NOT LIFT OR PLAGIARIZE The Quirino Kitchen recipes on this blog, my original recipes, stories, photos or videos. All the images and content on this blog are COPYRIGHT PROTECTED and owned by my media company Besa-Quirino LLC by Elizabeth Ann Quirino. This means BY LAW you are NOT allowed to copy, scrape, lift, frame, plagiarize or use my photos, essays, stories and recipe content on your websites, books, films, television shows, videos, without my permission. If you wish to republish this recipe or content on media outlets mentioned above, please ASK MY PERMISSION, or re-write it in your own words and link back to my blog TheQuirinoKitchen.com to give proper attribution. It is the legal thing to do. Thank you. Email me at [email protected]