Green Mango Pickles- Filipino Burong Mangga
As an Amazon Associate and member of other affiliate programs, I earn from qualifying purchases.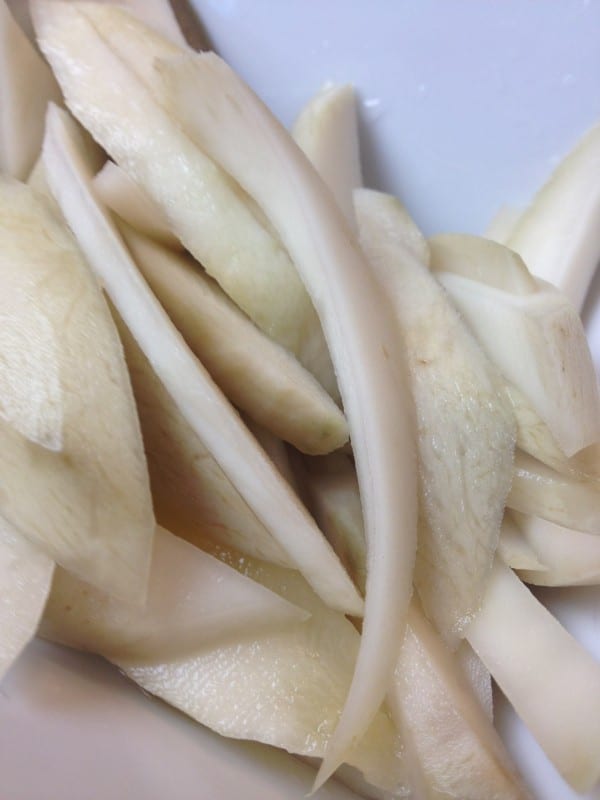 Filipinos love to snack on green mangoes. Those green unripe fruits, sliced open and served with shrimp paste or salt sprinkled on top are the best. Green mangoes are street food in the Philippines. I love unripe mangoes because I can make Green Mango Pickles- Filipino Burong Mangga.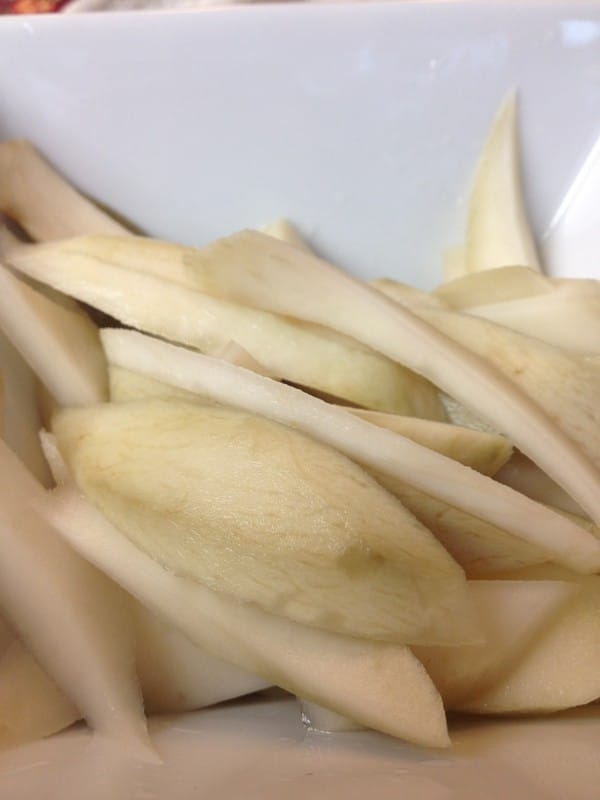 When the mangoes in our yard back in the Philippines, used to just drop on the ground prematurely, my mother rounded them up and gathered us all in the kitchen. I helped peel the dark green skin. Mom sliced them in long slivers. Then, the green slices were soaked overnight in the vinegar-water solution. And, the next day the sweet syrup and jars were made ready. It's that simple.
I tried to recreate making Green Pickled Mangoes here in my American kitchen. It is also known to Filipinos as "Burong Mangga" ( say 'booh-rong man-ga'). As summer and the mango season nears its end, I searched the Asian markets for the greenest ataulfo mango variety I could find. This was the closest to the Manila mangoes I was used to. The green mangoes have to be the greenest, with not a touch of yellow to it. The greener the mango, the more crisp the pickles will be.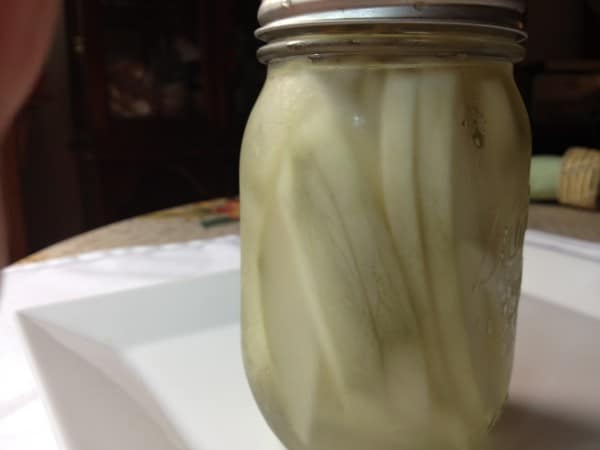 Once the pickling process was done, I had an incredibly delicious side dish to go with any Asian or Filipino entrée I served. Each crisp slice was packed with enough tartness and sourness from the vinegar solution it soaked in. When I bit into the crunchy long sliver, I savored the salty, thick textured slice. As I chomped off the last bite, I was enchanted with a faint sweetness from this amazing well-preserved mango.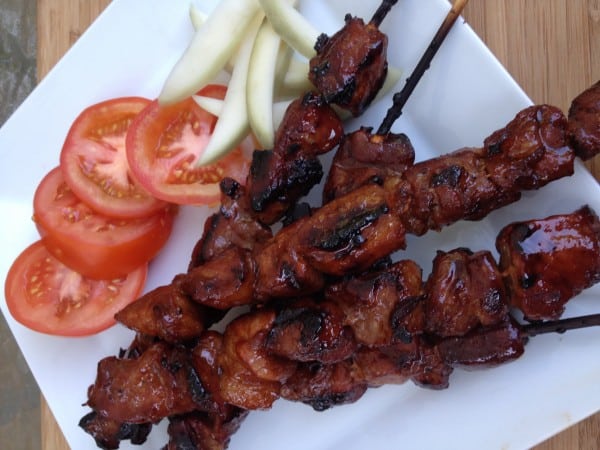 Serve this just like you would any pickle relish – along with grilled meats like this Filipino Pork BBQ, seafood, vegetables or alone. Take a bite of a scrumptious sour and salty slice. Catch the faint fruity scent that reminds you of its sweetness. It is unlike any other pickled fruit you have ever had.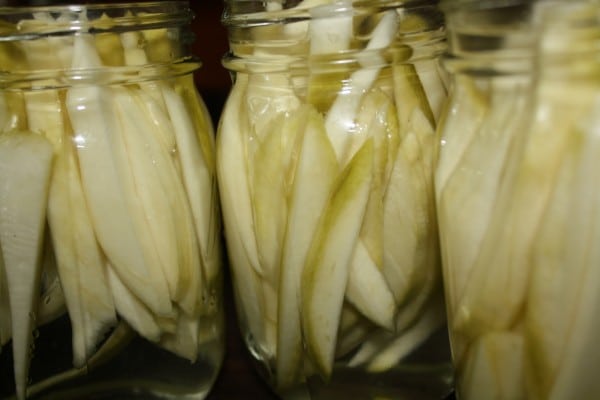 Green Mango Pickles - Filipino Burong Mangga
Green Mango Pickles - Filipino Burong Mangga are tart, crisp green mango pickles in a tangy-sweet syrup. The word 'burong' is Pilipino for preserving or pickling. We made a lot of these green mango pickles during the summer in the Philippines when they were in season and there was a surplus of the unripe fruit. These days, I can find fresh mangoes almost all year round in large supermarkets here in the States. Add these mango pickles as a side to main dishes. This is an Asian In America recipe by Elizabeth Ann Quirino. The recipe below makes 3 to 4 bottles (of 12 ounces each) and keeps for about 3 months in the refrigerator.
Equipment
3 (12 oz. each) or 4 Mason Glass Jars (8 oz. each)
Ingredients
4

whole

large unripe green mangoes

peeled, pitted, sliced in thin 3-inch slivers; no trace of yellow at all

2-3

cups

white distilled vinegar

when mixed with water must be enough to soak and cover the mango slices white distilled vinegar

2-3

cups

water

equal amounts to vinegar, when mixed enough to soak and cover the mango slices

1

Tablespoon

salt

1

cup

granulated sugar

for syrup on day 2

2

cups

water

for syrup on day 2

3 to 4

bottles (8 oz. or 12 oz. each)

mason glass jars

washed, sterilized
Instructions
Day 1: Mix the vinegar, water and salt. Stir the brine well. Soak the mangoes in this brine overnight (at least 10 to 12 hours) in a glass bowl or non-reactive container. The liquid should be enough to cover the mangoes. Cover loosely and set aside. Do not use any utensils that will not work well with vinegar. Day 2: Throw away the brine. Wash mango strips lightly to remove any white residue left from the vinegar. Arrange the mango strips vertically in glass bottles, which have been previously sterilized. Set aside.

To make the syrup: In a heavy medium sized stockpot, combine the sugar and water to make the syrup. Cover the stockpot. Turn up the heat to a medium high. The water and sugar will boil in about 6 minutes. The liquid will be clear colored with a sticky consistency. Remove stock pot from heat and cool the syrup on the counter for at least an hour.  The amount should be enough to cover the mango strips in the bottle.

To assemble pickles: Wash and sterilize the glass jars and caps. Rest the jars on the counter to cool down so they're easy to handle.

Drain and discard the vinegar liquid or brine from the mango slices that soaked overnight. Arrange the mango strips vertically inside the glass mason jars.

When syrup has cooled at room temperature, pour into the jars which have the pickled mangoes. There should be enough syrup to cover the mango slices inside the jars.

Cover and close the jars tightly with the lids.

Storage: Store in refrigerator. Wait at least two days for the pickles' tart and sweet flavors to set in, before eating. These pickles keep for up to 3 months chilled.

Cook's comments: Good side dish for grilled or roasted chicken, pork or fish. I used the Ataulfo mango variety for this recipe. I have also used Mexican mangoes. For best results, use green, unripe mangoes so the pickles have a crisp texture when the process is done.
Copyright:
Hello, Friends! Please DO NOT LIFT OR PLAGIARIZE my original recipe, stories, photos or videos. All the images and content on this blog are COPYRIGHT PROTECTED and owned by my media company Besa-Quirino LLC. This means BY LAW you are NOT allowed to copy, scrape, lift, frame, plagiarize or use my photos, essays, stories and recipe content on your websites, books, films, television shows, videos, without my permission. If you wish to republish this recipe or content on media outlets mentioned above, please ASK MY PERMISSION, or re-write it in your own words and link back to my blog AsianInAmericaMag.com to give proper attribution. It is the legal thing to do. Thank you. Email me at [email protected]


Nutrition
Serving:
1
g
|
Calories:
216
kcal
|
Carbohydrates:
50
g
|
Sodium:
1760
mg
|
Sugar:
50
g
|
Calcium:
15
mg
Notes on Nutrition: The nutrition information provided is an estimate and will vary based on cooking methods and specific brands of ingredients used.
Did you like this recipe? I have more classic recipes inspired by my late mother's cooking in my popular cookbook: My Mother's Philippine Recipes. If you're learning how to cook Filipino food or a fan of Philippine cuisine, buy my cookbooks and books on Amazon.com sold worldwide in paperback and Kindle format.
Copyright Notice: Hello, Friends! Please DO NOT LIFT OR PLAGIARIZE my original recipe, stories, photos or videos. All the images and content on this blog are COPYRIGHT PROTECTED and owned by my media company Besa-Quirino LLC. This means BY LAW you are NOT allowed to copy, scrape, lift, frame, plagiarize or use my photos, essays, stories and recipe content on your websites, books, films, television shows, videos, without my permission. If you wish to republish this recipe or content on media outlets mentioned above, please ASK MY PERMISSION, or re-write it in your own words and link back to my blog AsianInAmericaMag.com to give proper attribution. It is the legal thing to do. Thank you. Email me at [email protected]