Achara: Green Papaya Pickles
As an Amazon Associate and member of other affiliate programs, I earn from qualifying purchases.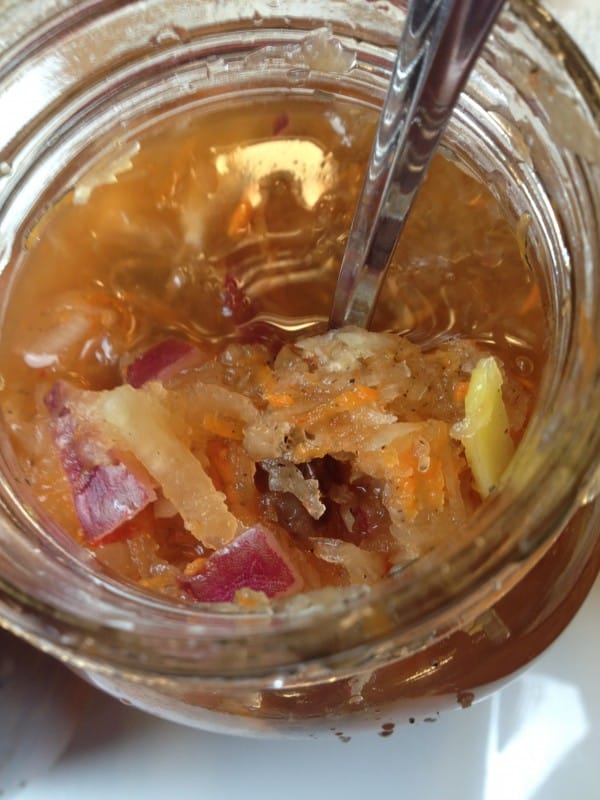 The second day of pickling the Filipino Achara (say 'ah-cha-ra') or Green Papaya Pickles is always the best. The tangy, tart, sweet and slightly spicy flavors are sharp and perky. This is the perfect stage when the sourness of the achara is great for pairing as a relish or side to barbecued or grilled pork, chicken, beef, seafood, vegetables or just anything your tummy desires.
The Filipino achara is made from green papaya. Papayas are a tropical fruit and are abundant in warmer climates. We had an oversupply of papayas from our backyard fruits, growing up in the Philippines. I remember, I used to see unripe, multitudes of green papayas fall to the ground, looking forlorn and abandoned. But not for long. My Mom always had use for anything – whether fruit, or vegetable. Achara, the Filipino pickle relish was always the best thing to do with a green papaya, in mom's opinion. My parents never discarded any produce without first exploring the possibilities with it.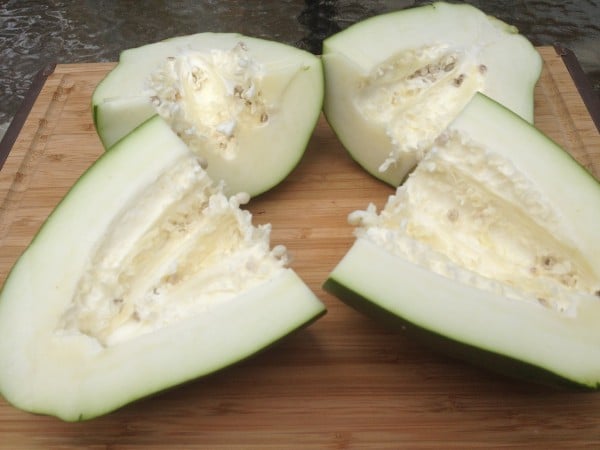 The Filipino achara is not just a pickle relish. It is a great side. In just a few tablespoons you'll find the combined flavors of tart, sweet, salty and spicy. How is this possible? First, start with a green papaya. Once you slice through the tough dark green exterior, you will feel a firm texture and see the insides are even lighter green than the exterior. You'll be curious and try to taste it. Do not be discouraged by the bland, tastelessness. Grab a grater and watch this plain, unripe fruit transform into one of the most spectacular relish sides anywhere in the world.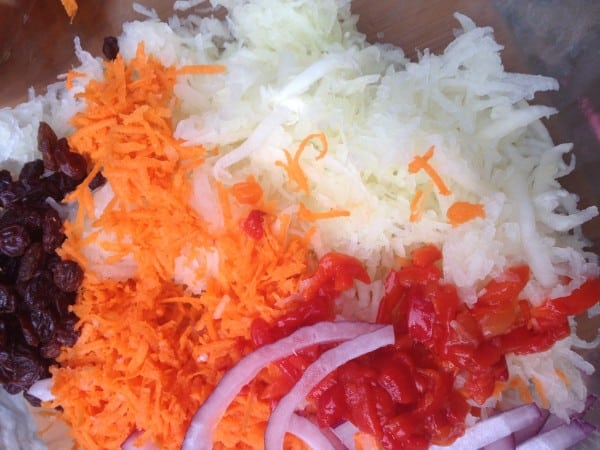 The sharp grater worked overtime for me. The large green papaya yielded an overflowing 3 cups of light green translucent tendrils. Then I peeled and grated the carrots next, in uniform slivers. I mixed it all in together with thinly sliced red onions and red pepper slim strips. I blended them well with a little raisins, then covered the whole thing and kept it in the refrigerator for the next day.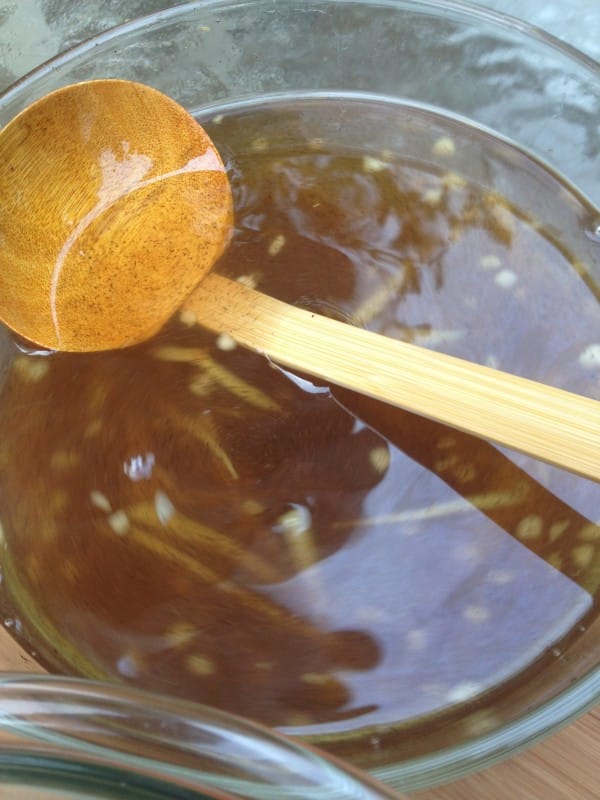 Separately, I boiled the brine. It was a simple solution of rice wine vinegar, sugar, salt, minced garlic, fresh ginger slices, black pepper. The aroma from the boiled solution was sweet. It was an exciting promise of what was to come. Once this vinegar mix cooled, I covered and refrigerated it.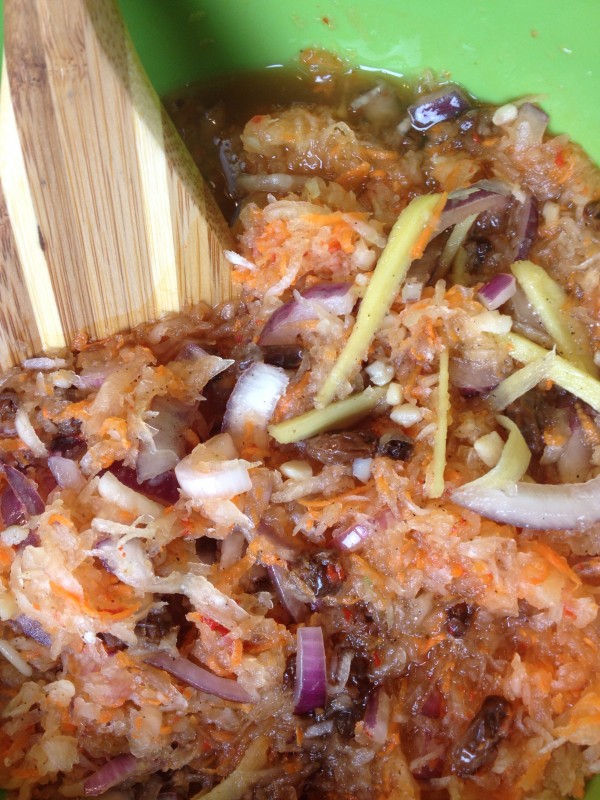 The following day, the strong, heady aroma of onions and vinegar plunged at me when I removed the cover from the green papaya-carrot mix. I squeezed any remaining liquid out of the green papaya solution. Then I took out the refrigerated vinegar mix, blended it all together into the green papaya and finally had my achara. The pre-sterilized mason jars were ready to be filled. I poured the newly made achara into the jars. They looked shiny and gorgeous. Once done, I realized I had made two enormous containers of 16 ounces each. Even if I knew achara tastes better a day or two, or several days after, I couldn't resist a little bite.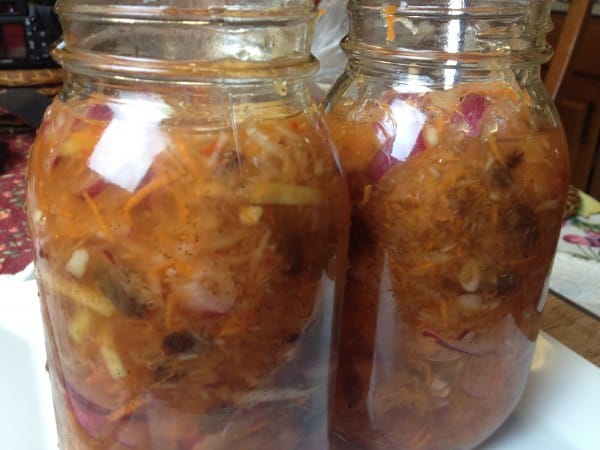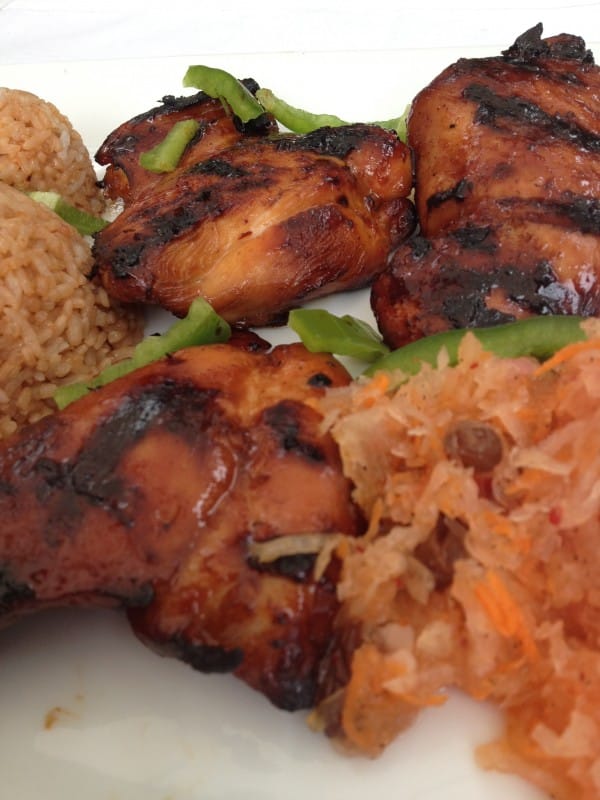 I got a fork, plunged it through the maze of transparent green-orange-red tendrils, even included a raisin waiting by the wayside, and sampled my relish. Aaaaaah, achara ! It was amazing. How did a relish with such spectacular combined savory tastes come from something so ordinary looking, and so unripe? Try a few morsels with anything you grill. Take for example this Filipino Grilled Chicken BBQ. Watch and enjoy the magic of this delightful side relish. You'll always want a couple of tablespoons with any entrée you make from now on! Here are some marvelous recipes you can serve the Filipino Achara with : Inihaw na Baboy : Grilled Pork Shoulder with Garlic Fried Rice , which even the NY Times Diner's Journal mentioned in their "What We're Reading" section: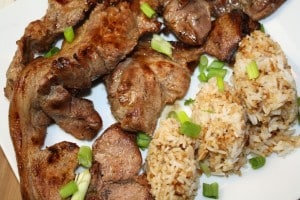 Filipino Pork BBQ Skewers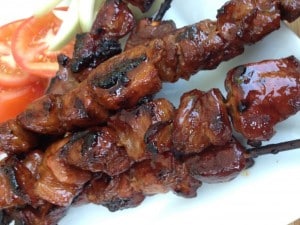 Lechon Sa Hurno : Pork Belly Oven Roasted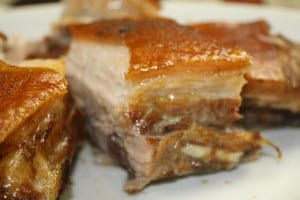 Achara- Green Papaya Pickles
The Filipino Achara-Green Papaya Pickles is the perfect pairing  for anything grilled, fried, roasted meat, seafood or vegetable. Even if it isn't Filipino food you're serving, serve a bowl of achara next to anything and watch everyone enjoy the meal. What makes the achara so special ? The achara is made of very firm, extremely green papayas, carrots, ginger, onions, red peppers, in a brine of rice vinegar, sugar, salt, garlic and peppers.The Filipino achara is not just a pickle relish. It is a great side. In just a few tablespoons you'll find the combined flavors of tart, sweet, salty and spicy. This recipe was inspired by the second edition of  Memories of Philippine Kitchens by Amy Besa and Romy Dorotan. This makes about 2 quarts or 2 large jars.
Equipment
Two mason glass jars (12 ounces each)
Ingredients
4

cups

rice vinegar

1 1/2

cups

sugar

3

Tablespoons

salt

4

cloves

garlic

thinly sliced

1

knob

fresh ginger

about 2-inch piece,peeled, cut into matchstick-sizes

1

teaspoon

ground black pepper

2

pounds

green papaya

peeled, seeded and grated

1

whole

carrot

grated

2

whole

long chile peppers

cored, seeded and thinly sliced

1

whole

red onion

sliced thinly
Instructions
In a large nonreactive saucepan, over high heat, combine the vinegar, sugar, 1 Tablespoon of the salt, the garlic, and ginger. Bring to a boil, stirring to dissolve the sugar and salt.

Reduce the heat to medium-low and simmer until the flavors are well combined, 15 to 20 minutes.

Add the ground black pepper. Cool to room temperature, cover and refrigerate overnight.

In large nonreactive bowl, toss together the papaya, carrots, peppers, and onion with the remaining 2 tablespoons salt. Cover and refrigerate overnight.

Line a colander with a double layer of rinsed cheese-cloth. Place the papaya mixture in the coriander and rinse well under running water. Pull up the ends of the cloth and squeeze to remove excess moisture. As Amy suggested "You may need to do this in two batches".

Transfer the papaya mixture to a bowl and pour enough of the pickling solution over to cover it. (Reserve any excess solution for marinades, dipping sauces, or similar uses.) Achara keeps for up to 6 months stored in an air-tight container in the refrigerator.

COOKBOOK AUTHOR'S NOTE: Look for green (completely green and unripe) papaya in Southeast Asian markets.

*Hello, Friends! Please DO NOT LIFT OR PLAGIARIZE my original recipe. All the images and content on this blog are COPYRIGHT PROTECTED and owned by my media company Besa-Quirino LLC. This means BY LAW you are NOT allowed to copy, scrape, lift, frame, plagiarize or use my photos and  recipe content I wrote, on your website,books, films, television shows or videos  without my permission. If you want to republish this recipe or content on another website, video, news article,or media outlets mentioned above please ASK my permission, re-write it in your own words and simply link back to this blog to give proper attribution. It's the legal thing to do. Thank you. Email me at [email protected]
Nutrition
Serving:
1
g
|
Calories:
440
kcal
|
Carbohydrates:
101
g
|
Protein:
1
g
|
Fat:
1
g
|
Saturated Fat:
1
g
|
Sodium:
5257
mg
|
Potassium:
425
mg
|
Fiber:
4
g
|
Sugar:
93
g
|
Vitamin A:
2195
IU
|
Vitamin C:
139.1
mg
|
Calcium:
69
mg
|
Iron:
0.7
mg
Notes on Nutrition: The nutrition information provided is an estimate and will vary based on cooking methods and specific brands of ingredients used.
Did you like this recipe? I have more classic recipes inspired by my late mother's cooking in my popular cookbook: My Mother's Philippine Recipes. If you're learning how to cook Filipino food or a fan of Philippine cuisine, buy my cookbooks and books on Amazon.com sold worldwide in paperback and Kindle format.
Hello, Friends! Please DO NOT LIFT OR PLAGIARIZE my original recipe, stories, photos or videos. All the images and content on this blog are COPYRIGHT PROTECTED and owned by my media company Besa-Quirino LLC. This means BY LAW you are NOT allowed to copy, scrape, lift, frame, plagiarize or use my photos, essays, stories and recipe content on your websites, books, films, television shows, videos, without my permission. If you wish to republish this recipe or content on media outlets mentioned above, please ASK MY PERMISSION, or re-write it in your own words and link back to my blog AsianInAmericaMag.com to give proper attribution. It is the legal thing to do. Thank you. Email me at [email protected]