Pork Barbecue Filipino Style
As an Amazon Associate and member of other affiliate programs, I earn from qualifying purchases.
[amazon_link asins='B004XESQ32,B000FNFS36,B01EMLS4R8,B00004W499′ template='ProductCarousel' store='queensnotcom-20′ marketplace='US' link_id='2a6859d9-8183-11e7-85f6-d77e6e371a75′]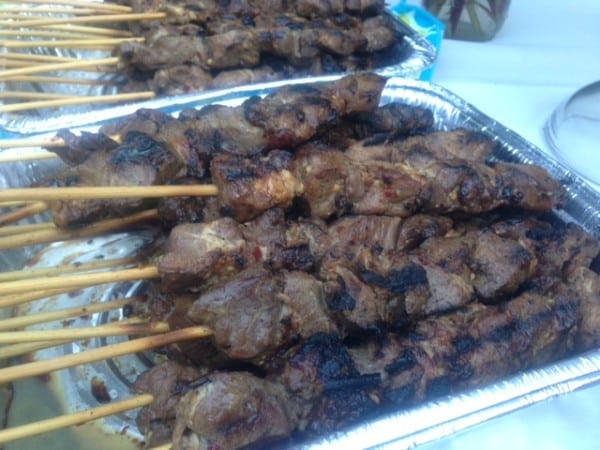 What do you bring to a potluck? What if the attendees are some of the best food bloggers and cookbook authors around? What do you cook for that?
Every year in mid-summer, some 75 food bloggers get together in sprawling Bucks County, Pennsylvania for an event called "The Big Summer Potluck". It is a food bloggers 3-day event of learning through sessions of 3 amazing speakers, lots of food and friendships made. The event starts out with a big welcome dinner at the Anderson's home. Everyone arrives together for dinner on the first night, from the hotel in 2 big yellow school buses. As we piled out of the buses, our potluck dishes in hand, the atmosphere was convivial, the weather as warm as the friendships all around. We were welcomed by Pam Anderson and daughter, Maggy of Three Many Cooks. Together with Erika Pineda of Ivory Hut, Chris and Karen Thornton of The Peche, Rod and Debra Smith of Smith Bites, these folks organized one of the most well attended, best food bloggers meet in these parts.
What did I bring to The Big Potluck? Well, when you feel slightly intimated by the presence of the best culinary talents, the thing to do is to bring your 'signature dishes' or what we call in the Philippines our 'pambato' (say 'pam-bah-to'). This is a dish you have bragging rights to, the one everyone loves and expects you to cook for a party. It doesn't have to be a difficult recipe. All you need is a dish everyone will relish.
I brought 2 top favorite Philippine party dishes : the classic all-time favorite Filipino Pork BBQ Skewers and a platter of crisp Fried Vegetable Lumpia with spicy vinegar dipping sauce. I filled crepe-like egg roll wrappers with a medley of cubed vegetables : potatoes, carrots, green beans, cabbage, onions and deep fried them (See Lumpia/Egg Rolls recipe in next post).
I knew from past experiences, these Pork BBQ skewers and crunchy Vegetable Lumpia would make heads turn. And indeed they did.
What happens at this event? We ate a lot. We laughed with friends. We shared stories. We were inspired by the speakers – Joe Yonan, Jeni Britton Bauer, Jessamyn Rodriguez. We watched the cooking demos by Abby Dodge and Brian Samuels. We learned valuable lessons from folks at WhyHunger, the ShoreSoup Project and the Rodale Institute. We strolled around the farm-like idyllic grounds of the Bucks County Audobon Society barn. We ate nonstop. We sipped everything with perfect wine pairings. We brought home gifts from generous sponsors : Fresh Made Easy, OXO, Kitchen Aid USA, Kerrygold USA, Attune Foods, Sabra, The Wine Sisterhood. Best of all, I even won a signed copy of Joe Yonan's new cookbook "Eat Your Vegetables". Long story short, we enjoyed.
"The day will be filled with demos, talks, and activities, and capped off with a gorgeous sit-down dinner underneath the stars, " was the event's description on The Big Potluck site. How can you not get enticed to go after reading that? So, soon as the tickets were online, I bought mine as fast as I could.
"Why did you go to this 'potluck'?" my sons prodded me. My answer was simple. To learn, to be inspired, to see old friends, make new ones. Best of all, to share what I love at the potluck ~ our Filipino food. I was right. The Pork BBQ skewers and Vegetable Lumpia wowed them.
The next time you get invited, be it the neighborhood block party, a family reunion or any fun event, bring these Pork BBQ skewers. It has always been incredibly popular. Just make this recipe. It will make everyone fall on their knees. If so, you have permission to make it your own "pambato"!
[purerecipe]
Pork Barbecue
One of the most popular party dishes during any Filipino event are these Pork BBQ Skewers. I brought these to "
The Big Summer Potluck
" a 3-day food bloggers conference last weekend. I made sure to marinate the pork pieces well . You can marinate these overnight or several days in the freezer. When ready to cook, thaw the pork at room temperature and put the pieces in skewers. Once cooked, the Pork BBQ will be succulent, sweet and savory, with a shiny gleam to each piece. Your guests will keep coming back for more. This is an AsianInAmericamag.com recipe that evolved from several family sources. This recipe makes about 12 to 14 skewers. (Note : for "The Big Summer Potluck" I tripled this recipe).
Ingredients
2

pounds

sliced in 1-inch cuts, ready to skewer pork shoulder or pork belly

1

teaspoon

finely minced garlic

1/2

cup

soy sauce

1/4

cup

thawed frozen calamansi concentrate, unsweetened, from Asian groceries (or use fresh lemon juice) calamansi juice (the Filipino lime)

1/2

cup

from Asian groceries (or use tomato catsup) banana catsup

8

ounces

or 1 can ginger ale

1/2

cup

brown sugar

1

teaspoon

salt

1

teaspoon

freshly ground black pepper powder

12 to 14,

pre-soak for 20 to 30 minutes before placing skewered meat bamboo skewers
Instructions
Mix the marinade ingredients together in a bowl : minced garlic, soy sauce, calamansi juice (or use lemon), banana catsup (or use tomato catsup),  half of the ginger ale, salt, black pepper. Leave ½ cup of the marinade plus the sugar, aside for the grilling glaze. Pour the rest of the marinade over the pork. Keep in a non-reactive container. Cover with plastic wrap and refrigerate the pork overnight.

The next day, pre-soak the bamboo skewers in water for about 20 minutes. Then skewer the pork pieces into each bamboo stick, allowing approximately 6 to 7 pieces on each one.

Pre-heat the outdoor barbecue grill to a medium high heat. Get ready with the grilling glaze set aside from the day before, add the sugar and remaining ginger ale. Grill the barbecued pork, about 12 minutes on each side while rotating the skewers. Total grilling time should take about 30 minutes. Baste the pork barbecue every few minutes so that it gets moist and shiny.

Cook's Comments: I always add the sugar ingredient in the marinade or glaze just before grilling the meat. This way, the sugar does not crystallize or stay too long on the pork cuts which causes the barbecued meat to harden.

*Recipe Notes: Filipino banana catsup can be found in Asian groceries in the Philippine aisle, or else at online Asian groceries. If you have time, there are recipes for homemade banana catsup. But if you prefer, substitute tomato catsup in this recipe and the results are just as good.

*Cooking Indoors: In the winter months, we shut down the outdoor grill for safety reasons. But this does not stop us from enjoying our Filipino barbecue. To cook indoors, thread the pork slices in pre-soaked bamboo skewers as directed above. Preheat the oven at 375 F degrees. Grease and prepare a shallow baking pan, measuring approximately 9 x 13 inches with a height of not more than 2 inches. Place the grill rack over the shallow pan, which has the horizontal slots across it. Grease the entire grill rack. Place the skewered pork pieces on the grill rack. Position the shallow pan in the center of the oven. Roast in the oven 375 F degrees for 30 minutes, basting occasionally so it has a shiny glaze.