Sinigang na Baboy sa Bayabas and Sampalok – Guavas and Tamarind Stew
As an Amazon Associate and member of other affiliate programs, I earn from qualifying purchases.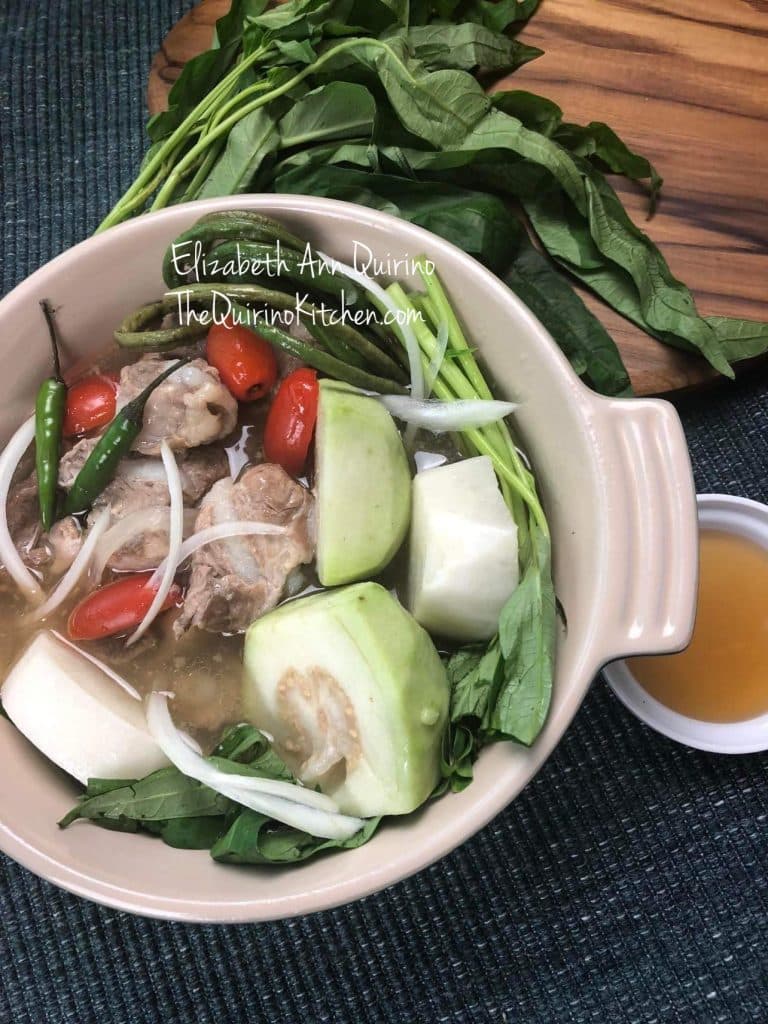 Sinigang is my go-to recipe when I can't think of what to cook for dinner. Sinigang na Bayabas and Sampalok, cooked with guavas and tamarind, is an all-in-one-soup-meal I don't hesitate to cook during the colder months of winter, or even all year round.
Sinigang (say 'see-knee-gang') is the classic Philippine soup meal, cooked in a clear broth that is flavored by souring ingredients like tamarind or citrus fruits. The protein content of the soup is usually meat or seafoods, and a bounty of backyard vegetables are added to the simmering broth.
This was my father's favorite kind of sinigang, flavored with guavas and tamarinds. The fruits grew abundantly in our backyard trees, back when I was growing up. Often, guavas fell to the ground from the trees, in large amounts, faster than we could harvest them. My mother hurriedly cooked with the guavas, making jams, desserts, or whatever concoction she could think of, so as not to waste the fruit.
I often heard our Kapampangan household refer to this kind of Sinigang with guavas as bulanglang, (meaning an assortment of vegetables simmered together), which is what I still call it to this day, even when I'm cooking the soupy meal in my American kitchen.
The ingredients were easy for me to put together after a food shopping trip to the Asian market:
Pork neck bones : are an economical addition to the meatier pork ribs I also use. The neck bones also have enough meat in them to satisfy, and simmering them for a while, whether stovetop or in the Instant Pot pressure cooker gives me a broth that has that depth of flavor, similar to my mom's cooking.
Guavas: are fruits now available almost all year round in Asian groceries. I grew up with guavas in our Philippine home. My father planted several trees in our backyard, and there were different varieties. Guavas are 4 to 12 centimeters long, are round or oval shaped. They have a mildly strong, tropical fruity fragrance, that gets powerful as it ripens. The outer skin is green, and the inner flesh differs according to variety. Some have a bright pink flesh, or some have a creamy white flesh encasing the tiny seeds. If fully ripe, the outer skin turns yellow, and the flavor is sweet. But if unripe, the inner texture is tough, and it tastes slightly bitter and tart, or mapakla, as Filipinos call it.
Tamarind: Also known as sampalok to Filipinos, are fruits which are brown on the outside, are long, pod-like in shape, and contain a sweet, tangy pulp. The unripe, green tamarind, first boiled, then crushed to a pulp, is what I was taught to use for the tartness of sinigang. But since we don'have fresh tamarind here in our American backyard, I use store-bought preserved tamarind pulp, which I melt in piping-hot water.
Assorted vegetables: backyard produce in the Philippines are commonly added to the soupy broth as the meat is simmering. Kangkong (water spinach), labanos (radish), sitaw (long green beans), eggplants, and tomatoes are tossed in. When cooking sinigang, there are no hard and fast rules. You can add or substitute greens and produce in season. I sometimes substitute baby spinach, green beans, and aubergines in place of the Asian vegetables.
Patis (fish sauce): is sprinkled all over the broth to give the soup a savory flavor, and complements the tamarind and green guava's tartness.
One thing is certain though, the more sour and the more tart the sinigang is, and the more you pucker up your face as you sip the spoonful of asim (sourness) in the broth … you can be sure you have just cooked an excellent entrée.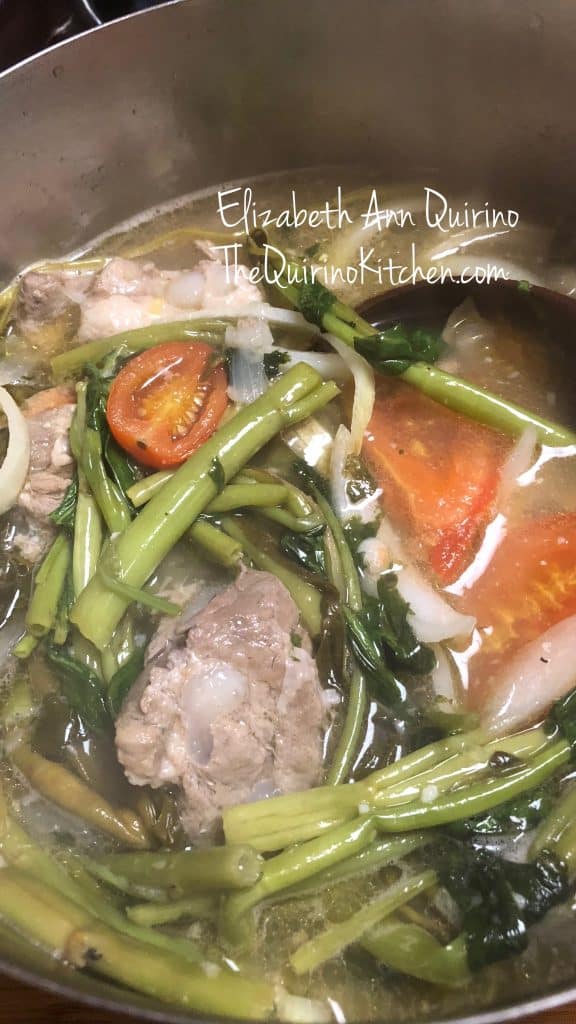 Sinigang na Baboy sa Bayabas and Sampalok
Sinigang is the classic Philippine soup meal that is flavored with souring ingredients, in this case, bayabas (guavas) and sampalok (tamarind). This makes the clear soup broth taste tart, sour and savory all at once. This all-one-soup meal used pork ribs, pork neck bones, guavas, tamarind, assorted vegetables, seasoned with patis (fish sauce). This is a recipe from The Quirino Kitchen by Elizabeth Ann Quirino.
*I shared how to cook this recipe in 2 alternative ways: either stovetop or in the Instant Pot. Cooking time indicated is for the stovetop.
Equipment
Large, deep stockpot – for stovetop

Instant Pot multicooker or any pressure cooker of preference
Ingredients
1 1/2 to 2

pounds

pork neck bones

1 to 1 1/2

pounds

pork ribs, sliced, for sinigang serving pieces

2

Tablespoons

vegetable oil

2

cloves

garlic, minced

1

whole

large yellow or white onion

2

whole

large tomatoes, quartered

2

Tablespoons

patis (fish sauce)

1/2

cup

tamarind concentrate

2

whole

fresh guavas, peeled, quartered

1

whole

daikon radish, peeled, sliced

2

whole

siling mahaba (mild, finger-like peppers)

10

cups

pork or vegetable broth

2

cups

sitaw (yard long green beans); sliced in 2-inch length pieces

3

cups

kangkong (water spinach) sliced in 2-inch length pieces

1/2

teaspoon

salt

1/2

teaspoon

ground black pepper

steamed rice, for serving

1/4

cup

patis (fish sauce); side dipping sauce
Instructions
Prepare pork:
Wash pork neck bones and pork ribs in water. Pat dry with paper towels. Set aside.
To cook sinigang stovetop (option 1)
In a large stockpot, over medium-high heat, add the oil. When oil is hot enough, saute the garlic, onions and tomatoes for about 2 minutes.

Pour the patis and tamarind concentrate. Add the pork pieces, guavas. radish

Pour the broth and add the siling mahaba. Cover and simmer for about 35 minutes till the meats are soft and cooked completely.

Add the sitaw and the kangkong to the stockpot.

Season with salt and pepper. Continue to simmer for about 10 minutes more till the vegetable greens are cooked.

Serve piping-hot with steamed rice. If desired, serve with a side dipping sauce of patis.
To cook sinigang in the Instant Pot multicooker/pressure cooker (option 2)
Preheat the Instant Pot by selecting Saute on the key pad.

When the inside pot is hot enough, in about 2 to 3 minutes, add the vegetable oil.

Saute the garlic, onions, and tomatoes.

Pour the patis and tamarind concentrate.

Click Cancel to turn off Saute function.

Add the pork , guavas, radish, and siling mahaba.

Pour the broth into the pot. Season with salt and black pepper.

Secure the lid. Check that the cooking valve is set to Sealing.

Select High Pressure on keypad + Meats + 30 minutes.

When cooking is complete, use a Quick Release, and carefully open the lid.

Add the sitaw and kangkong. Close the lid.

Click KEEP WARM for 7 minutes for the sitaw and kangkong to cook in the residual heat.

Click Cancel to turn off.

Serve warm with steamed rice. Serve patis as a dipping sauce on the side.
Cook's comments:
For the Instant Pot, after the initial Saute, it takes about 17 to 20 minutes for the multicooker/pressure cooker to preheat before the High Pressure cooking time begins. For other brands, please consult the product manual.
Nutrition
Serving:
100
grams
|
Calories:
37
kcal
|
Carbohydrates:
10
g
|
Protein:
0.4
g
|
Fat:
0.1
g
|
Saturated Fat:
0.04
g
|
Polyunsaturated Fat:
0.01
g
|
Monounsaturated Fat:
0.03
g
|
Sodium:
295
mg
|
Potassium:
98
mg
|
Fiber:
1
g
|
Sugar:
6
g
|
Vitamin A:
6
IU
|
Vitamin C:
1
mg
|
Calcium:
12
mg
|
Iron:
0.4
mg
Notes on Nutrition: The nutrition information provided in the recipe links is an estimate and will vary based on cooking methods and specific brands of ingredients used.
Copyright Notice: Hello, Friends! Please DO NOT LIFT OR PLAGIARIZE The Quirino Kitchen recipes on this blog, my original recipes, stories, photos or videos. All the images and content on this blog are COPYRIGHT PROTECTED and owned by my media company Besa-Quirino LLC by Elizabeth Ann Quirino. This means BY LAW you are NOT allowed to copy, scrape, lift, frame, plagiarize or use my photos, essays, stories and recipe content on your websites, books, films, television shows, videos, without my permission. If you wish to republish this recipe or content on media outlets mentioned above, please ASK MY PERMISSION, or re-write it in your own words and link back to my blog TheQuirinoKitchen.com to give proper attribution. It is the legal thing to do. Thank you. Email me at [email protected]