Pinakbet : Filipino Vegetable Stew in Shrimp Paste
As an Amazon Associate and member of other affiliate programs, I earn from qualifying purchases.
[amazon_link asins='B00PUZT9MU,B007MUZMBI,B008YAW8VM,B004YSCPQG' template='ProductCarousel' store='queensnotcom-20′ marketplace='US' link_id='ef904468-433f-11e8-98a4-5748d1bb51ba']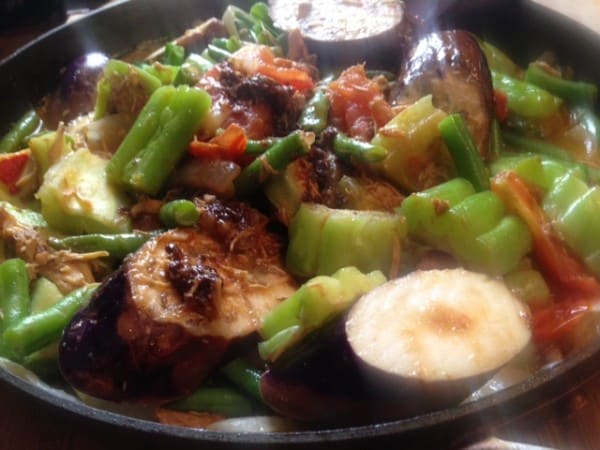 When I go back to the Philippines, a trip to Manaoag is a must for me. I need to have my soul nourished, beseeching for my prayers to be answered. The statue of Our Lady of Manaoag (say 'mah-nah-wag') in Pangasinan province has a long history of miraculous and pious events, tracing back to the 1600s. Every time I go to the Philippines, I promise myself a trip to this town and some local food, like the Pinakbet– Filipino Vegetable Stew in Shrimp Paste.
I get excited over the provinces' gastronomic offerings like pinakbet which is exceptional. It is a vegetable stew from a freshly picked harvest, apparent in the crisp, crunch of the savory dish flavored with shrimp paste. A trip to Manaoag is incomplete without a forage through the street hawkers for fresh fruit, bocayo (sweet coconut bars), Calasiao puto, tupig, peanut brittle and many more goodies.
We left my hometown Tarlac as early as 6 AM and drove two hours along the Macarthur highway headed north to the town of Manaoag, where the historic church is. We arrived in time for the 8 AM service. Despite the early hour on a weekday, the church pews were packed with devotees. The early morning did not discourage the humid, oppressive heat. I felt beads of perspiration on my forehead and the back of my light cotton shirt.
Rituals are important to me. The Manaoag trip is a ritual when I go to the Philippines. A wise saying says it all "rituals speak the language of the soul." For me, taking part in a ceremony like this mass, whether in a huge crowded basilica or a tiny chapel, opens our hearts and connects us with the community, makes us accessible to ourselves and to others.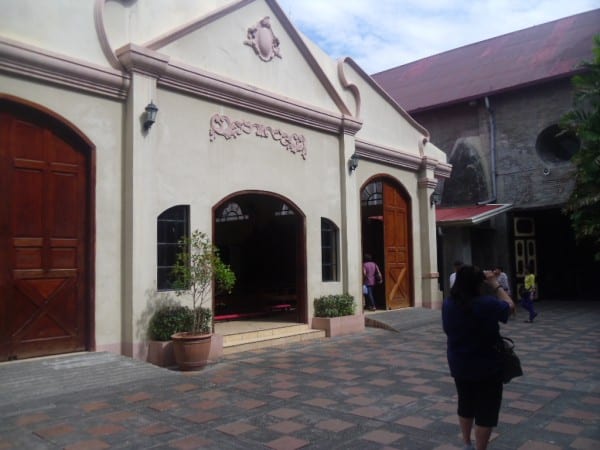 It's hard to explain, but the joy I feel when I am in Manaoag is uplifting. I walk out of there, blissful, happy and inspired. In spite of the warnings of my sister against pickpockets and the swarm of vendors who prey on tourists (like me with cameras dangling around my neck), I cheerfully mingle with the street sellers to haggle and ask for free samples. The street sellers are only too happy to oblige. The wares they have to offer are like gems to me, having missed all these abundance for years. Nothing is too miniscule nor too magnificent not to benefit from. I brought home bundles of puto (steamed rice cakes) , kakanin (coconut cakes), fresh fruit like guavas, mangoes, duhat (local blackberry). On the drive back to Tarlac, our car was filled with food aromas ranging from sweet coconut to the nectar of fruits which made us all ravenously hungry, a reminder we had not had breakfast yet.
We stopped for lunch. I could not wait to enjoy the fresh seafood and vegetables unique to the region of Pangasinan, a coastal province north of Manila. We stopped by Matutina's, a restaurant along the highway favored by locals and tourists. Service was swift because we knew what we wanted. Prices were budget-friendly. I had to have the 'pinakbet'. This is a vegetable stew consisting of eggplant slices, long green beans, okra, ampalaya (bitter melon), kabocha squash, shrimps, slivers of pork all cooked in a saute of shrimp paste, a famous by product of this province. No other place has pinakbet as delightful as they do in Pangasinan. Like the ritual of attending mass, coming to this religious shrine to say my prayers, and just breathing in the moment, the pinakbet renewed me, like any blessing would.
When we got back to the States, I did my normal routine of cooking and pinakbet was on the menu. I had all the fresh vegetables and the shrimp paste from the Asian supermarket. As we savored the salty sauce cradling the eggplant, ampalaya and long beans, I felt grateful for the many opportunities that have come into my life. It only takes a savory dish like this to remind us of the abundance of blessings around us.
For more stories of my culinary day trips around the Philippines and how to get to Manaoag and other local sites, head on over to my feature story on Positively Filipino. You'll enjoy the journeys I did!
Pinakbet- Filipino Vegetable Stew in Shrimp Paste
The Pinakbet (say 'pee-nak-bet') is a Filipino vegetable stew of Asian eggplants, long green beans, okra, ampalaya (bitter melon), kabocha squash, tomatoes, shrimps, pork slices cooked in a saute of shrimp paste. The shrimp paste or 'bagoong' defines this dish and flavors it adding a salty spike to the fresh greens. This is easy to do and versatile to serve. Make it for an everyday meal or a family gathering and serve alongside lots of rice. This recipe was slightly adapted from the late Nora Daza's "Let's Cook with Nora" cookbook. This serves 4.
Ingredients
2

Tablespoons

vegetable or corn oil

4

cloves

minced garlic

1

medium

chopped onion

1-

inch

piece

sliced thin in slivers fresh ginger

1/4

pound

cut in small cubes, about 1/2 inch, fat trimmed pork belly or pork shoulder

1/4

pound

peeled, deveined, tails removed (about half a cup) fresh shrimps (uncooked)

2

medium pieces

sliced tomatoes

2 to 3

large pieces

sliced (about 2 cups), from Asian markets Asian eggplants

1

large bundle

cut in 2-inch pieces, about 2 cups long green beans (sitaw)

8

pieces

okra

1

or 2

white membrane inside removed, sliced in 2-inch half circles ampalaya (bitter melon)

1

cup

broth or soup stock

2

Tablespoons

from Asian or Filipino groceries, bottled shrimp paste or Filipino bagoong

1

teaspoon

freshly ground black pepper

1

teaspoon

sea salt

1

cup

cubes

sliced, scooped out from squash (from Asian markets) kabocha squash
Instructions
In a large skillet, over medium high heat add the cooking oil. After oil has heated up in 1 to 2 minutes, saute the garlic, onions and fresh ginger. Cook for 2 to 3 minutes till soft.

Add the tomatoes, pork pieces and shrimps. Mix around the skillet for a good saute. Cook till the pork turns brown and the shrimps turn orange, in about 8 minutes.

Add the broth. When the liquid boils in about 5 minutes, add the squash, eggplants, long green beans, okra, ampalaya. Mix all the ingredients together. Cover and cook on medium heat for about 6 minutes or till vegetables are soft, but still crisp.

Pour the shrimp paste or bagoong on top and blend well within the skillet to coat almost all the vegetables. Season with sea salt and black pepper. Serve with boiled white rice.

Cook's comments: this is my version of pinakbet which is to saute it from the start. The traditional Ilocano method is to boil the pork, shrimps and all ingredients in a stock pot. The shrimp paste is added in the end.

Recipe notes: this is a versatile vegetable dish which can use other vegetables in season. The bagoong or shrimp paste are bottled and already pre-cooked. These can be purchased in most Filipino or Asian groceries or even online sources.
Hello, Friends! DO NOT PLAGIARIZE, LIFT OR SCRAPE my recipes. All the images and content here are COPYRIGHT PROTECTED. This means BY LAW you are NOT allowed to use my photos or content on your site, videos, cookbooks, media content  without my permission. If you want to republish this recipe, please re-write it in your own words and simply link back to this blog to give proper attribution. It's the legal thing to do. Thank you. Email me at [email protected]
Notes on Nutrition: The nutrition information provided is an estimate and will vary based on cooking methods and specific brands of ingredients used.
Did you like this recipe?I have more Filipino Instant Pot recipes in my newest cookbook Instant Filipino Recipes: My Mother's Traditional Philippine Cooking in A Multicooker Pot by Elizabeth Ann Besa-Quirino. I also have more classic recipes inspired by my mother's cooking in my popular cookbook: My Mother's Philippine Recipes. If you're learning how to cook Filipino food or a fan of Philippine cuisine, buy my cookbooks and books on Amazon.com sold worldwide in paperback and Kindle format.
Copyright Notice: Hello, Friends! Please DO NOT LIFT OR PLAGIARIZE my original recipe, stories, photos or videos. All the images and content on this blog are COPYRIGHT PROTECTED and owned by my media company Besa-Quirino LLC. This means BY LAW you are NOT allowed to copy, scrape, lift, frame, plagiarize or use my photos, essays, stories and recipe content on your websites, books, films, television shows, videos, without my permission. If you wish to republish this recipe or content on media outlets mentioned above, please ASK MY PERMISSION, or re-write it in your own words and link back to my blog AsianInAmericaMag.com to give proper attribution. It is the legal thing to do. Thank you. Email me at [email protected]