Nilagang Baka – Beef Nilaga Short Ribs and Vegetables Stew: Instant Pot + Stove-top
As an Amazon Associate and member of other affiliate programs, I earn from qualifying purchases.
]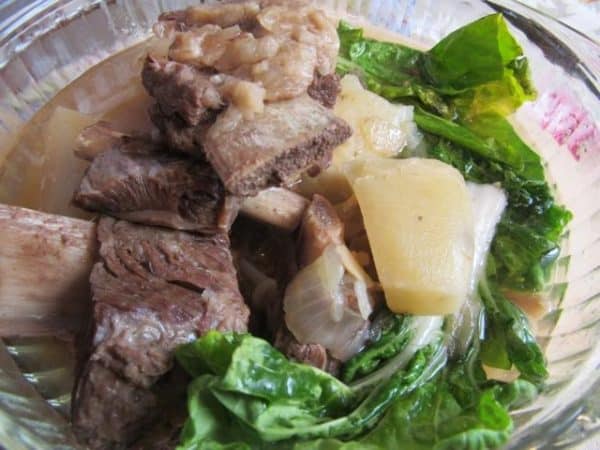 After a long trip to Japan and the Philippines, we arrived home to the comfort of this big bowl of Beef Nilaga Short Ribs and Vegetable Stew. It was wonderful to enjoy home-cooked meals again.
Beef Nilaga (say "knee-lah-gah") translates to 'boiled beef'. It is a classic Filipino stew which can easily be cooked by boiling the ingredients together. This is a Filipino all-in-one soup meal that is versatile. It can be cooked anywhere in the world because the ingredients are basic and easy to find in local groceries. The beauty of the dish is in its simplicity which can transform from a homespun meal to a party dish in larger portions. What I like about this soup meal is that I can always cook the beef ahead till it softens to a "fall-off-the-bone" tenderness. So when the actual meal time comes, all I do is add the vegetables when I reheat the meat.
But what I love most about this entrée is that it reminds me of dinners at my childhood home. We often enjoyed Beef Nilaga on Sundays for the big lunch after church. My mom knew how to cook beef well. She also magically transformed the leftovers into Beef Pochero by adding a tomato sauce-based broth or else turned the dish into another new one called "Ropa Vieja" (which means 'old clothes' but the dish was anything but old, it was good).
After I married and had a home and family of my own, my husband and I often visited my dad in our hometown. It was heartwarming to know that there would be sumptuous dishes laid out for us as soon as we arrived. One of them was the hefty, filling meal of Beef Nilaga.
Back here in my American kitchen, I thought of my dad today, his birthday, when I stirred the clear broth in the stock pot as I ladled the soup meal into individual serving bowls. I added large chunks of tender beef and made sure there were enough vegetables in each serving for my family. The aroma of good beef stock was further enhanced with a sprinkling of savory patis (fish sauce). I couldn't wait to pour my entire bowl on mounds of steaming, boiled white rice, the way we enjoyed it as children. This was the kind of meal my dad enjoyed too – for its simplicity, its heartiness and the complete meal it offered everyone at the table. And if you want to try cooking this for the first time, I offer three ways in the recipe procedure: The Traditional stove-top way, in the Instant Pot multi-cooker, or in the Slow Cooker.
As I silently sipped the soup and relished the juicy, soft shreds of beef with the potatoes and vegetable greens, I thought of this quote I found and I knew it was a sign from the universe about relishing every moment we have with our loved ones.
"It is only when you grow up and step back from him or leave him for your own home – it is only then that you measure his greatness and appreciate it."
Nilagang Baka - Beef Nilaga Short Ribs and Vegetables Stew: Instant Pot + Stove-top
Nilagang Baka or Beef Nilaga (say "knee-lah-gah") is a Filipino one-pot meal of beef and vegetables boiled in clear broth and flavored with "patis" or fish sauce. This is one of the easiest and most basic dishes to prepare when one is learning how to cook Philippine cuisine for the first time. And for all home cooks and pros, the ease of this soup meal makes it versatile and a favorite to serve for any occasion. This is an AsianInAmericaMag recipe. 
*I offer three ways to cook this in the procedure: The traditional stove-top way, in the Instant Pot multi-cooker pressure cooker and in a Slow Cooker. 
Ingredients
4

pounds

beef short ribs

bone-in

2

Tablespoons

vegetable oil

1

whole

large onion

chopped

2

cloves

garlic

minced

2

stalks

scallion whites

use white parts only, chopped

8

cups

organic beef broth

1

Tablespoon

patis (fish sauce)

2

large

potatoes

peeled, quartered

1

bundle

Napa cabbage

discard white bottom, slice leaves in large shreds

2

cups

green beans

sliced in 2-inch pieces, ends trimmed

1

teaspoon

sea salt

1

teaspoon

freshly ground black pepper powder

2

stalks

scallion greens, chopped, for garnish

rice

for serving
Instructions
In a large stockpot, over medium high heat add the vegetable oil. Saute the garlic, onions and scallion whites. Pour the patis (fish sauce).

Add the beef short ribs and beef broth. Season with salt and black pepper. Bring to a boil. Cover and continue cooking over a low simmer. Cook beef short ribs for 2 to 3 hours over low heat till it is soft and tender and falls off the bone.

After 3 hours and the meat is soft, add the potatoes and cook for another 25 minutes more.

 Lastly, add the Chinese cabbage and green beans. Cook for 5 to 6 minutes more till greens are soft and cooked. Garnish with scallion greens.

 Serve the soup meal while piping hot with additional patis (fish sauce) dipping sauces on the side and a bowl of rice.
To cook in the Instant Pot:
 Click Saute button on keypad. Pour the oil into the inside pot. When oil is hot enough, saute the garlic, onions and scallion whites for 1 to 2 minutes. Pour the patis.

Click Cancel to turn off Saute.

Add the beef, potatoes and broth. Season with salt and black pepper.

Cover and lock the lid. Make sure valve is set to Sealing. 

Click Meats/Stews and cook on High Pressure for 40 minutes. When buzzer sounds to signal cooking is done, do a Quick Release of the valve.

Carefully open the lid. Add the cabbage and green beans. Stir for ingredients to blend.

Cover and press Keep Warm for 8 minutes. The vegetable greens should cook by then.

Garnish with scallion greens.

Serve warm with the broth as soup. Serve with rice.

*Note: It takes about 17 minutes after the Saute function is turned off, for the Instant Pot to come to a HIgh Pressure and begin cooking again. For other multi-cooker or pressure cooker brands, please consult the manual for exact time.
To cook in the slow cooker or Crock pot:
In a large skillet over medium high heat, add the oil. When oil is hot enough, saute the garlic and onions. Add the patis and beef. Braise the meat for about 3 minutes till pieces are slightly brown.

Transfer the meat, garlic and onions to the slow cooker. To the beef, add the broth, potatoes, salt and black pepper.

Cover and cook on High setting for 5 to 6 hours till meat is soft. Add the vegetable greens to the meat in the slow cooker towards the end, at about the last 25 to 30 minutes.
Cook's comments:
In the Philippines, the beef short ribs is called "kenchi". If preferred, use other type of beef cuts in chunks or cubes. If cooking beef without bones, the meat softens in less time than the recipe above.
Notes on the Instant Pot:
Instant Pot is the brand name of a multicooker that cooks in high or low pressure and hastens cooking time in nearly half.

Cooking time: It takes about 17 minutes for the Instant Pot to preheat to High Pressure and for cooking time to begin. For other multicooker brands, check the product manual.

Safety precautions: Use accessories recommended for the Instant Pot like silicone or metal. Do NOT use glassware. Read the manual for complete safety information.
Nutrition
Serving:
1
g
|
Calories:
820
kcal
|
Carbohydrates:
27
g
|
Protein:
69
g
|
Fat:
48
g
|
Saturated Fat:
26
g
|
Cholesterol:
195
mg
|
Sodium:
819
mg
|
Potassium:
2060
mg
|
Fiber:
6
g
|
Sugar:
2
g
|
Vitamin A:
380
IU
|
Vitamin C:
28.2
mg
|
Calcium:
105
mg
|
Iron:
13.7
mg
Notes on Nutrition: The nutrition information provided is an estimate and will vary based on cooking methods and specific brands of ingredients used.
Did you like this recipe? I have more classic recipes inspired by my late mother's cooking in my popular cookbook: My Mother's Philippine Recipes. If you're learning how to cook Filipino food or a fan of Philippine cuisine, buy my cookbooks and books on Amazon.com sold worldwide in paperback and Kindle format.
Copyright Notice: Hello, Friends! Please DO NOT LIFT OR PLAGIARIZE my original recipe, stories, photos or videos. All the images and content on this blog are COPYRIGHT PROTECTED and owned by my media company Besa-Quirino LLC. This means BY LAW you are NOT allowed to copy, scrape, lift, frame, plagiarize or use my photos, essays, stories and recipe content on your websites, books, films, television shows, videos, without my permission. If you wish to republish this recipe or content on media outlets mentioned above, please ASK MY PERMISSION, or re-write it in your own words and link back to my blog AsianInAmericaMag.com to give proper attribution. It is the legal thing to do. Thank you. Email me at [email protected]
Disclosure: Instant Pot is the brand name of a multicooker that cooks in High Pressure or Low Pressure. I was not paid to mention or endorse the brand. My opinions are my own. This is not an ad.