Chinese Beef with Jersey Tomatoes
As an Amazon Associate and member of other affiliate programs, I earn from qualifying purchases.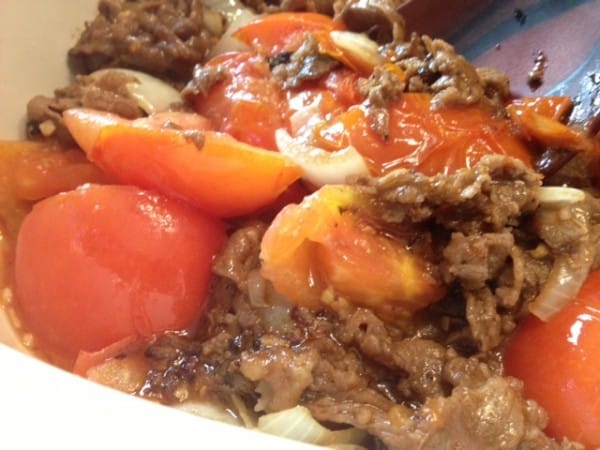 I've been told I'm lucky I can enjoy Jersey tomatoes every summer. Before I came to live in America, I enjoyed Filipino-grown tomatoes, especially those planted by my dad in our backyard and used them for cooking a multitude of recipes.
At first, I was content with any tomatoes I could find in the markets. But after I tasted the legendary Jersey tomatoes, I was hooked forever. Nowadays, I can hardly wait for the summer months of July to August when tomatoes are at their sweetest here in the garden state. The farm stands have marvelous, shiny, bright red globes gleaming brightly and waiting to be brought home. What do I do with them, you wonder? I cook them in Filipino dishes like the pinakbet or sinigang, use them in fresh salads with mangoes or salted eggs, slip them in a large BLT sandwich for lunch, and lately have been thinking of making tomato jam, thanks to a cousin's coveted recipe.
What makes the Jersey tomato special? An archived New York Times article by Julia Moskin ("The Return of a Lost Jersey Tomato" July 2008 NY Times Dining & Wine) described the uniqueness of the Jersey tomato was set apart by "the memory of how tomatoes used to taste."
It is said the memory of the Jersey tomato was so powerful that when seeds of a favorite tomato – the Ramapo, became unavailable in the late 1980s, the New Jersey state gardeners began a letter-writing campaign demanding that Rutgers University in New Brunswick bring it back. What resulted later on was amazing for all Jersey tomato fans. Rutgers then started a project of retrieving fragile seeds from a retired plant geneticist and sent them to Israel for germination. This signaled the return of the much-loved Ramapo tomato to the state.
The Jersey tomato is simply a large, round red tomato. The article further validates what we have enjoyed all along : the tomato's taste is a perfect balance of sweet and acid.
Back in my kitchen, I looked at my huge basket of bright, red Jersey tomatoes, vine-ripened, smooth, fragrant and delectable. I knew I had just the recipe to cook with it. My friend, Diana Kuan, cookbook author and chef recently featured an easy stir fry beef and tomatoes dish on her blog "Appetite for China". I could not resist trying it after I saw I had all the ingredients in my kitchen. What's more, this Chinese beef with tomatoes recipe had the familiar Asian flavors Filipinos relish.
After a quick saute, stirring all the ingredients around the pan, pouring the aromatic soy-sauce and rice wine base, the skillet steamed up and and the tomatoes looked so juicy, plump and inviting nestled next to the tender beef strips. Just imagine how terrific this dish would be if you poured it on a platter of fragrant rice.
What are you waiting for? Grab some tomatoes and the beef slices. If you start now, you can have dinner ready in no time!
Chinese Beef with Jersey Tomatoes
The summer months of July to August are when Jersey tomatoes are sweetest and best for any dish I set my mind to. These big, red, juicy vine-ripened tomatoes were a great ingredient to add to pan-seared beef sirloin strips. I added a sauce base of soy-rice wine vinegar and soon dinner was ready. This recipe was adapted from
Diana Kuan's  AppetiteForChina.com
and served 2 to 3.
Ingredients
1

pound

beef sirloin

sliced in 2-inch strips, about 1/4 inch thick ( original recipe used flank steak)

1 to 2

Tablespoons

vegetable oil

1

whole

onion

sliced

2

cloves

garlic

chopped

1

pound

fresh ripe tomatoes

about 4 to 5 large pieces, cut in wedges

1

Tablespoon

soy sauce

for marinade

1

Tablespoon

xiao xing rice wine (or use dry sherry)

for marinade

1

teaspoon

cornstarch

for marinade

2

Tablespoon

Worcestershire sauce

for sauce

1/2

Tablespoon

toyo (soy sauce)

for sauce

1/2

Tablespoon

xiao xing rice wine

for sauce; or dry sherry

for serving: steamed jasmine white rice
Instructions
Prepare to marinate the beef strips. In a small bowl, mix together the soy sauce, rice wine and cornstarch. Blend till cornstarch is dispersed well. Add this mixture to the beef strips. Toss well. Cover and let marinate for 30 minutes in the refrigerator.

Separately, prepare the sauce. Mix together in small bowl : the Worcestershire sauce, soy sauce and rice wine. Set aside.

Over medium high heat, in a large wok or skillet, add the cooking oil. Add the onions and garlic. Stir fry for about 30 seconds till soft and fragrant.

Add the tomatoes to the skillet and cook for 2 to 3 minutes till slices are soft, but still quite firm. Pour the sauce to the skillet and mix well. Then add the beef slices to the same skillet. Stir fry the beef quickly for about 1 to 2 minutes or till thoroughly cooked.

Serve hot with steamed jasmine white rice, or as the author suggested, with a plate of fried noodles.

Cook's comments: if you do not have access to Jersey tomatoes, any fully ripened, fresh, large, red tomatoes will work just as well for this recipe.

*Hello, Friends! Please DO NOT LIFT OR PLAGIARIZE my original recipe. All the images and content on this blog are COPYRIGHT PROTECTED and owned by my media company Besa-Quirino LLC. This means BY LAW you are NOT allowed to copy, scrape, lift, frame, plagiarize or use my photos and  recipe content I wrote, on your website,books, films, television shows or videos  without my permission. If you want to republish this recipe or content on another website, video, news article,or media outlets mentioned above please ASK my permission, re-write it in your own words and simply link back to this blog to give proper attribution. It's the legal thing to do. Thank you. Email me at [email protected]

Disclosure: As a participant in the Amazon Affiliate program, some blog posts contain links to products used in the recipe and sold on Amazon. The price stays the same for the readers who wish to purchase these products on my links. I earn a small commission from Amazon which helps maintain the blog expenses. Thanks in advance for your support.
Nutrition
Serving:
1
t
|
Calories:
364
kcal
|
Carbohydrates:
6
g
|
Protein:
50
g
|
Fat:
15
g
|
Saturated Fat:
8
g
|
Cholesterol:
125
mg
|
Sodium:
802
mg
|
Potassium:
919
mg
|
Sugar:
2
g
|
Vitamin C:
3
mg
|
Calcium:
69
mg
|
Iron:
5
mg
Nutrition Notes: The nutrition information provided is an estimate and will vary based on cooking methods and brands of ingredients used.
Did you like this recipe? I have more Filipino Instant Pot recipes in my newest cookbook Instant Filipino Recipes: My Mother's Traditional Philippine Cooking in A Multicooker Pot by Elizabeth Ann Besa-Quirino. Buy my cookbooks and books on Amazon.com sold worldwide in paperback and Kindle format.
Copyright Notice: Hello, Friends! Please DO NOT LIFT OR PLAGIARIZE my original recipe, stories, photos or videos. All the images and content on this blog are COPYRIGHT PROTECTED and owned by my media company Besa-Quirino LLC. This means BY LAW you are NOT allowed to copy, scrape, lift, frame, plagiarize or use my photos, essays, stories and recipe content on your websites, books, films, television shows, videos, without my permission. If you wish to republish this recipe or content on media outlets mentioned above, please ASK MY PERMISSION, or re-write it in your own words and link back to my blog AsianInAmericaMag.com to give proper attribution. It is the legal thing to do. Thank you. Email me at [email protected]