Chicken Yakitori – Japanese Grilled Chicken
As an Amazon Associate and member of other affiliate programs, I earn from qualifying purchases.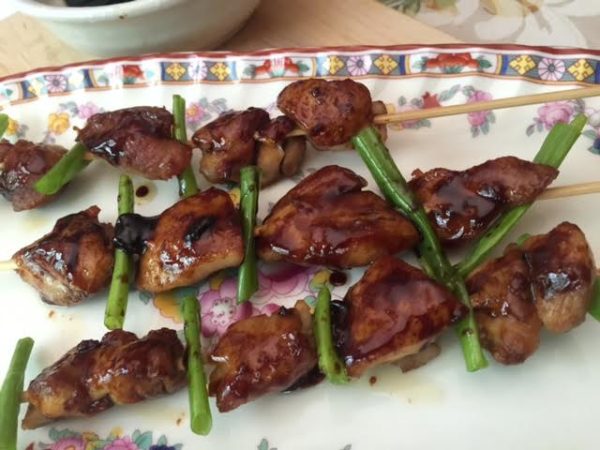 We came back from our Japan vacation reinvigorated. I returned home to the USA with gazillions of recipe ideas like this Chicken Yakitori- Japanese Grilled Chicken which I couldn't wait to try in my kitchen. We flew to Asia two weeks ago. Flying to Tokyo, Japan takes about 15 hours nonstop from the east coast. We loved Japan for its culture, cuisine, people, beautiful clean country and so much more.
This time our trip to Japan was more special than previous ones. Our Quirino family was flying together for a momentous event. The government of Japan was honoring our grandfather, the late Philippine President Elpidio Quirino with a monument marker at historic Hibiya Park in Tokyo. President Quirino was being honored for his "acts of clemency", for officially pardoning Japan after World War II. This was the first time a Philippine president was given a monument at Hibiya Park. President Quirino forgave Japan in 1953 in spite of the fact that his wife and three children were massacred by the Japan Imperial Army during the Battle of Manila in 1945. Generations after, Japan initiated a gesture of gratitude by putting up a monument in honor of President Quirino.
We attended the unveiling of the monument at Hibiya Park in Tokyo on a perfectly sunny Saturday morning with the rest of our Quirino clan, key members of the Japan Parliament and dignitaries from the Philippine Embassy in Japan, senators and officials. It was a moving experience and symbolized the path to peace.
After the ceremonies, my husband and our two grown sons (who flew in from the USA on separate flights) stayed a week longer in Japan for a birthday vacation. My oldest son Tim and I share the same birthday week plus it was Father's Day week, as well.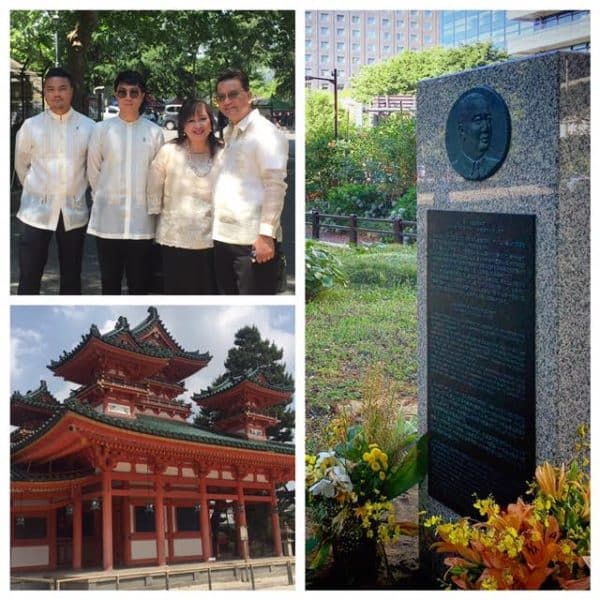 We took day tours to Kyoto the old city known for its UNESCO World Heritage sites, to the world-famous Mount Fuji, shopped around Ginza, and the nearby cities surrounding Tokyo. Every day was a unique cultural adventure.
It was also a gastronomic experience. Japanese cuisine is perfect. The people have mastered their food and elevated everything into an art form. The food portions are just right for every person – there is nothing excessive or wasteful. Everything was cooked in a healthy manner. All the food groups and colors of the spectrum were represented in every serving and every meal. Every dish was carefully plated in the prettiest, most exquisite manner.
One of the most enjoyable appetizers we had was Chicken Yakitori. The skewered charcoal- grilled chicken pieces were incredible. Each person was served one skewer. It gave us the chance to fully appreciate the savory flavor of the tender, bite-sized chicken slices.
When we returned to the USA, I quickly searched for recipes to recreate Chicken Yakitori. My trusted source for Japanese cooking, blogger and cookbook author Namiko Chen of Just One Cookbook had a recipe on her blog. Namiko explained the various types of 'yakitori', the different sauces used and how to cook it properly.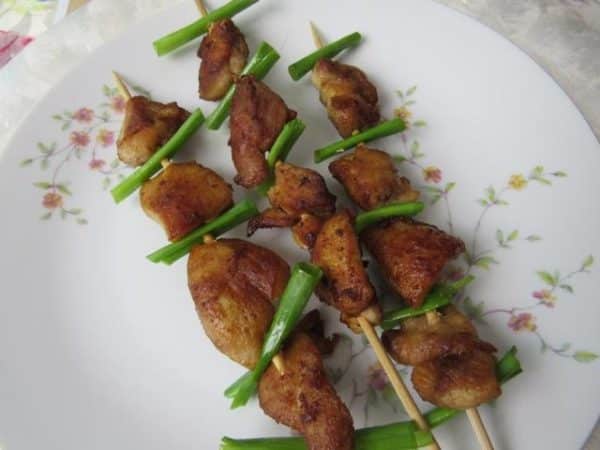 In my kitchen trials, I discovered there were different ways one could cook Chicken Yakitori – on the outdoor grill, broiled in the oven indoors or even pan fried.
For the 4th of July, I fired up our outdoor grill for this recipe. The ease and beauty of this grilled chicken appetizer is that you don't need to pre-marinate the chicken slices. The most you do is to pre-soak the bamboo skewers in water, to prevent any splints getting on the meat. Once skewered, the chicken slices cook thoroughly in minutes.
The yakitori sauce or "tare" as it is called in Japan is boiled separately till it is reduced to a thick consistency then brushed on the meat as it comes off the grill. The shiny glaze has a sweet, savory onion-like aroma which comes from the combination of soy sauce, mirin, sake and chopped scallions. If you haven't yet, you have got to try making these easy Chicken Yakitori in skewers. You have all summer long to enjoy it.
Our American landscape today is a beautiful mix of cultures and cuisines from all over the world because each and every one of us came from somewhere else and brought different food cultures to this country. And food has always been the glue that binds us together. So today, the 4th of July as we enjoy this independence day holiday, let us celebrate with an abundance of food and what we believe in as a nation and as a people – the desire to live freely in the pursuit of life, liberty and happiness.
Happy 4th of July, folks!
Chicken Yakitori-Japanese Grilled Chicken
Chicken Yakitori- Japanese Grilled Chicken are bite-sized boneless chicken pieces skewered on bamboo sticks and grilled or broiled till cooked thoroughly. "Yakitori" is a Japanese word which means 'grilled chicken'. Traditionally, this is served as an appetizer in Japanese cuisine. After grilling, the "tare" sauce which consists of soy sauce, mirin, sake and sugar is brushed on the cooked meat to add a sweet-savory onion-like flavor. This recipe was inspired by my friend Namiko Chen of Just One Cookbook. Serves 4.
Ingredients
10 to 12

pieces

bamboo barbecue skewers

1

pound

boneless chicken thighs

cut in thin 1-inch sized pieces

8 to 9

stalks

scallions

sliced in 1-inch pieces

1

Tablespoon

vegetable oil

for sauce

1/2

cup

soy sauce

1/2

cup

mirin (Japanese sweet rice wine)

1/4

cup

sake (Japanese rice wine)

1/4

cup

water

1

Tablespoon

brown sugar
Instructions
Pre-soak bamboo skewers in water for 30 minutes. This avoids splinters to get into the meat and to avoid burning the skewers during grilling.

After 30 minutes, skewer 4 to 5 chicken pieces to each bamboo stick. Alternately, skewer the green part of the scallion between each chicken piece. Keep the skewered chicken in the refrigerator till ready to cook or grill.

Prepare the sauce by mixing together in a saucepan the vegetable oil, tamari gluten-free soy sauce, mirin, sake, water and brown sugar. Add the white parts of the scallions and boil together over medium high heat. When sauce boils, lower heat to a simmer. Continue cooking for about ten minutes till the sauce reduces to a thick consistency, almost like a syrup. Turn off heat and set the sauce aside for later.

Pre-heat outdoor grill to a medium high. Grill the skewered chicken for about 7 to 8 minutes on each side, turning to cook evenly and thoroughly. For safety reasons, chicken should be cooked completely.

As soon as chicken is cooked, remove from the grill. Brush the cooked sauce over the chicken pieces till glaze covers the meat completely. Serve warm as an appetizer.

To broil chicken: If outdoor grilling is not possible, my friend Namiko suggests broiling the chicken skewers. Broil the chicken in the oven on High for 6 minutes. Then brush the glaze over the meat. Broil for 4 minutes more. Plate the chicken and brush the cooked sauce just before serving.

To pan fry chicken: If outdoor grilling and broiling in the oven are not possible, you can pan fry the skewered chicken in a large skillet that can fit the entire stick. Over medium high heat, add a tablespoon of vegetable oil and pan fry the skewered chicken for 6 minutes on each side till cooked thoroughly. Brush the sauce over the cooked chicken before serving.

COOK'S COMMENTS: Slice the chicken pieces as thinly as possible so they cook quickly and evenly. Some large Asian markets have meat sections with pre-sliced chicken pieces for these type of recipes. Or if there is a friendly Asian butcher in the meat section of the store, ask him to slice the chicken uniformly for you and specify for "yakitori" to get the right thin cut.

INGREDIENT INFO: Tamari which is gluten-free, is a low-sodium soy sauce. Sake (say "sah-keh") is the Japanese wine served with meals, made from rice in a double fermentation process that is similar to beer-making. Sake's alcoholic content is higher than most wines with an ABV of 15 to 20 % and has a clean, crisp, delicate flavor. Mirin is the Japanese cooking wine, with a lower alcohol and higher sugar content. Mirin's sweet flavor contrasts well with the slightly salty Tamari soy sauce.

SHOP FOR IT: The ingredients tamari gluten-free soy sauce, mirin and sake are bottled and can be purchased from online sources, too. For my readers convenience, you can shop for it on my

Amazon affiliate page

right

here on the blog

. The retail price stays the same for you. I earn a small commission from Amazon which goes to the ingredients and maintenance of the server. Thanks in advance for the support.

CLICK HERE to buy ingredients.

PHOTOGRAPHY Credits: President Elpidio Quirino monument marker at Hibiya Park, Tokyo - taken by Tim Quirino; Our family photo by Pauline Q. Varanal; Kyoto shrine temple by Elizabeth Ann Quirino.
Hello, Friends! All the images and content on this blog are COPYRIGHT PROTECTED and owned by my media company Besa-Quirino LLC. This means BY LAW you are NOT allowed to copy, scrape, lift, frame, plagiarize or use my photos and recipe content I wrote, on your website without my permission. If you want to republish this recipe or content on another website or news article, please ASK my permission, re-write it in your own words and simply link back to this blog to give proper attribution. It's the legal thing to do. Thank you. Email me at [email protected]
Nutrition
Serving:
1
g
|
Calories:
315
kcal
|
Carbohydrates:
7
g
|
Protein:
22
g
|
Fat:
22
g
|
Saturated Fat:
8
g
|
Cholesterol:
111
mg
|
Sodium:
1713
mg
|
Potassium:
360
mg
|
Fiber:
1
g
|
Sugar:
4
g
|
Vitamin A:
330
IU
|
Vitamin C:
4.5
mg
|
Calcium:
32
mg
|
Iron:
1.8
mg
Notes on Nutrition: The nutrition data for this recipe includes the full amount of the marinade ingredients. The actual amount of the marinade consumed will vary. The nutrition information provided is an estimate and will vary based on cooking methods and specific brands of ingredients used.
Did you like this recipe? I have more classic recipes inspired by my late mother's cooking in my popular cookbook: My Mother's Philippine Recipes. If you're learning how to cook Filipino food or a fan of Philippine cuisine, buy my cookbooks and books on Amazon.com sold worldwide in paperback and Kindle format.
Hello, Friends! Please DO NOT LIFT OR PLAGIARIZE my original recipe, stories, photos or videos. All the images and content on this blog are COPYRIGHT PROTECTED and owned by my media company Besa-Quirino LLC. This means BY LAW you are NOT allowed to copy, scrape, lift, frame, plagiarize or use my photos, essays, stories and recipe content on your websites, books, films, television shows, videos, without my permission. If you wish to republish this recipe or content on media outlets mentioned above, please ASK MY PERMISSION, or re-write it in your own words and link back to my blog AsianInAmericaMag.com to give proper attribution. It is the legal thing to do. Thank you. Email me at [email protected]