Ropa Vieja- Spanish Shredded Beef Saute with Vegetables
As an Amazon Associate and member of other affiliate programs, I earn from qualifying purchases.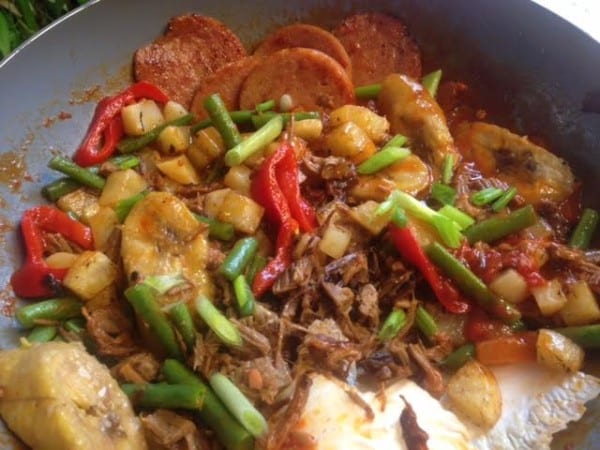 Ropa Vieja is Spanish and translates to 'old clothes'. This dish was called 'ropa vieja' because of its very nature — it is a sautéed entree made from leftovers. Usually they are leftovers from a hefty, savory Beef Pochero Stew – a stew made of tender beef chunks, simmered in a tomato sauce stew with various vegetables filling up the stockpot.
Ropa Vieja reminds me of lazy Sundays and family meals when we gathered around the table and it seemed like we had all the time in the world to enjoy a lovely meal. The memories come back to me in slow motion. Sunday suppers meant a big bandejado (oval platter) of Beef Pochero, served with spicy Spanish chorizos, sweet boiled plantains (Saging Saba in the Philippines) and a side of eggplant salad.
Like always, our mothers and grandmothers never threw away anything. So my mother gathered the leftovers from the big Beef Pochero stew (click here for recipe). She shredded the beef, sliced the vegetables and collected the tomato sauce simmered in the large pot. With a cup of each, she magically transformed everything into a splendid Ropa Vieja sauté. The addictive garlic-onions aroma mixed in with tangy-sweet tomato sauce coated the tender beef shreds and colorful mix of vegetables. My favorite ingredients were the sliced sweet plantains and the robust Spanish chorizos. If I mixed all these in boiled rice, I made sure to pour the flavorful tomato sauce broth over the entire portion on my plate. To this day, nothing else warms the corners of my soul when I savor the familiar flavors.
When I cooked Beef Pochero for my own family, it was so scrumptious that my sons always asked for Ropa Vieja as soon as I served the beef stew. My boys already knew to expect Ropa Vieja right after the stew. Some dishes are more amazing the day after. This Ropa Vieja is proof of that. For my complete recipe of Ropa Vieja, check out The Happy Home Cook on Positively Filipino, a premiere online magazine celebrating stories of Filipinos globally. My recipe version is below.
Ropa Vieja - Spanish Shredded Beef Saute with Vegetables
Ropa Vieja, which is Spanish for 'old clothes' tastes nothing but old. It is a delicious dish combination of all the leftovers from the traditional Filipino Beef Pochero. I had enough leftovers to transform everything into a new meal. All I needed was approximately a cup of each: shredded beef, various vegetables, tomato sauce, broth. Then the easiest and best part was to just saute everything together in a skillet and dinner was done in minutes. My mom loved to make this after our Sunday suppers and I carry on the tradition with my family. This is an Asian in America recipe and it serves 2 to 4.
Ingredients
4

Tablespoons

vegetable oil

4

cloves

garlic

peeled, minced

1

whole

onion

chopped

1

Tablespoon

patis (fish sauce)

1

cup

tomato sauce

1

cup

organic beef broth

1

cup

cooked shredded beef

1

cup

cubed cookedpotatoes

1

cup

cubed cooked carrots

1

cup

sliced cooked green beans

cut into 2-inch length pieces

1 to 2

cups

shredded cooked bok choy or cabbage

shredded into 2-inch length pieces

1

cup

sliced boiled plantains

1

cup

sliced cooked Spanish chorizos

1

teaspoon

salt

1

teaspoon

ground black pepper powder

for serving: boiled rice
Instructions
In a large skillet, over medium high heat, add the vegetable or corn oil. Saute the garlic and onions. Add the fish sauce or Filipino 'patis'. Cook for 1 minute or till onions are soft and translucent.

Add the tomato sauce from the 

Beef Pochero

 dish and broth. Blend well till broth boils. Lower heat.

Add all the leftovers starting with the shredded beef and chorizos.

Add the rest of the leftover vegetables starting with the potatoes and carrots, then the green beans. Add the leftover banana plantains. Add the green leafy leftover vegetables last. Season with salt and pepper. Serve warm with fragrant jasmine white rice.

Cook's comments:  I have always cooked Ropa Vieja from leftovers of a tomato sauce-based Beef Pochero dish, the way my mother taught me. If you don't have remnants of beef pochero, use leftovers from other stews with the vegetables and sauces tossed in. This is a very forgiving recipe and creativity is the key ingredient.

Hello, Friends! All the images and content on this blog are COPYRIGHT PROTECTED and owned by my media company Besa-Quirino LLC. This means BY LAW you are NOT allowed to copy, scrape, lift, frame, plagiarize or use my photos and  recipe content I wrote, on your website  without my permission. If you want to republish this recipe or content on another website or news article, please ASK my permission, re-write it in your own words and simply link back to this blog to give proper attribution. It's the legal thing to do. Thank you. Email me at [email protected]
Nutrition
Serving:
1
g
|
Calories:
140
kcal
|
Carbohydrates:
4
g
|
Protein:
1
g
|
Fat:
14
g
|
Saturated Fat:
11
g
|
Sodium:
903
mg
|
Potassium:
215
mg
|
Fiber:
1
g
|
Sugar:
3
g
|
Vitamin A:
265
IU
|
Vitamin C:
5
mg
|
Calcium:
13
mg
|
Iron:
1
mg
Notes on Nutrition: The nutrition information provided is an estimate and will vary based on cooking methods and specific brands of ingredients used.
Did you like this recipe? I have more classic recipes inspired by my late mother's cooking in my popular cookbook: My Mother's Philippine Recipes. If you're learning how to cook Filipino food or a fan of Philippine cuisine, buy my cookbooks and books on Amazon.com sold worldwide in paperback and Kindle format.
Hello, Friends! Please DO NOT LIFT OR PLAGIARIZE my original recipe, stories, photos or videos. All the images and content on this blog are COPYRIGHT PROTECTED and owned by my media company Besa-Quirino LLC. This means BY LAW you are NOT allowed to copy, scrape, lift, frame, plagiarize or use my photos, essays, stories and recipe content on your websites, books, films, television shows, videos, without my permission. If you wish to republish this recipe or content on media outlets mentioned above, please ASK MY PERMISSION, or re-write it in your own words and link back to my blog AsianInAmericaMag.com to give proper attribution. It is the legal thing to do. Thank you. Email me at [email protected]