How I baked Chocolate Cupcakes with White Chocolate Frosting for Cookies For Kids' Cancer
As an Amazon Associate and member of other affiliate programs, I earn from qualifying purchases.
[amazon_link asins='B015CQZR6I,B00004OCNM,B00L9X382O,B07CH7XJWJ,B00IE71I4S,B00HES9CMS,B00KQ1387U,B00SST8FR0′ template='ProductCarousel' store='queensnotcom-20′ marketplace='US' link_id='d4dec4f1-e530-11e8-999d-699d298314ba']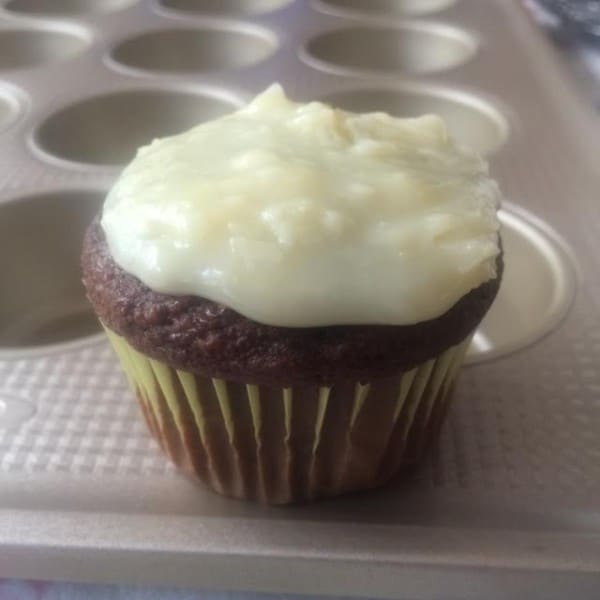 When OXO sent me baking tools to bake these Chocolate Cupcakes with White Chocolate Frosting for the Kids' Cancer cause I was glad to do it. W e all think cancer will never touch us or our family. But the reality is that it does. The news is always unexpected. It hits you when it's not convenient. Like when you're in the middle of life, day to day events swirling around you, people walking past you oblivious of the shock, pain and fear you're feeling.
What hurts most is when cancer touches the most vulnerable ones in the family — the children. Sweet, innocent babies, not even knowing what pain is. It is heartbreaking to see the littlest one go through what was once perceived as an old person's illness.
I got busy baking with the OXO baking tools. It was the least I could do to support pediatric cancer research.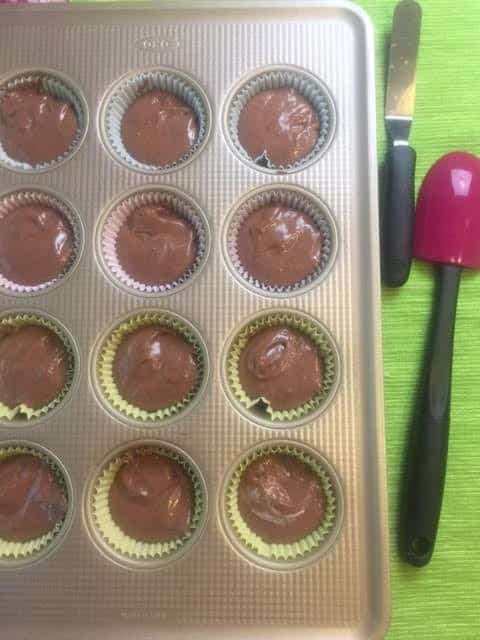 Baking these Chocolate Cupcakes with White Chocolate Frosting was easy. Our family has been hit by pediatric cancer and so I do not hesitate to do my part every year to raise funds for pediatric cancer research. OXO has kindly offered to donate to pediatric cancer research for every blog post dedicated to the cause.
I would like to quote my friend Chef Jill Dahan, cookbook author from North Carolina, whose family has been personally affected by pediatric cancer. Here are the alarming facts that are unknown to many:
FACTS that perhaps you didn't know about childhood cancer:
"**Childhood cancer is the #1 disease related cause of death for children
*Childhood cancers receive less than 4% of our national research funding; adult cancers receive 96%
*Because funding is SO limited, researchers must choose which childhood cancers will be funded year to year and often the more rare childhood cancers go left unfunded for years at a time.
*1 in 285 kids will be diagnosed with a childhood cancer each year (this number used to be 1 in 330 until the statistic was changed this year).
*There has only been 1 cancer drug approved by the FDA in the last 20 years for use in children; last year there were 20 approved drugs for adult cancers! The drugs our kids are taking for treatment are meant for use in adults!
We as a country are FAILING our most precious citizens, our children! And our kids cannot fight alone – they need our help!
Over the next month and beyond make yourself aware and get involved! Our kids are worth SO much more than they are currently getting and we can't and we won't stop talking about it and fighting back until changes are made! Don't wait until someone close to you or you yourself are affected — help us and help our nations kids by getting involved now."
Jill Dahan added " Betty Ann, it would also be great to see some money go towards prevention too. That is a big thing as it includes diet and chemical exposures (like pesticides, bpa,fire retardants, the list goes on and on) and for the small people having the same exposure as an adult is so much more concentrated for them. "
Chocolate Cupcakes with White Chocolate Frosting
These one-bowl Chocolate Cupcakes with White Chocolate Frosting have always been my favorite to bake for potlucks, neighborhood block parties, church bake sales, my sons' classroom events or even for friends' birthdays. It was only fitting that I bake and share the recipe to raise awareness and funds for Pediatric Cancer Research. Thanks to OXO Good Grips Baking Tools for these beautiful set of cupcake equipment. The chocolate cupcakes baked easy and quickly. Once they were thoroughly cooled, it was a breeze to make the white chocolate frosting stove top with white chocolate chips. You can also substitute regular chocolate chips if preferred. This is an AsianInAmericamag recipe from a past blog post and made 24 cupcakes.
Ingredients
3/4

cup

cocoa powder

unsweetened

1

and 1/2 cups all purpose flour

1

and 1/2 cups granulated sugar

1

and 1/2 teaspoon baking soda

1

teaspoon

baking powder

3/4

teaspoon

salt

2

large eggs

3/4

cup

warm water

3/4

cup

store bought or homemade, recipe below , see instructions sour cream

3

Tablespoons

vegetable oil

1

teaspoon

pure vanilla extract

24

pieces

to line muffin pan, paper cupcake liners

1/2

cup

for frosting (or use regular chocolate chips) white chocolate chips

1/2

cup

heavy cream
Instructions
Preheat oven to 350 degrees. Line standard muffin tins with cupcake paper liners. Set aside.

Sift together: cocoa powder, flour, sugar, baking soda, baking powder and salt into a large bowl.

Add the eggs, warm water, sour cream, oil and vanilla. Mix until smooth, for about 3-4 minutes. Scrape the sides of the bowl to make sure batter is well mixed.

Pour batter into the prepared muffin cups, about 2/3 full for each one

Bake for about 20 minutes, or till the tops spring back when touched.

Let cool on rack completely, before putting frosting.

To make the chocolate glaze : place the chocolate chips and heavy cream in a small saucepan over low heat until melted. The chocolate glaze and cream will thicken in about 5 to 6 minutes. Let the glaze cool after it has thickened. It should be pourable, but not runny. In my case, I cooked it quite thick so I used the OXO spatula to spread it on the cupcakes that were thoroughly cooled.

Serve warm or cold. Refrigerate the frosted cupcakes in an airtight container for up to 3 days.

*Recipe Tip: If I am unable to get hold of sour cream, I make my own by combining: 3/4 cup milk & 2 teaspoons lemon juice. Put this aside for about 30 minutes, to allow the ingredients to set and are ready for use.

Many thanks to OXO for sending me these:  A complete Cupcake Set. If you'd like to purchase these baking tools here are the descriptions with the links to the OXO site.

Your Tax-Deductible Donations:  Cookies for Kids' Cancer is a recognized 501c(3) public charity duly incorporated under the laws of the state of New Jersey. Your donations are tax deductible to the fullest extent allowable by law. 100% of proceeds raised by Cookies for Kids' Cancer fund pediatric cancer research.

- OXO will be donating $100 to Cookies for Kids' Cancer for each blog post dedicated to this campaign in October (up to our $100,000 commitment*.)

- *In 2015, OXO will donate up to $100,000 to Cookies for Kids' Cancer through product proceeds, bake sale matches and other fundraising efforts

Hello, Friends! All the images and content on this blog are COPYRIGHT PROTECTED and owned by my media company Besa-Quirino LLC. This means BY LAW you are NOT allowed to copy, scrape, lift, frame, plagiarize or use my photos and  recipe content I wrote, on your website  without my permission. If you want to republish this recipe or content on another website or news article, please ASK my permission, re-write it in your own words and simply link back to this blog to give proper attribution. It's the legal thing to do. Thank you. Email me at [email protected]