Tamago Kake Gohan – Japanese Rice with Egg
As an Amazon Associate and member of other affiliate programs, I earn from qualifying purchases.
As I stirred the egg into the rice in the Tamago Kake Gohan, thoughts of our Japan trip came back to me. From the east coast in the USA, flying to Tokyo, Japan took us about 15 hours on a nonstop flight to Narita airport. I admit it was a long trip but the destination was well worth it.
We were in Japan last June and the temperature hovered in the high 80s F. I made a mental note to travel to these parts in the spring or late fall for cooler temperatures. But the beauty of the country and the people outweighed the summer weather.
We spent our days sightseeing, shopping and eating.
There were two important tours we did not want to miss.
A visit to Kyoto: If you long for the charm of the old world, a glimpse of ancient temples, shrines and traditional cities, then a day tour to Kyoto will do it for you. Kyoto has about 17 UNESCO world heritage sites. The city of Kyoto was Japan's capital and the emperor's residence from 794 till 1868. Ancient temples and shrines survived the World War II air raids. My friend Nonna, a regular traveler to Japan suggested on her blog A Pork in the Road a stay in Kyoto should last a whole week to appreciate the beauty of the city.
We headed out early in the morning to catch our bus which took us to the Shinkansen (bullet train). Kyoto is approximately three hours by bullet train from Tokyo. The train ride is comfortable and one of the most efficient transportation systems in the world.
At Kyoto, our guide Yoshi-san took us to three temples in different locations: the Heian-jingu Shrine with its sacred Shino structure built to commemorate the founding of Kyoto in the 19th century; the Sanjusangen Temple, a grand wooden structure with thousands of life-sized statues worshipping Buddhist deities; and the narrow, cobblestone roads that led to the Kiyomizu-dera Temple high above a scenic hill.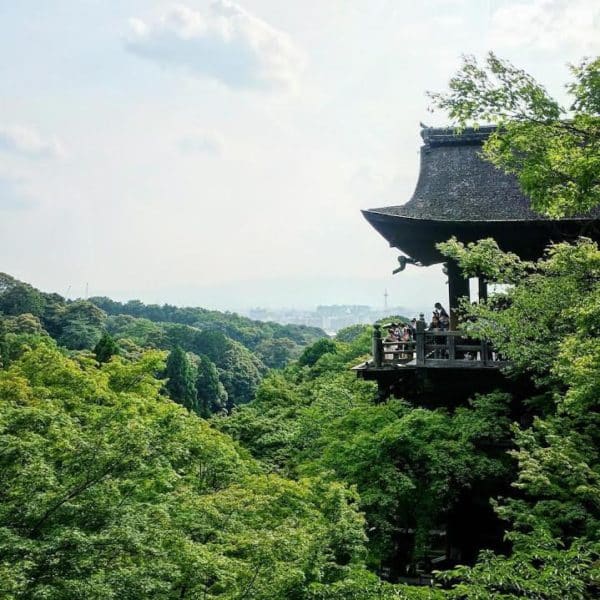 Photo of the Kiyomizu-dera Temple in Kyoto by Tim Quirino.
The tour package we chose offered lunch and we had a scrumptious buffet of modern and traditional Japanese cuisine.
Our Sunrise Tour guide Yoshi-san was very knowledgeable about the city, the shrines and everything one needed to know about the history and culture. Important to remember: Wear socks during tours to temples. Some shrines require visitors to leave their shoes at the door. Also, photography is not allowed in some temples. Be mindful and respectful of the monks who are praying or meditating.
A visit to Mount Fuji: If you want to experience the full tour on a day that suits your schedule, book early even before you arrive in Japan. This is a popular tourist attraction and spots get filled up quickly.
Our tour group took the Shinkansen from Tokyo to Hakone which was about two hours travel time. Upon arrival, we traveled in a comfortable coach bus that bought us to the Fifth station which is the gateway to Mt.Fuji and has an elevation of 2,300 meters above sea level. Then our bus drove us to Lake Kawaguchiko for lunch and Lake Ashi for the ferry boat ride and the Komagatake Ropeway (cable car).
The entire week we were in Japan, we experienced the exquisite cuisine.
There is beauty in its simplicity. The portions are never excessive or lavish. One is given just enough to fill you up and so there is no leftover food on plates. You can tell ingredients are sourced well — fresh and natural.
The Japanese meals we enjoyed reminded me of the Tamago Gohan my son Tim often made for himself, sometimes as often as twice a week, he said.
When he comes home from work, tired and hungry Tim finds this staple egg and rice dish "Tamago Gohan" one of the easiest meals to make. The basic ingredients are cooked boiled white rice and an egg.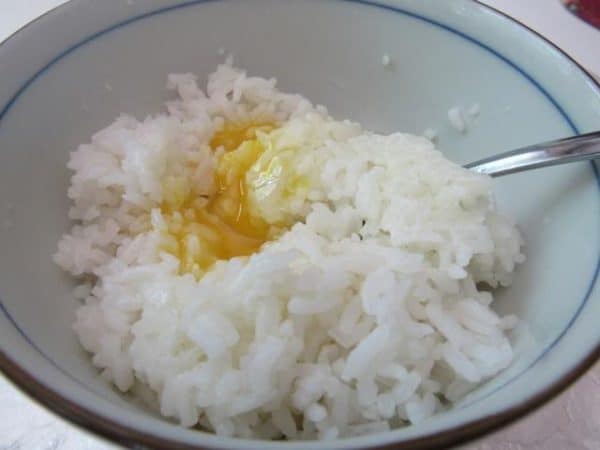 As you mix the raw egg into the steaming boiled rice, you discover the heat of the rice will cook the egg right there in the bowl. You can add vegetables to the bowl. And as a garnish, sprinkle roasted sesame seeds or nori flakes.
Taking a cue from Tim's rice-in-a-bowl meal, I tried my hand at making it today. It was simply sheer comfort food in a bowl. I think I'm making this as often as I can for breakfast, lunch or dinner.
Tamago Kake Gohan - Japanese Rice with Egg
Tamago Kake Gohan is a Japanese-style rice dish in a bowl with piping hot rice and an egg. The raw egg is beaten into the steaming white rice till the granules turn pale yellow and get puffy. Season the rice bowl and garnish with roasted sesame seeds and nori flakes. This is simply the best and easiest way to make comfort food in a bowl. This was inspired by the Tamago Gohan recipe of  J. Kenji Lopez-Alt on Serious Eats. This recipe makes one serving.
Ingredients
1 to 1 1/2

cups

piping-hot cooked white rice

1 to 2

whole

eggs

2

teaspoons

soy sauce

1

teaspoon

mirin

(Japanese sweet rice wine)

1

teaspoon

salt

1/2

teaspoon

sesame seeds

for garnish roasted

1/2

teaspoon

nori flakes

for garnish, from Asian markets

1

stalk

scallions

chopped, for garnish
Instructions
Place cooked rice in a bowl. Rice should be piping hot, with the steam coming from the bowl. Either cook rice in a rice cooker or else microwave leftover rice for a minute and a half.

Add the eggs over the steaming hot rice. Using chopsticks or a fork, beat the eggs in the bowl within the rice. The raw egg will cook in the warm rice. The granules will turn a pale yellow and will be slightly fluffy.

Season the rice-egg mixture with soy sauce, mirin and salt. Mix well.

Garnish with roasted sesame seeds, nori flakes and scallions. Serve the rice bowl while still very warm.

Photography credits: Thanks to Tim Quirino for his photos of the Tamago Kake Gohan and the Kiyomizu-dera Temple in Kyoto, Japan.
Hello, Friends! All the images and content on this blog are COPYRIGHT PROTECTED and owned by my media company Besa-Quirino LLC. This means BY LAW you are NOT allowed to copy, scrape, lift, frame, plagiarize or use my photos and recipe content I wrote, on your website without my permission. If you want to republish this recipe or content on another website or news article, please ASK my permission, re-write it in your own words and simply link back to this blog to give proper attribution. It's the legal thing to do. Thank you. Email me at [email protected]
Nutrition
Serving:
1
g
|
Calories:
24
kcal
|
Carbohydrates:
4
g
|
Protein:
2
g
|
Fat:
1
g
|
Saturated Fat:
1
g
|
Sodium:
3036
mg
|
Fiber:
1
g
|
Sugar:
2
g
|
Vitamin A:
120
IU
|
Vitamin C:
2.2
mg
|
Iron:
0.3
mg
Notes on Nutrition: The nutrition information provided is an estimate and will vary based on cooking methods and specific brands of ingredients used.
Did you like this recipe? I have more classic recipes inspired by my late mother's cooking in my popular cookbook: My Mother's Philippine Recipes. If you're learning how to cook Filipino food or a fan of Philippine cuisine, buy my cookbooks and books on Amazon.com sold worldwide in paperback and Kindle format.