How to cook Filipino Pork Menudo and the Mexico Influence
As an Amazon Associate and member of other affiliate programs, I earn from qualifying purchases.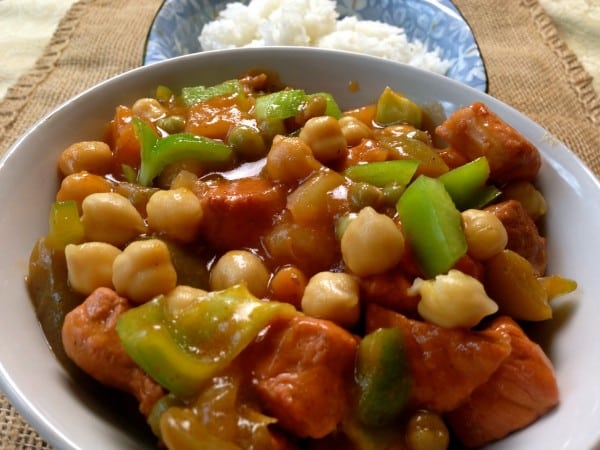 The Filipino Menudo is a popular, classic pork dish and is a favorite of many. In the Philippines one finds it everywhere. From the family table, the menudo is also at parties, fiestas or on regular days in the carinderia (local street diner) in the 'palengke' (wet markets) or restaurants.
I brought my menudo recipe with me when I moved to America many years ago. I learned how to cook this dish way before I got married. As a new bride back then and later as a mother, it was one of those quick go-to dishes I could depend on anytime. Menudo is tomato-sauce based and as the meat and vegetables are sautéed the tomato's tartness turn to a sweet flavored gravy. There is something in the dish for everyone. The uniformed cubes of pork, potatoes and carrots together with the crunchy garbanzos and sweet peas appeal to every family member.
I cook my menudo with plenty of sauce to go around for everyone to enjoy. Filipinos love sauce. The more sauce in a dish, the better to extend the dish. We love to pour sauce on a bed of steamed white rice, a staple at every Filipino meal.
But there's more to menudo. The Filipino menudo has a rich history all its own and it is quite interesting to know where this colorful entree originated from. Read the complete story and enjoy my easy to cook Menudo recipe on American Food Roots, a curated food site about the food origins in America. Read it here. Or cook from my recipe below.
Filipino Pork Menudo
This is my modern version of the Filipino Pork Menudo cooked in my American kitchen. In the Philippines, menudo is a stew of cubed pork and calf's liver. I did not use the latter for this recipe. Instead, this is a stew of cubed pork, potatoes, carrots with chick peas and green peas simmered in tomato sauce and seasonings. Make this for a family meal or any day. This is an Asian in America recipe which first published on American Food Roots. Serves 4.
Ingredients
2

pounds

cut into 1 inch-sized cubes, fat trimmed pork shoulder

1

Tablespoon

soy sauce

1

Tablespoon

lemon juice

2

Tablespoons

extra virgin olive oil

4

cloves

minced garlic

1

medium-sized

chopped onion

1

cup

organic beef broth

1

8 oz. can tomato sauce

2

medium-sized

peeled, cut into 1 inch-sized cubes potatoes

1

medium-sized

peeled, cut into cubes carrot

1

medium-sized

seeded, cut into cubes green or red bell pepper

1/4

cup

bread crumbs

1/2

cup

canned, drained chick peas or garbanzos

1/2

cup

thawed at room temperature frozen green peas

1

teaspoon

salt

1

teaspoon

ground black pepper

for serving boiled rice
Instructions
In a non-reactive medium-sized bowl, marinate the cubed pork with the soy sauce and lemon juice. Cover with plastic wrap and refrigerate at least 4 hours or overnight.

Heat a large skillet over medium heat. Add the olive oil. When oil is hot, add garlic and onions and saute until translucent.

Drain and discard the marinade from the cubed pork. Add the pork pieces to the garlic and onions in the skillet. Cook 1 to 2 minutes, coating the meat in the garlic and onions.

Add the soup stock and the tomato sauce. Stir to blend.

Add the potatoes, carrots, green pepper and bread crumbs. Cover and cook for 10 to 12 minutes or until meat and vegetables are soft and cooked through.

Add the chick peas and green peas. Cook for 1 to 2 minutes more. Season with salt and black pepper. Serve with steamed jasmine white rice.

Hello, Friends! All the images and content on this blog are COPYRIGHT PROTECTED and owned by my media company Besa-Quirino LLC. This means BY LAW you are NOT allowed to copy, scrape, lift, frame, plagiarize or use my photos and  recipe content I wrote, on your website,books, films, television shows or videos  without my permission. If you want to republish this recipe or content on another website, video, news article,or media outlets mentioned above please ASK my permission, re-write it in your own words and simply link back to this blog to give proper attribution. It's the legal thing to do. Thank you. Email me at [email protected]

Disclosure: As a participant in the Amazon Affiliate program, some blog posts contain links to products used in the recipe and sold on Amazon. The price stays the same for the readers who wish to purchase these products on my links. I earn a small commission from Amazon which helps maintain the blog expenses. Thanks in advance for your support.