How to make homemade Mango Jam
As an Amazon Associate and member of other affiliate programs, I earn from qualifying purchases.
[amazon_link asins='B01CAWU8W0,B06XW2X64F,B008H2JLP8,B00060N5OW' template='ProductCarousel' store='queensnotcom-20′ marketplace='US' link_id='f0ebb90c-35a7-11e7-9390-d3444f94f67f']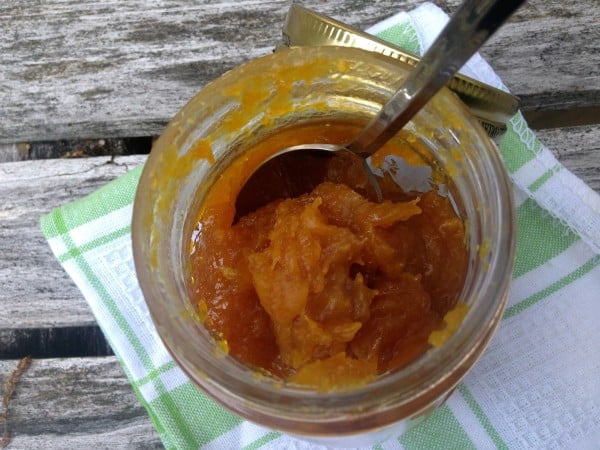 My sweetest summer memory was when we made mango jam during my childhood years. We grew up with an abundance of mangoes, the Philippines' national fruit. The mangoes came from our farm's orchards. These were trees which my father grew and nurtured himself.
We had bushels of mangoes at home during April to May, considered summer in the Philippines . Summer did not mean lazy days. The whole household was involved in making mango jam. The huge amount of summer fruit was ripening faster than we could eat them. So it was 'all hands on deck' for this process. I was a child then. But I participated as much as my young skills and small hands could manage. It was also a precious time because I got to work alongside my mom doing what she did best, which was cooking.
But there was one irony to the process. I never got to ask mom for the mango jam recipe. It was one of those things I thought would last forever – the mangoes from our farm, our home, my mom.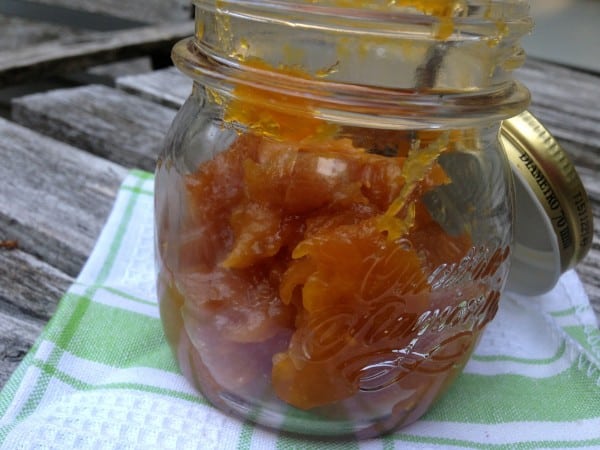 I wrote an essay about my 'regret' of never asking mom for the mango jam recipe. Painfully, I realized my mistake when one day, as an adult, I tried to recreate the mango jam of my childhood here in my American kitchen. I could not. I did not know how. And mom was gone.
Slowly, I tried to figure it out by myself. I cooked the mango jam from memory. After a gazillion attempts, burnt wrists from the sputtering bubbles of the pulp on the stove and hundreds of mangoes, I finally got it right.
I will admit making mango jam is a labor of love, as mom put it. The process is slow and lengthy. Aside from fully ripened mangoes, the important ingredient one needs is patience. But in the end, once the sweet, golden, fruity aromatic jam is cooked, it is all worth it. Nothing else in the world is as heavenly as thick, rich, naturally sweet mango jam on warm toast.
With tears in my eyes and a heavy heart, I wrote the essay "A Hundred Mangoes In a Bottle" about the process of making mango jam with mom during my summers as a child. Later on this essay won two major writing awards.
As for the mango jam recipe, even without a written one, some things that mom taught me stay in my heart forever.
Mango Jam
This recipe for Mango Jam was made after several attempts and many years of trying to recreate what my mom used to make. One needs fully ripened, sweet mangoes for this. Mango season here in the USA is about to end as mid-summer approaches. It is also a good time to find mangoes on sale. Those not so perfect-looking fruit which store owners are ready to discard can be perfect for this process. This recipe I made used 10 pieces of large, fully ripe ataulfo variety mangoes from the Asian market. This is an AsianinAmericamag recipe and yields enough jam to fill an 8 ounce jar.
Ingredients
10

pieces

Ataulfo variety preferred (from Asian markets) or use what is available fresh ripe mangoes

1/2

cup

granulated white sugar

1

bottle

8 ounces, washed, sterilized mason glass jar
Instructions
Slice the mangoes from the center where the pit is. Slice off two cheeks and discard the center pit. Using a spoon, scoop out the mango flesh.

Using a food processor or blender puree the mango flesh for about two minutes. You should have about 2 cups of thick puree. If you do not have a blender or food processor, mash the mango flesh by hand by placing it against a sieve or colander, then press the fruit down with a fork till you have enough puree.

Place the puree in a heavy medium stock pot. Add the granulated sugar and blend well.

Over medium high heat at first and constantly stirring with a long-handled wooden spoon cook the mango jam. Once the pulp boils in about 8 minutes, lower heat to a very slow simmer.

Continue cooking over a slow simmer for a total of 55 minutes. Do NOT leave the jam unattended over the stove. Do NOT get distracted while cooking. Try to be patient and keep stirring while the jam cooks. The mango jam will start to thicken and change to a darker orange hue after 30 minutes. At the end of cooking, the jam should be thick enough to coat the spoon and the jam leaves the sides of the stock pot.

When cooked, remove from the stove top and cool on the counter for about 10 minutes. Spoon mango jam into a clean, sterilized glass jar while still warm and pliable. When jam has cooled completely in the jar, cover and keep refrigerated till ready to serve.

Cook's comments: use a wooden spoon with a long handle. During the cooking process, the mango liquid will start exploding in tiny bubbles over the stove top and if the cooking spoon has a short handle, there is a danger you can burn yourself if bubbles jump to your wrist.

Cooking tip: if it helps, set timer at intervals of 10 minutes, to total 55 minutes in the end. This was my technique to help deal with my impatience. If the thought of constant stirring for 55 minutes sounds daunting, trust me, you can minimize that by setting the timer at 10-minute intervals for 5 times.

Author's apology: I apologize to my readers for not showing a photo of the mango puree cooking stove top. As I mentioned, you cannot leave the puree unattended and you have to constantly stir the mixture. I could not leave the jam nor could I use the camera with only one hand. When you cook this, you will understand. When you taste and enjoy the finished product, you will understand even more.

Hello, Friends! All the images and content here are COPYRIGHT PROTECTED. This means BY LAW you are NOT allowed to use my photos or content on your website  without my permission. If you want to republish this recipe, please re-write it in your own words and simply link back to this blog to give proper attribution. It's the legal thing to do. Thank you.