Chicken Adobo Sliders
As an Amazon Associate and member of other affiliate programs, I earn from qualifying purchases.
]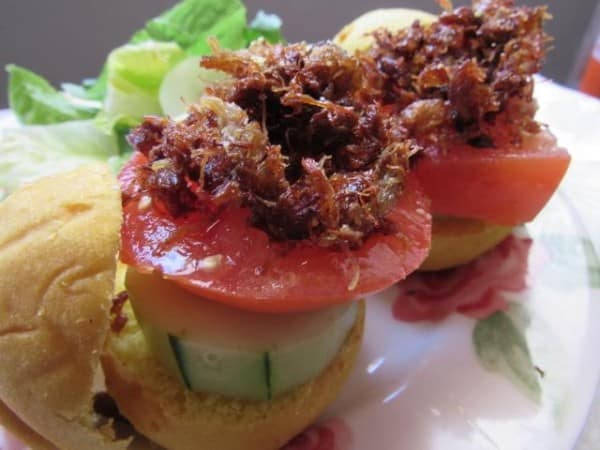 A few weeks ago, the Philippine Consulate General in New York honored our family hero, the late President Elpidio Quirino with a tribute. Elpidio Quirino was the Philippine president from 1948 to 1953. Consul General Mario Lopez de Leon Jr. warmly welcomed our Quirino family, mostly relatives who lived in the USA. The tribute was also the occasion for the launch of our book "Statesman and Survivor Elpidio Quirino" (now available on Amazon.com), a historical collection of quotes from Quirino's memoirs and speeches.
My husband, Elpidio and I, with the rest of our family had the pleasure of meeting Consul General de Leon and his charming wife, Eleanor. Consul General de Leon eagerly told me that his grandparents' roots were from Vigan, Ilocos Sur, the same hometown as our Lolo Elpidio. We shared stories of our trip to Vigan (a UNESCO World Heritage City) in the Philippines last November to celebrate the 125th birth anniversary of President Quirino.
The PCGNY tribute to President Quirino was an honor for our family. It is rare that a Philippine president is honored here in the USA on the same day that a historic event was simultaneously taking place for a former world leader. On the same day, February 29th, President Quirino's remains were re-interred at the Libingan ng mga Bayani (Heroes' Cemetery) in the Philippines, with full military honors led by current President Benigno Aquino III.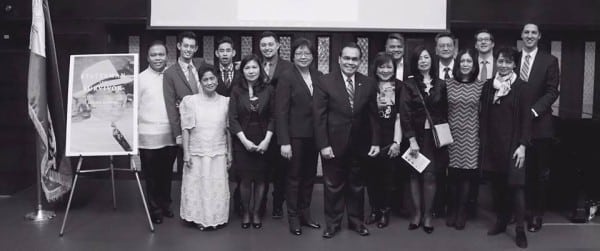 I would be remiss if I did not mention the tremendous help and support given to us by our Quirino cousin Dr. Jesus Ligot from NYC, our speaker Mrs. Lilia Clemente, a Filipina trailblazer on Wall Street, our nephew Michael Quirino Martinez, one of the great grandsons of President Quirino. A huge heartfelt thanks goes to the the entire PCG-NY's staff led by Deputy Consuls Kira Danganan Azucena and Olivia Magpile and Vice Consul Khrys Corpuz, who was the program emcee. We had a lively time sharing stories about the "life and times of President Quirino" with guests and family who traveled from around the USA, Canada and the Philippines. The highlight of the event enjoyed by our guests, was a brief video clip of President Quirino's reburial that same afternoon in Manila – the video was sent to us that same day, edited and ready for viewing by the President Elpidio Quirino Foundation. The President Quirino Foundation, based in Manila is led by our family members Atty. Aleli Angela G. Quirino, Ruby Gonzalez-Meyer and TV-radio host, wellness expert Cory R. Quirino.
But before the program at the Kalayaan Hall started, our family hosted cocktails at the ground floor of The Philippine Center. We had a scrumptious spread of Filipino appetizers and spirits catered by Grill 21 on Gramercy. Owner Marissa Teves- Beck and restaurant manager, Rose Teves made sure nearly 100 guests were fed well with: Chicken Adobo Sandwiches, Lumpia Shanghai, Pork Siomai, Vegetarian Lumpia and a steady stream of wines and champagne.
One of the cocktail sandwiches which our guests swooned over was the Chicken Adobo in Pan de Sal (the Filipino bun). Grill 21's version had tender, tangy, savory adobo slices in freshly baked buns. The portion and size was manageable for a hearty cocktail sandwich. I even brought home some to enjoy later after the party. In fact, my sister-in-law Alicia packed a few in her carry-on bag on her flight back to Canada the following day.
My point is those chicken adobo sandwiches inspired me to make these Chicken Adobo Flakes Sliders today. I had a batch of leftover White Adobo. As we all know adobo tastes better a day or two after because by then the garlic-vinegar flavors have set. I started shredding the adobo flakes. But before filling the buns with the adobo, I thought of pan frying the adobo to achieve crisp, crunchy shreds.
It took no time to pan fry the adobo flakes, listen to the quick sizzle from the skillet and assemble them into these attractive sliders. As my husband and I enjoyed the crunch of the garlicky flakes beneath the layers of cucumbers, tomatoes and bread – the simplicity of this little adobo slider reminded us of the life and times of President Elpidio Quirino, a statesman whose life was nurtured by his family, his strong Ilocano roots and his humble beginnings as a barrio school teacher emerging as one of the great world leaders of his time.
*Photo credits for the Quirino family photo with Consul General and Mrs. Mario Lopez de Leon Jr. at the Philippine Consulate General NY – thanks to Balitang New York.
Chicken Adobo Sliders
If you have leftover
adobo
, transform them into these Chicken Adobo Flakes Sliders. Simply shred the cooked adobo meat into flakes and pan fry till crisp. Fill the small Pan de Sal buns or dinner rolls with the crunchy adobo flakes, slices of cucumbers and tomatoes. This makes a hearty snack or is good for lunch or dinner, too. This is an AsianInAmericaMag.com recipe and makes 10 to 12 small sliders.
Ingredients
6

pieces

cooked chicken adobo, bone-in

cooked and flaked in shreds

1/4

cup

vegetable oil

for deep fry of adobo flakes

12

small

Pan de Sal buns (Filipino bread buns)

from Asian markets or use dinner rolls

4

Tablespoons

mayonnaise

for spreading

1

whole

cucumber

peeled, sliced, seeded

2

whole

large tomatoes

sliced

12

pieces

green pitted olives

for garnish

12

pieces

cocktail toothpicks

to seal sliders (

2

cups

shredded fresh lettuce leaves

, for garnish
Instructions
Cook one recipe for

chicken adobo

in a large stock pot. (Previous blog post recipe for

chicken adobo-- click here

). Remove cooked chicken adobo pieces from the broth it was cooked in. Set the sauce aside for later.

Flake the chicken meat into tiny shreds. Place the adobo shreds on paper towels to remove excess liquid.

Heat 1/4 cup vegetable oil in a large skillet over medium-high heat. Allow oil to get hot in about 2 to 3 minutes. If using a thermometer, heat should be about 350 F.

Manually, if I put a chopstick in the oil and little bubbles form at the bottom of the chopstick, then I know oil is ready for deep frying.

In little batches, by spoonfuls, add the adobo flakes to deep-fry in the skillet with oil. Turn the flakes around to avoid burning and to cook evenly.

Deep fry each batch for about 2 to 3 minutes till crisp.

Do not leave the skillet unattended or meat will burn.

Try not to overcrowd skillet. Deep fry  a few spoonfuls of adobo flakes at a time for about 2 to 3 minutes each batch to achieve crispness.

When done, place crispy flakes on paper towels or parchment paper to remove excess oil.

How to bake Pan de Sal: I have a homemade Pan de Sal recipe in a previous blog post. Search archives (use search box) on the home page.

To serve: Assemble adobo flakes to make sliders in this order -- sliced open pan de sal (or dinner rolls), mayonnaise, a slice each of cucumber and tomato, adobo flakes.

Seal the sliders with long cocktail toothpicks and a pitted green olive for garnish. Plate sliders on shredded fresh lettuce leaves.

Optional: if preferred, Filipinos like to eat crisp adobo flakes with "sinangag" (garlic fried rice), sunny side eggs, achara (green papaya pickles) and chopped tomatoes.

Cook's comments: To save time cut the cooking process by making the adobo a day or two ahead. The garlic-vinegar adobo flavors have set by then and the aroma is addictive when you deep fry the flakes.

Hello, Friends! All the images and content on this blog are COPYRIGHT PROTECTED and owned by my media company Besa-Quirino LLC. This means BY LAW you are NOT allowed to copy, scrape, lift, frame, plagiarize or use my photos and  recipe content I wrote, on your website  without my permission. If you want to republish this recipe or content on another website or news article, please ASK my permission, re-write it in your own words and simply link back to this blog to give proper attribution. It's the legal thing to do. Thank you. Email me at [email protected]
Nutrition
Serving:
1
g
|
Calories:
213
kcal
|
Carbohydrates:
1
g
|
Protein:
1
g
|
Fat:
24
g
|
Saturated Fat:
13
g
|
Cholesterol:
6
mg
|
Sodium:
89
mg
|
Sugar:
1
g