Filipino Bistek- Braised Beef Slices in Citrus and Soy Sauce
As an Amazon Associate and member of other affiliate programs, I earn from qualifying purchases.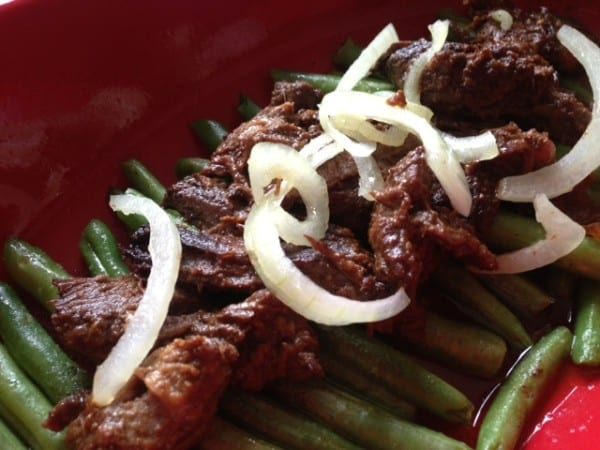 My husband is a carnivore and loves beef entrees laden with gravy like this Filipino Bistek. In contrast, I have been trying to go meatless or else enjoy seafood dishes.
It is not a sacrifice to give up red meat for me. I enjoy vegetable and seafood dishes. And I am constantly in search of more recipes with Asian greens to try out.
My husband though is another story. The aroma and allure of a sizzling steak on a skillet mesmerizes him. Between 'meatless Mondays' and 'Lenten Fridays' he caves around Wednesday and requests for beef. So one night I made him Bistek Tagalog. It has been one of my quick, go-to dishes for weeknights or busy school days when my sons were growing up.
Bistek (say "bees-stek") is a Filipino dish of braised beef slices marinated in citrus like calamansi (the Philippine lime) and soy sauce, garnished with layers of onion ring slices.
My mom used to cook this often because my dad enjoyed it flavored with the lime that grew in our backyard. Mom used to serve Bistek together with a fish and vegetable dish. Filipino mothers pay special attention to pairing dishes perfectly. Emphasis is always on the fact that food served should be "terno-terno", a Pilipino colloquial catch phrase meaning 'matchy – matchy'. In other words, flavors and textures should match on the table. And always, dishes have to be served with rice, the staple.
"In Cavite, Puring Ballesteros, a local Cavite historian explained that what makes our cuisine unique is the correct pairing of dishes like serving a savory-flavored dish with a sour, tangy one. For example 'Bistek Tagalog is paired with a fish entrée." (Guillermo Ramos, 'Cavite Cuisine' chapter in 'Pinoy Umami' Cookbook).
For this Bistek, the lean, tenderized beef slices were savory from the soy sauce but infused with the sweetness of citrusy calamansi. Since I never have time to cook two different dishes for one meal, I combined vegetables and meat to make an all-in-one meal for our supper.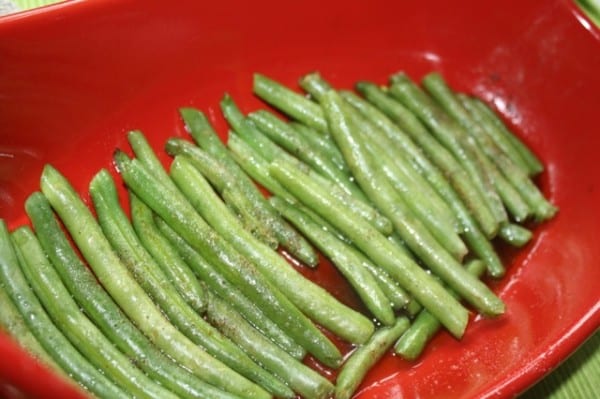 I used the Bistek as a topping on a bed of roasted green beans which I flavored with cider vinegar. The velvety beef slices went well with the crisp green beans. All together, it was perfect to serve with a bowl of steaming rice. My hubby relished the simple luxury of pouring the beef's sweet citrus-soy sauce gravy on the fragrant rice grains.
Serve this scrumptious meal on a Wednesday or Thursday so that your family can have enough strength and willpower for Lenten Friday or just because you need to cook something quick and hearty mid week.
Filipino Bistek- Braised Beef Slices with Citrus and Soy Sauce
This beef dish is defined by its strong sweet citrus flavor. Bistek Tagalog (say 'bees-stek Ta-gah-log') is a favorite Filipino recipe of braised beef slices cooked in a skillet and flavored with citrus juice from calamansi (the Filipino lime) or lemons and soy sauce. I used tamari, a low sodium, gluten-free soy sauce for this recipe. The layer of large onion ring slices are pan fried before the beef is braised in the same skillet to flavor the entire dish with a robust sensation. This is an easy weeknight meal that I make often when I have little time left to put dinner on the table. This was adapted from a past AsianInAmericamag recipe on this blog. Serves 2 or up to 4 if paired with rice.
Ingredients
1

pound

beef sirloin or skirt steak

sliced thin (ask your butcher to slice them uniformly if possible)

1/2

cup

calamansi or lemon juice

divided, use 1/4 cup for marinade of beef

1/2

cup

soy sauce or Tamari low-sodium

divided, use 1/4 cup for marinade

1/4

pound

green beans

washed, edges trimmed

1

Tablespoon

vegetable oil

for green beans

2

Tablespoons

cider vinegar

for green beans

4

cloves

garlic

divided, use 2 pieces minced, for green beans, rest for beef

2

Tablespoons

vegetable oil

for beef

1

whole

white onion

sliced

1

whole

red onion

sliced

1/2

cup

beef broth

for sauce

1

teaspoon

freshly ground black pepper powder

1/2

teaspoon

sea salt

boiled rice for serving

white or brown
Instructions
Prepare the beef slices. Using a mallet or the back of a large kitchen knife, pound the meat slices to tenderize it. Do this on each side of the beef till the slice looks even thinner than when you first began. Pre-marinate the beef slices with 1/4 cup calamansi juice (or lemon) and 1/4 cup soy sauce in a medium-sized, non-reactive bowl. Cover and refrigerate for at least 30 minutes or up to 1 hour.

Prepare the green beans by washing and trimming the edges. Grease a baking tray that will fit all the beans when laid out in a single layer. Drizzle the beans with the extra virgin olive oil, apple cider vinegar, minced garlic and salt. Mix the seasonings well to coat the green beans. Roast the green beans, uncovered in the oven at 375 F for 10 minutes. When done, remove from oven and set aside.

In a large skillet, over medium high heat, add the vegetable oil. When oil is hot enough, add the sliced white and red onion rings and pan fry for 3 to 5 minutes. Move the onion rings around the skillet to flavor the oil. When onion rings are transparent, remove and set aside.

Using the same skillet, while maintaining the same medium high heat, add the remaining garlic and pre-marinated beef slices. Braise the beef and cook for about 5 minutes on each side till well done. Remove beef slices from the skillet and set aside.

Separately, mix remaining 1/4 cup calamansi juice (or lemon),1/4 cup soy sauce, the broth and black pepper powder in a small bowl. Pour this sauce mixture into the same skillet used for cooking the beef. Cook over medium heat and let the liquid reduce. This should take about 3 to 5 minutes. Turn off the heat.

To assemble on platter: place the roasted green beans on the bottom layer. Arrange the Bistek Tagalog slices on top of the green beans. Pour the citrus-soy sauce over the beef. Garnish with the onion rings. Serve with boiled rice.

Cook's comments: I use frozen calamansi concentrate because in the east coast the regular calamansi either cannot be found or if sold in Chinatown are very expensive. Calamansi, the Filipino lime grows seasonally in the west coast or warmer states of the USA. In the Philippines, they grow abundantly in back yards or sold in markets. The Meyer Lemons have the closest flavor to the calamansi. As a substitute, use fresh lemons if more convenient for this recipe.

Ingredient notes:  in the original recipe from past blog posts I used regular soy sauce, Philipine brands purchased at Asian markets. You can use regular soy sauce if that's what you prefer. For this recipe I used tamari sauce low sodium, a non-wheat (gluten-free) soy sauce which is less salty. Tamari sauce is also available at Asian markets, larger supermarkets, specialty stores or online sources here in the USA.

Hello, Friends! All the images and content on this blog are COPYRIGHT PROTECTED and owned by my media company Besa-Quirino LLC. This means BY LAW you are NOT allowed to scrape, lift, frame, plagiarize or use my photos and  recipe content I wrote, on your website, videos, books or media content without my permission. If you want to republish this recipe or content on another website, media outlet or news article, please ASK my permission, re-write it in your own words and simply link back to this blog to give proper attribution. It's the legal thing to do. Thank you. Email me at [email protected]
Nutrition
Serving:
1
g
|
Calories:
108
kcal
|
Carbohydrates:
3
g
|
Protein:
1
g
|
Fat:
11
g
|
Saturated Fat:
9
g
|
Sodium:
405
mg
|
Potassium:
88
mg
|
Fiber:
1
g
|
Sugar:
1
g
|
Vitamin A:
195
IU
|
Vitamin C:
4.4
mg
|
Calcium:
16
mg
|
Iron:
0.4
mg
Notes on Nutrition: The nutrition information provided is an estimate and will vary based on cooking methods and specific brands of ingredients used.
Did you like this recipe? I have more Filipino Instant Pot recipes in my newest cookbook Instant Filipino Recipes: My Mother's Traditional Philippine Cooking in A Multicooker Pot by Elizabeth Ann Besa-Quirino. Buy my cookbooks and books on Amazon.com sold worldwide in paperback and Kindle format.
Hello, Friends! Please DO NOT LIFT OR PLAGIARIZE my original recipe, stories, photos or videos. All the images and content on this blog are COPYRIGHT PROTECTED and owned by my media company Besa-Quirino LLC. This means BY LAW you are NOT allowed to copy, scrape, lift, frame, plagiarize or use my photos, essays, stories and recipe content on your websites, books, films, television shows, videos, without my permission. If you wish to republish this recipe or content on media outlets mentioned above, please ASK MY PERMISSION, or re-write it in your own words and link back to my blog AsianInAmericaMag.com to give proper attribution. It is the legal thing to do. Thank you. Email me at [email protected]