Mango-Rum Bread Pudding
As an Amazon Associate and member of other affiliate programs, I earn from qualifying purchases.
']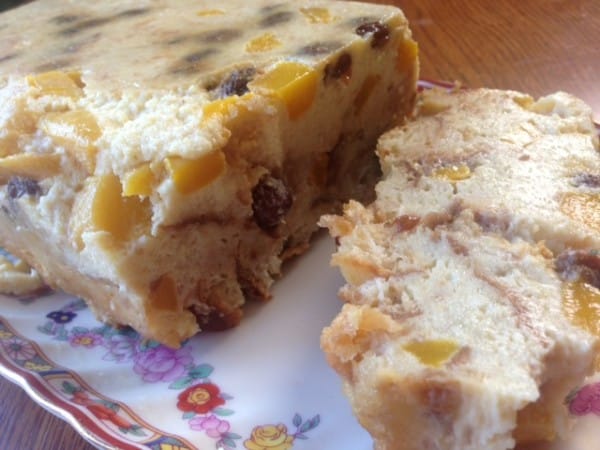 My friend Grace from our Let's Lunch bloggers event was having a housewarming. I like to share in the happiness of friends when they're celebrating milestones. And as a virtual housewarming gift to Grace, I baked an easy Mango Rum Bread Pudding for dessert.
Housewarmings get me excited. They always bring me back to traditions I looked back to with fondness.Almost all events in the Philippines, big or small are interwoven with our religious faith. When we have housewarmings, we have our homes blessed by a priest and invite family and friends for a big party. The priest goes in each room, sprinkling holy water and saying a prayer. The trek around the house is as short or as long as the house is. After the prayers, the best part begins.
The most exciting part I looked forward to as a kid was the 'tossing of coins' by the host. The home owners invite 'blessings and good luck' by tossing a bagful of coins on the floor for all the guests to retrieve. As the loud, joyful clatter of coins resounds on the floor, excited squeals and screams of the guests are heard. One has to be quick and dive into the bobbing heads and hands grabbing coins on the floor. I once stopped and stared in fascination at everyone (this is the writer in me observing people) and ended up with a meager pittance of the smallest coins pitifully left in the crevices of the floor tiles.
My son, Tim, when he was little, was the most energetic guest of family housewarmings. Being a small kid then, he wiggled his way into the droves of hands scrambling for coins as he dug deep and held up the edge of his t-shirt to catch a jackpot. I always told Tim not to spend these coins from housewarmings, for they were considered 'good luck' coins.
Soon after, guests moved to the dining room where our hosts urged us to partake of festive party dishes on the table. Each time I was invited to a housewarming, I often brought a dessert I baked like this Mango Rum Bread Pudding.
Mangoes used to be a seasonal fruit but are now found year round in the Philippines. Here in the States, they are in the markets from spring through summer. I found good ataulfo variety mangoes which I used for this sweet bread pudding. It was pretty easy to put this pudding together. I used brioche buns, eggs, cream, a dash of rum and the succulent honey-sweet mangoes. The creamy bread pudding with fruity flavors blends well with any dish hosts prepare for a party. Plus the pretty presentation of the long loaf helps make the dessert table colorful.
Housewarmings are fun. They symbolize new beginnings. We like to share in the blessings of the homeowners by bringing a gift, enjoying the big feast and relishing the company of good friends. What a wonderful affirmation that all is right in the world.
Mango-Rum Bread Pudding
This Mango Rum Bread Pudding was an easy dessert to bake. The sweet ataulfo variety mangoes, cut in cubes combined well with the sweet bread, heavy cream, eggs, rum and raisins that went into this recipe. This silk-like pudding was baked in a water bath or 'Bain Marie' and when done was a creamy, fruity dessert all enjoyed. Bake this for a gift or the family to enjoy at dessert or snack time. This is an AsianInAmericamag.com recipe adapted from a previous blog post. Serves 4 to 6.
Ingredients
1

Tablespoon

unsalted butter

softened at room temperature, to grease loaf pan butter (unsalted)

16

ounces (2 cups)

heavy cream

1

can (14 oz.)

sweetened condensed milk

6

whole

beaten eggs

beaten eggs

1

teaspoon

pure vanilla extract

1

Tablespoon

rum

4

whole

large bread buns

the size of burger buns, cubed brioche buns (or any sweet, soft bread buns)

6

slices

raisin bread

cut in 1-inch cubes

1/2

cup

raisins

3 to 4

whole

fresh ripe mangoes

pitted, cut in 1-inch sized cubes, ataulfo variety
Instructions
Prepare a loaf pan, measuring 4 x 11 inches by greasing the bottom and sides lightly with softened butter.

In a large bowl, combine the heavy cream and the condensed milk with the beaten eggs, vanilla extract and rum. Blend well with a whisk.

Cut the bread in cubes about 1-inch squares. Soak all the bread cubes in the cream mixture. Mix in the raisins. Let the bread cubes and raisins soak for at least 30 to 35 minutes. You will see the bread absorb the cream slightly.

Add the mango cubes to the bread and cream mixture. Mix with a spoon carefully. Try not to crush the soft mango pieces.

Pour the bread, mango and cream mixture into the loaf pan. Cover the entire loaf pan with aluminum foil and seal on all sides.

Bake at a preheated oven of 325 F degrees Bain Marie style or in a water bath. In the Philippines we call this "banyo maria". Have a baking pan ready that is larger than the loaf pan – about 11 x 13 inches, with a height of at least 4 inches. Place warm water in the larger baking pan. Situate this larger baking pan in the center rack of the preheated oven.

Place the foil-covered loaf pan in the center of the larger baking pan which has the hot water. Bake the pudding in the bain marie at 325 F degrees for 1 hour and 20 minutes. To test if pudding is cooked: place a thin knife in the center of the pudding and if knife comes clean, it is done.

Cool the pudding on the counter for at least 30 – 40 minutes. Cover pudding and refrigerate for a few hours or overnight to firm up. To serve, take a sharp knife and loosen the sides and edges of the pudding. Turn pudding over on an oval or rectangle platter.

Cook's comments: use fully ripened, sweet mangoes for this recipe. If mangoes are not available, use fresh peaches, peeled and cubed as a substitute ingredient.

Hello, Friends! All the images and content on this blog are COPYRIGHT PROTECTED and owned by my media company Besa-Quirino LLC. This means BY LAW you are NOT allowed to scrape, lift, frame, plagiarize or use my photos and  recipe content I wrote, on your website, blogs, videos, books or media content  without my permission. If you want to republish this recipe or content on another website or news article, please ASK my permission, re-write it in your own words and simply link back to this blog to give proper attribution. It's the legal thing to do. Thank you. Email me at [email protected]
Nutrition
Serving:
1
g
|
Calories:
589
kcal
|
Carbohydrates:
38
g
|
Protein:
6
g
|
Fat:
47
g
|
Saturated Fat:
28
g
|
Cholesterol:
163
mg
|
Sodium:
184
mg
|
Potassium:
323
mg
|
Fiber:
3
g
|
Sugar:
3
g
|
Vitamin A:
1755
IU
|
Vitamin C:
1.7
mg
|
Calcium:
105
mg
|
Iron:
1.6
mg
Notes on Nutrition: The nutrition information provided is an estimate and will vary based on cooking methods and specific brands of ingredients used.
Did you like this recipe? I have more classic recipes inspired by my late mother's cooking in my popular cookbook: My Mother's Philippine Recipes. If you're learning how to cook Filipino food or a fan of Philippine cuisine, buy my cookbooks and books on Amazon.com sold worldwide in paperback and Kindle format.