Shrimps in Golden Clock
As an Amazon Associate and member of other affiliate programs, I earn from qualifying purchases.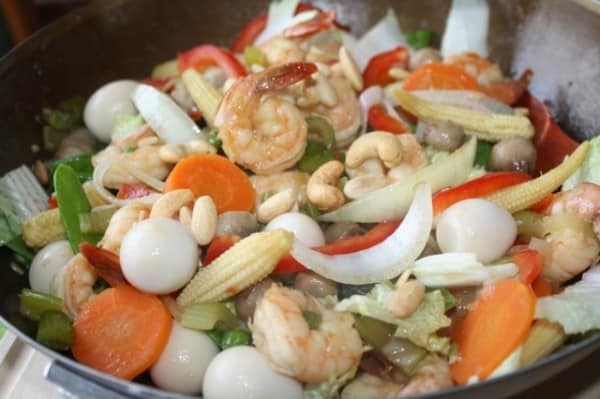 Shrimps in Golden Clock was my mom's favorite. I can still picture mom, with her apron on, cheerful and pretty, stirring the large skillet when we came home from school. On the counter, would be a large bowl of tiny quail eggs, measuring about one-inch in circumference, the outer shell speckled with brown spots. I eagerly helped her peel the eggs, though I admit the thin, fragile shells were a chore to work on. Once peeled, the glistening petite eggs looked like pearls when they were mixed with fresh shrimps, crisp vegetables and soft mushrooms. When this fragrant dish was served, my sister and I dove first into the quail eggs, our favorite ingredient.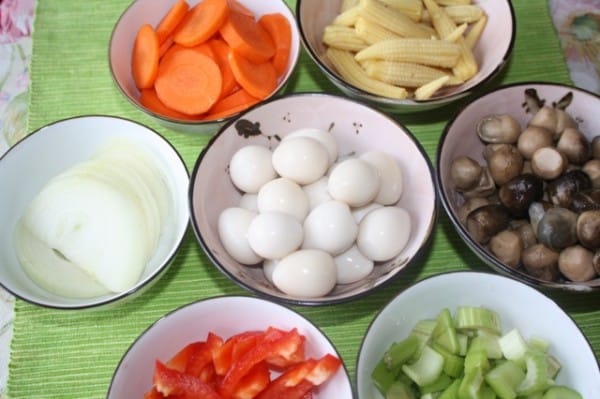 Quails are one of the most migrant birds in history. The birds have been around for over 4,000 years. Quails are domestically bred birds and thrive in continents like Asia, Africa and Europe. Mom used to make a scrumptious savory Quail Adobo which my dad enjoyed immensely. Quails are called 'pugo' (say 'pooh-goh') in the Philippines. Quail eggs are known as 'itlog ng pugo' (The Pilipino word 'Itlog' translates to 'egg'). I am not a nutrition expert but articles I have read on quail eggs reveal their substantial health benefits.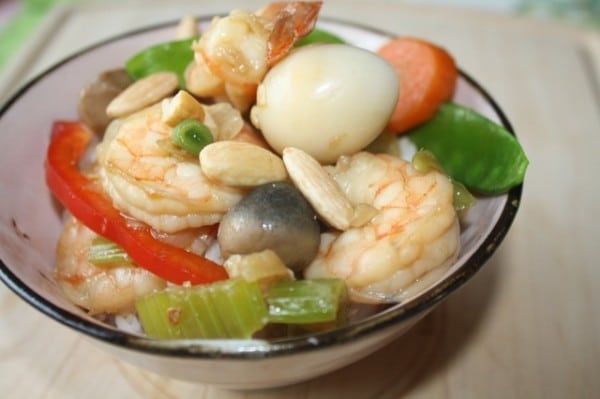 In the Philippines, quail eggs are easy to find in the open wet markets. One can buy a basket of 100 tiny eggs (5 to 6 quails eggs are equivalent to the content of one chicken egg) for a very reasonable, cheap rate. Sometimes the seller even offers to cook them hard boiled for you. I have seen these used as ingredients for gourmet Asian dishes or else pickled in a sweet and tangy brine.
Now that Lent was here I brought out my seafood and vegetables recipes for Fridays when we abstain from red meat. First on the list was mom's Shrimps in Golden Clock, a stir fry shrimp and vegetables dish made magical by the presence of tiny, tasty quail eggs.
Whenever mom cooked Shrimps In Golden Clock, I knew it had been a special day which she wanted to celebrate with an extraordinary dish. There was never anything obscure or weird about this meal. Even when I cook this shrimp stir fry for my husband and sons here in my American kitchen, it is a beautiful testament to mom's legacy and appreciation for good food.
Try to make an effort to open your hearts, open your minds and be more accepting of other people's ethnicities, differences in culture and cuisine no matter where you are in the world. Big minds are reflective of big hearts.
Shrimps in Golden Clock
Shrimps in Golden Clock is an Asian and Filipino dish which is stir fried with shrimps, vegetables and quail eggs. Seasoned with salty, sweet Asian seasonings and condiments, this is an ideal meatless meal for any day of the week. Serve with rice. This is an AsianInAmericamag.com recipe by Elizabeth Ann Quirino. Serves 4 to 6.
Ingredients
1

pound

large, jumbo-sized fresh shrimps

heads removed, peeled, deveined

1

Tablespoon

lemon juice

2

Tablespoons

vegetable oil

2

cloves

garlic

peeled, minced

1

whole

onion

sliced

2

stalks

celery

chopped

2

Tablespoons

soy sauce

1

cup

organic vegetable broth

1

whole

carrot

peeled, sliced

1

whole

potato

peeled and cubed into 1/2-inch pieces

1

Tablespoon

xiao xing rice wine

1

cup

frozen green peas

1

can (15 ounces)

canned quail eggs

or 2 cups of fresh hard boiled pieces, peeled (from Asian markets)

1

can (15 ounces)

canned baby corn

15 ounces drain liquid, from Asian markets, baby corn

1-2

cups

fresh straw mushrooms

or use button mushrooms; washed, wiped with paper towels

1

cup

sugar snap pease

edges trimmed snow peas or sugar snap peas

2

Tablespoons

cornstarch

1/4

cup

water

to mix with cornstarch

1/8

teaspoon

sesame oil

2

stalks

scallions

chopped, for garnish

1/2

teaspoon

salt

1

teaspoon

ground black pepper powder

1/2

cup

unsalted cashew or almond nuts
Instructions
Prepare the shrimps by washing, take off heads, peel and devein. Pre-marinate the shrimps in lemon juice for about 30 minutes (do not keep them longer than thirty minutes).

In a large wok, over medium high heat vegetable oil. Saute the garlic, onions, celery.

Pour the pre-marinated shrimps, tamari sauce and broth. Stir and cook the shrimps for about 5 to 6 minutes till they transform from pink to orange in color.

Add the carrots and cubed potatoes. Stir ingredients together.

Add the rice wine . Blend well.

Lastly add the green peas, quail eggs, baby corn, mushrooms and snow peas or sugar snap peas. Add cashews or almonds if desired. Cook for 5 minutes more or till potatoes are soft.

Meanwhile, in a separate small bowl, dilute the cornstarch in cold water and stir well. Once the shrimp and vegetables are boiling in the wok, add the cornstarch mixture and let boil quickly in about 2 minutes. This will thicken the sauce to a gravy-like consistency.

Season with sesame oil, salt and pepper. Garnish with scallions. Serve piping hot with boiled rice.

Cook's comments: if you buy fresh quail eggs from the market, hard boil them for about 2 to 3 minutes in brisk, bubbling water. After water boils, turn off the heat, cover and keep the eggs in the stockpot for 1o minutes. Then transfer eggs to a bowl filled with cold water. Set aside for a few minutes till cool enough to handle. The tiny eggs are easier to peel if immersed in the cold water right away.

Ingredient notes: I used Tamari soy sauce, low sodium, gluten-free (no wheat) for this recipe. In a previous post, my other recipe used oyster sauce. Feel free to use oyster sauce if preferred.

Mother's tips: this was a great way I could make my sons eat their vegetables when they were little. I added different vegetable greens in season. The quail's eggs and baby corn were my youngest son's favorites. I promised he could have more of it if he ate his leafy greens first.

Hello, Friends! All the images and content on this blog are COPYRIGHT PROTECTED and owned by my media company Besa-Quirino LLC. This means BY LAW you are NOT allowed to scrape, lift, frame, plagiarize or use my photos and  recipe content I wrote, on your website  without my permission. If you want to republish this recipe or content on another website or news article, please ASK my permission, re-write it in your own words and simply link back to this blog to give proper attribution. It's the legal thing to do. Thank you. Email me at [email protected]
Nutrition
Serving:
1
g
|
Calories:
91
kcal
|
Carbohydrates:
6
g
|
Protein:
1
g
|
Fat:
7
g
|
Saturated Fat:
6
g
|
Sodium:
812
mg
|
Potassium:
88
mg
|
Fiber:
1
g
|
Sugar:
1
g
|
Vitamin A:
190
IU
|
Vitamin C:
3.6
mg
|
Calcium:
15
mg
|
Iron:
0.3
mg
Notes on Nutrition: The nutrition information provided is an estimate and will vary based on cooking methods and specific brands of ingredients used.
Did you like this recipe? I have more classic recipes inspired by my late mother's cooking in my popular cookbook: My Mother's Philippine Recipes. If you're learning how to cook Filipino food or a fan of Philippine cuisine, buy my cookbooks and books on Amazon.com sold worldwide in paperback and Kindle format.
Hello, Friends! Please DO NOT LIFT OR PLAGIARIZE my original recipe, stories, photos or videos. All the images and content on this blog are COPYRIGHT PROTECTED and owned by my media company Besa-Quirino LLC. This means BY LAW you are NOT allowed to copy, scrape, lift, frame, plagiarize or use my photos, essays, stories and recipe content on your websites, books, films, television shows, videos, without my permission. If you wish to republish this recipe or content on media outlets mentioned above, please ASK MY PERMISSION, or re-write it in your own words and link back to my blog AsianInAmericaMag.com to give proper attribution. It is the legal thing to do. Thank you. Email me at [email protected]