Adobong Hito sa Gata – Catfish in Coconut
As an Amazon Associate and member of other affiliate programs, I earn from qualifying purchases.
]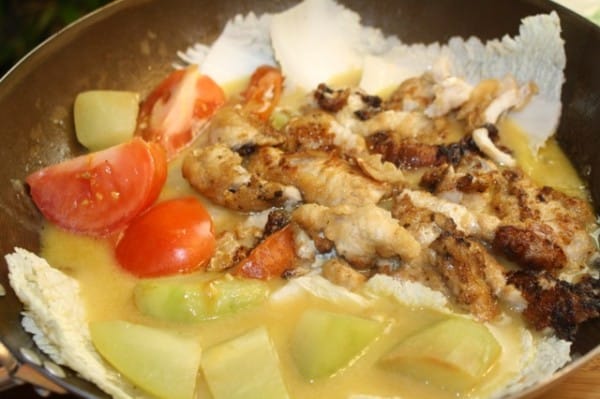 It's always been hard for me to cook creative, unique seafood dishes for Fridays of Lent so I cooked this – Adobong Hito sa Gata – Catfish in Coconut. My sons and husband are carnivores. My sons, though, now grown up, have shifted food preferences and go for a balance of vegetables, seafood and meat.
I was inspired to cook Adobong Hito sa Gata when I went through the "Slow Food Adobo" Cookbook, authored by my cousin Lyn Besa Gamboa and her friend Mara Pardo de Tavera. Adobo is traditionally a stew of garlic, vinegar and soy sauce. One can use chicken, pork, vegetables or seafood as the main ingredient.
An adobo stew of garlic and vinegar cooked in coconut milk is fragrant and almost hypnotic when the aromas float around. For this recipe, I cooked the fish twice. First it was pan-fried and then added to the stew. I had to pan fry the fish fillet first or it would have crumbled in the creamy broth.
I cooked with catfish nuggets from my neighborhood supermarket. To the unfamiliar, catfish was listed by fishwatch.gov as one of the top sea foods consumed in America. Here in the States, sources for catfish are found in Alabama, Arkansas, Louisiana and Mississippi. I always ask where my seafood comes from before I buy it. I also try to find out if they were farm-raised in the USA.
In Southeast Asian countries, the Asian catfish thrives as an industry. We call catfish "hito" (say 'hee-toh') in the Philippines. We find many ways of cooking it: char-grilled, pan-fried, or in stews. I remember the Asian catfish or 'hito' as dark-skinned, without scales, a large fish which weighed as much as a pound. I also recall the fresh catfish mom bought was jumping in the 'bayong' (a native basket) when it came from the wet markets. The jiggling catfish scared me when I was a child. Later when I was a housewife, I discovered I could ask the seller in the market to clean the fish for me so I didn't have to bring home a wiggling fish.
Here in the States, I buy catfish already in fillets. They have a white-colored flesh, are sweet tasting and mild-flavored. These fillets in nugget sizes were a good complement to the broth with garlic, ginger, tangy vinegar, silk-like coconut milk and made spicy with bird's eye chilies (siling labuyo in the Philippines). I added sweet organic Jersey tomatoes, thick chayote slices (sayote) and shreds of napa cabbage. This savory, rich stew was so good on a mound of boiled rice; it felt indulgent in the end.
Adobong Hito sa Gata - Catfish in Coconut
Adobong Hito sa Gata - Catfish in Coconut is a stew of catfish cooked in garlic, vinegar, coconut milk and spiked with birds' eye chilies (siling labuyo). I added chunks of chayote (sayote), sweet tomato slices and shreds of cabbage. The fish fillets were cooked twice: first pan fried then added to the simmering broth. The seafood stew was inspired by recipes from the Slow Food Adobo Cookbook by Lyn Besa Gamboa and Mara Pardo de Tavera (Anvil Publishing; Manila, Philippines). Serves 4 if accompanied by rice.
Equipment
1 medium to large stockpot (4 to 6 quarts)
Ingredients
2

pounds

catfish nuggets or fillet slices

1

tablespoon

lemon juice

1/4

cup

all-purpose flour,

to coat catfish

1/4

cup

vegetable oil;

divided, part for pan frying catfish, leave 2 Tablespoons for saute

2

cloves

garlic, minced

1

whole

large onion,

sliced

1

teaspoon

minced fresh ginger

1/2

cup

cider vinegar

1

cup

vegetable broth

2

pieces

bay leaves

2

teaspoons

black peppercorns

2

pieces

birds eye chilies,

siling labuyo in the Philippines

1/2

teaspoon

salt

1/4

teaspoon

freshly ground black pepper powder

1

can (13.5 fl oz.)

coconut milk

2

whole

chayote (sayote);

peeled, seeded, quartered

2

whole

tomatoes, sliced

3

cups

shredded napa cabbage

for serving: steamed rice
Instructions
Pre-marinate catfish nuggets with the juice of a lemon. Cover and set aside for 20 minutes. (Do not marinate longer than this or fish tends to cook in the citrus).

Drain the lemon juice. Dredge the catfish nuggets in flour. In a large non-stick stock pot, over medium high heat, add the vegetable oil. When oil is hot enough, in about 2 to 3 minutes, add the catfish. Pan fry for 5 minutes. Remove from skillet and drain fish on parchment paper to remove excess oil.

Using the same stockpot and vegetable oil, saute the garlic, onions and fresh ginger. Add the vinegar, broth, bay leaves, peppercorns, chilies, salt and black pepper powder. Pour the coconut milk and stir to blend with the ingredients. Lower heat and continue simmering for 2 to 3 minutes. Heat should be very low so that the coconut milk does not curdle.

Place the catfish in the stockpot with the simmering broth. Add the chayote, tomatoes. Cook for about 8 to 10 minutes more till the chayote softens and fish is cooked.

Add the shredded cabbage. Cover and turn off the heat. The residual heat will cook the cabbage in the last 5 to 10 minutes. Serve warm with rice.

Cook's comments: Feel free to add other leafy greens or vegetables in season.

Hello, Friends! All the images and content on this blog are COPYRIGHT PROTECTED and owned by my media company Besa-Quirino LLC. This means BY LAW you are NOT allowed to scrape, lift, frame, plagiarize or use my photos and  recipe content I wrote, on your website  without my permission. If you want to republish this recipe or content on another website or news article, please ASK my permission, re-write it in your own words and simply link back to this blog to give proper attribution. It's the legal thing to do. Thank you. Email me at [email protected]
Nutrition
Serving:
100
g
|
Calories:
92
kcal
|
Carbohydrates:
18
g
|
Protein:
2
g
|
Fat:
1
g
|
Saturated Fat:
1
g
|
Polyunsaturated Fat:
1
g
|
Monounsaturated Fat:
1
g
|
Sodium:
1056
mg
|
Potassium:
133
mg
|
Fiber:
2
g
|
Sugar:
2
g
|
Vitamin A:
337
IU
|
Vitamin C:
3
mg
|
Calcium:
35
mg
|
Iron:
2
mg
Notes on Nutrition: The nutrition information provided in the recipe links is an estimate and will vary based on cooking methods and specific brands of ingredients used.
Copyright Notice: Hello, Friends! Please DO NOT LIFT OR PLAGIARIZE Asian in America recipes on this blog, my original recipes, stories, photos or videos. All the images and content on this blog are COPYRIGHT PROTECTED and owned by my media company Besa-Quirino LLC by Elizabeth Ann Quirino. This means BY LAW you are NOT allowed to copy, scrape, lift, frame, plagiarize or use my photos, essays, stories and recipe content on your websites, books, films, television shows, videos, without my permission. If you wish to republish this recipe or content on media outlets mentioned above, please ASK MY PERMISSION, or re-write it in your own words and link back to my blog AsianInAmericaMag.com to give proper attribution. It is the legal thing to do. Thank you. Email me at [email protected]