Ginger Honey Shrimp on Rice with Tofu and the Karma Book
As an Amazon Associate and member of other affiliate programs, I earn from qualifying purchases.
Make Valentine's and the love month special for the one you love. This easy Ginger Honey Shrimp on Rice with Tofu will definitely do it. You won't have to deal with a long wait at the restaurant. By now, if you haven't made reservations yet, you probably won't get one. You won't have to deal with crowds, traffic, parking or even bad service. Valentine's day or any day spent with the one you love should be nice, pleasant and romantic.
You can make your sweetie feel special by cooking a flavorful home-cooked meal – with your favorite music softly playing in the background, a favorite drink chilling in the ref and a special gift wrapped bright and gleaming nestled next to a sweet dessert.
I got this recipe for Ginger Honey Shrimp from the e-cookbook that came free with the fiction novel "Karma and the Art of Butter Chicken" by Monica Bhide. This novel was a compelling page-turner, but first let me tell you about this recipe.
This started out as an appetizer. But the shrimps turned out so lusciously-flavorful that I gave it a new perspective by adding garlic rice with tofu. So, I transformed it into a main course. It was so simple to make. First, I cooked the shrimps, following the directions carefully. Then in the same skillet which was full of the savory, fiery flavors, I sautéed garlic and cooked rice. I added the pan-fried tofu cubes to the mix. And it all came together beautifully in a bowl. The exciting aromas of ginger and sweet honey were enthralling. I will surely cook this dish again.
And if you still haven't bought a Valentine gift or one to show your love this month, consider the new food fiction novel "Karma and the Art of Butter Chicken" by Monica Bhide, award-winning, best-selling author.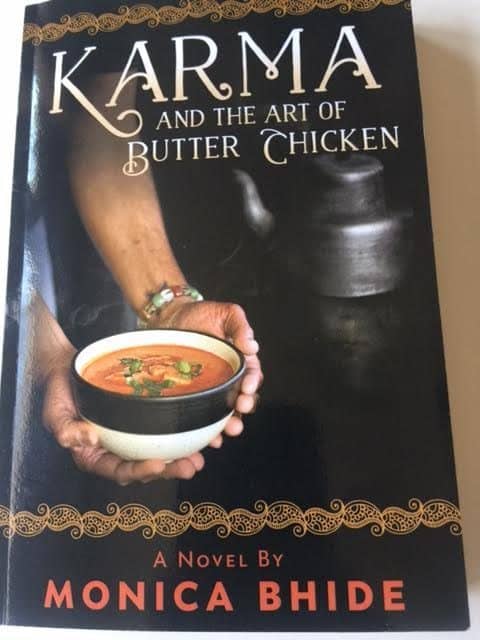 What's the book about?
When I first opened the book, and started turning the pages, this quote gripped me and has lingered on…
"A crushed rose still has its fragrance to share…" (Sufi saying).
This novel is about Eshaan, a young man raised by Buddhist monks after his mother's tragic death. Eshaan's lifelong search for happiness and love is motivated by his need to feed and nourish others who need it most. One day, the love of his life returns from Europe. Eshaan has longed for her forever. But it gets complicated because she returns with her fiancée. All these happen while Eshaan is preparing to join a chef's competition. Whether he wins or loses in love and life will dramatically alter everything for him.
"Karma" is a luscious tale of love, food, sacrifice, family, friends and the strength and resilience of the human spirit. It is a story everyone will identify with. And at the end, there is a lesson readers will carry in their hearts forever.
What I enjoyed about this novel was that between chapters, there were poetry verses that were lyrical and inspiring. And along the way, there were dishes described that you could smell and taste through the pages which the author creatively crafts through words to captivate readers.
The cuisine and the romance are all woven together in a compelling, entertaining and uplifting novel. "Karma" is all about love, family, friendships, food and life … things we cannot and will not live without.
Keep it simple this love month. No need to make expensive, elaborate plans. Your sweetie deserves something special that comes straight from the heart. A good meal and a good book.
Ginger Honey Shrimps on Rice with Tofu
This recipe for Ginger Honey Shrimps on Rice with Tofu comes from the Karma and The Art of Butter Chicken: The Bookclub Cookbook by Monica Bhide, which is an E-cookbook that came free for readers who purchased the novel at the launch. and had beautiful color photos by Simi Jois.
This is an appetizer recipe. I extended the dish by adding garlic rice and tofu simply because we eat rice with everything, even appetizers. So this delightful, savory starter transformed into a delectable main dish. Serve this to your sweetheart, the family and friends. It will make them feel special. This recipe was inspired by Monica Bhide. Serves 2 to 4.
Ingredients
1

Tablespoon

honey

1

Tablespoon

grated fresh ginger

1/2

teaspoon

red chili flakes

1/2

Tablespoon

lemon juice

1

teaspoon

minced fresh garlic

divided, use 1/2 for shrimps, rest for garlic rice

1

pound

fresh shrimps

peeled

2

Tablespoons

vegetable oil

divided, use 1 Tablespoon for shrimps, rest for garlic rice

1

teaspoon

salt

1

teaspoon

ground black pepper powder

2

cups

cooked rice

refrigerated at least for one day

1

cup

pan-fried cubes of tofu, 1-inch sizes

1

Tablespoon

chopped fresh parsley

for garnish
Instructions
To cook the Shrimps: In a large bowl, combine the honey, garlic, chili flakes, lemon juice and half of the garlic. Mix well.

Add the shrimps to the mixture in the bowl. Coat the shrimps well.

Cover the bowl and refrigerate for one hour.

In a large grill pan, over high heat, add the oil. Then add the marinated shrimps. Cook for 5 to 6 minutes till shrimps turn to pink and are completely cooked. Season with salt and black pepper. Remove from pan and set aside.

To cook the garlic rice: Using the same pan with the flavors, add a tablespoon of the oil. Add the fresh garlic and saute for 1 to 2 minutes. Then add the cooked rice and stir around for the flavors to coat the grains. Add the previously pan-fried tofu cubes.

Serve in a bowl with the rice at the bottom and the shrimps and tofu on top. Garnish with fresh parsley.

"Karma and The Art of Butter Chicken"

the new food fiction novel by Monica Bhide is sold on

Amazon

in paperback and kindle format and where most books are sold.

Disclosure: The book and e-cookbooks were gifts by the author. I was not paid to mention or review the books, but I will gladly recommend it to anyone who has an appreciation for good fiction novels on modern Indian cuisine, love and life.

Hello, Friends! All the images and content on this blog are COPYRIGHT PROTECTED and owned by my media company Besa-Quirino LLC. This means BY LAW you are NOT allowed to copy, scrape, lift, frame, plagiarize or use my photos and  recipe content I wrote, on your website, films or videos  without my permission. If you want to republish this recipe or content on another website, video or news article, please ASK my permission, re-write it in your own words and simply link back to this blog to give proper attribution. It's the legal thing to do. Thank you. Email me at [email protected]
Nutrition
Serving:
1
g
|
Calories:
180
kcal
|
Carbohydrates:
27
g
|
Protein:
2
g
|
Fat:
7
g
|
Saturated Fat:
6
g
|
Sodium:
586
mg
|
Potassium:
28
mg
|
Fiber:
1
g
|
Sugar:
4
g
|
Vitamin A:
74
IU
|
Vitamin C:
1
mg
|
Calcium:
8
mg
|
Iron:
1
mg
Notes on Nutrition: The nutrition information provided is an estimate and will vary based on cooking methods and specific brands of ingredients used.
Copyright Notice: Hello, Friends! Please DO NOT LIFT OR PLAGIARIZE my original recipe, stories, photos or videos. All the images and content on this blog are COPYRIGHT PROTECTED and owned by my media company Besa-Quirino LLC. This means BY LAW you are NOT allowed to copy, scrape, lift, frame, plagiarize or use my photos, essays, stories and recipe content on your websites, books, films, television shows, videos, without my permission. If you wish to republish this recipe or content on media outlets mentioned above, please ASK MY PERMISSION, or re-write it in your own words and link back to my blog AsianInAmericaMag.com to give proper attribution. It is the legal thing to do. Thank you. Email me at [email protected]