Chicken Sausage with Wasabi Sandwich
As an Amazon Associate and member of other affiliate programs, I earn from qualifying purchases.
In the late spring to summer, our outdoor grill is wide open and busy with my constant cooking. We crank up the heat and toss on the grill a lot of our meals or merienda snacks. I made these Chicken Sausages with Wasabi inspired by a recipe from the cookbook "Haute Dogs". We love hot dogs, a secret indulgence of our family when we're grilling. I never imagined there was so much one could do with sausages in a bun. This book is so comprehensive. You will find a recipe for every single thing that goes into a hot dog sandwich.
Back to this Wasabi Sausage Sandwich. In spite of the summer heat, I still bake bread. It is part of my Filipino persona. I grew up in a tropical country with daily temperatures hovering in the 100s F. Cooking or baking in humid climates is nothing to a Filipino.
So I felt like baking Pan de Sal buns for no reason. Some of the cookbook recipes had bread rolls. I was inspired to create my own Pan de Sal Hot dog Roll, from an old recipe I published here on the blog and simply elongated the individual bread dough.
I did cook homemade beef hot dogs from scratch last month from this book, but we ate it too fast for me to take photos properly. What we had was just as good, though. We bought our favorite organic Chicken Sausages from the grocery. It was made with herbs and spices and no preservatives at all. Grilling it was quick and easy. I already had the wasabi-mayo prepared, the pan de sal buns were freshly baked, the sides and condiments were all ready.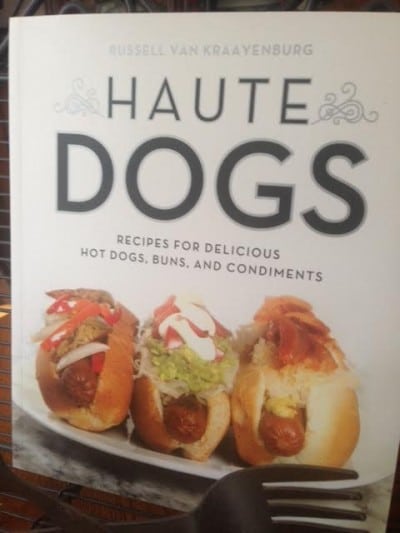 While I sat on the patio waiting for these organic chicken sausages to grill, I read the "Haute Dogs" cookbook. I discovered this is more than any other hot dog cookbook. It has recipes for bread buns, for homemade sausages (pork, beef or combinations) to sauces, relishes and sides. Flavors range from the all-American hotdog in a bun to sandwiches with global influences. There are also different descriptions on how to cook the hotdog. Who knew there was so much versatility to this doggone old favorite?
I chose to make a Wasabi Dog because it had a special Asian tang and kick that went well with our other entrees that night. If you're trying wasabi for the first time, this is a Japanese condiment which is made from a thick root of an Asian herb from the mustard family. The flavor from powdered wasabi or creamy paste like I used resembles tangy horseradish. A few creamy drops mixed into mayonnaise is enough to spice up the wholesome chicken sausage encased in the sweet-tasting Pan de Sal long roll I baked.
If you enjoy different fun ways to serve merienda or a meal to the family, this wasabi sandwich is a great idea and 'Haute Dogs' is a wonderful cookbook with lots of sandwich ideas.
Chicken Sausage with Wasabi Sandwich
This Chicken Sausage with Wasabi Sandwich consisted of organic chicken sausages on a bed of rich mayonnaise flavored with zesty Japanese wasabi paste. The original recipe suggested by the author showed the hotdog in a Hawaiian roll but I had just baked large Pan de Sal buns (the Filipino bread) so it was a neat idea to put it all together. This sandwich recipe was slightly adapted from the "Haute Dogs" cookbook by Russell Van Kraayenburg (Quirk Books). The recipe below serves 2.
Ingredients
4 to 6

pieces

Hot dog bread rolls

or large Pan de Sal bread buns

1/2

teaspoon

wasabi paste

1/2

cup

mayonnaise

4 to 6

whole

chicken sausages
Instructions
To bake the Pan de Sal bread rolls: Click on the previous blog recipe here. If baking large Pan de Sal rolls for sausages, elongate the dough when baking to fit a 4-inch sausage.

Bake according to recipe the day before to cut on the work time.

If using store bought regular hot dog rolls, heat them up for 1 to 2 minutes on the higher part of the grill.

*Or if preferred, use hot dog rolls or hoagie buns for these sandwiches.

Prepare the wasabi mayo : In a small bowl combine the mayonnaise and wasabi paste. Whisk well till wasabi is incorporated. The mixture will be a light green shade and will have a zesty, spicy flavor. Cover and refrigerate till ready to spread on the bun.

To make the sandwich: Pre-heat the outdoor grill to a medium heat.

Score the chicken sausages by slicing the top slightly with diagonal slits. Grill the chicken sausages for about 8 minutes. Turn the sausages halfway through the cooking time for even grilling.

How to assemble the Wasabi Chicken Sausage Sandwich: Take the open sliced bread roll and spread a tablespoon of wasabi-mayo. Place one  grilled chicken sausage on top of the wasabi mayo. Serve while warm.

Cook's comments: The original recipe from the Haute Dogs cookbook used regular hotdogs. I chose to use organic chicken sausages because the simple, wholesome flavors was a great backdrop and contrast to the sharp, tangy wasabi-flavored mayonnaise.

Disclosure: I was not compensated to review this cookbook, but I will gladly recommend it to anyone who loves sausages and how to make sandwiches. "Haute Dogs" by Russell Van Kraayenburg  (Quirk Books)  is available where most books are sold or via

Hello, Friends! All the images and content here are COPYRIGHT PROTECTED. This means BY LAW you are NOT allowed to use my photos or content on your website  without my permission. If you want to republish this recipe, please re-write it in your own words and simply link back to this blog to give proper attribution. It's the legal thing to do. Thank you.
Nutrition
Serving:
1
g
|
Calories:
386
kcal
|
Carbohydrates:
1
g
|
Protein:
1
g
|
Fat:
42
g
|
Saturated Fat:
7
g
|
Cholesterol:
25
mg
|
Sodium:
376
mg
|
Sugar:
1
g
|
Vitamin A:
36
IU
|
Vitamin C:
1
mg
|
Iron:
1
mg
Notes on Nutrition: The nutrition information provided is an estimate and will vary based on cooking methods and specific brands of ingredients used.
Did you like this recipe?I have more Filipino Instant Pot recipes in my newest cookbook Instant Filipino Recipes: My Mother's Traditional Philippine Cooking in A Multicooker Pot by Elizabeth Ann Besa-Quirino. I also have more classic recipes inspired by my mother's cooking in my popular cookbook: My Mother's Philippine Recipes. If you're learning how to cook Filipino food or a fan of Philippine cuisine, buy my cookbooks and books on Amazon.com sold worldwide in paperback and Kindle format.
Copyright Notice: Hello, Friends! Please DO NOT LIFT OR PLAGIARIZE my original recipe, stories, photos or videos. All the images and content on this blog are COPYRIGHT PROTECTED and owned by my media company Besa-Quirino LLC. This means BY LAW you are NOT allowed to copy, scrape, lift, frame, plagiarize or use my photos, essays, stories and recipe content on your websites, books, films, television shows, videos, without my permission. If you wish to republish this recipe or content on media outlets mentioned above, please ASK MY PERMISSION, or re-write it in your own words and link back to my blog AsianInAmericaMag.com to give proper attribution. It is the legal thing to do. Thank you. Email me at [email protected]