Beef Ramen Noodle Soup and How #FWCon Helps Food Bloggers
As an Amazon Associate and member of other affiliate programs, I earn from qualifying purchases.
Most of us who attended the Food Wine Conference in Orlando, Florida from May 13 to 15, 2016 are still flying high. With our bellies full, our wine glasses overflowing, our hearts filled with the warmth of friendships, our minds packed with new ideas and lessons learned from the sessions… we were empowered to keep doing what we do: build our blogs, grow our business, enrich our own brand, all these to give more value to you, our readers and friends who loyally read and cook from our recipes and follow our blog posts.
The Food Wine Conference is a food bloggers conference. It is the right-sized conference with about 250 attendees. This gives event organizer, Isabel Reis Laessig and her team from the Sunday Supper Movement the opportunity to attend to every conference detail and give a personal touch to the fun-filled event.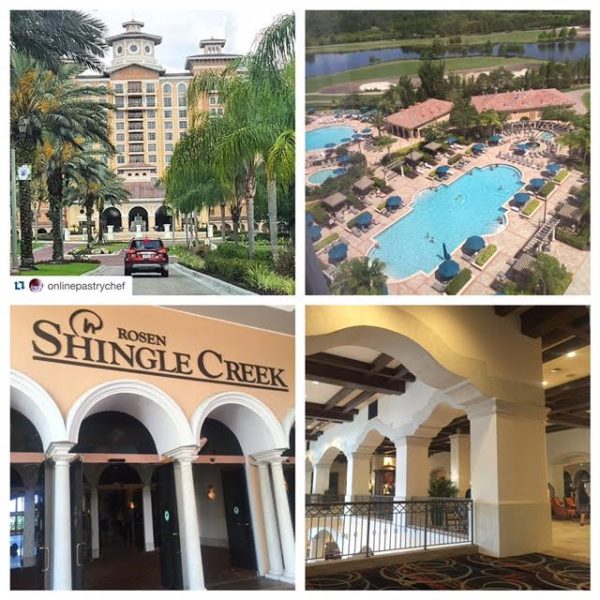 The FWCon was held once again at the Rosen Shingle Creek, one of the generous sponsors. The resort hotel is on Universal Boulevard, nestled on a 230-acre site along Shingle Creek in sunny Orlando, Florida. I arrived a few days earlier than the FWCon. My plan was to get to know the resort hotel well since I was a Brand Ambassador for #FWCon. For me, a spa day was essential. I luxuriated on my own time and dime at The Spa at Shingle Creek which has a relaxing day spa and beauty salon. I felt rejuvenated and ready to face whatever FWCon could bring.
Rosen Shingle Creek is in an ideal location. We were ten minutes away by car from Universal Orlando, so before the conference, we spent a whole day at the park, enjoying the sites, the different restaurants, shows and amusement centers. Once the FWCon started, I was re-invigorated and ready to roar.
To recap, here are some nuggets of wisdom I found helpful from speakers at the Food Wine Conference:
"What's truly important in life, bringing families together around the table…that's what the Sunday Supper Movement is all about." – Isabel Reis Laessig, founder of the Sunday Supper Movement.
"Whatever you choose to do, you have to keep moving forward." – Donatella Arpaia, Chef, TV Personality, Keynote Speaker
"We are not inheriting lands from our ancestors, we are borrowing it from our children." – Amy Richardson, Cabot Farmer, Richardson Family
"Drones are the future of agriculture." – Todd Jameson, Florida Strawberry Growers Association
"The greatest contribution to society is by growing food." – Todd Jameson
"We have to leave the land in better shape than when we found it." Lydia Yon, Yon Family Farms
"Being a giver is a lot more beneficial than being a taker." – Lydia Yon
"Be a good land steward, be a producer of wholesome, nutritious food, be a positive influence in your community." – The Producers Behind The Brand Panel Session
"What do you want to accomplish with your blog? What do you want to offer? It can never be about you. Offer something to readers." – Lorraine C. Ladish, Author, Digital Brand Strategist
"It's a learning process. I never woke up in the middle of the night worrying 'man, why did I make that beef stew look so damn good'?! By the way, if the pie crust breaks, use vaseline to put it together for a photo shoot."- Denise Vivaldo, Food Stylist, Author
All in all, the three-day Food Wine Conference had the complete ingredients for a successful food bloggers event: a great hotel venue, a bounty of food for the belly , lots of food for thought from the sessions, fun, feasting and friendships = 100% a great #FWCon.
But beyond the swag goodies, the perks and the sumptuous food what was in it for me or any food blogger that attended the Food Wine Conference? To fellow bloggers, writers, chefs and brands, we all got to meet in person and up close each "person behind the blog". It was proof that there was a genuine, sincere, hardworking individual behind those recipes and food photos. For our friends and followers, we brought home new knowledge, valuable lessons and even new recipes along the way to help us give more value to our readers. After all, we do what we do to help others bring food and love to the table every Sunday Supper.
I could not end this blog post without leaving you a recipe for Beef Ramen Noodle Soup and Vegetables. When we got home from Orlando, FL one of the quickest meals I could make was an all-in-one soup meal. One of the FWCon generous sponsors was Certified Angus Beef and this reminded me that I had beef skirt steak strips in the freezer. I quickly thawed the strips, seasoned them, gave them a quick stir around the skillet and they were ready to be added to a large bowl of ramen noodles, nestled next to crisp vegetables, flavored with a hearty clear beef broth. It was sheer bliss in a bowl.
Beef Ramen Noodle Soup
The Beef Checkoff and ChezUS team, one of the generous FWCon sponsors taught a very helpful Food Video Workshop and interactive presentation to all FWCon attendees. Armed with what we learned, I created a brief video tutorial on how to make this recipe for
Beef Ramen Noodles with Vegetables
using Certified Angus Beef (also a generous sponsor). I will be sharing the recipe video on my social media platforms:
YouTube
, Facebook, Twitter, Instagram, Snapchat, using the hashtag #KnowYourBeef.  This recipe shows one of the easiest ways to make a bowl of beef with ramen noodles, a comforting all-in-one soup meal. The tender beef strips have savory flavors that go well with the crisp vegetable slices, soft and thick ramen noodles and hearty clear beef broth. This is an AsianInAmericaMag recipe and serves two for a soup starter, side dish or meal in itself.
Ingredients
250

grams

Certified Angus beef skirt steak

sliced in 2-inch length thin strips

1/2

teaspoon

salt

1/2

teaspoon

ground black pepper powder

1

Tablespoon

cornstarch

to coat beef strips

2

Tablespoons

vegetable oil

1

package (3.77 oz/107 g.)

dry ramen noodles

4

cups

organic beef broth

1

Tablespoon

Tamari sauce or low sodium soy sauce

1/2

cup

sliced carrots

1

cup

sugar snap peas or snow peas

washed, edges trimmed

1

cup

Chinese bok choy

shredded (or use regular cabbage)

1

whole

hard-boiled egg

peeled, sliced

2

stalks

scallions

sliced
Instructions
Season the Certified Angus Beef skirt steak strips with salt and pepper. Coat the beef strips with cornstarch.  Pan fry the beef in a small- sized skillet with vegetable oil over medium high heat for about 1 to 2 minutes. Remove beef from skillet and set aside.

Separately,in a medium-sized stockpot add the ramen noodles in boiling water and simmer for 4 minutes. Remove noodles from water and set aside.

Blanch the carrots, sugar snap peas and cabbage in the noodle water for 1 minute, then drain and set aside.

Add the tamari sauce to organic beef broth and mix well. Using the same stockpot for the noodles, bring the broth to a boil. Then lower to a simmer and cover till ready to pour in soup bowl.

In a large soup bowl, arrange the ingredients in sections: noodles, beef, carrots, sugar snap peas, bok choy. Pour the beef broth over the entire bowl. Garnish with egg slices and scallions. Serve warm.
Thank you to the generous sponsors of the Food Wine Conference 2016 who made our event wonderful:
Florida Strawberry Growers Association

, 

Florida Dairy Farmers

, 

Cabot Creamery

, 

Idaho Potatoes

, 

CK Mondavi Wines

, 

Duda Farm Fresh Foods

, 

Certified Angus Beef

, 

Stoneridge Orchards

, 

Oceanus Seafood

, 

Wish Farms

, 

Out of the Weeds

, 

Beef Checkoff

, 

Tapa Toro

, 

Tupperware

, 

Feedblitz

, 

Fields Auto Group

, UCF Rosen College of Hospitality,

Sunday Supper Movement.

Disclosure: I received a discounted ticket in exchange for promoting the Food Wine Conference 2016. All opinions are mine.

Hello, Friends! All the images and content on this blog are COPYRIGHT PROTECTED and owned by my media company Besa-Quirino LLC. This means BY LAW you are NOT allowed to copy, scrape, lift, frame, plagiarize or use my photos and recipe content I wrote, on your website without my permission. If you want to republish this recipe or content on another website or news article, please ASK my permission, re-write it in your own words and simply link back to this blog to give proper attribution. It's the legal thing to do. Thank you. Email me at [email protected]
Nutrition
Serving:
1
g
|
Calories:
141
kcal
|
Carbohydrates:
5
g
|
Protein:
1
g
|
Fat:
14
g
|
Saturated Fat:
11
g
|
Cholesterol:
2
mg
|
Sodium:
584
mg
|
Potassium:
33
mg
|
Fiber:
1
g
|
Sugar:
1
g
|
Vitamin A:
120
IU
|
Vitamin C:
2
mg
|
Calcium:
9
mg
|
Iron:
1
mg
Notes on Nutrition: The nutrition information provided is an estimate and will vary based on cooking methods and specific brands of ingredients used.
Did you like this recipe? I have more classic recipes inspired by my late mother's cooking in my popular cookbook: My Mother's Philippine Recipes. If you're learning how to cook Filipino food or a fan of Philippine cuisine, buy my cookbooks and books on Amazon.com sold worldwide in paperback and Kindle format.
Hello, Friends! Please DO NOT LIFT OR PLAGIARIZE my original recipe, stories, photos or videos. All the images and content on this blog are COPYRIGHT PROTECTED and owned by my media company Besa-Quirino LLC. This means BY LAW you are NOT allowed to copy, scrape, lift, frame, plagiarize or use my photos, essays, stories and recipe content on your websites, books, films, television shows, videos, without my permission. If you wish to republish this recipe or content on media outlets mentioned above, please ASK MY PERMISSION, or re-write it in your own words and link back to my blog AsianInAmericaMag.com to give proper attribution. It is the legal thing to do. Thank you. Email me at [email protected]