Grilled Salmon and Shrimps in Banana Leaves
As an Amazon Associate and member of other affiliate programs, I earn from qualifying purchases.
]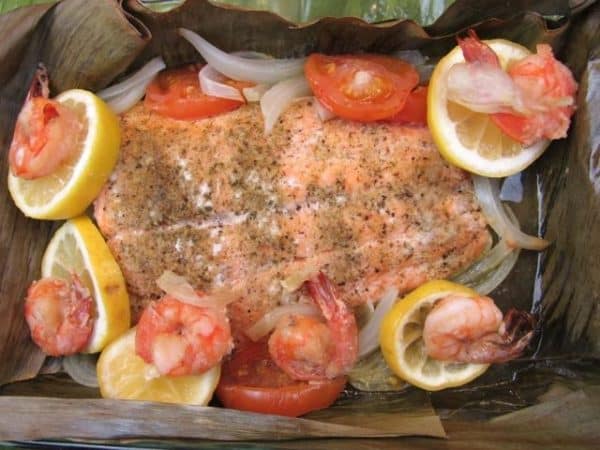 There is such a fascinating, herbal-like quality about cooking and grilling with banana leaves like I experienced when I made this Grilled Salmon and Shrimps in Banana Leaves. The ginger-like aroma from the flavored seasonings and steam hits your face softly; as you peel open the char-burnt leaves. Once you slip a spoon, the fish fillet feels silky smooth. As you pair a moist chunk of salmon with a spoonful of boiled rice, the simple, freshly cooked flavors are sublime. You'll ask yourself why you don't do this more often.
A while ago, I took a "Cooking with Banana Leaves" class with Chef Romy Dorotan at Purple Yam Restaurant in Brooklyn. As he demonstrated to us how to cook with banana leaves, Chef Romy said "Banana leaves are the original organic, recyclable packaging for snacks or various cooked foods. And this biodegradable wrap comes with the side benefit of adding aroma to the food packaged, steamed, grilled or baked in it. Very young leaves are preferred, when available, because they are more supple and fragrant."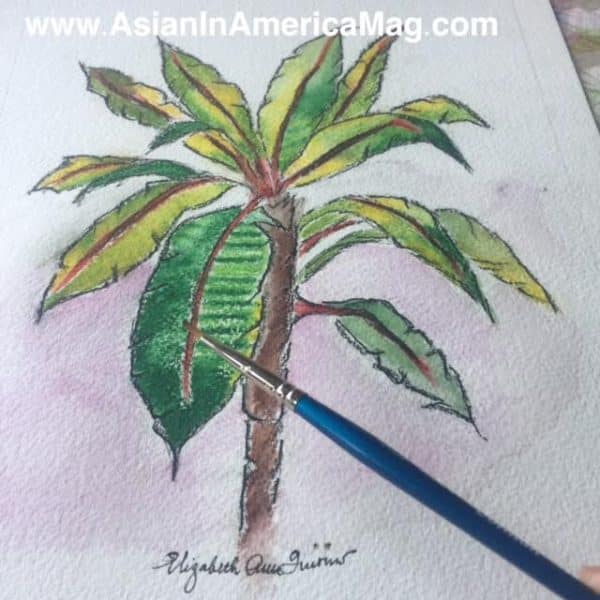 Banana leaves dotted the back of our house in the Philippines, along with coconut trees, when I was growing up. All these trees and crops were planted by my father, who was a farmer. The large leaves on the banana tree spread out like a giant fan. When I'd look up to the sky, the swaying palm-like leaves looked majestic against the backdrop of a clear blue sky on a scorching hot day.

If mom needed banana leaves for cooking, a long, large stalk could easily be obtained from the back of the house.

I took these trees and leaves for granted then. But the flavors of cooking in banana leaves have remained in my palate all this time. So that now, even if I live in America, it doesn't take much for me to find a reason to cook with banana leaves. I don't have trees in my American backyard, but I can easily find frozen banana leaves at the Asian grocery.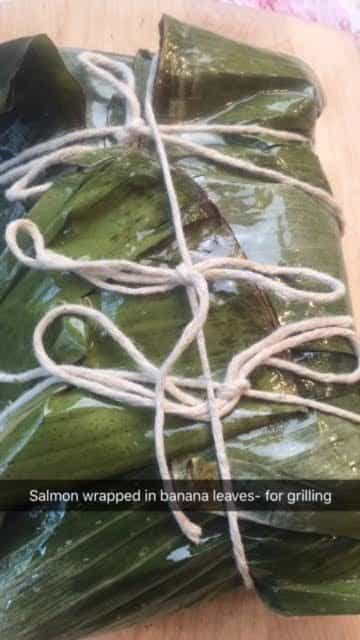 Banana leaves are often used in Philippine cooking. In fact, throughout Southeast Asian countries, banana trees thrive in the tropical areas. Thus, using these as part of cooking is quite common. Entrées or snacks are wrapped in the leaves then steamed, boiled or grilled. Even rice is cooked in banana leaves and emits a special herbal aroma. When I cook or grill food in banana leaves, I find that this method seals the flavors well.
When the weather on the east coast warms up and we can turn on our outdoor grill, I excitedly recreate meals from my childhood on banana leaves. There is no other food aroma on earth that can make my head spin than grilling with banana leaves can.
Grilled Salmon and Shrimps in Banana Leaves
Banana leaves are often used in Philippine cooking just like this recipe Grilled Salmon and Shrimps in Banana Leaves. Banana trees thrive throughout Southeast Asia. Grilling fish wrapped in banana leaves is often a Filipino food favorite and yields one of the most flavorful entrees. In this simple, easy to do recipe, the banana leaves sealed the ginger-miso flavors within the salmon and shrimps well and resulted in a moist, superb seafood dish. This recipe was adapted from a cooking class with Chef Romy Dorotan at Purple Yam Restaurant in Brooklyn, NYC. Serves 2.
Ingredients
2

whole

large pieces banana leaves

fresh from the tree or frozen (from Asian markets)

1

pound

salmon fillet, boneless

1/4

pound

fresh jumbo shrimps

heads removed, peeled, deveined, tails intact fresh

1

cup

yellow miso paste

2

cloves

garlic

minced

1

knob

fresh ginger

a one-inch piece, peeled, sliced thin

1

whole

onion

sliced

1

whole

large tomato

sliced

4

Tablespoons

calamansi juice (or lemon)

from the juice of fresh lemons or frozen calamansi concentrate (from Asian markets)

1

whole

fresh lemon

sliced

1

teaspoon

salt

1

teaspoon

ground black pepper powder

2

yards

butcher's twine

6 feet, for tying the banana leaves around the fish

for serving: boiled rice

white or brown
Instructions
     Prepare the Banana Leaves:  Clean the banana leaf sections by wiping them on both sides with a damp paper towel. Pass the leaves over a medium flame on both sides to soften. This should only take a few seconds.

     Marinate the salmon fillet and fresh shrimps with the lemon juice (or calamansi), salt and pepper for 30 minutes. Then spread out the banana leaves and place the salmon and shrimps in the center.

      Separately in a small bowl, mix the miso paste with the minced garlic and ginger. Then spread this generously over the entire fish and shrimps which are on the banana leaves. Top with slices of the onions, tomatoes, lemons.

      Wrap the fish like a large burrito, folding and tucking the sides inwards.  Tie leaves securely with enough butcher's twine. Make sure there are no gaps or tears in the leaves, because if there are, then the liquids will leak through when grilling. Wrap the banana leaves-encased fish further in a large sheet of aluminum foil. This is useful in case the leaves break up during cooking.

     Put the bundle on top of a pre-heated high temperature outdoor grill. Cook for about  25 to 30 minutes.

     Unwrap the banana leaves at the dinner table. Serve the fish hot with a platter of steamed white rice or else heat up cooked rice wrapped in banana leaves for ten minutes on the outdoor grill.

Cook's comments: if salmon is not available, use other type of fish fillet preferred. Use the same seasonings for this same amount of fish or seafood and cook according to directions above.

Ingredient info

: I used yellow miso paste for this recipe. Yellow miso is made from soybeans, fermented with rice and barley. It has a light beige color with a mild, sweet, herbal-like flavor. This type of miso can be used as a condiment for soups, salad dressings, marinades or glazes. They can be packaged in tubes or plastic containers. I find them easily in Asian markets, major food stores or

online sources

for Asian ingredients. Other types of miso are white, red or black.

Hello, Friends! All the images and content on this blog are COPYRIGHT PROTECTED and owned by my media company Besa-Quirino LLC. This means BY LAW you are NOT allowed to copy, scrape, lift, frame, plagiarize or use my photos and recipe content I wrote, on your website without my permission. If you want to republish this recipe or content on another website or news article, please ASK my permission, re-write it in your own words and simply link back to this blog to give proper attribution. It's the legal thing to do. Thank you. Email me at [email protected]
Nutrition
Serving:
1
g
|
Calories:
279
kcal
|
Carbohydrates:
38
g
|
Protein:
16
g
|
Fat:
8
g
|
Saturated Fat:
2
g
|
Sodium:
6289
mg
|
Potassium:
289
mg
|
Fiber:
7
g
|
Sugar:
9
g
|
Vitamin A:
120
IU
|
Vitamin C:
1
mg
|
Calcium:
84
mg
|
Iron:
3
mg
Notes on Nutrition: The nutrition information provided is an estimate and will vary based on cooking methods and specific brands of ingredients used.
Did you like this recipe? I have more classic recipes inspired by my late mother's cooking in my popular cookbook: My Mother's Philippine Recipes. If you're learning how to cook Filipino food or a fan of Philippine cuisine, buy my cookbooks and books on Amazon.com sold worldwide in paperback and Kindle format.
Hello, Friends! Please DO NOT LIFT OR PLAGIARIZE my original recipe, stories, photos or videos. All the images and content on this blog are COPYRIGHT PROTECTED and owned by my media company Besa-Quirino LLC. This means BY LAW you are NOT allowed to copy, scrape, lift, frame, plagiarize or use my photos, essays, stories and recipe content on your websites, books, films, television shows, videos, without my permission. If you wish to republish this recipe or content on media outlets mentioned above, please ASK MY PERMISSION, or re-write it in your own words and link back to my blog AsianInAmericaMag.com to give proper attribution. It is the legal thing to do. Thank you. Email me at [email protected]