Filipino Buko-Coconut Pie
As an Amazon Associate and member of other affiliate programs, I earn from qualifying purchases.
]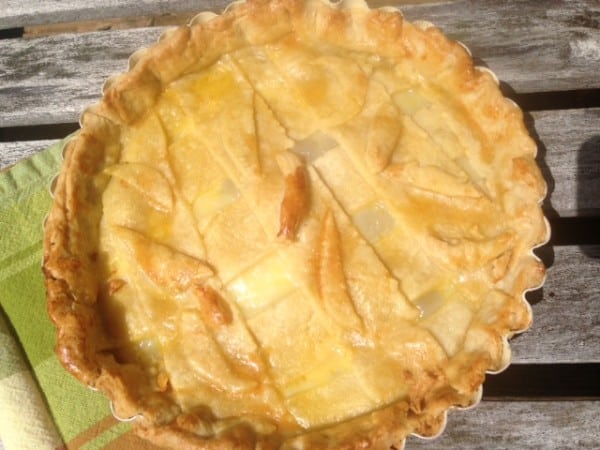 We live 50 miles west of New York and folks often ask me to recommend the best Filipino restaurant in the city. I don't know why people assumed I know which is the best, but when asked, I am happy to give suggestions.
Often, I name restaurants I've been to. I give the pros and cons. The deal breaker for me is how close to authentic Filipino flavors the food is. I'm talking about the kind of food I grew up with in the Philippines. The dishes must have home cooked flavors made from fresh, well-chosen ingredients.
A few years ago, I took cooking classes from Chef Romy Dorotan at the Purple Yam Restaurant in Brooklyn. I didn't mind the 2-hour drive to Brooklyn from our home. The lessons were worth it. To this day, I am still cooking those recipes I learned. Each time I do, the outcome is better and better. Just like this Buko-Coconut Pie. It is because Chef Romy's cooking methods begin and end with care.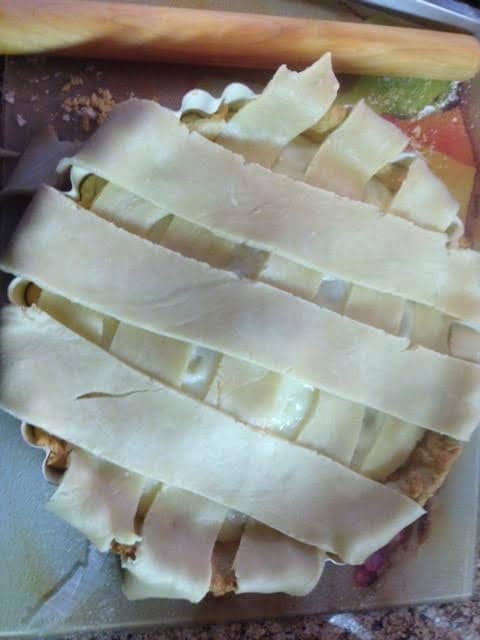 Buko (say "boo-koh") translates to coconut. This pie which Chef Romy taught us is found in the cookbook "Memories of Philippine Kitchens" which was written by his wife, Amy Besa and himself. They serve this pie at their restaurants : both of the Purple Yams in NYC and Malate, Manila.
I baked this buko pie in my American kitchen. The sweet-coconut aroma of the rich, thick filling blended well with the buttery pastry. I closed my eyes and imagined for a moment that I had been transported back to the Philippines. Yes, the tropical flavors and coconut-like scent were so authentic, it was amazing.
When I served slices of buko pie to my sons, I disclosed the recipe was Chef Romy Dorotan's. My homemade buko pie must have been so wonderful that my sons said "Romy is a genius!"
The late Doreen Gamboa Fernandez, the one who started it all for us with her food writings on Philippine cuisine once said about Chef Romy Dorotan " … there is the creative imagination of Romy, Filipino culinary artist bringing to life food no one tasted before."
Taking a cue from the quote of the late Ms. Fernandez, the doyen of Philippine food writing, I baked this Buko Pie and wrote a feature on Chef Romy Dorotan and Amy Besa. For the complete story of this dynamic culinary couple, read my article "Purple Yam Spreads the Love" on PositivelyFilipino.com, the premiere online magazine about the Filipino. Click here.
Filipino Buko - Coconut Pie
The Filipino Buko-coconut pie is made with a filling of bottled sweet macapuno (coconut sport), coconut milk and heavy cream. I don't have access to fresh coconuts so I used the bottled sweet macapuno. I chose to make a lattice-type pie crust on the top to showcase the pristine, white thin coconut strips peeking out from under the crust. This recipe was  adapted from the "Memories of Philippine Kitchens" cookbook. Serves 8 to 10 for a 9-inch pie pan. Serve this buko pie a la mode with a side of homemade ube-purple yam ice cream (recipe in a past blog post here) for a truly authentic Filipino dessert.
Equipment
Pie plate: 9-inches in diameter
Ingredients
2 1/4

cups

all purpose flour

for pie crust

1/2

teaspoon

salt

1/4

teaspoon

baking powder

1/2

cup

or 1 stick

chilled, cut in small pieces unsalted butter

1/2

cup

Crisco shortening

chilled

4 to 6

Tablespoons

ice water

2

cups

bottled macapuno strings

bottled Macapuno is coconut sport; found in Asian markets

1 1/4

cups

heavy cream

for pie filling

1/4

cup

cornstarch

1/2

cup

canned coconut milk

1

whole

egg

for egg wash

1/4

cup

water

room temperature, to combine with egg, for egg wash

1 1/2

cups

granulated sugar

for pie filling granulated sugar (optional if using sweet bottled macapuno); add sugar only if using fresh coconut strings (buko).

for serving ice cream, any flavor
Instructions
How to make the pie crust: Sift the flour, salt and baking powder by whisking with a wire whisk in a large bowl. Add the butter and Crisco shortening to the flour mixture and cut with a pastry blender or pulse in the food processor. The texture should look like little peas. Add the ice water, a tablespoon at a time.

Mix the pastry dough until it is smooth. Mix by hand or continue to use the food processor. The pastry should hold well together and look smooth.

Place the dough on a floured surface. Divide into 2 disks and wrap in plastic. Refrigerate overnight so that it gets firm and easy to handle.

The next day, roll out one pastry disk to fit the bottom of a 9-inch pie pan. Prick the bottom crust with a fork. Line the pie shell with parchment paper on top, enough to cover it. Place pie weights or dried beans on parchment paper. This prevents the pastry from puffing up while baking.

Bake the bottom pie crust at a preheated oven of 350 F degrees for 15 minutes. When done, take out of the oven and set aside while you prepare the filling.

How to prepare pie filling: Whisk together in a bowl the coconut milk and cornstarch till smooth and there are no more lumps. Set this aside.

In a large sauce pan, over medium heat, combine the heavy cream and 1 and 1/2 cups granulated sugar. Mix well and let this simmer in about 3 to 4 minutes. Very slowly, add the coconut milk and cornstarch mixture. Then add the bottled macapuno strings, including the syrup. Incorporate it well.

Cook this mixture till it thickens in about 2 minutes. Pour into the pre-baked pie shell.

To prepare the top pie crust: Roll out the second pastry disk on a floured surface. Place the pastry on top of the filled pie.

Or make a lattice top pie crust by slicing the pastry dough in 2-inch wide strips. Layer alternately in horizontal and vertical positions, like a basket. (See photo above).

Seal the edges with egg wash. Using your thumb and forefinger, shape and seal the sides of the pie. Brush the entire pie top with egg wash.

To bake: Bake the pie in a preheated oven of 350 F degrees for 40 minutes. Then check the pie and turn it around inside the oven, for even baking. Bake for another 10 minutes more.

When done, cool the pie on the counter. Serve with ice cream on the side. Keep remaining pie refrigerated. This pie will keep for a week stored in the refrigerator or freezer.

Cook's comments: In the original recipe of the cookbook, the authors used fresh coconut meat for this pie. Here in the USA, I don't have access to fresh coconuts unless I drive at least 2 hours away to Chinatown. So I substituted with bottled macapuno strings and canned coconut milk, both from the Asian supermarket.

Recipe notes: Macapuno is known as coconut sport. The bottled macapuno is either in strings or balls with heavy syrup. This is a Philippine-made coconut product and can be found in Asian supermarkets or online sources. Keep refrigerated.

Hello, Friends! All the images and content here are COPYRIGHT PROTECTED. This means BY LAW you are NOT allowed to use my photos or content on your website  without my permission. If you want to republish this recipe, please re-write it in your own words and simply link back to this blog to give proper attribution. It's the legal thing to do. Thank you.
Nutrition
Serving:
1
g
|
Calories:
601.91
kcal
|
Carbohydrates:
93.2
g
|
Protein:
6.35
g
|
Fat:
23.59
g
|
Saturated Fat:
15.73
g
|
Cholesterol:
68.55
mg
|
Sodium:
218.96
mg
|
Potassium:
156.78
mg
|
Fiber:
1.75
g
|
Sugar:
50.75
g
|
Vitamin A:
728.88
IU
|
Vitamin C:
0.86
mg
|
Calcium:
49.68
mg
|
Iron:
2.5
mg
Notes on Nutrition: The nutrition information provided is an estimate and will vary based on cooking methods and specific brands of ingredients used.
Did you like this recipe?I have more Filipino Instant Pot recipes in my newest cookbook Instant Filipino Recipes: My Mother's Traditional Philippine Cooking in A Multicooker Pot by Elizabeth Ann Besa-Quirino. I also have more classic recipes inspired by my mother's cooking in my popular cookbook: My Mother's Philippine Recipes. If you're learning how to cook Filipino food or a fan of Philippine cuisine, buy my cookbooks and books on Amazon.com sold worldwide in paperback and Kindle format.
Copyright Notice: Hello, Friends! Please DO NOT LIFT OR PLAGIARIZE my original recipe, stories, photos or videos. All the images and content on this blog are COPYRIGHT PROTECTED and owned by my media company Besa-Quirino LLC. This means BY LAW you are NOT allowed to copy, scrape, lift, frame, plagiarize or use my photos, essays, stories and recipe content on your websites, books, films, television shows, videos, without my permission. If you wish to republish this recipe or content on media outlets mentioned above, please ASK MY PERMISSION, or re-write it in your own words and link back to my blog AsianInAmericaMag.com to give proper attribution. It is the legal thing to do. Thank you. Email me at [email protected]