Apple Crumb Pie with Cinnamon
As an Amazon Associate and member of other affiliate programs, I earn from qualifying purchases.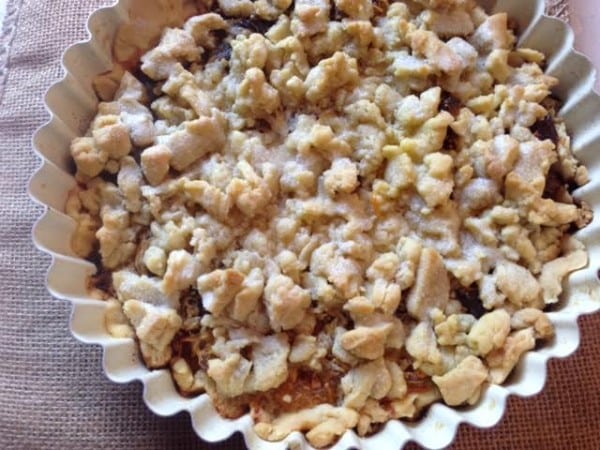 I started the autumn season baking pies and as October ended yesterday made this Apple Crumb Pie. The term "easy as apple pie" is misleading. It has never been easy for me to bake an apple pie.
I didn't master pie dough till I came to live in America. Apples were a luxury when I was growing up. Apples are not grown in the Philippines, and a long time ago it was an "imported fruit" which we only enjoyed at Christmas, together with imported ham, Queso de Bola (the large ball of Edam cheese from Europe) and other goodies from abroad.
For as long as I remember, the only imported apples from the USA we were familiar with were the "delicious red variety" because that's all we got in the Philippines when I was a child. Later on, travelers to Japan would bring back gigantic Fuji apples that were as sweet as honey. So those were the extent of my apple knowledge.
When we came to live in our home here in America, I was excited to know there were apple farms near our house. Since then, we always made apple picking part of our fall ritual. The apple farm is practically at the back of our home. Well, it's a car drive, but it's ten minutes away.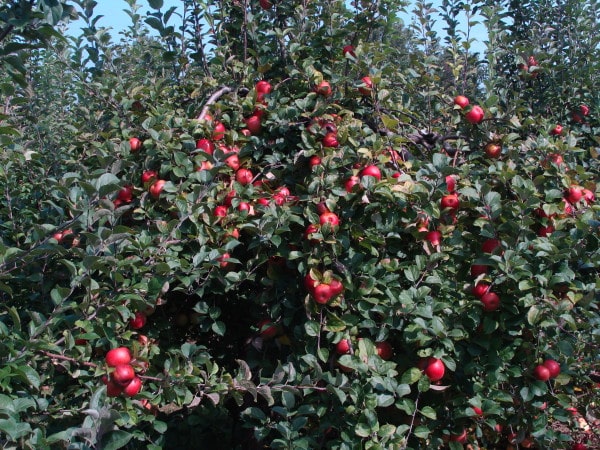 On a recent trip, I took a photo of the poster they had. Each week, different apple varieties could be picked. The apple trees were magnificent. The low lying fruit hanging from each one were magical to me. In the cool autumn breeze, we boarded a hay truck at the farm and the short drive around led us to the apple trees which had fruit ready to be harvested depending on the variety available that week. The best thing I loved about apples fresh from the farm was that they lasted far longer than store-bought apples from the grocery. The fresh apples we picked lasted for over two weeks piled high in our fruit bowl. Our home was filled with bowls and baskets of apples and I was in apple heaven.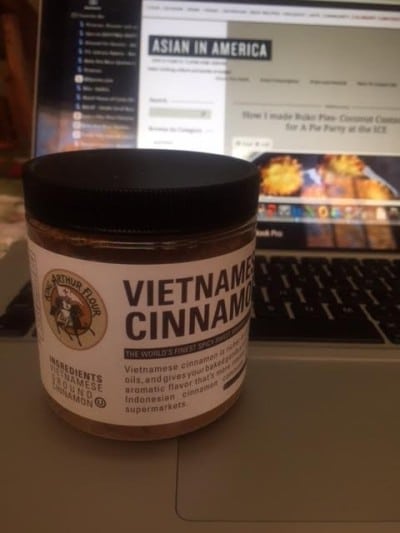 Thanks to King Arthur's Flour and the Vietnamese Cinnamon Powder they gave us for the Pie Party at the Institute of Culinary Education (ICE) early in October, I had enough ingredients to bake this Apple Crumb Pie.
Why a crumb crust on top? Full disclosure — I was in a rush baking this pie. I had enough time to roll out the dough for the bottom crust. There were enough minutes to peel, slice and layer the four apples I used. But I ran out of time to roll out the second pie crust dough for the top. I improvised quickly. I coarsely chopped up the pie dough and scattered it evenly all around.
Once baked, the apple-licious aroma of the pie filled the air. The unmistakable scent of the rich cinnamon, hints of butter and brown sugar lingered all day and night. While the pie was warm and fresh out of the oven, we sliced it and enjoyed the sumptuous slices of apples coated with cinnamon and brown sugar.
I was proud of myself. This time, after years of practicing, baking this was "easy as apple pie".
Apple Crumb Pie with Cinnamon
One of the most iconic symbols of America is the apple pie. I was determined to master making the pie dough and an entire apple pie as soon as we moved to this country years ago. This pie dough is a trusted recipe from good friend, prolific cookbook author
Sandra Guttierez.
Her dough recipe is versatile and can be used for tiny tarts like I made for a recent
Pie Party
. Or it can be used for a double crust pie like this one. Most pie recipes suggest using tart, green apples for baking. I had a surplus of red Fuji apples from apple-picking a few weeks ago, so it's what I used for this recipe. Feel free to use any apple variety you prefer. This recipe was inspired by Epicurious.com. The pie serves 6 to 8 for dessert or snack.
Equipment
Pie plate: 9-inches diameter
Ingredients
2

cups

unbleached all purpose flour

for pie pastry

1

teaspoon

salt

1/2

cup

chilled unsalted butter

very cold, straight from the refrigerator, cut in small cubes

4 to 6

Tablespoons

ice water

for pie pastry

1

teaspoon

white vinegar

for pie pastry

4

whole

large Fuji apples

peeled, cored, sliced 1/4 inch thick (or use other apple varieties available)

1/2

cup

brown sugar

2

Tablespoons

all purpose flour

for coating apple filling

2

teaspoons

ground cinnamon powder

1

Tablespoon

unsweetened lemon juice

1

Tablespoon

unsalted butter

room temperature, for pie filling

for serving: vanilla ice cream
Instructions
How to make the Sandra Gutierrez double butter piecrust: I used the food processor and mixed the flour and salt in the work bowl. Pulse this dry mixture for 10 seconds. Then add the cubes of chilled butter. Process again till mixture looks coarse with small lumps. This takes about 30 to 40 seconds. Add 3 tablespoons of the ice cold water and the vinegar. Pulse 5 to 7 times. The dough will start looking smooth. Add 1-2 tablespoons or iced water if needed to make the dough stay together. Place the pastry on plastic wrap and seal well. Store in the refrigerator for at least one hour till ready to use. (*Note: if you don't own a food processor, you can do this pastry dough by hand in a large mixing bowl using a pastry blender or else two table knives to mix the butter into the flour).

On a floured surface, roll out the chilled dough with a rolling pin. Roll out dough between two pieces of parchment or wax paper. Keep the second pie dough disc refrigerated till ready to roll out.

Prepare a 9-inch pie plate. Place the first rolled out pie dough over the pie plate. Trim the edges but leave half an inch of an overhang. Press the insides so pie dough fits the plate. Using a fork, prick the dough four times around.

Bake the single pie crust in a preheated oven of 400 F degrees for 10 minutes. Take this out of the oven and cool on counter while preparing pie filling.

How to prepare pie filling: In a large bowl, combine the sliced apples, brown sugar, flour, cinnamon powder and lemon juice. Pour the apple filling into the pre-baked pie crust. Scatter bits of the tablespoon of butter all over the apple filling.

To prepare the top pie crust: Take the second pie crust disc out of the refrigerator. To make crumbles - use a knife and coarsely chop up the dough into tiny cubes. Sprinkle the crumbled dough all over the apple filling.

Lower the oven temperature to 375 F degrees. Baking rack should be positioned at the center of the oven. Bake the pie at this temperature for 50 to 55 minutes or till crust turns brown. Serve pie warm with a side scoop of ice cream.

Hello, Friends! All the images and content on this blog are COPYRIGHT PROTECTED and owned by my media company Besa-Quirino LLC. This means BY LAW you are NOT allowed to copy, scrape, lift, frame, plagiarize or use my photos and  recipe content I wrote, on your website  without my permission. If you want to republish this recipe or content on another website or news article, please ASK my permission, re-write it in your own words and simply link back to this blog to give proper attribution. It's the legal thing to do. Thank you. Email me at [email protected]
Nutrition
Serving:
1
g
|
Calories:
185.49
kcal
|
Carbohydrates:
38.77
g
|
Protein:
3.45
g
|
Fat:
1.74
g
|
Saturated Fat:
0.95
g
|
Cholesterol:
3.76
mg
|
Sodium:
295.78
mg
|
Potassium:
51.73
mg
|
Fiber:
0.9
g
|
Sugar:
13.43
g
|
Vitamin A:
43.73
IU
|
Calcium:
16.1
mg
|
Iron:
1.63
mg
Notes on Nutrition: The nutrition information provided is an estimate and will vary based on cooking methods and specific brands of ingredients used.
Did you like this recipe?I have more Filipino Instant Pot recipes in my newest cookbook Instant Filipino Recipes: My Mother's Traditional Philippine Cooking in A Multicooker Pot by Elizabeth Ann Besa-Quirino. I also have more classic recipes inspired by my mother's cooking in my popular cookbook: My Mother's Philippine Recipes. If you're learning how to cook Filipino food or a fan of Philippine cuisine, buy my cookbooks and books on Amazon.com sold worldwide in paperback and Kindle format.
Copyright Notice: Hello, Friends! Please DO NOT LIFT OR PLAGIARIZE my original recipe, stories, photos or videos. All the images and content on this blog are COPYRIGHT PROTECTED and owned by my media company Besa-Quirino LLC. This means BY LAW you are NOT allowed to copy, scrape, lift, frame, plagiarize or use my photos, essays, stories and recipe content on your websites, books, films, television shows, videos, without my permission. If you wish to republish this recipe or content on media outlets mentioned above, please ASK MY PERMISSION, or re-write it in your own words and link back to my blog AsianInAmericaMag.com to give proper attribution. It is the legal thing to do. Thank you. Email me at [email protected]