Chicken Stew Soup with Fluffy Dumplings
As an Amazon Associate and member of other affiliate programs, I earn from qualifying purchases.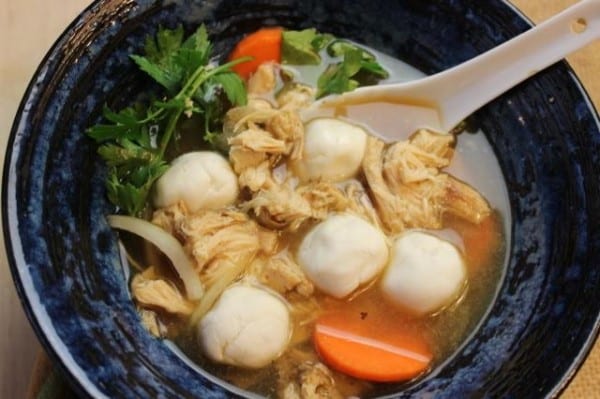 You need comfort food after a long day like this Chicken Stew Soup with Fluffy Dumplings. When you're not feeling 100% like I was, all you want is to curl up on the sofa and let the meds do their magic. I did that. After a few hours I woke up hungry and needed the solace of a bowl of piping hot soup with soft, hearty ingredients to fill me up.
There is nothing like the comfort of homemade chicken soup in clear broth that has been simmering for a few hours till the wholesome flavors come through. I had just bought a copy of "Southern Soups and Stews" by good friend, prolific cookbook author Nancie McDermott from North Carolina. And as luck would have it, I got invited to join the virtual live cooking event hosted by Chef Jenni Field of Pastry Chef Online and Denise Vivaldo, food stylist virtuoso.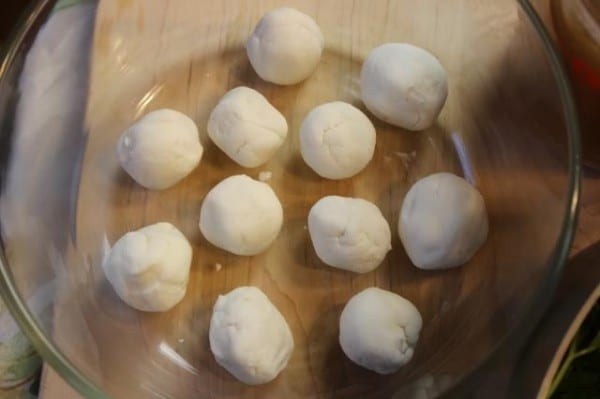 I must confess I cooked this Chicken Soup with Dumplings ahead of the live event. The good thing about this recipe is that you can make it in stages. Day 1: cook soup stock. Day 2: make the dumplings and refrigerate. Day 3: assemble the chicken soup and dumplings, boil, simmer and enjoy.
Once the soup and dumplings were ready, I was amazed at how soothing and calming it felt to sip and slurp the goodness of it all. The chicken broth was savory from hours of simmering flavored by the herbs and seasonings. The thread-like chicken shreds were so tender they nearly melted away as I carefully enjoyed every morsel. And of course the dumplings felt like little clouds of heaven, soft and fluffy, tasting mildly sweet yet filling.
This soup meal felt like an elixir in a bowl. Like a warm hug from a good neighbor bearing soup. After bowlfuls and slurps of it, I felt good as new and all was right in the world.
Chicken Stew Soup with Fluffy Dumplings
Nancie McDermott, cookbook author described this Chicken Stew Soup with Fluffy Dumplings recipe as: "This dish is so comforting that it feels restorative". One of the first things I reach for on days I am under the weather is homemade chicken soup. This soup had all the right flavors: savory and hearty with tender tendrils of chicken and fluffy cloud-like dumplings. I cooked this recipe in stages: first, a good soup stock. Then later, assembled the chicken shreds, vegetables and dumped the dumplings. This recipe was inspired by the new cookbook "Southern Soups and Stews" by Nancie McDermott (Chronicle Books) from the recipe of Sheri Castle in the book. The soup meal serves 6 to 8.
Equipment
Large Stock pot: 10 to 12 quarts

Dutch Oven: 10 to 12 quarts
Ingredients
4

pounds

whole chicken, bone-in,

or cut up in serving pieces

6 to 8

cups

chicken stock

4

cups

coarsely chopped onions

from about 4 onions

3

cups

coarsely chopped carrots

from about 3 pc. carrots carrots

3

cups

coarsely chopped celery

include leaves, plus 3/4 cup chopped celery

3

cloves

garlic

peeled, crushed

3

teaspoons

salt

1

Tablespoon

unsalted butter

or vegetable oil

1/2

teaspoon

ground black pepper

2

cups

all-purpose flour

for dumplings

1

teaspoon

salt

1

Tablespoon

baking powder

1/2

teaspoon

granulated sugar

1/4

cup

chilled unsalted butter

cut in small cubes

2

Tablespoons

chilled Crisco shortening

3/4

cup

regular milk or half-and-half milk

1/2

cup

chopped flat leaf parsley

plus 1 Tablespoon for garnish
Instructions
How to make the stew: Place the chicken in a large stockpot. Add the soup stock, onions, carrots, celery, garlic. Then add one teaspoon of the salt. Cover the chicken and ingredients with enough water. Cover and over medium high heat bring the stew to a boil. When it boils, lower heat to a gentle simmer. Cover and continue cooking till chicken is cooked thoroughly for about 55 minutes to one hour.

 When chicken is cooked, remove from the stockpot. Leave the broth and vegetables in the stockpot.

Shred the chicken meat, removing it from the bones. Return the chicken bones to the broth. Continue cooking for 45 minutes or more over medium heat.

Keep the shredded, chopped chicken in the refrigerator while the broth is simmering. When broth is done, strain the liquid and discard excess bones. You should have about 8 cups of broth. Or add water to the broth to complete the 8 cups. Set aside.

Separately, heat the butter in the same stockpot (or use a Dutch Oven if preferred).

Add the chopped carrots, onion, celery and remaining 1 teaspoon of salt. Stir around to mix vegetables and cook for 8 minutes more till soft.

Add the reserved broth and simmer about 10 minutes more.

Return the shredded, chopped chicken to the broth and heat the entire soup. Cover and keep the stew in a low simmer, over low heat.

How to make the dumplings: Place the flour, salt, baking powder and sugar in a medium-sized bowl. Use two forks or a pastry blender to mix in the butter and lard into the mixture. It should be crumbly with thin flakes of fat around it. To test: put the mixture against the back of your thumb; if it clings, it is ready for the next step.

Slowly pour in the half-and-half.  Expect the dough to be soft and sticky, yet firm enough to be held in a spoon.

Check to see the chicken shreds in the simmering broth. Add most of the parsley. Save a few bunches of parsley for garnishing at the end.

How to add dumplings: Take 2 spoons of dumpling dough, shape into a golf ball-sized dumpling. Place these dumplings gently into the stew. Scatter them around the stockpot.

Keep the stockpot covered. Cook till dumplings are firm, fluffy for about 20 minutes. Sprinkle the remaining chopped parsley over the soup and chicken. Serve piping hot.

Cook's comments: On days I am busy and I have cooked roast chicken leftovers, I add that to the simmering broth to make the soup stock. It is a simple, easy short cut to cooking this hearty soup meal.

Ingredient notes: The author used 6 fresh thyme sprigs plus 2 teaspoons fresh thyme for the soup stock. I did not have this at the time of cooking. Feel free to add thyme if desired.

Hello, Friends! All the images and content on this blog are COPYRIGHT PROTECTED and owned by my media company Besa-Quirino LLC. This means BY LAW you are NOT allowed to copy, scrape, lift, frame, plagiarize or use my photos and  recipe content I wrote, on your website  without my permission. If you want to republish this recipe or content on another website or news article, please ASK my permission, re-write it in your own words and simply link back to this blog to give proper attribution. It's the legal thing to do. Thank you. Email me at [email protected]
Nutrition
Serving:
1
g
|
Calories:
261
kcal
|
Carbohydrates:
42
g
|
Protein:
10
g
|
Fat:
5
g
|
Saturated Fat:
2
g
|
Cholesterol:
12
mg
|
Sodium:
1897
mg
|
Potassium:
505
mg
|
Fiber:
1
g
|
Sugar:
4
g
|
Vitamin A:
58
IU
|
Vitamin C:
1
mg
|
Calcium:
103
mg
|
Iron:
3
mg