Filipino Adobo-flavored Eggs
As an Amazon Associate and member of other affiliate programs, I earn from qualifying purchases.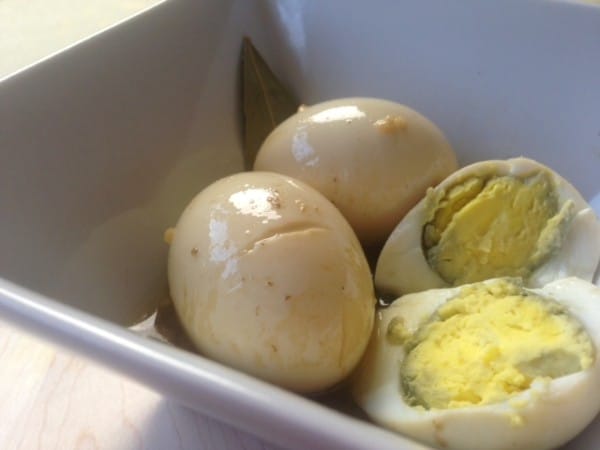 If you open our ref you'll see a container of hard boiled eggs which I transform to Filipino Adobo-flavored Eggs all the time. I also have the classic Filipino adobo cooked and stored in a Pyrex right now. Every week I cook a large stockpot of adobo – it can be any of these: chicken, pork , beef ribs or a combo of chicken and pork. Even our vegetables are cooked the adobo way, with lots of garlic and vinegar, and a little soy sauce thrown in.
In my mother's kitchen there was always a big pot of adobo cooking on the stove, I can still picture the bubbles from the garlic- vinegar stew briskly boiling and spewing intense aromas all over the house.
One thing about cooking adobo was that I often had leftover broth. By the time the stew was cooked the gravy had thickened to a deep brown, the consistency nearly syrupy in texture.
And so with leftover broth and the mainstay of hard boiled ones, I make Adobo Eggs. I got this easy delightful idea from Chef Romy Dorotan at Purple Yam in Brooklyn. He served adobo eggs for brunch at his restaurant. Since then, I put to good use the adobo broth that is plentiful in the stockpot.
After cooking hard boiled eggs, I peel and toss them into the deep pot. A swirl or two and a few minutes of simmering is all that's needed. Some nights I even served it with steamed buttered green beans and a big bowl of fragrant jasmine rice. It's sheer comfort food that's been our little family secret for a while now. It is so scrumptious I don't mind sharing it with you.
Filipino Adobo-flavored Eggs
It's easy to make these Filipino Adobo-flavored Eggs. If you cook Filipino adobo make enough to have leftover broth to simmer hard boiled eggs in them. Or start from scratch and boil eggs, then after peeling, simmer them in the adobo gravy. It is one of the easiest meals to put together. I make this often and my family cannot resist having it for a meal, a side or even a snack in between. This recipe was inspired by Chef Romy Dorotan of Purple Yam NYC. Serves 2 to 4.
Ingredients
8

whole

large eggs

water enough to cover eggs in stock pot

1-2

cups

adobo broth

from leftover adobo dishes

1/2

cup

cider vinegar

for cooking adobo broth

1/4

cup

toyo (soy sauce)

for cooking adobo broth

1

cup

water

for cooking adobo broth

6

cloves

garlic

peeled, mashed, for adobo broth

1

teaspoon

black peppercorns

2

pieces

bay leaf

1

teaspoon

salt

1

teaspoon

ground black pepper

for serving: steamed rice
Instructions
How to make hardboiled eggs: In a medium sized stock pot add the water and cover. When the water boils, add the eggs and cook for 10 minutes. When cooked, remove from hot water right away. Soak the cooked eggs in cold water right away. Leave eggs soaking for 5 minutes, then remove. Store eggs in refrigerator. This method makes it easier to peel the eggs. Peel eggs and set aside.

In the large stockpot where the chicken-pork adobo cooked, remove the meats but leave the leftover broth. Over medium heat add the hard boiled eggs. Cover and simmer in the adobo broth for about 10 minutes. When serving, pour some of the adobo gravy over the cooked eggs. Serve with boiled rice.

If you don't have leftovers, here's how to make adobo broth: In a medium stock pot combine the vinegar, water, soy sauce, garlic, pepper corns, bay leaf, salt and black pepper powder. Bring liquid to a boil then lower heat to a simmer. Add the peeled hard boiled eggs and cook for 10 to 15 minutes.

Hello, Friends! All the images and content here are COPYRIGHT PROTECTED. This means BY LAW you are NOT allowed to use my photos or content on your website  without my permission. If you want to republish this recipe, please re-write it in your own words and simply link back to this blog to give proper attribution. It's the legal thing to do. Thank you.
Nutrition
Serving:
1
g
|
Calories:
37
kcal
|
Carbohydrates:
6
g
|
Protein:
1
g
|
Fat:
1
g
|
Saturated Fat:
1
g
|
Sodium:
1174
mg
|
Potassium:
109
mg
|
Fiber:
1
g
|
Sugar:
1
g
|
Vitamin A:
62
IU
|
Vitamin C:
3
mg
|
Calcium:
34
mg
|
Iron:
1
mg
Nutrition Notes: The nutrition information is an estimate and will vary based on cooking methods and brands of ingredients used.