Shrimp Rice with Turmeric
As an Amazon Associate and member of other affiliate programs, I earn from qualifying purchases.
]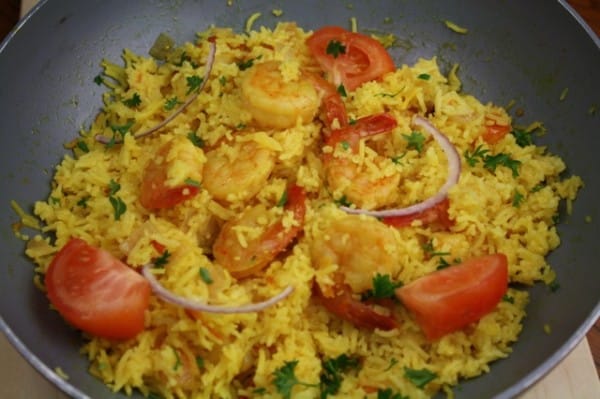 It is always a sign the dish is good when my son watches me cook, takes over the cooking, eats it all up and then brings back the leftovers to his apartment. This is what happened when I cooked the Shrimp Rice with Turmeric recipe from Monica Bhide??™s "Modern Spice" cookbook.
My son Toby was home for the weekend. When he is home he enjoys all-vegetable meals or relishes dishes with plenty of seafood. The Shrimp Rice was easy and perfect. The important ingredients were fresh raw shrimps, turmeric and basmati rice. I had all these plus the seasonings indicated.
I used a teaspoon of turmeric mixed into the saute which emitted a warm, pepper-like, earthy aroma. It had a deep intense fragrance and tinged the basmati rice with a dazzling golden color. The basmati rice had long grains which increased in length when cooked. After the dish was ready, the rice was light and fluffy, a perfect complement to the savory, succulent shrimps.
What makes this Shrimp Rice dish so special aside from the fact that my son Toby loved it? It is a recipe by Monica Bhide, award winning author of Indian cookbooks like "Modern Spice" and now her latest work, "The Devil In Us", a collection of fictional short stories. Monica has been a good friend, writing teacher and an inspiration. I met Monica at a food bloggers??™ conference a few years ago in D.C. Her writing lectures are life altering experiences if you??™re a writer. Her lessons stay with you forever.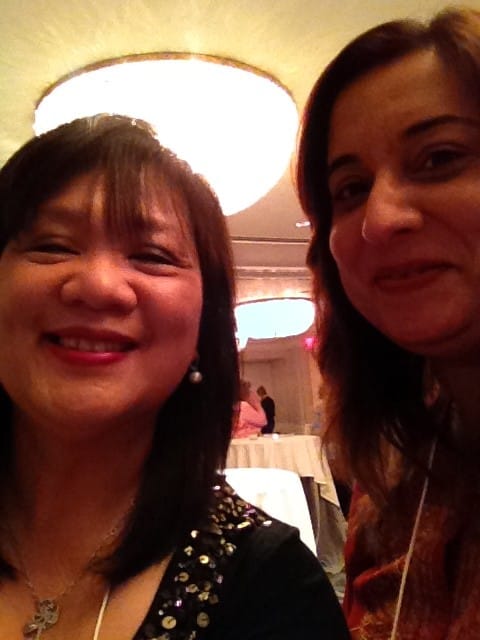 I cooked this Shrimp Rice recipe by Monica again this week. It has become a weeknight staple for busy days. After enjoying every rice grain and shrimp, I sat down with a pot of tea and Monica??™s new book.
As I read story after story, I was drawn to the characters and their interesting traits. I traveled to different cities through the various settings. I listened to the voice of the author telling me what life lessons to ponder on.
I was provoked and poked by this book. In the course of it, for a fleeting moment I was immersed in the stories of other people. This was what "The Devil In Us" did to me. The collection of fictional short stories was like a unique bouquet with varied plots, unbelievable places, tales which were poignant, tearful, slightly amusing and incredibly moving. There was love, laughter, friendship, sorrow, mystery, intrigue, regret, redemption. There were over 200 pages of short stories and I was riveted to every page. Monica Bhide is a famous food writer but has successfully diversified to her first book of fiction. I read this both in e-book and print format. I am positive this will not be the author??™s last. I can??™t wait for more books from her.
As for Monica??™s terrific recipes, well, my son Toby has his eye on my copy of her cookbook. I guess I??™ll have to eventually give that to him. That??™s a good sign that I fed him well.
Shrimp Rice with Turmeric
The shrimps, cooked in turmeric, ginger, tomatoes and spices added a deep dimension to the simplicity of long-grained basmati rice. It was one of the easiest recipes of modern Indian cooking that I have made. Use "fresh catch of the day" shrimps for this recipe. This is the kind of dish that will save your life on busy weeknights. This recipe was slightly adapted from "Modern Spice: Inspired Indian Flavors For The Contemporary Kitchen" by
Monica Bhide.
Serves 2 to 4 as a side or entrée.
Ingredients
3

Tablespoons

vegetable oil

1

small piece

chopped red onion

1-

inch

piece

peeled, sliced into fine matchstick sizes fresh ginger

1

medium

chopped tomato

1

teaspoon

ground turmeric powder

1/2

teaspoon

red chile powder or red chile flakes

1/2

Tablespoon

coriander seeds

1/2

teaspoon

ground cumin

1

pound

medium-sized

peeled, deveined fresh shrimps (raw)

1

cup

basmati rice

1/2

teaspoon

sea salt

2

cups

for cooking rice water

1/4

cup

chopped coarsely, for garnish (optional) fresh parsley
Instructions
Over medium heat, in a large saucepan, add the vegetable oil. When oil heats up in 1 to 2 minutes, add the onion. Saute the onion for about 5 minutes till soft and translucent.

Put the ginger in the pan together with the onions. Cook for 1 to 2 minutes.

Then add the tomato and blend well. Cook for about 10 minutes making sure the tomato cooks completely. The oil should separate from the onion-tomato mixture. If pan dries up, add a few tablespoons of water to the mix.

To the same pan, add the turmeric, chile powder, coriander and cumin. Mix the seasonings well. Continue cooking for a minute more.

Add the fresh, raw shrimps. Incorporate with the rest of ingredients. Cook for 5 minutes more till shrimps turn to pink.

Add the basmati rice, salt and water. Stir all the ingredients together and incorporate well for the flavors to come out.

Cover the saucepan and let the rice boil. After rice boils, stir the mixture around the pan then lower heat to a simmer. Cook rice for 12 to 15 minutes more. The water will be absorbed by then.

When rice and shrimps are cooked, fluff the grains with a fork. Move the shrimps to the top of the dish as you plate it. Garnish with chopped fresh parsley and serve hot.

Cook's comments: in the original recipe in her cookbook, the author added a chopped small green serrano chile. I preferred not to use it this time in ours. Feel free to elevate the spicy heat by adding more chiles if you like.

Hello, Friends! All the images and content here are COPYRIGHT PROTECTED. This means BY LAW you are NOT allowed to use my photos or content on your website  without my permission. If you want to republish this recipe, please re-write it in your own words and simply link back to this blog to give proper attribution. It's the legal thing to do. Thank you.