Sweet Sour Bola-Bola – Beef Meatballs
As an Amazon Associate and member of other affiliate programs, I earn from qualifying purchases.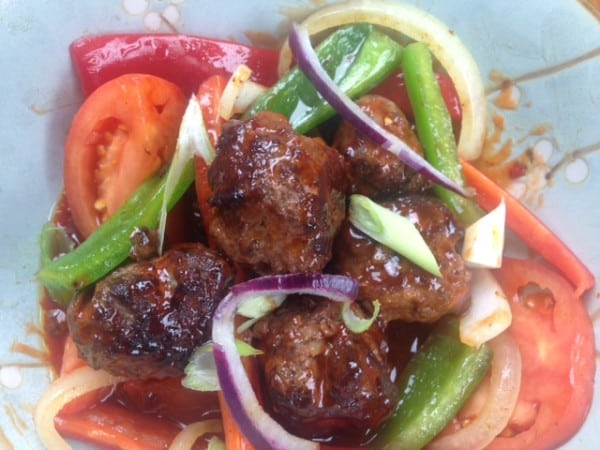 A panciteria in the Philippines is the counterpart of a Chinese take-out here in the USA. There was a panciteria ( say "pahn-see-te-ria") in our hometown that specialized in these Sweet-Sour Bola-Bola or Beef Meatballs and other goodies like ice cream and Chinese food. The term 'panciteria' comes from the root word 'pancit' meaning the noodle dish, of Chinese origin. My parents made it the exception rather than the norm to order take out. If it happened, it was for a special reason, a family milestone or a celebration. My little sister and I got so excited when the paper-wrapped food parcels arrived and were unwrapped. The steam floated upwards. The food was hot to the touch and combined aromas of soy sauce, calamansi (the Filipino lime) and sesame oil flitted around.
The panciteria owners knew our family well. We lived in a small town. Sometimes if our food order was huge and included pancit canton noodles, shrimp rebosado (stuffed shrimps) and this 'bola-bola', the owners threw in a gallon of free ice cream with a pack of barquillos (crispy rolled butter pastries).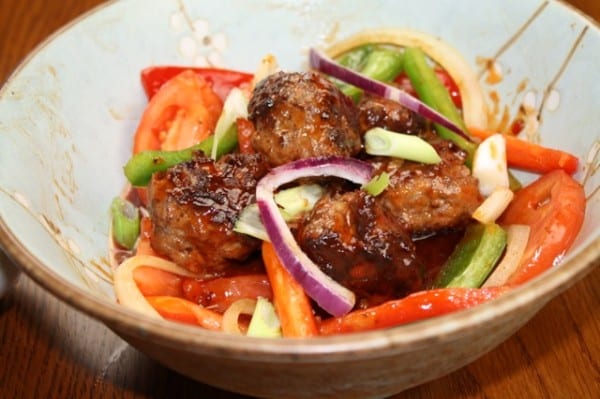 My favorite dish was the Sweet Sour Bola-Bola. They were large-sized ground beef meatballs encased in a glistening glaze of tangy sauce, on a bed of sliced veggies. I never forgot how those meatballs tasted, so even now, in my American kitchen I can recreate the dish. Sometimes I mix up ground pork and beef to make the meatballs. I also have 2 ways to cook the "bola-bola" (what Filipinos call meatballs). I either pan fry them or bake them for a less greasy option.
The sweet sour sauce defines the dish. It is also the easiest to do. If I make a lot of sauce for the meatballs, then we pour the whole sweet thing — bola bola and sauce, on a bed of steamed white rice and it's absolute heaven. All the ingredients in this dish are easy to find in any grocery, no matter where I am in the world. So anytime we want, I can quickly whip up my "panciteria" favorite. It's the simple things from the past that always bring back the happiest moments.
Sweet Sour Bola-Bola - Beef Meatballs
These Sweet Sour Bola-Bola - Beef Meatballs, made with ground beef can be either pan fried or baked. The sweet sour sauce is prepared separately and quickly boiled till it gets thick and shiny. You can also use a combination of ground beef and pork if desired. The best thing about this dish is that I can cook it in any kitchen, anywhere in the world because the ingredients can be found in most local groceries. This is an AsianInAmericamag.com recipe. Serves 2 to 4.
Ingredients
1

pound

ground beef

or pork, or combination

1

whole

onion

chopped (divided, use 1/4 portion for sweet sour sauce)

2

stalks

scallion whites

chopped, white parts only (keep green parts chopped for garnish)

2

whole

eggs

1

Tablespoon

bread crumbs

1

Tablespoon

flour

2

teaspoons

salt

divided, use 1 teaspoon for sweet sour sauce

1

teaspoon

ground black pepper

divided, use 1/2 teaspoon for sweet sour sauce

1/4

teaspoon

sesame oil

1/4

cup

for pan frying, 1 Tablespoon (for sweet sour sauce) vegetable or corn oil

2

cloves

garlic

minced

1/2

teaspoon

minced fresh ginger

1

whole

tomato

sliced

1

whole

red or green bell pepper

sliced, seeded

2

Tablespoons

tomato catsup

1/4

cup

or use white distilled vinegar cider vinegar

1/4

cup

granulated sugar

1/2

cup

pineapple juice

1/2

cup

water

for sweet sour

2

Tablespoons

cornstarch

1/4

cup

water

to dilute cornstarch

1/2

cup

pineapple chunks (canned)

for serving: boiled rice
Instructions
In a medium-sized mixing bowl, combine the ingredients for the meatballs : ground beef, onion, scallions, eggs, soy sauce, bread crumbs, flour, salt, pepper and sesame oil. Blend well. Shape the ground beef mixture into 2-inch sized meatballs. Arrange on a flat tray or container. Cover with plastic wrap and refrigerate for 30 minutes to an hour to firm up.

You can choose from these 2 ways to cook the meatballs or 'bola-bola'. 1) To bake: Place meatballs on a baking sheet lined with parchment paper. Bake meatballs at a preheated oven of 350 F degrees for 30 minutes. When cooked, set aside.

Or method 2) To pan fry : in a large skillet over medium high heat, add the vegetable oil. When oil is hot enough in about 3 minutes, add the meatballs, leaving a space of about 2 inches apart. Pan fry meatballs for about 25 to 28 minutes till well done. When cooked, drain meatballs on parchment paper to remove grease. Set aside.

When serving the meatballs, plate on a large platter. Pour the sweet sour sauce with the vegetables on top. Serve with boiled jasmine rice.

To make sweet sour sauce: separately in a small sauce  pan, over medium heat, saute the garlic, onions, ginger, tomatoes and bell peppers till soft for about 2 minutes. Remove the sautéed vegetables from the pan and set aside.

To the same sauce pan, add the catsup and fry for about 1 to 2 minutes over medium heat. Add the vinegar, granulated sugar, pineapple juice and water. Blend well. Return the sautéed vegetables to this mixture. Season with salt and black pepper powder. Cover and continue cooking for a minute.

Separately, in a small bowl, dilute the cornstarch in water and blend well till there are no more lumps. Add this cornstarch mixture to the sauce pan with the vegetables and vinegar mix. Bring to a boil in about 2 minutes. Lower heat to a slow simmer. The mixture will thicken by this time. Add the pineapple chunks if desired.

Cook's comments: if desired, instead of an all-beef meatball mixture, combine ground pork and ground beef. Cook according to directions above.

Hello, Friends! Do not PLAGIARIZE, LIFT OR SCRAPE my recipes and photos.  All the images and content here are COPYRIGHT PROTECTED. This means BY LAW you are NOT allowed to use my photos or content on your website, videos, TV programs, cookbooks, books, media content, restaurant menus  without my permission. If you want to republish this recipe, please re-write it in your own words and simply link back to this blog to give proper attribution. It's the legal thing to do. Thank you. Email me at [email protected]
Nutrition
Serving:
1
g
|
Calories:
399
kcal
|
Carbohydrates:
26
g
|
Protein:
21
g
|
Fat:
23
g
|
Saturated Fat:
9
g
|
Cholesterol:
82
mg
|
Sodium:
1264
mg
|
Potassium:
452
mg
|
Fiber:
1
g
|
Sugar:
17
g
|
Vitamin A:
379
IU
|
Vitamin C:
10
mg
|
Calcium:
36
mg
|
Iron:
3
mg
Nutrition Notes: The nutrition information provided is an estimate and will vary based on cooking methods and brands of ingredients used.
Did you like this recipe? I have more classic recipes inspired by my late mother's cooking in my popular cookbook: My Mother's Philippine Recipes. If you're learning how to cook Filipino food or a fan of Philippine cuisine, buy my cookbooks and books on Amazon.com sold worldwide in paperback and Kindle format.
Hello, Friends! Please DO NOT LIFT OR PLAGIARIZE my original recipe, stories, photos or videos. All the images and content on this blog are COPYRIGHT PROTECTED and owned by my media company Besa-Quirino LLC. This means BY LAW you are NOT allowed to copy, scrape, lift, frame, plagiarize or use my photos, essays, stories and recipe content on your websites, books, films, television shows, videos, without my permission. If you wish to republish this recipe or content on media outlets mentioned above, please ASK MY PERMISSION, or re-write it in your own words and link back to my blog AsianInAmericaMag.com to give proper attribution. It is the legal thing to do. Thank you. Email me at [email protected]