Classic French Madeleines
As an Amazon Associate and member of other affiliate programs, I earn from qualifying purchases.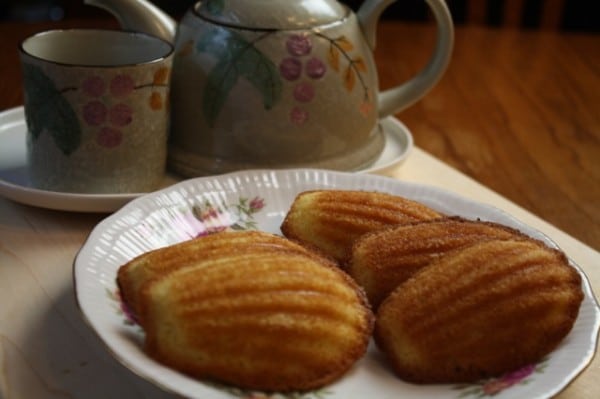 The days and nights have gotten chilly. Fall is in the air. I make a pot of tea three times a day to warm me. Inevitably, we need cookies like these Classic French Madeleines to go with the tea. Madeleines, those French cake-like pastries are perfect to pair with the tea I make. I have always been fascinated by Madeleines. On a family vacation a few years ago, we visited the Notre Dame Cathedral in Paris and were overwhelmed by the touristy cafes on the side streets. I didn't want to pass up the chance of enjoying a meal there. So on those occasions, I made sure to try crepes and madeleines. It was like a dream I had always imagined. On another vacation, while in Montreal we were strolling by the street next to the cathedral, and found a chic, friendly French cafe. One of the pastries I enjoyed was madeleines. I kept going back for those classic seashell-shaped French butter cakes.
When my son was little, he loved madeleines a lot. I had to buy them from the price club or the grocery which carried a boxed brand. They were expensive and it was more a treat than an everyday snack for us. But I allowed the indulgence because I loved them, too.
So when I received this cookbook "Madeleines: Elegant French Tea Cakes To Bake and Share" by Barbara Feldman Morse from my friends at Quirk Books, I was thrilled. Finally, I could bake my own madeleines at home. To my surprise, after reading this cookbook, I realized madeleines were so easy to bake. Why did I not do this sooner, I asked myself.
This was my first time to bake this exquisite French pastry. I was intimidated at first. But I have owned a madeleine baking pan for a while and have had grand illusions of baking superb ones. I knew it was now or never …. it was really time for me to make use of the beautiful pan for 12 little cakes and bake.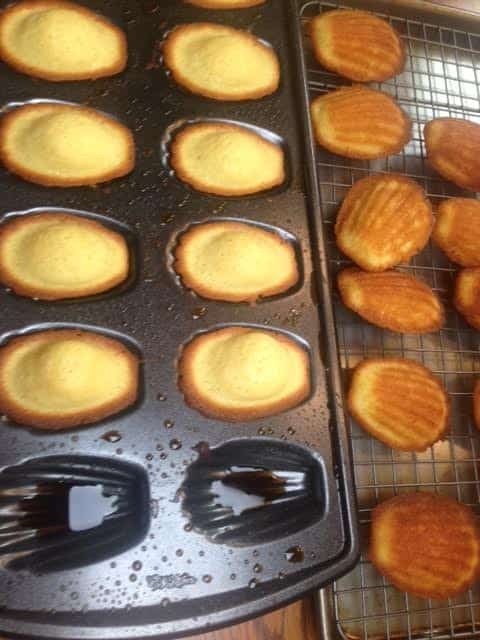 The beautiful cookbook had pages upon pages of various madeleine recipes. I never knew there were more than one version. For a first attempt, I tried the basic recipe : Classic French Madeleines. I followed the easy, simple instructions and made sure I used good butter (Kerrygold USA is my favorite brand). Only a few basic baking ingredients were needed. Then came the mixing, blending, the pouring of the batter and voila. The madeleines came out of the oven, with a rich buttery aroma, soft, sponge-like texture, and a rich, marvelous flavor.
I was so thrilled with this first attempt. Now I'm psyched to try the next recipes in this book: Chai Tea Madeleines, Dulce de Leche, Pina Colada, Black and White Madeleines, Peanut Butter and Jelly, and a whole list more. I'll probably end up baking every French cake treat in this book. Whether you're a first time baker or an experienced one you'll find baking madeleines is really easier than it sounds with the help of this cookbook. Instructions are clear and some recipes have marvelous photos to illustrate how the recipe should be. Recipes are divided into seven glorious chapters, each Madeleine recipe more magnificent than the last one. There are helpful resource chapters, too – history, baking secrets, the right ingredients and equipment – all of which will greatly benefit every baker who wants to perfect this treat.
I'm sure when my sons see this blog post they will come rushing home to visit…as they always do when they hear I just baked something delightful for fall and the holidays.
Classic French Madeleines
Madeleines are French seashell-shaped butter cakes that are like cookies to me. They have a pound cake-like texture and are packed with rich, sweet, creamy flavors. Start with this classic, buttery French-vanilla flavored madeleines. It's easy to master and before long you'll want to progress to the multi-layered flavored madeleines. This recipe was from the cookbook
"Madeleines : Elegant French Tea Cakes to Bake & Share"
by Barbara Feldman Morse. The recipe baked 24 pieces.
Equipment
Madeleine-shaped baking tins
Ingredients
8

Tablespoons (1 stick)

unsalted butter

1

cup

all purpose flour

1

teaspoon

baking powder

3

whole

largeeggs

2/3

cup

granulated sugar

1

teaspoon

vanilla extract

1

teaspoon

freshly grated lemon zest
Instructions
Baking equipment needed: a Madeleine baking pan (see photos on this post). Buy them at most baking stores, department stores or

online via Amazon

or baking sources.

Preheat the oven at 350 F degrees. Prepare a 12-piece shell-shaped pan with baking spray. You will need two pans of this size for the recipe. (Note: I own only one pan and baked twice in them). If not using baking spray, brush the pan with 4 tablespoons of melted butter. Set aside.

In a medium bowl, sift together the flour and baking powder by using a wire whisk. Whisk the powdered ingredients around.

Melt the butter in a separate bowl by placing in the microwave for a minute on low power or till melted. Let the butter cool to room temperature before mixing with the eggs. Set aside.

Using a stand or hand mixer, beat the eggs and sugar on medium to high speed until mixture is light and fluffy. This should take about 3 to 5 minutes.

To this mixture, add the vanilla and zest. Keep beating for a minute more.

Slowly fold in the flour mixture, using a wide spatula and blend well.

To this batter, pour slowly the cooled butter. Make sure ingredients are blended well, still using the wide spatula or a cooking spoon.

Fill each shell mold with the batter, about ¾ full. Grease a scooper or a teaspoon and use it to transfer the batter to the molds. Tilt the baking pan around if batter needs to be evenly distributed in each mold.

Bake at 350 F degrees for 10 to 12 minutes. The madeleines will puff up and the sides of each cake will turn a golden brown.

When baked, remove from the oven. Cool pan on the counter for about 3 minutes. Then carefully remove each Madeleine from the shell-shaped pan and cool on racks.

Cook's comments:

This cookbook "

Madeleines

: Elegant French Tea Cakes to Bake & Share" by Barbara Feldman Morse (

Quirk Books

) are available where most books are sold on, at

Quirk

or

Amazon

.

Click here

to buy a copy.

Disclosure: I was not paid to review this cookbook, but will gladly recommend it to anyone who loves to bake madeleines or other pastries.

Hello, Friends! All the images and content here are COPYRIGHT PROTECTED. This means BY LAW you are NOT allowed to use my photos or content on your website  without my permission. If you want to republish this recipe, please re-write it in your own words and simply link back to this blog to give proper attribution. It's the legal thing to do. Thank you. Email me at [email protected]
Nutrition
Serving:
39
g
|
Calories:
458
kcal
|
Carbohydrates:
58
g
|
Protein:
3
g
|
Fat:
24
g
|
Saturated Fat:
15
g
|
Polyunsaturated Fat:
1
g
|
Monounsaturated Fat:
6
g
|
Trans Fat:
1
g
|
Cholesterol:
64
mg
|
Sodium:
5
mg
|
Potassium:
144
mg
|
Fiber:
1
g
|
Sugar:
33
g
|
Vitamin A:
739
IU
|
Calcium:
56
mg
|
Iron:
2
mg