Adobo Beef Short Ribs with Apples
As an Amazon Associate and member of other affiliate programs, I earn from qualifying purchases.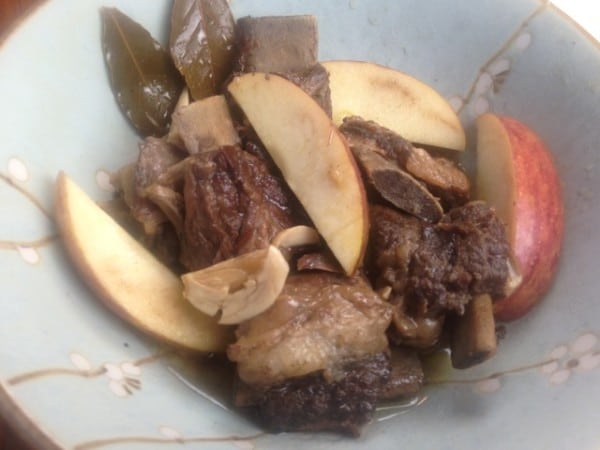 In a few weeks most of you will have family visiting for the holidays, just like we will, too. While I cannot stop working, I have to plan what I'm going to feed our relatives who are coming from across the country. Our relatives here in the States live far from us. Almost all our families are a plane ride away to other states or countries. Like most families who migrate to the USA, we make our homes based on where we work. This is the reality. Sadly, geography and jobs take us far away from our nearest of kin. In the Philippines, this is not the case. It is a small country over there, and family is everywhere or a few hours away, within reach sometimes whether we like it or not.
I have always told friends that every week I cook a large stock pot of adobo and then put it in Pyrex in the refrigerator. This I do for those weeknights I have no meal ready. So very likely, in anticipation of guests coming, I will be cooking this Adobo Beef Short Ribs with Apples. The good thing about adobo is that you can cook it ahead of time. You can simmer it low and slow in the crock pot and forget about it till it is time to eat. I've posted about adding apples to adobo in past blog recipes and articles I've written.
Apples abound in autumn and I love to go apple picking. When we do, I have more fruit than I can eat after the annual trip to the apple farm. The apples are fresh, crisp and sweet smelling. I put apples in everything I cook and bake. Even if it's not apple season, you can still cook this scrumptious and easy adobo for the holidays. Apples are easy to find in supermarkets. Good cuts of beef ribs are accessible, too. The family will enjoy the large, beef short rib chunks that have been braising in the garlic-vinegar stew. The beef will fall off the bone and fork if you try to lift it. The apple slices will add a sweetness to the tangy, savory stew. Pour it on rice and your guests will never want to leave.
But the best thing about this dish is that you can make it ahead, long before guests come. By the time they arrive, you can sit down and enjoy the time with family because dinner is already cooked. Step away from the stove. Cherish the family time. Sit quietly and listen to the chatter. Catch up with the stories. Give yourself the gift of enjoying time spent with those who matter, in ways that warm your heart, fill your spirits and revitalize your soul.
Adobo Beef Short Ribs with Apples
Adobo Beef Short Ribs with Apples is the basic adobo recipe of garlic, vinegar and soy sauce but made special with the addition of apple slices. Cook this dish ahead of time and find out how much more splendid the adobo tastes a day or two after. Whenever I cook this adobo dish, not a shred is left on the serving platter. This recipe was adapted from the "Memories of Philippine Kitchens" cookbook by Amy Besa and Romy Dorotan. Serves 4 to 6.
Ingredients
4 to 5

pounds

cut in chunks, about 2-3 inches beef short ribs, with bone

2

teaspoons

sea salt

2

teaspoons

black peppercorns

1

cup

cider vinegar

1

Tablespoon

soy sauce

6 to 8

cloves

peeled garlic

2

large pieces bay leaves

1

cup

beef soup stock or broth

1

large

peeled, seeded, sliced apple

for serving boiled rice
Instructions
In a mortar and pestle, pound the salt, garlic cloves and pepper corns till coarsely ground. Place this dry rub on the beef short ribs, spread it all over.

In a small bowl, combine the vinegar and soy sauce. Pour this mixture over the beef short ribs. Place marinated beef short ribs in a ziploc plastic bag and refrigerate for an hour or overnight.

In a large stockpot, over medium high heat, place the beef short ribs with the liquid and ingredients used for the marinade. Add the soup stock or broth and bay leaves. Bring to a full boil then lower the heat to a simmer. Cook for 1 hour or till meat falls off the bone.

Add the sliced apple at the last 30 minutes of cooking.

When the beef short ribs are cooked, remove from the stockpot. Cook the remaining liquid till it reduces to a thick sauce for about 6 to 10 minutes over medium heat. Arrange the beef short ribs on a serving platter. Pour the thick adobo sauce over it. Discard the bay leaves. Serve with boiled white rice.

Cook's comments: I used a Fuji apple variety for this adobo. Feel free to use any apple variety you prefer. When I cooked this adobo in a slow cooker or crock pot, I set it on HIGH for 5 to 6 hours.

Recipe notes: the original recipe in the cookbook used 1 to 2 large jalapeno chiles mixed into the stew when simmering. This is an optional ingredient.

Hello, Friends! All the images and content here are COPYRIGHT PROTECTED. This means BY LAW you are NOT allowed to use my photos or content on your website  without my permission. If you want to republish this recipe, please re-write it in your own words and simply link back to this blog to give proper attribution. It's the legal thing to do. Thank you.
Notes on Nutrition: The nutrition information provided in the recipe links is an estimate and will vary based on cooking methods and specific brands of ingredients used.
Copyright Notice: Hello, Friends! Please DO NOT LIFT OR PLAGIARIZE my original recipe, stories, photos or videos. All the images and content on this blog are COPYRIGHT PROTECTED and owned by my media company Besa-Quirino LLC. This means BY LAW you are NOT allowed to copy, scrape, lift, frame, plagiarize or use my photos, essays, stories and recipe content on your websites, books, films, television shows, videos, without my permission. If you wish to republish this recipe or content on media outlets mentioned above, please ASK MY PERMISSION, or re-write it in your own words and link back to my blog AsianInAmericaMag.com to give proper attribution. It is the legal thing to do. Thank you. Email me at [email protected]