Pancit Sotanghon Noodles with Chicken and Tofu
As an Amazon Associate and member of other affiliate programs, I earn from qualifying purchases.
]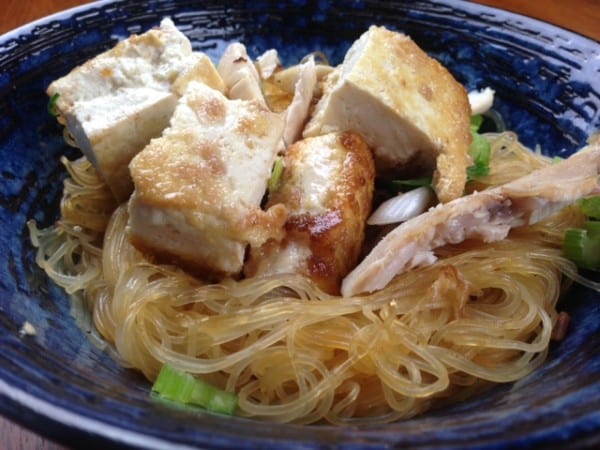 Birthdays happen in big batches in our family so I often cook a celebratory dish like this Pancit Sotanghon Noodles with Chicken and Tofu. During May to June, our family celebrates birthdays and anniversaries in a matter of days apart. And when our friends are having birthdays throughout the year we are celebrating with food all the time. I like to cook or bake gifts to give to friends having a birthday. My favorite thing to cook are noodles. They also happen to be the easiest dish to make. Often, it makes for a unique gift.
A noodle dish enjoyed during birthdays symbolize long life and prosperity for Filipinos and most Asians. It is a must that we have a noodle dish for birthdays. It is also considered 'good luck' for the birthday celebrant when all of us are eating noodles or pancit. So whether I'm cooking or we're eating out, the first thing I do is plan which noodle dish we'll have at the family meal.
My virtual friends, the "Let's Lunch" group of food authors, writers and chefs are like family, too. We meet every month online. For this month, we are celebrating the birthday of Cheryl Tan, successful author and one of the founders of this lively virtual group who meet regularly to share recipes and stories posted on our respective blogs.
I cooked Pancit Sotanghon to honor Cheryl. It is a staple dish in Filipino homes. One finds the recipes in almost all Philippine cookbooks. For me, it is the easiest to make of all the "pancit" (noodles) dishes. I have also successfully taught many friends how to cook this dish. On other occasions, I have brought this as a potluck dish for friends and it has been a hit.
The recipe below is a combination from several cookbooks we've had in the family and I have added my own ingredients to come up with the right "sotanghon" dish my husband and sons enjoy. All cooking sessions become family affairs in the kitchen and so, like always, my younger son gladly helped put together this dish.
On that note, today, allow me to wish my friend, Cheryl a 'Happy Birthday' with this Pancit Sotanghon noodle dish. Cheryl, I bring you cheer and comfort in this bowl of savory cellophane noodles, flavored with a nutty achuete broth and fish sauce, combined with silky tofu cubes, tender chicken slivers, garnished with crisp, green scallions.
Grab your chopsticks now, dig in and twirl those soft, silky noodles, my friend!
Pancit Sotanghon Noodles with Chicken and Tofu
Pancit Sotanghon is a basic Filipino stir fry dish made with cellophane-clear noodles. You start with garlic, onions, celery and add the broth, meats, vegetables, noodles.I added chicken slices and tofu cubes to make this entree special. The dish takes minutes to cook and makes for a hearty, filling meal whether it's a quiet night at home or a party with friends. This recipe first appeared on this blog AsianInAmericamag. Serves 4.
Ingredients
1

Tablespoon

annatto seeds (achuete)

soaked in a cup of hot water

16

ounces

Sotanghon (cellophane noodles)

about 2 to 3 cups when cooked

2

Tablespoons

vegetable oil

2

cloves

garlic

peeled, chopped

1

whole

medium sized onion

chopped

2

stalks

celery

sliced thin

1

whole

large carrot

sliced, peeled,

1

pound

chicken breast

deboned, sliced in strips, about 1 1/2 cups

1

whole (14 oz.)

extra firm tofu

1

Tablespoon

fish sauce (patis)

1

cup

r chicken broth

2

cups

shredded cabbage

shredded in thin strips

1

cup

sliced green beans

in 1-inch pieces

1/2

cup

sliced scallions

in 1/2 inch pieces

1

teaspoon

salt

1

teaspoon

black pepper powder
Instructions
Soak the annatto seeds in a cup of hot water for 30 minutes to 1 hour. The water should look orange-colored. Set aside. Pre-soak "sotanghon" (cellophane noodles) in water for about 20 minutes, till soft. Then drain the sotanghon. Set aside.

Over medium high heat, in a large skillet, add the cooking oil. Once it is hot enough, pan fry the large piece of firm tofu. Cook for 2 to 3 minutes till the tofu browns on all sides. Remove tofu from skillet and drain on parchment paper to remove excess oil. Cut into ½ inch-sized cubes. Set aside.

Using the same skillet, over medium high heat, saute garlic and onions in hot oil. Add the celery and carrots and cook till softened.

Add the chicken breast strips and fish sauce.

Place the pre-soaked annatto seeds (achuete) in a sieve or colander. Using a fork, press down on the seeds while pouring hot water over it. The water will turn to orange. Use a cup of this annatto/achuete water and add to the skillet with the sautéed vegetables and chicken. Add chicken broth. Simmer till meat is tender.

Then add the cabbage, green beans and mix well, let the vegetables cook for about 5-6 minutes.

Add the sotanghon noodles to the pan with the rest of the ingredients. Mix all the ingredients together over low heat, making sure the orange broth coats the noodles. The noodles are quick to absorb liquid, so if after a while the dish looks dry, add a little more chicken broth or soup stock to moisten. Add the tofu cubes on top. Season with salt and black pepper. Garnish with scallions or green onions.

Cook's comments: here's a tip just in time for Thanksgiving day. If you have leftover roast turkey, slice some strips and add them to this sauteed Pancit Sotanghon.

Thanks for reading  my entry to this month's "Let's Lunch"  a virtual potluck event of food writers and bloggers from around the world. This November's theme is 'birthday foods .' For more recipes check out  Twitter using the hashtag #LetsLunch or pin with us on our Pinterest boards. Watch for a round up of the other "Let's Lunch" food writers with links on this blog soon.

Please check here throughout the day for more birthday-themed links to Let's Lunch's bloggers!

Hello, Friends! All the images and content here are COPYRIGHT PROTECTED. This means BY LAW you are NOT allowed to use my photos or content on your website, videos, books or media content  without my permission. If you want to republish this recipe, please re-write it in your own words and simply link back to this blog to give proper attribution. It's the legal thing to do. Thank you. Contact me at [email protected]
Nutrition
Serving:
1
g
|
Calories:
205
kcal
|
Carbohydrates:
2
g
|
Protein:
26
g
|
Fat:
10
g
|
Saturated Fat:
6
g
|
Trans Fat:
1
g
|
Cholesterol:
73
mg
|
Sodium:
747
mg
|
Potassium:
529
mg
|
Fiber:
1
g
|
Sugar:
1
g
|
Vitamin A:
124
IU
|
Vitamin C:
2
mg
|
Calcium:
19
mg
|
Iron:
1
mg
Notes on Nutrition: The nutrition information provided in the recipe links is an estimate and will vary based on cooking methods and specific brands of ingredients used.
Copyright Notice: Hello, Friends! Please DO NOT LIFT OR PLAGIARIZE Asian in America recipes on this blog, my original recipes, stories, photos or videos. All the images and content on this blog are COPYRIGHT PROTECTED and owned by my media company Besa-Quirino LLC by Elizabeth Ann Quirino. This means BY LAW you are NOT allowed to copy, scrape, lift, frame, plagiarize or use my photos, essays, stories and recipe content on your websites, books, films, television shows, videos, without my permission. If you wish to republish this recipe or content on media outlets mentioned above, please ASK MY PERMISSION, or re-write it in your own words and link back to my blog AsianInAmericaMag.com to give proper attribution. It is the legal thing to do. Thank you. Email me at [email protected]