Chicken or Turkey Empanadas
As an Amazon Associate and member of other affiliate programs, I earn from qualifying purchases.
[amazon_link asins='B004K6771U,B00356AR8G,B06XNR12B6,B015XMKQQ2′ template='ProductCarousel' store='queensnotcom-20′ marketplace='US' link_id='5b198939-ce38-11e7-9d99-45b9993a5509′]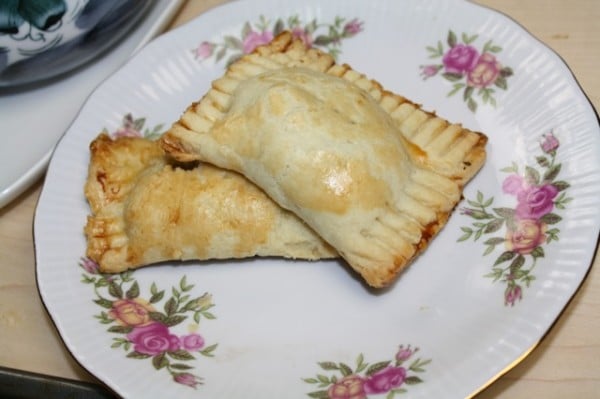 Some of the simplest recipes I learned came from aunts in our family circle like these Chicken or Turkey Empanadas. I once watched an Auntie of ours make the pastry crust from scratch then she rolled the dough on the counter while the chicken-potato filling simmered slowly in the skillet. I wrote down the recipe as she was making the empanadas. Then I went home and tried the recipe myself. It took several attempts to make mine almost like Auntie's. When I finally got it right, I baked Chicken Empanadas and brought them to another auntie's house for a family party. To my surprise, Auntie no.2 said to me "this is my recipe for Chicken Empanada. Where did you get it?" she asked as she devoured the last flaky crumb.
I laughed because to me, that was a Filipino recipe come full circle. Getting the empanada recipe, baking it and bringing it to an aunt where the recipe originally came from.
There are many lessons to be learned from this story. First, there is nothing like family to lean on for recipes. My cooking lessons started in my mother's kitchen during my childhood in the Philippines. The same held true for my mom, who in turn learned from hers. Second, if you try hard enough, you'll eventually get it right. Making empanada crust from scratch didn't come easy for me the first time. That was a lifetime ago. Failing the first time at the pastry challenged me to keep trying till I got it right.
I'm still not the best empanada maker in the world, but I think mine look pretty decent. So lesson number 3 for me is to be grateful for failing the first time. Without the feeling of frustration over not making the pastry crust right, I would not have been persistent. I kept raising the bar for myself.
That said, I am grateful for the year that was. It has been a year of contrasts for us. There have been moments of extreme joy alongside challenging, difficult times for our family. And I am grateful for all that. It has been said, you have to take the good with the bad, the happy with the sad. I agree. Without struggle, there is no energy to shift, to break the shell and find a solution to the crisis. Without complexities to face, there is no growth for a person. It's been a good year, friends. I am grateful for all that has come my way. I'll take it all – the good, bad, happy, sad, the rejections, the winnings, the tough and the easy.
Chicken or Turkey Empanadas
These buttery, flaky Chicken or Turkey Empanadas are what I bake when there are leftovers. First make the pastry crust, then freeze it. After the holidays, shred the leftover meat and cook it with potatoes and carrots. This
empanada crust recipe
first posted on this blog AsianInAmericamag. The recipe makes 10 to 12 empanadas.
Ingredients
2

cups

all purpose flour

2

teaspoons

salt

divided, 1 teaspoon for pastry, 1 teaspoon for filling

6

Tablespoons

unsalted butter

chilled, cut in small pieces

2

Tablespoons

Crisco shortening

chilled

2

large

eggs

chilled, beaten (divided), 1 for pastry dough, 1 for egg wash

2

Tablespoons

water

chilled, for pastry dough

2

Tablespoons

vegetable oil

for filling

1

medium

onion

chopped

1 1/2

cups

cooked chicken or turkey

cubed chicken or turkey

1

large

potato

peeled, cubed into 1/4 inch pieces

1

piece

carrot

peeled, cubed into 1/4 inch pieces

1

cup

chicken broth

1/2

cup

sour cream

1

teaspoon

ground black pepper

for filling

2

Tablespoons

milk

for egg wash
Instructions
To make the pastry crust: Sift the flour and salt into a large bowl. Cut the butter and Crisco shortening into the flour by pulsing in a food processor (or do it by hand using a pastry blender) until the texture resembles coarse meal with bits of butter.

Stir the egg into the flour mixture and pulse until incorporated.  If the dough does not hold together, add ice water, half a tablespoon at a time, pulsing after each addition.

On a lightly floured work surface, pat the dough pastry into a disc. Cover in plastic wrap and refrigerate at least 1 hour or up to 2 days. Or wrap dough well in plastic wrap (twice) and freeze the dough for later use.

To make the filling: In a large skillet, saute onions till transparent. Add cubed potatoes, carrots and cook till soft, about 8 minutes.

Add the cooked chicken or turkey to the potatoes. Pour the broth or soup stock. Cook the potatoes, carrots and chicken (or turkey) together for 5 minutes more. Add the sour cream. Cook till liquid reduces for about 6 minutes and the meat has absorbed most of the broth. Season with salt and pepper. Remove from stove and set aside to cool before filling into pastry.

To assemble empanadas: on a dry, floured surface, roll out the pastry dough to about 1/8 inch thickness.

With a sharp knife, slice the dough into a rectangle, measuring about 6 inches x 4 inches in diameter.

Fill half the dough piece with a tablespoon of chicken (or turkey) and potato filling.

Brush egg wash on the inside edges. Fold dough in half and seal with a fork.

Place empanadas on a baking sheet lined with parchment paper.  Brush empanadas with egg wash consisting of one beaten egg and 2 tablespoons of milk.

In a preheated oven of 375 degrees, bake empanadas for 20-23 minutes. When done, cool on counter.

Cook's comments: you can bake these empanadas ahead of time and freeze them in sealed plastic containers. I make these ahead, wrap them in individual resealable sandwich bags and freeze them. My family takes them out one at a time, for lunchboxes or "merienda" (snacks).
Hello, Friends! All the images and content here are COPYRIGHT PROTECTED. This means BY LAW you are NOT allowed to use my photos or content on your website, blogs, books,videos or other media materials without my permission. If you want to republish this recipe, please re-write it in your own words and simply link back to this blog to give proper attribution. It's the legal thing to do. Thank you. Email me at [email protected]