Asian Chicken Salad
As an Amazon Associate and member of other affiliate programs, I earn from qualifying purchases.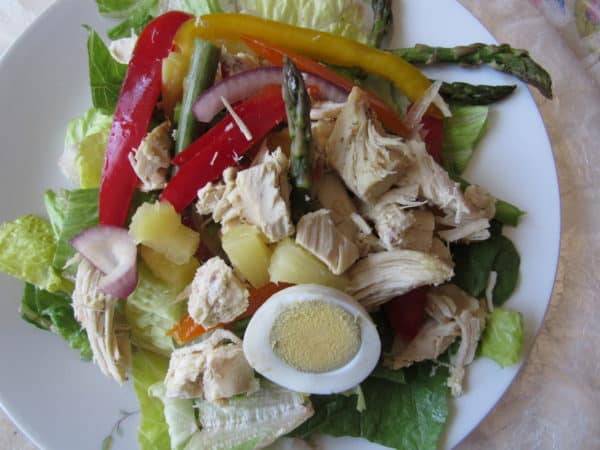 I'm offering a discount off your registration to the #FWCon if you sign up for the Food Wine Conference in Orlando, FL from this blog post. This is because food blogging is a community. As a food writer, I cannot exist alone. It is not enough I sit quietly in a corner of my room, typing up a recipe and sharing that dish online. Nobody will read that recipe blog post if I don't tell friends about it through social media platforms — Facebook, Instagram, Twitter, Pinterest. It has taken me nearly 6 years of blogging to make friends notice, to strengthen my "voice" and tell the world how I can be of help through my Filipino and Asian recipes on this blog "Asian In America" (www.AsianInAmericaMag.com).
A blog is a website of an individual, written in the first person. A blog can tackle a range of topics, not just food. It all depends on the blogger or writer and what he/she wants to tell the world.
The word blog originated from the word "web log" several years ago. Internet sources reveal the words evolved into the the term "blog".
But let's go back to why I blog. Blogging and social media are like a cocktail party. You only have fun if all your friends are at the party. In the same manner, your blog will only gain attention if you have a lot of friends who will read your recipe post this week, who actually cook your recipes and keep coming back for more — because your recipes really work.
And this is why I am headed to the Food Wine Conference from May 13 to 15, 2016 at the Rosen Shingle Creek in Orlando, Florida in a few weeks. The #FWCon is an annual event which is part of the Sunday Supper Movement. It has emerged as a powerful food conference that helps bloggers empower themselves and build their online business. I am certain if you love to cook or simply need recipe ideas, you've come across blog posts that are a "Sunday Supper Movement" recipe. If you've been wanting to meet all the amazing food bloggers behind this movement, come join us. Even better, if you want to monetize your blog, you should come.
I have been wanting to attend the Food Wine conference for a long time. Good friends, cookbook authors, chefs, bloggers in the food industry have raved about it. The conference has amazing speakers, helpful present-day topics that tackle blogging issues, scrumptious food all throughout (an important aspect for a food conference) and most of all, a close-knit community.
My trusted friend, fellow food blogger, chef extraordinaire Jenni Field of Pastry Chef Online wrote about her experience last year at the #FWCon, "Dinner was delicious, but more than food for the body, the company was food for my soul. These were–are–my people. People who are passionate about food. So passionate that they share it freely with others through their pictures and words and videos. So passionate that they teach others what they know and generously share their knowledge. So passionate that they drive or fly hundreds of miles to meet up with Their Kind. We ate heartily and laughed easily, because magic happens when friends break bread together."
I can't wait to get to the Food Wine Conference and meet in person food bloggers I have been following for a long time as well as see friends I've made in the food community.
If you're a food blogger, writer, cookbook author, chef or a food enthusiast in the industry, you should come to the Food Wine Conference in Florida. Whether you've just started blogging or have been at it for a while, there's something for everyone in this conference.
As a Food Wine Conference Brand Ambassador, I have a gift for you. I can offer you a significant discount to the #FWConf. There's still time to sign up. Here's a link to register. Use the discount code: AsianInAmerica to get a $50 discount if you sign up now. Click here to register for the Food Wine Conference on May 13 to 15. Or click on the F & W Conference badge I have on the home page of this blog.
I hope to see you at the Food Wine Conference. And I hope you follow my stories so you can hear about what's new in the food world, meet my friends and grab some new recipes . You can do that by following me here on this blog and my social media platforms: Facebook, Twitter, Instagram, Pinterest, SnapChat, Google Plus.
Meanwhile, while I prepare for a trip, I plan ahead what I'm going to put on the dinner table before and after the trip. Before traveling, I keep it simple and roast a whole chicken. Here is a previous blog post recipe for Roast Chicken. Then I keep the roast chicken leftovers to make a healthy, wholesome Asian Chicken Salad when we return. And here it is. Yes, I just had to do a "recipe test run" today. It was fabulous, friends!
Asian Chicken Salad
This Asian Chicken Salad with Pineapple was made from leftovers of a whole roast chicken. After the favorite chicken parts are eaten by the family, keep the leftovers wrapped well and frozen for another day. Then when you're ready to serve this salad, chop up the cooked chicken in chunks. Put together a salad of crisp lettuce greens and vegetables in season like asparagus, sweet bell peppers, sugar snap peas, cucumbers and any vegetables you fancy. Add pineapple cubes and slices of hard boiled egg. Finish it off with an Asian dressing with sweet-savory flavors. This is an AsianInAmericaMag recipe. Serves 2 to 4 as a side dish.
Ingredients
2.5

pounds

cooked chicken breast, bone-in

cut in bite-sized cubes, about 1/2-inch pieces

3 to 4

cups

shredded fresh lettuce

shredded lettuce

1

whole

large cucumber

peeled, sliced

2

cups

steamed asparagus spears cut in 2-inch length pieces

or boiled

1

whole

red or orange bell pepper

sliced in strips, white membrane and seeds removed

1

cups

cooked sugar snap peas

edges trimmed, pre-boiled or steamed

1

whole

red onion

sliced

2

whole

large hard-boiled eggs

peeled, sliced

1

cup

pineapple cubes

fresh or canned (use tidbits, drained if canned)

1/8

cup

vegetable oil

for dressing

1/4

cup

mirin (Japanese sweet rice wine)

for dressing

1/4

cup

ginger ale

for dressing

2

Tablespoons

organic honey

for dressing

1

Tablespoon

soy sauce

for dressing

1/8

teaspoon

sesame oil

for dressing

1

teaspoon

salt

for dressing

1

teaspoon

ground black pepper powder

for dressing freshly ground black pepper powder
Instructions
Combine in a large salad bowl: Cooked chicken, lettuce, cucumbers, steamed asparagus and sugar snap peas, bell peppers, red onion slices, pineapple cubes. Garnish with hard-boiled egg slices.

Separately in a small bowl make the salad dressing. Mix together the vegetable oil, mirin, ginger ale, honey, soy sauce, sesame oil, salt and black pepper. Whisk well.

Cover and refrigerate the chicken salad and the dressing till ready to serve.

Serve this salad chilled. You can drizzle the dressing on top at table side. Or if preferred, serve the dressing on the side.

COOK'S COMMENTS: Mirin (say "meeh-reen") is a pale, gold, spirit-based sweet rice wine used in Japanese cooking. It adds a subtle, sweetness to salads, marinades and stews. Look for mirin that is naturally brewed, with natural sugars. Store bottled mirin in the refrigerator after opening.

Disclosure: As a Food and Wine Conference Brand Ambassador, I earned a discount from the conference registration. I am happy to offer a discount to my readers and fellow food bloggers who want to sign up to attend the conference. Click on the badge on the home page marked "Food Wine Conference Brand Ambassador" which brings you direct to the site. Use promo code AsianInAmerica to get a $50 off discount on registration.
Hello, Friends! All the images and content on this blog are COPYRIGHT PROTECTED and owned by my media company Besa-Quirino LLC. This means BY LAW you are NOT allowed to copy, scrape, lift, frame, plagiarize or use my photos and recipe content I wrote, on your website without my permission. If you want to republish this recipe or content on another website or news article, please ASK my permission, re-write it in your own words and simply link back to this blog to give proper attribution. It's the legal thing to do. Thank you. Email me at [email protected]
Nutrition
Serving:
1
g
|
Calories:
146
kcal
|
Carbohydrates:
6
g
|
Protein:
1
g
|
Fat:
14
g
|
Saturated Fat:
11
g
|
Sodium:
1670
mg
|
Potassium:
19
mg
|
Sugar:
5
g
|
Iron:
0.3
mg
Nutrition Notes: The nutrition information provided is an estimate and will vary based on cooking methods and brands of ingredients used.