Fried Vegetable Lumpia – Filipino Pritong Lumpia
As an Amazon Associate and member of other affiliate programs, I earn from qualifying purchases.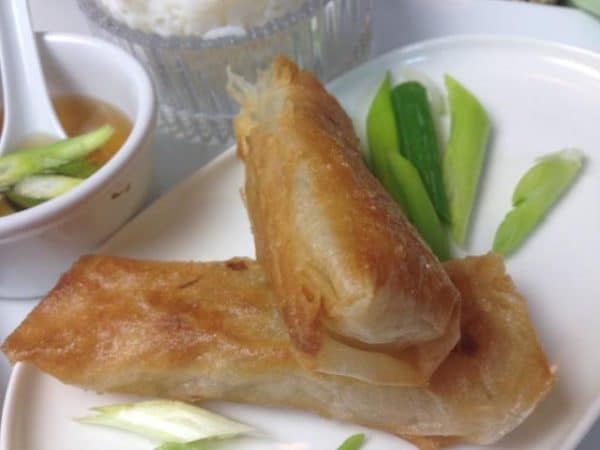 "If you can cook, you can live anywhere in the world," my late mom taught me. Mom was right as she taught me how to cook Vegetable Lumpia. Cooking was one of the best life skills she taught me. In turn, I taught my sons the same. I also added "If you like vegetables, you will never go hungry."
We have lived in New Jersey, a.k.a. the "Garden State" for a long time. We raised our sons here and they are now grown young men. I have always wondered why NJ was called the garden state. Were there more vegetables grown here over the 49 other states in the USA? Internet sources revealed in 1876, Abraham Browning of Camden, NJ while speaking at the Philadelphia Centennial called Jersey the "Garden State". He referred to it as an "immense barrel filled with good things to eat and open at both ends." In 1954, a bill allowed "The Garden State" to be added to car license plates. Today, New Jersey is home to over 9,000 farms and is one of the leaders in agricultural production in the country.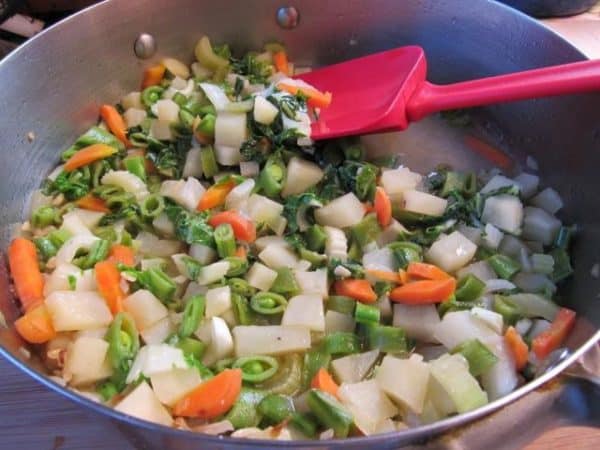 Unlike my sons, I grew up in the Philippines, an agricultural country. My hometown was in Tarlac, a province where agricultural crops sustained the region's economy. My father grew vegetables and fruit trees in our yard and he raised cows, chickens and pigs at the back of our home. I woke up to roosters crowing and geese cackling in a cacophony of sounds. We harvested vegetables and fruits daily which my mother creatively cooked for our meals every day.
When we moved to a different life in the USA, I discovered life was so easy when I put a salad together for our daily dose of vegetables, but sometimes my family wanted something different. This is when I resorted to my old reliable recipe for Vegetable Lumpia, from vegetables I purchased in the markets here in Jersey.
Fried spring rolls are of Chinese origin, but are popular in most Asian cooking. Many different Southeast Asian countries have their own versions. No two varieties are the same, yet they all have the commonality of being encased in a wrapper, either egg or rice wraps.
The Pilipino word 'lumpia' ( say 'loom-pyah') comes from a Chinese Hokkien word 'lumpia'. In the Philippines, there are 2 basic versions: a regular crepe wrap called 'Lumpiang Sariwa' (fresh lumpia) or the Fried Vegetable one also called 'Pritong Lumpia' which are in these photos.
This pan fried vegetable lumpia should be served with a spicy vinegar dipping sauce. It is the sauce that defines these crispy rolls and fires up our taste buds. The sauce is made up of vinegar filled with half a cup of minced garlic, nearly a cup of tiny 'siling labuyo' (bird's eye chilies), salt and black peppercorns. You pour these ingredients together in a jar, shake it up and let it sit for a few days till the 'heat' sets in. Soon you'll have a spicy, tangy, zesty flavored dipping sauce ready to be paired with the crispiest, crunchiest vegetable egg rolls.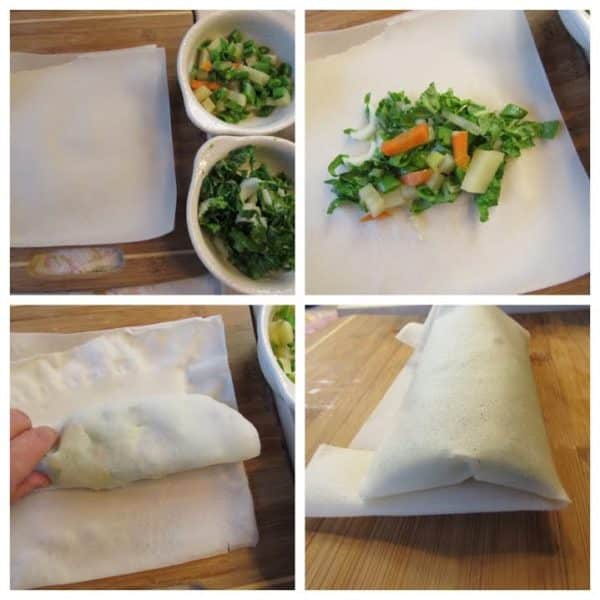 When I cook with vegetables I am reminded of how I grew up in the Philippines and the ingredients my mom used for food on the table. To quote the pioneer food writer in the Philippines, Doreen Gamboa Fernandez, " What grew in the fields and forests, constituted the food sources which the people gathered, grew and consumed….thus the fruits and vegetables shaped people's meals, memories and minds."
I make vegetable lumpia often with just about any seasonal vegetable. One can cook this whether it's a sweltering hot summer day or a blistering winter week. And that's the beauty of vegetables. Where there are vegetables, one will never go hungry.
Fried Vegetable Lumpia - Filipino Pritong Lumpia
Vegetable Fried Lumpia egg rolls are a party or family meal favorite. I cooked the filling and wrapped these lumpia a week before and froze them.  When it was almost supper time, I deep fried them in hot oil till they were crisp and crunchy. Each roll encased a generous portion of cubed vegetables: carrots, potatoes, green beans, cabbage, celery and onions. These lumpia are best eaten with a spicy vinegar side sauce. This is an AsianInAmericaMag recipe and yields about 20 to 25 pieces each 3 inches long, an inch wide.
Ingredients
2

cups

Heinz cider vinegar

for spicy sauce (or use white vinegar)

6

cloves

garlic

divided, use 2 cloves for sauté, the rest minced for spicy sauce garlic

1/2

cup

siling labuyo (bird's eye chilies)

for spicy sauce

2

teaspoons

sea salt

divided, use 1/2 teaspoon for sauté, rest for spicy sauce

2

Tablespoons

whole black peppercorns

for spicy sauce

2

teaspoons

ground black pepper

divided, 1 teaspoon for saute, rest for spicy sauce

1/2

cup

vegetable oil

divided, use 2 Tablespoons for vegetable sauté , rest for deep frying lumpia

1

whole

onion

chopped

2

stalks

celery

chopped

2

Tablespoons

patis (fish sauce)

2

cups

cubed potatoes

in 1/4 inch-sized cubes

1 1/2

cups

cubed carrots

in 1/4 inch-sized cubes

2

cups

sliced green beans

cut in 1-inch length pieces

2

cups

shredded bok choy

or use any type cabbage

20 to 25

pieces

egg roll wrappers

from Asian markets

1

whole

beaten egg

for egg wash

1/2

cup

water

for egg wash

2

stalks

scalliions or green onions

chopped

boiled rice

for serving
Instructions
Prepare the spicy vinegar dipping sauce: in a glass jar, mix the vinegar, birds eye chilies (siling labuyo), garlic, salt, black peppercorns and black pepper. Close the lid tight and shake the jar to mix ingredients. Refrigerate for 3 to 5 days. This allows the vinegar sauce to get enough 'heat' and will be spicy enough to serve with the vegetable lumpia. Keep  vinegar sauce in a covered glass container, refrigerated.

Cook the filling: In a large skillet, over medium high heat, add the vegetable oil. After one to two minutes, add the garlic, onions, celery. Saute for about two minutes till onions are soft. Add the fish sauce and blend well.

Then add the cubed potatoes and carrots. Cover and cook till potatoes are soft for about ten minutes.

Add the rest of the vegetables : green beans, finely shredded cabbage. Cook for about five minutes. Season with salt and black pepper. Remove from heat and allow the vegetables saute to cool down before wrapping. Drain liquids. Filling must be dry before wrapping in lumpia-egg wrappers.

How to wrap the vegetable lumpia: on a dry, flat surface, lay out the egg wrappers or lumpia wrappers individually. On each lumpia, place two tablespoonfuls of the vegetable mixture. Spread out the vegetables in a line, the width of the wrapper. Leave about an inch space on each side for wrapping. Working away from you, wrap the lumpia like a burrito. Roll the wrapper with the filling away from you. Tuck the left and right side inward and keep rolling. Seal the edges with egg wash. Refrigerate for an hour so the edges seal. *Note: To save time, I make these ahead and freeze them in Ziplock bags till ready to cook.

How to cook the lumpia: In a large skillet, over medium high heat, add the vegetable oil. It will take about 5 minutes for the oil to heat up. It is important oil is hot, but not burning; the temperature affects how crisp the lumpia will turn out. When oil is hot enough, about 350 F if using a thermometer, add the wrapped lumpia. Add a few at a time. Pan fry the lumpia for about 5 minutes on each side till wrapper turns golden brown and is crisp. Turn the lumpia around to cook evenly. Drain on parchment paper to remove excess oil.

Garnish the vinegar sauce with scallions. Serve the vegetable lumpia warm and crisp with rice and a side dipping sauce of vinegar and bird's eye chilies.

Cook's comments: This vegetable lumpia is versatile. Feel free to add cubed or sliced vegetables in season which you prefer. Sometimes leftover roast vegetables, chopped up work, too.

Ingredient information: Lumpia or Chinese spring roll wrappers are made with  wheat flour, water, and oil. They are translucent, thin, beige-colored, about 8 x 8 inches each. Often they are sold frozen in Asian markets or major supermarkets. Lumpia wrappers can be eaten fresh or fried like in this recipe. Do not use the thin Vietnamese rice paper (for fresh Vietnamese spring rolls) to make the lumpia in this recipe.
Hello, Friends! All the images and content on this blog are COPYRIGHT PROTECTED and owned by my media company Besa-Quirino LLC. This means BY LAW you are NOT allowed to copy, scrape, lift, frame, plagiarize or use my photos and recipe content I wrote, on your website, blogs, videos, books or media content without my permission. If you want to republish this recipe or content, please ASK my permission, re-write it in your own words and simply link back to this blog to give proper attribution. It's the legal thing to do. Thank you. Email me at [email protected]
Nutrition
Serving:
1
g
|
Calories:
293
kcal
|
Carbohydrates:
12
g
|
Protein:
2
g
|
Fat:
28
g
|
Saturated Fat:
22
g
|
Cholesterol:
1
mg
|
Sodium:
1247
mg
|
Potassium:
159
mg
|
Fiber:
2
g
|
Sugar:
1
g
|
Vitamin A:
115
IU
|
Vitamin C:
2.1
mg
|
Calcium:
48
mg
|
Iron:
1
mg
Nutrition Notes: The nutrition information provided is an estimate and will vary based on cooking methods and brands of ingredients used.