Biko Rice Cake
As an Amazon Associate and member of other affiliate programs, I earn from qualifying purchases.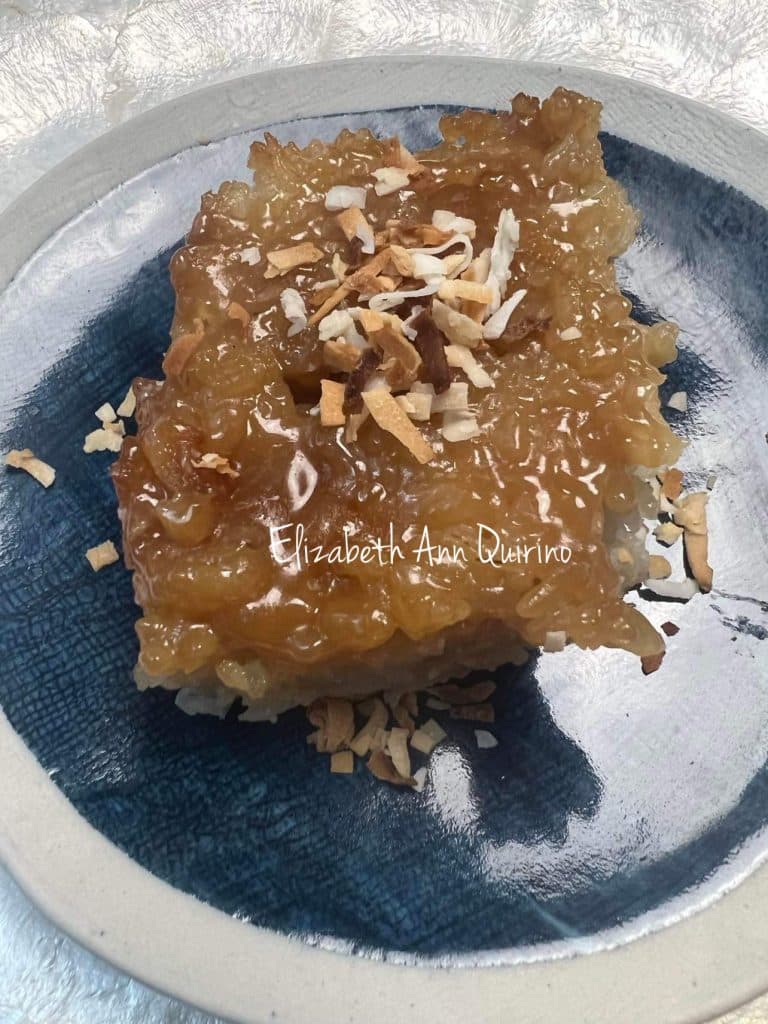 Biko, the classic Filipino rice cake cooked and baked in coconut milk has always been a regular during holidays, fiestas, and the Holy Week, in many Philippine homes. The term biko (say "bee" – "koh") originated from the Hokkien words bi (rice) and ko (cake).
Though I have always relished every luscious slice of this thick, rich rice cake, I often wondered why it was served during the week of Lent leading up to Easter. Unlike the American Easter week of Peeps ( marshmallow-like treats), egg hunts, Easter eggs and baked ham, our Filipino commemoration of the Holy Week has always been more somber and faith-based. As a farmer's daughter, I've also seen how precious a good rice harvest is to those who planted and nurtured it. Thus, the ability to cook with an abundant rice supply is a blessing indeed.
What makes Biko a classic favorite for dessert or merienda snacks? It's easy to make and its ingredients are easy to find, no matter where you live in the world. All you need are the malagkit (sweet rice), coconut milk and cream, and sugar. My mother always cooked with fresh coconuts from our trees lining our backyard. And thanks to my father's rice harvest, we always had sweet rice in the pantry. Now that I make biko in my American kitchen, malagkit rice and canned coconut milk are staples on my shelves.
In the Philippines, the availability of rice and coconut in the country's landscape make Biko a specialty in most homes. Nearly every town and province boasts of its own version, depending on the rice variety of their region. This recipe I'm sharing is special to me. It is from a childhood friend, Stella Chiu Freund, a second-generation friendship which goes back to her parents being close friends of our Besa family. Stella, a Filipina based in Australia shared her biko recipe with me a few years ago. She told me it is her standard kakanin to make when she wants to showcase Filipino delicacies to friends and those curious about our food and culture.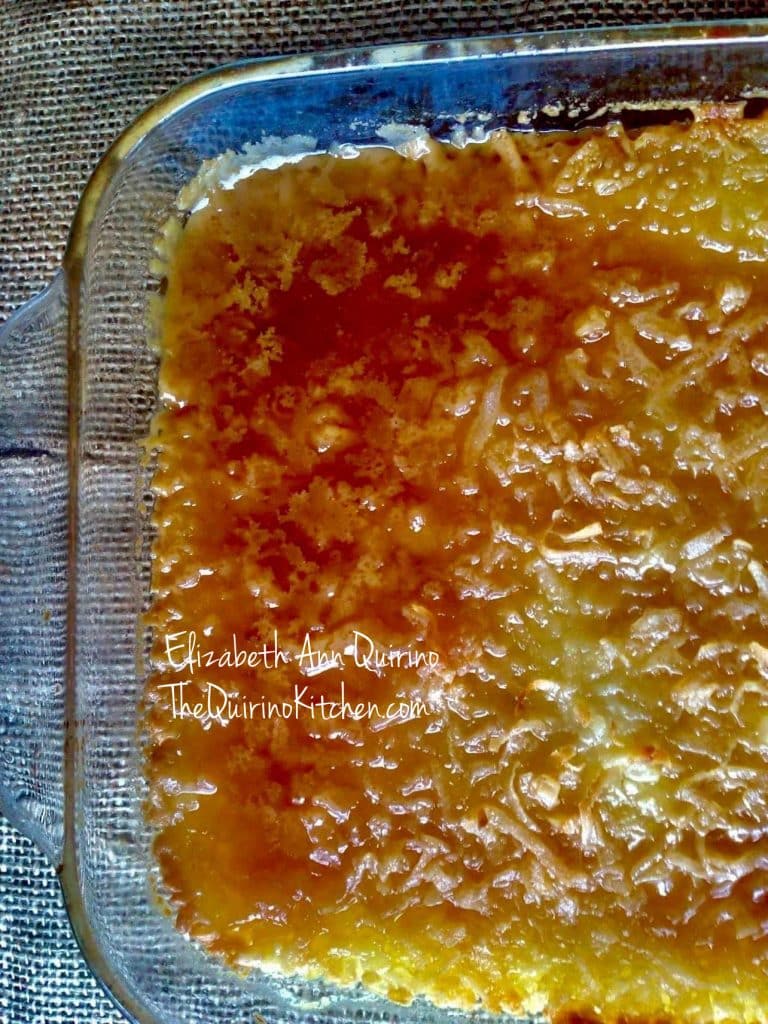 I have since tweaked, improvised, and added a few more ingredients to Stella's basic Biko. Each time, the results are a slice of heaven. The grains softly puffed up, and had that chewy deliciousness. Every bite of biko, had that sweet, creamy coconut flavor. And the heady, earthy aroma of a freshly-baked biko, straight out of the oven never fails to stop me in my tracks. Life came full circle when Stella generously shared her biko recipe, which I am here to give to you, too. There is always that one beautiful kind gesture from old friends, that can infuse magic to any day and a beloved kakanin like biko.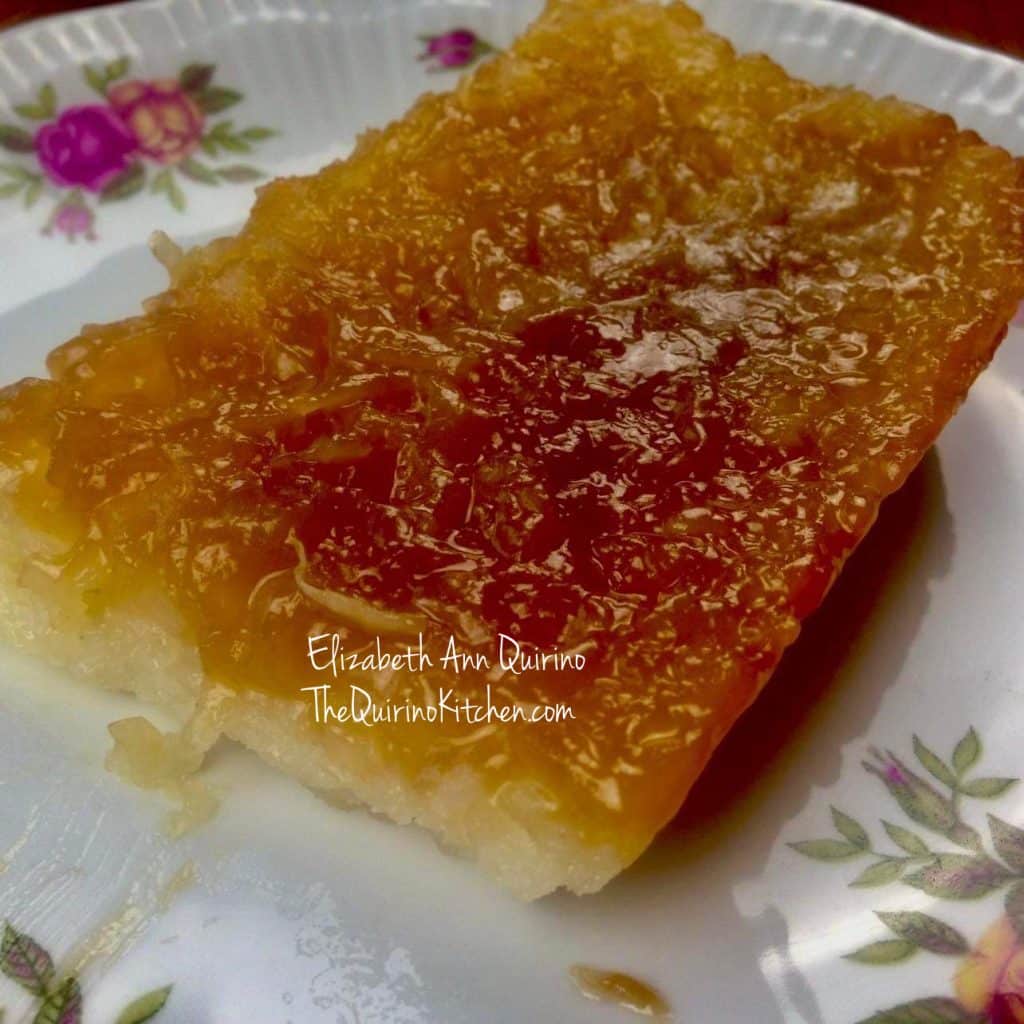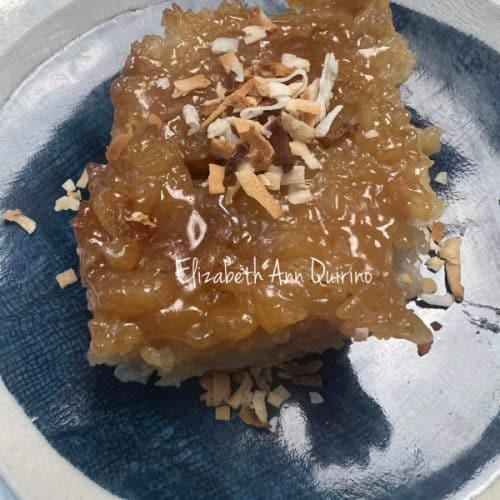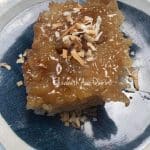 Print Recipe
Biko Rice Cake
Biko, also known as bico, is the classic Filipino rice cake or kakanin which consists of malagkit (sweet rice), coconut milk and cream, sugar and a pinch of salt. The thick rice grains are soaked in water for several hours and refrigerated, then cooked and baked in coconut. The rich sweet coconut glaze topping tempts you to indulge even more. This rice cake is hefty and filling, and ideal for desserts or merienda snacks. This is a recipe inspired by Stella Chiu Freund for The Quirino Kitchen by Elizabeth Ann Quirino.
Equipment
Medium-sized mixing bowls

Medium-sized saucepan

Large saucepan or wok – 12 inches diameter

Baking pan – 8 x 8 inches; or 9 X 11 inches
Ingredients
For the caramel glaze
1

cup

brown sugar

2

Tablespoons

honey

2

Tablespoons

unsalted butter, softened

½

cup

coconut cream, canned

¼

cup

coconut jam

½

teaspoon

salt

¼

cup

dessicated coconut, toasted; for topping
For the Biko Rice Cake
1½

cups

malagkit (sweet rice) rice grains, soaked in water;

1

(14 ounce) can

coconut milk

½

cup

granulated sugar

¼

teaspoon

salt
Instructions
To make the caramel glaze:
In a small saucepan, over medium heat, combine the brown sugar, honey and butter.

Stir and cook till sugar melts, stirring till smooth.

Pour the coconut cream, and add the coconut jam, and salt.

When liquid starts to bubble, check to see if the glaze is thick, creamy and spreadable.

Remove saucepan from the heat and set aside.
To make the Biko Rice Cake:
At least 6 hours before cooking, or overnight:

Soak the malagkit rice grains in a medium-sized bowl. Pour enough water to cover the grains.

Cover container with foil or plastic wrap. Refrigerate for at least 6 hours or overnight

The day of cooking:

Grease a baking pan with cooking spray and set aside.

Take the soaking sweet rice out of the refrigerator. Drain and discard the liquid.

In a large stockpot, over medium heat, combine the rice, coconut milk, granulated sugar and salt. Stir to blend ingredients.

Keep stirring the rice mixture for 15 to 17 minutes over medium heat, till all the liquid has evaporated, and the rice gets puffy. The cooking spoon should feel heavy when stirring.

Preheat oven to 375 F.

When rice has thickened and is soft, transfer it all to the greased baking pan. Spread the rice evenly with a spatula.

Bake the biko rice at 375 F for 30 minutes.

Insert a cake tester in the middle of the biko to check. If tester is clean, and the biko feels firm (it should not be liquid-like), slide the baking pan halfway out of the oven.

Pour the caramel glaze all over the biko. Spread with a spatula to cover all of the top evenly.

Using oven mitts, slide the Biko back in the oven.

Continue baking the Biko with the glaze for 10 minutes more.

Then, using oven mitts, remove the Biko and let it cool on the counter.

Sprinkle the dessicated coconut all over the top of the glaze.

Slice the biko in individual serving sizes (around 2 x 2 inch squares). Serve while warm or at room temperature.
Cook's comments:
If there are leftovers, cover the biko with foil or plastic wrap and refrigerate. This keeps in the refrigerator for up to 2 to 3 days.
Nutrition
Serving:
100
grams
|
Calories:
225
kcal
|
Carbohydrates:
58
g
|
Protein:
0.1
g
|
Fat:
0.1
g
|
Saturated Fat:
0.03
g
|
Monounsaturated Fat:
0.002
g
|
Sodium:
301
mg
|
Potassium:
53
mg
|
Fiber:
0.01
g
|
Sugar:
58
g
|
Vitamin C:
0.04
mg
|
Calcium:
31
mg
|
Iron:
0.3
mg
Notes on Nutrition: The nutrition information provided in the recipe links is an estimate and will vary based on cooking methods and specific brands of ingredients used.
Copyright Notice: Hello, Friends! Please DO NOT LIFT OR PLAGIARIZE The Quirino Kitchen recipes on this blog, my original recipes, stories, photos or videos. All the images and content on this blog are COPYRIGHT PROTECTED and owned by my media company Besa-Quirino LLC by Elizabeth Ann Quirino. This means BY LAW you are NOT allowed to copy, scrape, lift, frame, plagiarize or use my photos, essays, stories and recipe content on your websites, books, films, television shows, videos, without my permission. If you wish to republish this recipe or content on media outlets mentioned above, please ASK MY PERMISSION, or re-write it in your own words and link back to my blog TheQuirinoKitchen.com to give proper attribution. It is the legal thing to do. Thank you. Email me at [email protected]