Coronation Chicken Pie
As an Amazon Associate and member of other affiliate programs, I earn from qualifying purchases.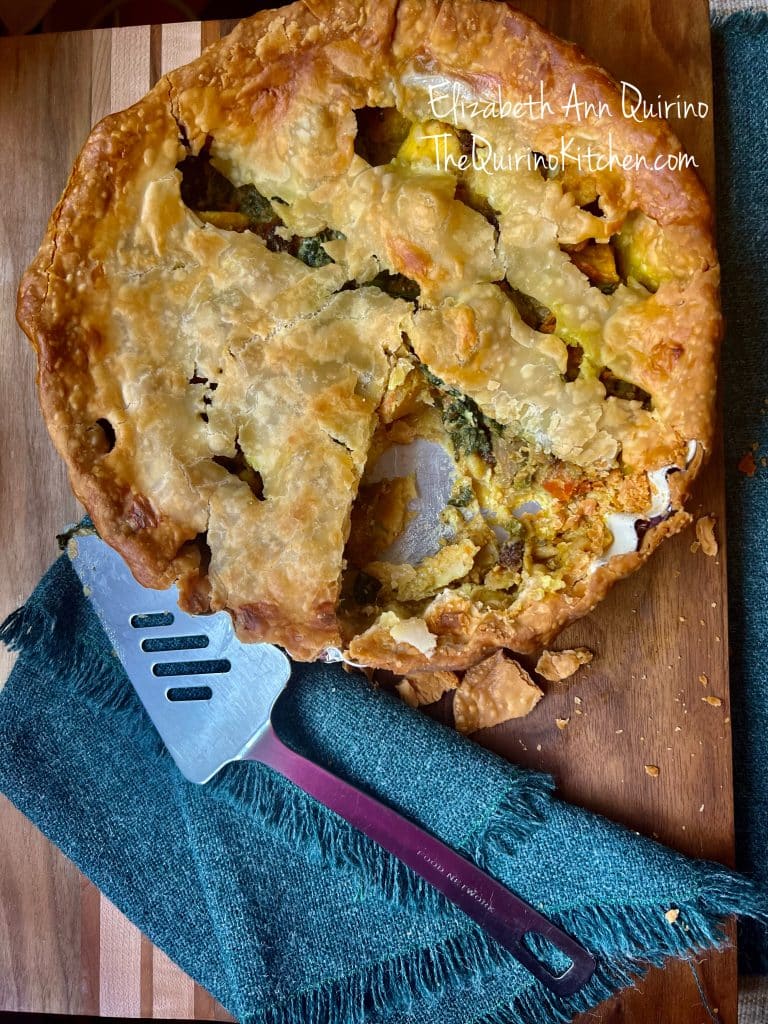 I baked a Coronation Chicken Pie from ingredients I had around in my pantry and refrigerator and I can't believe how magnificent it looks and tastes, good enough for a royal celebratory event.
First, the idea for a coronation pie came to me, when I was writing and researching for my forthcoming memoir Every Ounce of Courage (yes, it is coming soon!). One of my editors found a pre-war news clipping in La Vanguardia, a Spanish-language Philippine newspaper dated July 7, 1936. The brief news release in the lifestyle page mentioned my mom Lulu Reyes (then in her 20s) who was attending a Red Cross Volunteers social event, and the article stated she was bringing Coronation Pie for the merienda-cena. Since we don't have royalty in the Philippines, I followed the lead of the article and searched through my mother's old recipe files, even more curious now. It turned out that period was the time of King George's coronation (the father of Queen Elizabeth II) in London. Apparently, the trending topics and buzz words then, even in Manila circles, was about the monarchy, and the celebration dishes to be served. I am sure my late grandmother Nena Jugo Reyes helped my mom Lulu bake that Coronation Pie the latter brought to the Red Cross volunteers event in Manila then.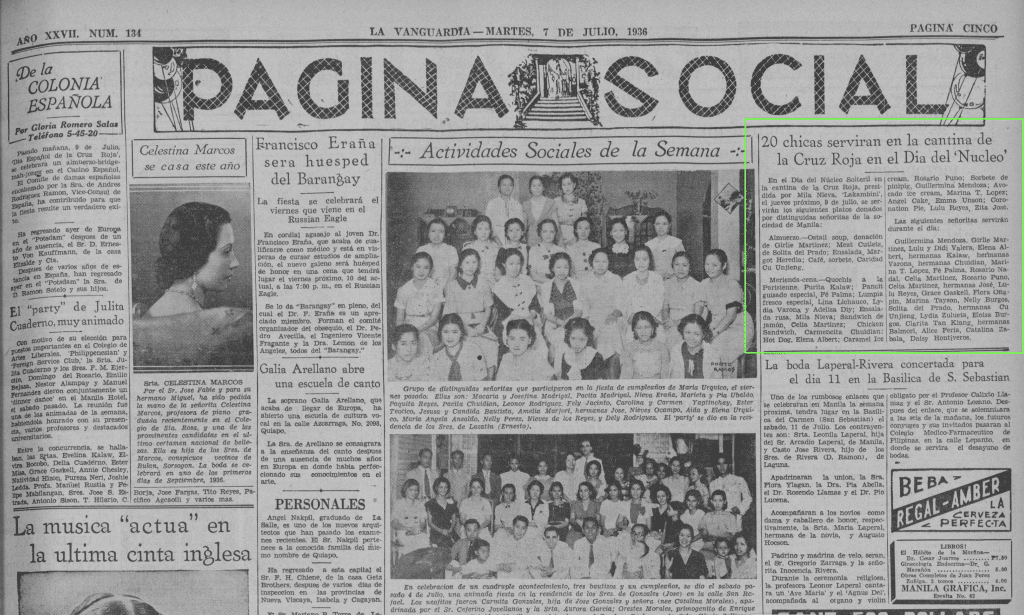 My curiosity led me to researching more about the Coronation Pie for months since. I finally found an article and recipe on the BBC Good Food website about the kind of coronation chicken pie served at King George's coronation. I saw something similar in my grandmother's files and re-read my mother's old recipes to search for what she baked. I connected the dots, took a look at the ingredients list, and I just knew in my heart and tummy, this was what my lola and mom cooked and baked.
It was such an easy, familiar recipe to me. My mother had cooked a curried chicken dish for as long as I remember when I was a child. She used the chickens from our small poultry in the backyard, the coconuts from the trees lining our house, and the vegetables which my dad cultivated in our yard. I had seen her cook chicken curry so many times, that I could imagine the earthy aromas just by reading her handwritten recipe on a yellowing piece of paper from her files.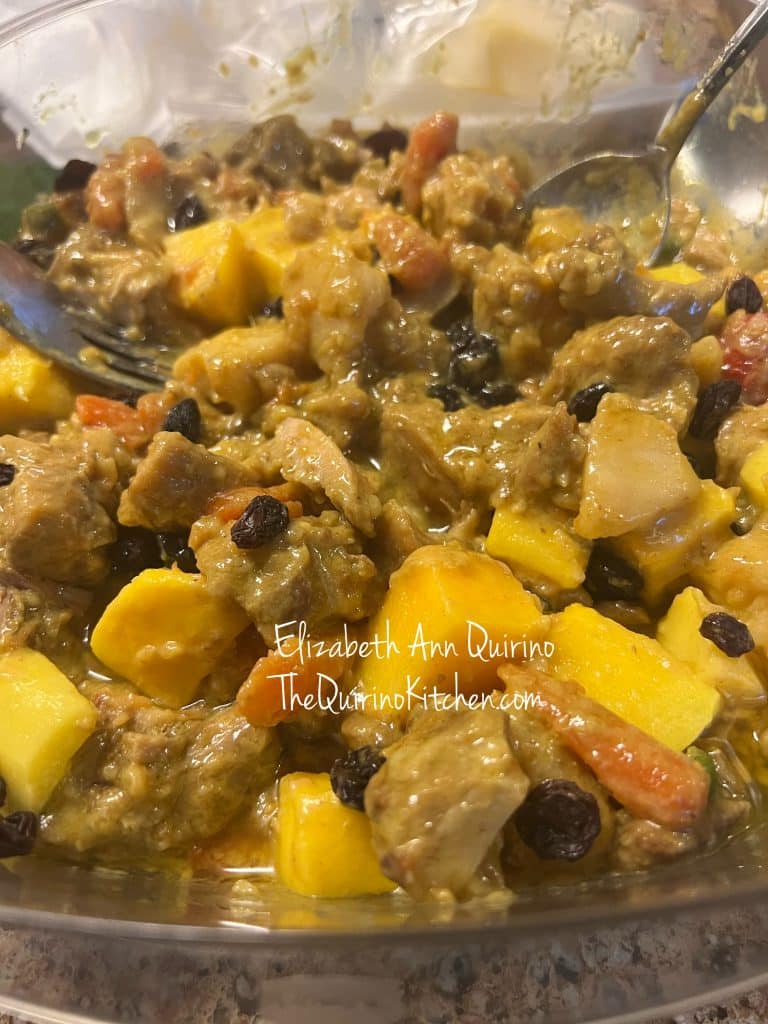 So, I gathered my ingredients in my American kitchen for my own version of a Coronation Chicken Pie and here's what I used:
2-crust pie pastry : You can either make your homemade pie crust, freeze it ahead, and take out when ready to bake. Or you can use store-bought ready-made pie crusts, which are just as good. I like the Trader Joe's pie crust and the Pillsbury ones aren't too bad either.
Chicken curry dish: I cooked this ahead because it tastes better a day after. I used boneless chicken thighs, potatoes, carrots, red-bell peppers, garlic, shallots, ginger, green peas, mango cubes, raisins, baby spinach. They were cooked in a base of coconut milk, broth, and Greek yogurt, seasoned with curry powder, salt and black pepper. Fortunately, I received a packet of the Pamana brand curry powder seasoning from my friends at Seafood City supermarket, so I was glad I had a fresh supply. Make sure your seasonings are fresh and newly-purchased, the results are always better. Always check expiry dates on food packaging.
I assembled everything together. The double crust pie pastry encased the cooked curried chicken. It was in the oven for around 50 minutes, including pre-baking the bottom crust.
Once I took the pie out of the oven, the heady aromas followed me as I carried the dish to the table. A hefty slice of the savory pie was like heaven on a plate. The flaky buttery crust was the perfect complement to the robust, powerful flavors of the chicken cooked in coconut and curry. The silky cubes of mango and the plump raisins gave that contrast of sweetness. And the leafy spinach, soft potatoes, carrots and peas added to the richness of this scrumptious pie fit for royalty.
As the actual coronation of the next British monarch in London nears, consider baking this Coronation Chicken Pie for a family gathering, or a fun potluck. And even if you're by yourself watching the Royal Family's pomp and pageantry from your device or television, you need this pie. If it's fit for a king, then yes, you deserve a slice, too.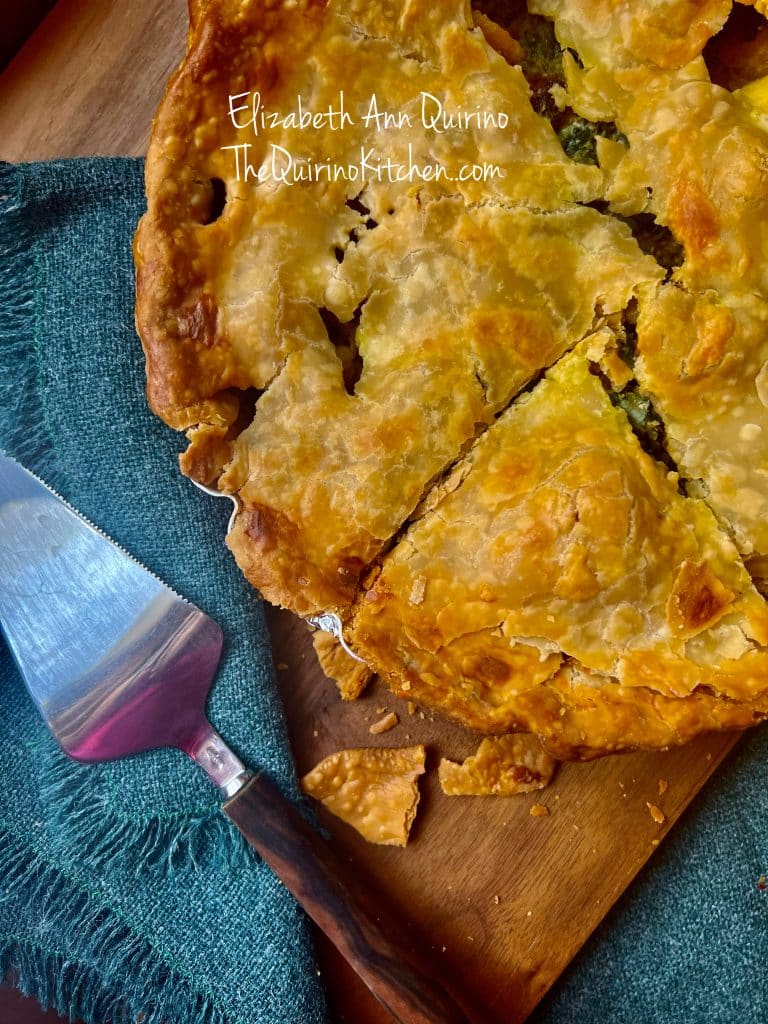 Coronation Chicken Pie
Coronation Chicken Pie is a rich, hearty pie filled with tender cubes of chicken, potatoes, carrots, green peas, leafy spinach, with mangoes and raisins. The filling is first cooked in a broth of coconut with curry and Greek yogurt. Pile the flavorful curried chicken filling into the flaky, buttery 2-crust pastry and bake. Serve this pie fit for royalty with a side salad of greens, and a pot of piping-hot tea. This was inspired by a recipe from my mother Lulu Reyes Besa, and the BBCGoodFood website, and adapted for The Quirino Kitchen by Elizabeth Ann Quirino.
Equipment
Mixing bowls

Measuring cups and spoons

Food processor

Rolling pin

Large saucepan – 14 inches diameter

Pie plate – 9-inches diameter; 2-inches deep
Ingredients
For 2-crust pie pastry:
2 ½

cups

all-purpose flour

½

teaspoon

salt

¼

teaspoon

baking powder

½

cup

unsalted butter, chilled

½

cup

Crisco shortening, chilled

5 to 6

Tablespoons

iced water
For chicken pie filling:
2 to 3

pounds

boneless chicken thighs, cut into 1-inch cubes;

about 3 pieces large chicken thighs

2

Tablespoons

vegetable oil

2

cloves

garlic, minced

1 to 2

whole

shallots, chopped

½

teaspoon

minced fresh ginger

1

whole

medium-sized red or green bell pepper, chopped

1

whole

large potato, peeled, cubed 1-inch pieces

1

whole

medium-sized carrot, peeled, sliced

1 ½

cups

chicken broth

1

teaspoon

curry powder

(I used Pamana brand)

1

container (8 ounces)

coconut milk

1

cup

green peas

1

cup

cubed fresh or frozen mangoes;

must be fully ripe; if fresh use Mexican variety of mangoes

1

cup

raisins

2

cups

fresh baby spinach

1

cup

Greek yogurt

½

teaspoon

salt

¼

teaspoon

black pepper powder
For brushing on pie pastry:
Instructions
To make the 2-crust pie pastry:
In a large mixing bowl, whisk together the flour, salt and baking powder.

Add the chilled butter and Crisco. Cut with a pastry blender or else pulse in a food processor. The texture should look like little peas.

Pour the iced water a tablespoon at a time.

Process the pastry dough in the food processor until it is smooth.

Divide the dough into 2 disks and wrap each one with plastic wrap. Refrigerate the disks at least overnight before using. Or if preferred, store in the freezer till ready to use.

The next day, when getting ready to bake, preheat the oven at 350 F degrees.

Roll out one pastry disk to fit the bottom of a 9-inch pie pan.

Prick the bottom crust with a fork in several places. Place parchment paper on top of the crust, enough to cover it. Place pie weights or dried beans on the paper. This prevents the pastry from puffing up while baking.

Bake the bottom pie crust at 350 F for 15 minutes till slightly brown.

When done, take the pie plate out of the oven. Set aside while preparing the filling.
To cook the chicken filling:
Wash the chicken thighs well. With a sharp knife, cut into uniform-sized 1-inch cubes. Set aside.

In a large, deep saucepan, over medium heat, add the vegetable oil.

Saute the garlic, shallots, ginger for 2 minutes till fragrant. Add the bell pepper. Continue to saute for 1 minute more.

To the saucepan, add the cubed chicken, the potatoes and carrots.

Pour the chicken broth.

Add the curry powder. Blend ingredients well so that the curry is incorporated all over.

Pour the coconut milk. Cover and simmer over medium heat till the chicken and potatoes are tender and soft, for about 35 to 40 minutes. Stir the mixture every so often, to avoid the coconut milk from curdling or sticking to the bottom of the pan. Lower heat if the stockpot starts to get too hot.

When chicken and potatoes are cooked, add the green peas, mango cubes, and raisins. Add the baby spinach. Gently mix everything together.

Add the Greek yogurt. Season with salt and pepper.

Turn off the heat and remove the saucepan from the stovetop. Let the chicken cool on the counter till it is manageable enough to fill in the pie crust, about 30 minutes.
To assemble and bake the Coronation Chicken Pie:
Preheat the oven at 375 F degrees.

Take the pie pan with the pre-baked bottom pie crust.

Pile the cooked chicken filling into the pie pan. Set aside.

Roll out the second pastry disk on a floured surface.

Brush the edges of the bottom crust with milk. This helps seal both bottom and top crust together.

Place the entire second pastry crust over the pie plate filled with the chicken mixture.

Seal the moistened edges of the pie crust with a fork or your fingers.

Using a fork, prick the top crust with tiny holes in several areas.

Brush the top with milk, to achieve that golden-brown look after baking.

Bake in the preheated oven of 375 F for 35 minutes, or till top of the pastry is golden brown.

Take out of the oven, slice individual servings, and serve while warm.

*Note: To reheat, I put the pie in the oven toaster for about 8 to 10 minutes, at 325 F.
Cook's comments:
For leftovers: If there are leftovers of the pie, cover with foil or plastic wrap and keep refrigerated. This lasts up to 3 days in the refrigerator. Or if frozen, up to 1 month.For ingredients: I prefer to use frozen mango fruit for this recipe because the firm texture bakes better than fresh mangoes, which tend to get mushy and lost inside the filling. Some recipes use mango chutney instead of fresh or frozen mangoes. And the BBCGoodFood website recipe used dried mangoes, which are great, too. Feel free to use what is conveniently available.
Nutrition
Serving:
100
grams
|
Calories:
312
kcal
|
Carbohydrates:
64
g
|
Protein:
11
g
|
Fat:
1
g
|
Saturated Fat:
0.4
g
|
Polyunsaturated Fat:
0.3
g
|
Monounsaturated Fat:
0.2
g
|
Trans Fat:
0.002
g
|
Cholesterol:
4
mg
|
Sodium:
631
mg
|
Potassium:
409
mg
|
Fiber:
5
g
|
Sugar:
3
g
|
Vitamin A:
207
IU
|
Vitamin C:
11
mg
|
Calcium:
82
mg
|
Iron:
4
mg
Notes on Nutrition: The nutrition information provided in the recipe links is an estimate and will vary based on cooking methods and specific brands of ingredients used.
Copyright Notice: Hello, Friends! Please DO NOT LIFT OR PLAGIARIZE The Quirino Kitchen recipes on this blog, my original recipes, stories, photos or videos. All the images and content on this blog are COPYRIGHT PROTECTED and owned by my media company Besa-Quirino LLC by Elizabeth Ann Quirino. This means BY LAW you are NOT allowed to copy, scrape, lift, frame, plagiarize or use my photos, essays, stories and recipe content on your websites, books, films, television shows, videos, without my permission. If you wish to republish this recipe or content on media outlets mentioned above, please ASK MY PERMISSION, or re-write it in your own words and link back to my blog TheQuirinoKitchen.com to give proper attribution. It is the legal thing to do. Thank you. Email me at [email protected]