Sinanglay na Tilapia – Fish Wrapped in Cabbage
As an Amazon Associate and member of other affiliate programs, I earn from qualifying purchases.
Sinanglay na Tilapia is a classic Filipino dish which is stuffed fish wrapped in leafy vegetables, and cooked in coconut milk, often with a kick of spicy flavors. This is actually ginataang isda, or fish cooked in coconut. The Tagalog word 'ginataang' comes from 'gata' which is coconut milk.
This dish has origins from the Bicol region in the Philippines, where coconut is vastly abundant. This is one of the easiest fish entrees to prepare for a family meal.
Take a whole fish like tilapia. After it has been cleaned, gutted and washed, stuff the cavity with a mixture of ingredients like onions, scallions, ginger, garlic, tomatoes, and if you like spice, a piece of chili.
Then, wrap the entire fish in large leaves. Some use lemongrass, pandan or pechay (Chinese cabbage). This time, I used what I had in the vegetable bin – Napa cabbage, with its large, vertical leaves encasing the fish. Sauté and simmer the coconut milk and broth, and place the wrapped tilapia in the center of the saucepan. You can also use other types of fish for this recipe, like pompano, red snapper, hasa-hasa (short mackerel), or catfish.
My father grew coconut trees in our backyard, which lined the perimeter of our home in the Philippines. So, with a steady supply of fresh coconut available to us daily, ginataang isda was often cooked by my mom for many, many meals. I don't have access to fresh coconut in my suburban American kitchen, so I use canned coconut milk, which is just as tasty and superb.
Simmered over low heat, this fish dish is ready in about 15 minutes or so. It is an easy, quick dinner to prepare, but packed with the wholesome, hearty flavors. And it becomes an all-in-one meal with the addition of vegetables. Make sure to have plenty of the rich, milky-white coconut-flavored sauce flowing, enough to pour on the steamed rice served on the side. Watch as the fragrant sauce seeps through the rice grains, and unwrap the silky, large cabbage leaves, while the steam hits your face. It is sheer comfort food.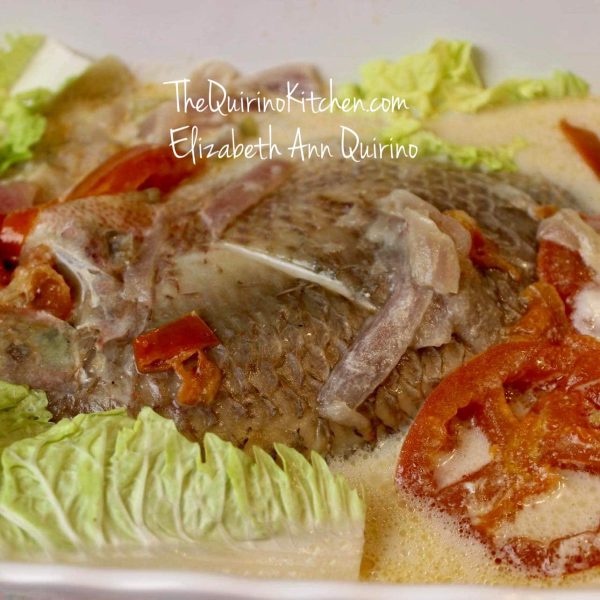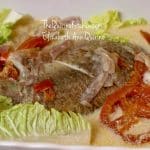 Print Recipe
Sinanglay na Tilapia – Fish Wrapped in Cabbage
Sinanglay na Tilapia is a Filipino classic dish, where the whole fish is stuffed with vegetables. Then the fish is wrapped in large leafy greens, and simmered in a sauce of coconut milk, broth, seasonings and spicy flavors. This wholesome meal cooks quickly and is best served with rice. This is a recipe from The Quirino Kitchen by Elizabeth Ann Quirino.
Equipment
Large saucepan – 12 to 14-inches diameter

chopping board

Medium-sized mixing bowl

butcher's twine
Ingredients
1

whole (2 to 2.5 pounds)

large tilapia, cleaned, gutted, scales removed

1

whole

fresh lemon, or about 2 tablespoons lemon juice

1

teaspoon

salt
For stuffing:
4

cloves

garlic, minced; divided, use 2 for stuffing, 2 for saute

1

whole

large yellow or white onion, chopped; divided, use 1/2 for stuffing, rest for saute

1

tablespoon

finely chopped fresh ginger, 1/2-inch length matchsticks; divided, half for stuffing, rest for saute

2

whole

tomatoes, chopped; divided, use 1 whole for stuffing, rest for saute

2

stalks

scallions, white parts chopped; divided, use half of portion for stuffing, rest for saute;

reserve green parts, chopped, for garnish

1

whole

finger chili (siling mahaba);

optional, omit if spicy flavors are not desired.
For sauce:
2

Tablespoons

vegetable oil

1

Tablespoon

patis (fish sauce)

1

can (13.66 fluid ounces)

coconut milk

1 1/2

cups

vegetable broth

1

pinch

salt

¼

teaspoon

ground black pepper

1

whole

finger chili (siling mahaba)
To wrap the fish:
4 to 6

whole

Napa cabbage leaves
Instructions
To prepare fish:
Make sure the whole fish (with head and tails) is cleaned, gutted of entrails, scales removed, and washed thoroughly through running water.

*Tip: I ask the fish monger to clean, gut and remove the scales for me when I'm at the market. It is a free service.

Score the fish in 2 to 3 diagonal slits on the top outer skin, both sides. Sprinkle lemon juice all over the fish, inside and outside.

Rub a teaspoon of salt inside the cavity and on the outer skin of the fish. Set aside.
To stuff the fish:
In a medium-sized bowl, combine the stuffing ingredients: 2 cloves minced garlic, half of the chopped onion, half of the portion of sliced ginger, half of the amount of tomatoes and scallion whites, and chili if using. Mix well.

Stuff the cavity of the fish with this mixture.
To wrap the fish:
Take the whole Napa cabbage leaves. Wrap them around the fish, securing the stuffing so that it doesn't pop out. Tie the leaves around the fish with about 12 inches of butcher's twine. Set aside.
To saute the fish:
In a large saucepan, over medium heat, add the oil. Saute the remaining garlic, onions, ginger, tomatoes and scallions.

Pour the patis (fish sauce) to the vegetables and cook for 1 to 2 minutes till ingredients are fragrant.

Place the wrapped fish in the center of the saucepan.

Pour the coconut milk and the broth around the fish. Add the finger chili (siling mahaba).

Season with salt and black pepper. Cover and continue cooking for about 15 to 17 minutes till fish is done and cabbage has gotten soft.

Serve warm with steamed rice.
Cook's comments:
This Sinanglay na Tilapia is best eaten right after it is cooked. Cooked fish doesn't last more than a day. I recommend finishing up the main course at one time. If there are any leftovers at all, it will keep in the refrigerator for only 1 day.

I used farm-raised tilapia for this recipe. You can substitute the fish with other kinds like pompano, red snapper, hasa-hasa (mackerel), or catfish.

Other large leaves used to wrap the fish are : lemon grass, pandan, banana leaves, taro, or pechay (Chinese cabbage). I used Napa cabbage leaves. Sometimes, instead of butcher's twine, lemon grass or long strips of scallions are used to tie the leaves to the stuffed Sinanglay na Tilapia.
Nutrition
Serving:
100
grams
|
Calories:
11
kcal
|
Carbohydrates:
2
g
|
Protein:
0.1
g
|
Fat:
0.1
g
|
Saturated Fat:
0.1
g
|
Monounsaturated Fat:
0.01
g
|
Sodium:
1887
mg
|
Potassium:
9
mg
|
Fiber:
0.1
g
|
Sugar:
2
g
|
Vitamin A:
383
IU
|
Vitamin C:
1
mg
|
Calcium:
3
mg
|
Iron:
0.1
mg
Notes on Nutrition: The nutrition information provided in the recipe links is an estimate and will vary based on cooking methods and specific brands of ingredients used.
Copyright Notice: Hello, Friends! Please DO NOT LIFT OR PLAGIARIZE The Quirino Kitchen recipes on this blog, my original recipes, stories, photos or videos. All the images and content on this blog are COPYRIGHT PROTECTED and owned by my media company Besa-Quirino LLC by Elizabeth Ann Quirino. This means BY LAW you are NOT allowed to copy, scrape, lift, frame, plagiarize or use my photos, essays, stories and recipe content on your websites, books, films, television shows, videos, without my permission. If you wish to republish this recipe or content on media outlets mentioned above, please ASK MY PERMISSION, or re-write it in your own words and link back to my blog TheQuirinoKitchen.com to give proper attribution. It is the legal thing to do. Thank you. Email me at [email protected]