Pancit Palabok with Coconut Milk
As an Amazon Associate and member of other affiliate programs, I earn from qualifying purchases.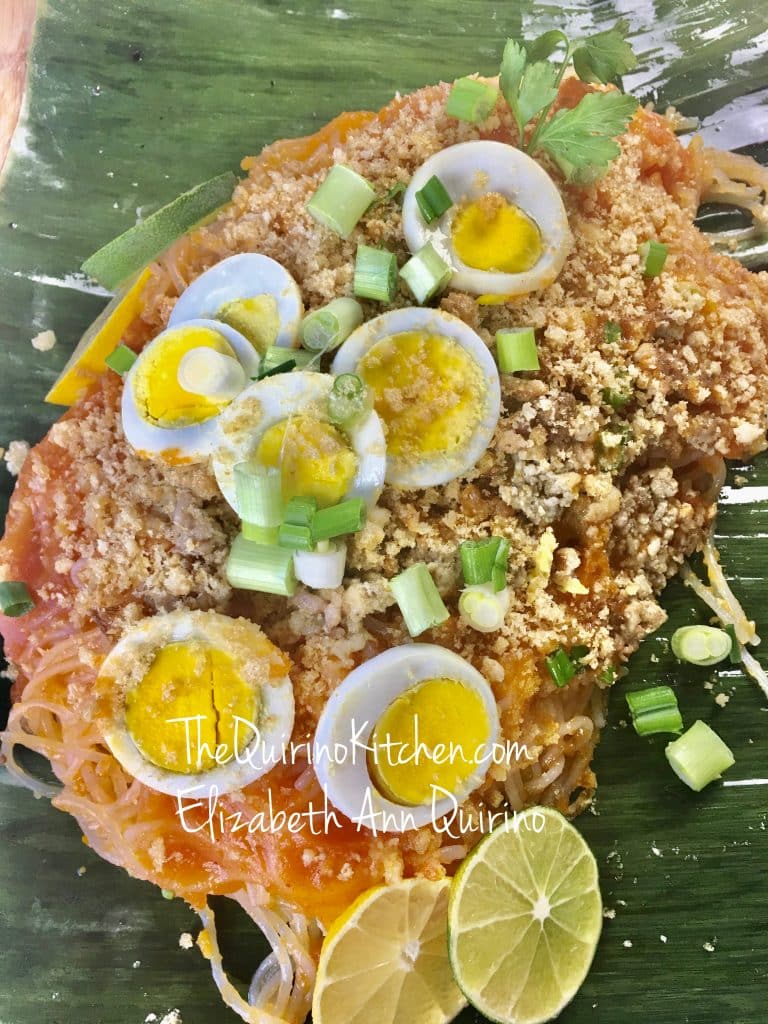 No other pancit noodle dish is as loved and most-requested as my Pancit Palabok with Coconut Milk. Also known as Pancit Luglog, a Kapampangan term to describe how the dried noodles are dunked ("luglog") in rapidly boiling water to soften, before adding to the platter of pancit.
Pancit Palabok is the classic Filipino noodle dish served with layered toppings of orange-colored shrimp sauce, sauteed shrimps and bite-sized pork pieces, and a crowning addition of hard-boiled egg slices, scallions, and generous amounts of crumbled chicharon (pork rinds).
In my childhood, growing up in my hometown Tarlac, my mother cooked Pancit Palabok often when guests from Manila stopped by our house. I always knew the day would be special and guests were coming over when my mom laid out the pristine white, newly dunked noodles on a large bandejado (oval platter) in preparation for the rest of the layers of goodness. Then with a ladle, mom would carefully pour the shrimp-flavored, orange-colored, thick sauce all over the mound of noodles. The rich, golden sauce's combined aromas of savory shrimp, salty patis (fish sauce), and the sweet calamansi had me longing for a plateful of pancit even before our friends arrived.
On top of the sauce and noodles, lay generous servings of succulent shrimps, plump pork bits, and a scrumptious layer of crushed chicharon. Slices of scallions and hard-boiled eggs, plus halves of calamansi adorned the toppings. When in season, my mom added sliced, tart-tasting kamias (bilimbi fruit) from our backyard trees, and shreds of smokey tinapa (smoked fish) flakes. It was a feast. My head still spins at the memory.
Now that I'm in my own kitchen here in America, I have continued my mom's cooking traditions. Pancit Palabok is for dinner tonight. I even added coconut milk to the shrimp sauce, a Kapampangan thing which my aunts in Tarlac taught my mom to do. The coconut milk adds a depth and sweetness to neutralize the salty shrimp sauce, resulting in a unique flavor sensation that goes well with the simplicity of the noodles. If you only cook one pancit dish for all eternity, this should be the one you make.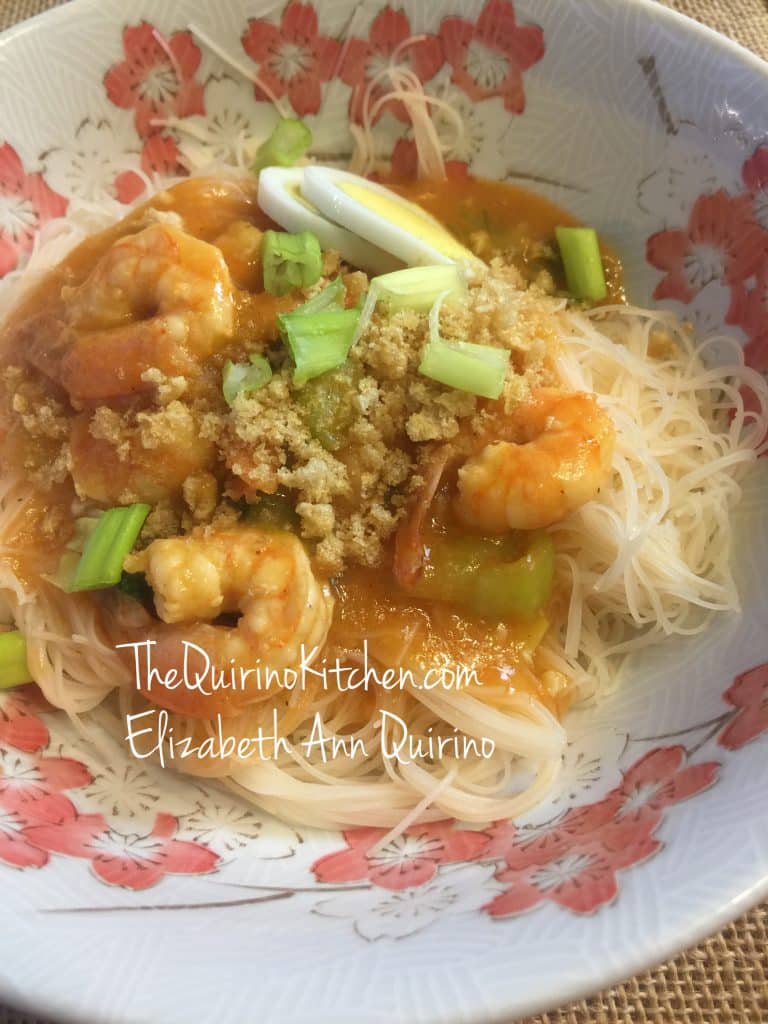 Pancit Palabok with Coconut Milk
Pancit Palabok with Coconut Milk is a classic bihon noodle dish, topped with layers of orange-colored shrimp sauce, sauted shrimps and bite-sized pork pieces, scallions, garlic, crumbled chicharon, and hard-boiled egg slices. A side dipping sauce of patis (fish sauce) and calamansi juice completes this all-time party favorite Filipino pancit noodle dish. Compared to other palabok recipes, I added the rich flavor of coconut milk to the savory shrimp sauce, a tradition handed down by my Kapampangan family. This is a recipe of The Quirino Kitchen by Elizabeth Ann Quirino.
Equipment
Medium-sized stock pot

Mortar and pestle

chopping board

Mixing bowls

Large and medium-sized saucepans

Large serving platter

Dipper-shaped colander
Ingredients
1

pound

bihon (dried rice sticks)
For the shrimp sauce
1/2

pound

medium-sized fresh shrimps, peeled, save heads

4

Tablespoons

vegetable oil, divided, use 2 Tablespoons for shrimp heads, rest for saute

2

Tablespoons

achuete (annatto) powder

1

cup

warm water; divided, use 1/2 cup for shrimp juice, other half for achuete powder

1/2

cup

all-purpose flour

2

cups

chicken or pork broth

1

cup

canned coconut milk
For the saute:
4

whole

garlic cloves, minced

2

stalks

scallions, white parts chopped; save green parts for garnish

2

Tablespoons

patis (fish sauce)

1/2

pound

boiled pork shoulder, cut into 1/2-inch sized cubes;

save the broth meat was boiled in

3/4

cup

chicken or pork broth

1/2

teaspoon

salt

1/4

teaspoon

ground black pepper
For the toppings:
1/2

cup

crumbled chicharon (pork rinds)

2

whole

hard-boiled eggs, sliced

4

whole

calamansi, sliced in halves;

or use 2 whole lemons

1/3

cup

flaked tinapa (smoked fish);

optional
For the side dipping sauce:
1/2

cup

patis (fish sauce)

1

Tablespoon

calamansi juice (or lemon)
Instructions
To prepare bihon noodles:
In a large mixing bowl filled with water at room temperature, soak the bihon noodles for 30 minutes. Drain the noodles and discard water.

In a stockpot, filled with boiling water, using a dipper-shaped colander with a handle, dunk the noodles for about 1 to 2 minutes till soft, but not mushy. Set noodles aside on a serving platter.
To prepare the shrimp sauce:
Wash and clean the shrimps. Peel the shrimps, remove the heads and tails.

Reserve the heads. In a skillet, add 2 tablespoons of oil. Over medium-high heat, saute the shrimp heads till they cook and turn to pink, about 4 to 5 minutes.

Remove the heads from the skillet. When the heads have cooled, place them in a mortar and pestle and pound the shrimp heads till you can extract the shrimp juice. Pour half a cup of warm water over the shrimp heads, blend and save that juice for the saute.

To saute the shrimp sauce: In a medium-sized saucepan, over medium-high heat, add a tablespoon of oil. When oil is hot, pour the shrimp juice, the achuete powder mixed with the 1/2 cup warm water, the 2 cups of broth, and let the liquid come to a boil.

Gradually mix in the flour. stirring well with a whisk, till there are no more lumps. Pour the coconut milk and mix well.

When the liquid is smooth and thick, and can almost coat the spoon, in about 6 to 8 minutes, turn off heat and set aside. You will have about 2 1/2 cups of shrimp sauce.
To cook the saute:
In the large saucepan, over medium-high heat, pour the remaining 2 tablespoons of oil. Saute the garlic and scallions for 1 to 2 minutes till fragrant.

Add the fresh shrimps and pre-boiled pork pieces.

Pour the patis. Stir to blend the ingredients. Pour the 3/4 cup of broth. Continue cooking till the shrimps are cooked, about 8 to 10 minutes.

Season with salt and pepper. Set aside.
To assemble the Pancit Palabok:
In the large platter where the noodles have been laid out, pour the shrimp sauce all over.

Add a layer of the shrimp-pork sauteed mixture over the shrimp sauce.

Sprinkle the top with crumbled chicharon. Garnish with sliced green scallions, hard-boiled egg slices, and calamansi (or lemon). If desired, sprinkle the top, as well, with flaked tinapa (smoked fish).

Serve Pancit Palabok warm with a side dipping sauce of patis combined with calamansi juice (or lemon).
Cook's comments:
Serve this dish within the hour after it is cooked.

Store leftover Pancit Palabok, covered, in the refrigerator. It will keep up to 1 day refrigerated. I do not recommend freezing the pancit, because the noodles get watery and flavors get diluted, and do not taste as good as when the dish is newly-cooked.
Nutrition
Serving:
100
grams
|
Calories:
195
kcal
|
Carbohydrates:
15
g
|
Protein:
3
g
|
Fat:
14
g
|
Saturated Fat:
13
g
|
Polyunsaturated Fat:
0.2
g
|
Monounsaturated Fat:
1
g
|
Sodium:
300
mg
|
Potassium:
176
mg
|
Fiber:
2
g
|
Sugar:
2
g
|
Vitamin A:
1
IU
|
Vitamin C:
2
mg
|
Calcium:
13
mg
|
Iron:
2
mg
Notes on Nutrition: The nutrition information provided in the recipe links is an estimate and will vary based on cooking methods and specific brands of ingredients used.
Copyright Notice: Hello, Friends! Please DO NOT LIFT OR PLAGIARIZE The Quirino Kitchen recipes on this blog, my original recipes, stories, photos or videos. All the images and content on this blog are COPYRIGHT PROTECTED and owned by my media company Besa-Quirino LLC by Elizabeth Ann Quirino. This means BY LAW you are NOT allowed to copy, scrape, lift, frame, plagiarize or use my photos, essays, stories and recipe content on your websites, books, films, television shows, videos, without my permission. If you wish to republish this recipe or content on media outlets mentioned above, please ASK MY PERMISSION, or re-write it in your own words and link back to my blog TheQuirinoKitchen.com to give proper attribution. It is the legal thing to do. Thank you. Email me at [email protected]