Pastillas de Ube – Purple Yam Milk Candy
As an Amazon Associate and member of other affiliate programs, I earn from qualifying purchases.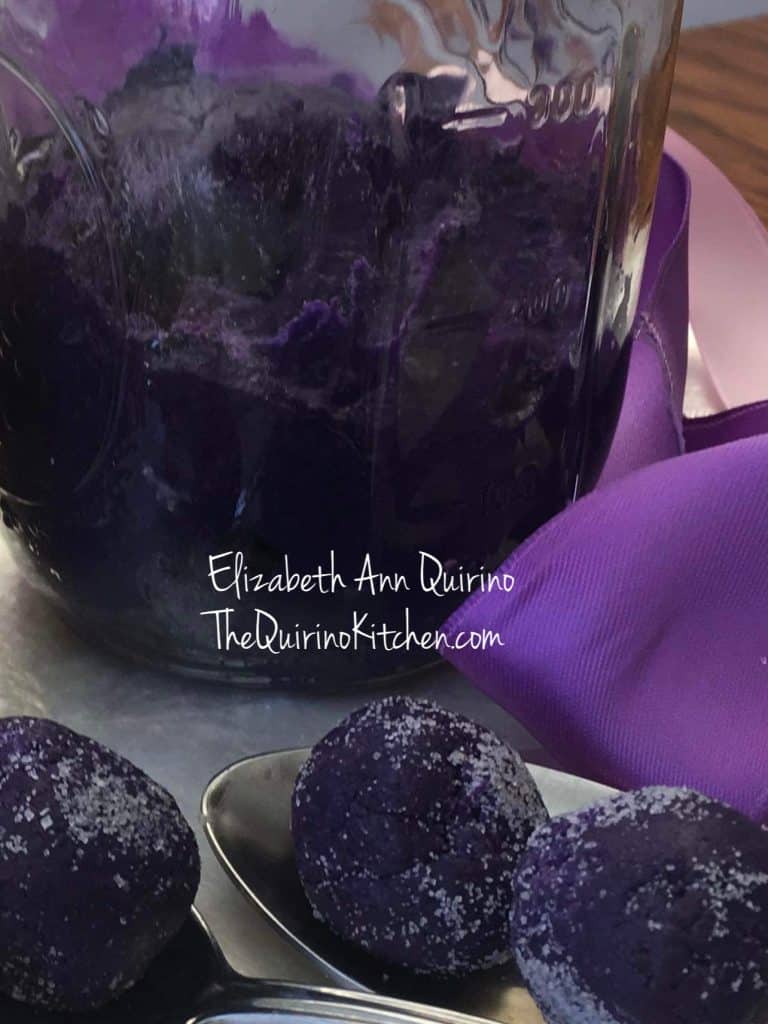 My son was craving Pastillas de Ube and texted me "Can you make some?" Often, as a mother, I cannot resist when my children ask me for something, especially if it's a favorite treat like this.
Pastillas de Ube or simply ube pastillas to Filipinos are those sweet, soft and chewy milk candy treats made with ube, a purple-colored tuber that grows in the Philippines. These candies are popular as pasalubong gifts from anyone visiting us from our home country. Or else, I make them myself.
It is nearly impossible to find real ube, the root crop, anywhere here in the United States. But in the Philippines, you can find them in markets when they're in season late in the year. So, back here in my American kitchen, I looked at what I had in my pantry and with limited resources, I attempted to make a shortcut ube pastillas. It was ube-licious, so I am here to share it with you.
You only need the following ingredients; some may be in your pantry already:
Ube-flavored Condensed Milk
Frozen boiled ube
Mochiko sweet rice flour
McCormick Ube Flavoring
And to finish it off: granulated sugar.
Don't forget to have the cellophane candy wrappers ready, as well. There are convenient cut-up wrappers available on Amazon, in case you want to shorten prep time.
You'll be glad to know this recipe needs the minimal amount of stirring-on-the-stovetop time. I shortened the process by steaming the ube candy mixture. Then, when done in the steamer, you cool the pastillas mixture in the refrigerator to firm up. Ube desserts like these are sweet, slightly almond-like in flavor, and have a delicate vanilla-like aroma. When the pastillas mixture is firm and ready, shape them into plump, purple balls, and roll them in granulated sugar. Wrap them in clear cellophane, to be served at the table, or given as gifts. The hardest thing about this recipe is resisting the urge to eat the purple sweet morsels as you wrap the candies.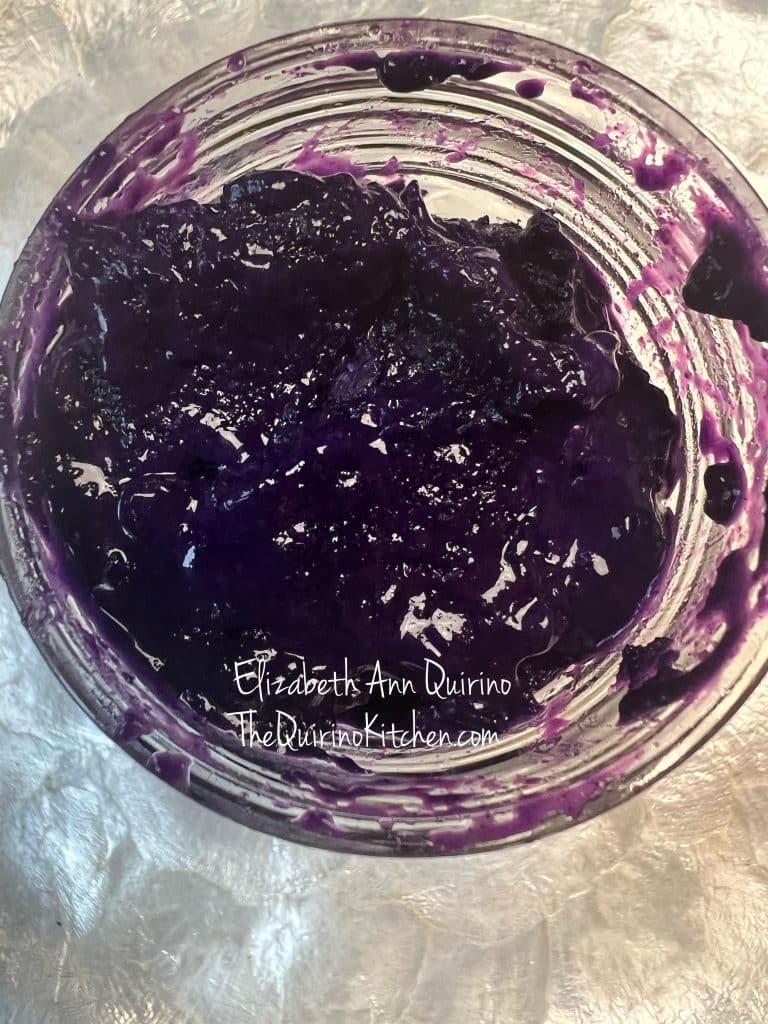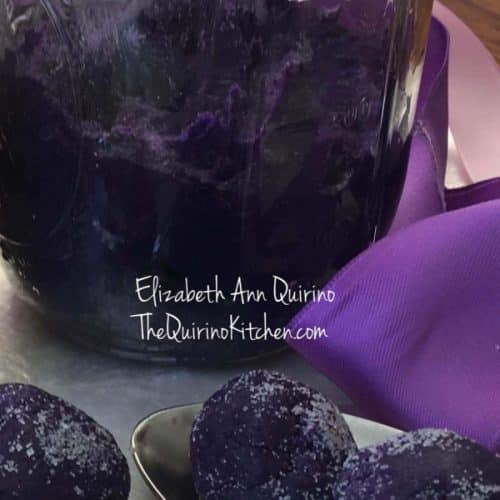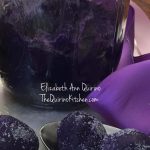 Print Recipe
Pastillas de Ube – Purple Yam Milk Candy
Pastillas de Ube are rich, thick, chewy dessert treats, and a popular Filipino milk candy made with ube, a sweet purple-colored yam. Ube (purple yam) grows in the Philippines and is in season there in the late months of the year. For these pastillas, I used frozen boiled ube, rice flour, flavorings, and ube-flavored sweetened condensed milk. These delightful, soft ube milk candies are wonderful for desserts or snacks. This recipe makes about 20 pieces. This is a recipe for The Quirino Kitchen by Elizabeth Ann Quirino.
Equipment
Two-layered Steamer

round baking pan – 9-inches diameter;

must fit into steamer

Mixing bowls
Ingredients
16

ounces

frozen boiled ube, thawed at room temperature

1

can (13.4 ounces)

Ube-flavored condensed milk;

like Sweet Cow Sweetened Condensed Creamer, Ube-Purple Yam flavored

1

cup

Mochiko sweet rice flour

2

teaspoons

McCormick Ube flavoring

1/2

cup

granulated sugar, for coating the pastillas
For wrappers:
20

pieces

clear cellophane wrappers, 6 x 6 inches
Instructions
Make sure the frozen boiled ube (purple yam) is thawed at room temperature. Do not thaw in the microwave.

In a large mixing bowl, combine the ube, the ube-flavored condensed milk, rice flour and ube flavoring. Mix well with a large wooden spoon, till liquid is smooth and there are no lumps. Set aside.

Prepare the steamer. Pour water in the bottom pot, till it is 3/4 full. Cover and over medium-high heat let the water come to a rolling boil.

Pre-grease with cooking spray the round baking pan in the bottom and sides. Pour the ube mixture into the pan.

Place the ube-filled pan inside the second layer of the steamer, and put this on top of the bottom pot with boiling water.

Cover and steam the ube mixture for 1 hour.

After 1 hour, uncover and test for doneness with the tip of a sharp knife by piercing it into the middle of the ube. If knife comes nearly clean, and is firm to the touch, the ube mixture is ready.

Remove the round pan from the steamer. After it has cooled on the counter for around 30 minutes, cover and refrigerate to firm up and become manageable enough to form into balls.
To prepare and wrap the Pastillas de Ube
Take the cooked ube mixture from the refrigerator.

Using a spoon, and your (pre-greased) hands, shape the ube balls into 1-inch diameter soft candies.

Roll each ball on granulated sugar. Make sure the sugar coats the pastillas evenly.

If desired, wrap each ube pastillas with clear cellophane wrappers. Twist the ends of the wrapper tightly, to seal the pastillas.

Store the ube pastillas in the refrigerator. It will keep for up to 3 weeks.
Cook's comment:
If there's no time to roll and wrap the Pastillas de Ube, put the ube mixture into clean, sterilized mason jars, for a spoonable dessert to give as gifts or to enjoy at home. For this recipe, you will need two mason jars, at 8 ounces each.
Nutrition
Notes on Nutrition: The nutrition information provided in the recipe links is an estimate and will vary based on cooking methods and specific brands of ingredients used.
Copyright Notice: Hello, Friends! Please DO NOT LIFT OR PLAGIARIZE The Quirino Kitchen recipes on this blog, my original recipes, stories, photos or videos. All the images and content on this blog are COPYRIGHT PROTECTED and owned by my media company Besa-Quirino LLC by Elizabeth Ann Quirino. This means BY LAW you are NOT allowed to copy, scrape, lift, frame, plagiarize or use my photos, essays, stories and recipe content on your websites, books, films, television shows, videos, without my permission. If you wish to republish this recipe or content on media outlets mentioned above, please ASK MY PERMISSION, or re-write it in your own words and link back to my blog TheQuirinoKitchen.com to give proper attribution. It is the legal thing to do. Thank you. Email me at [email protected]