Pinsec Prito with Sisig
As an Amazon Associate and member of other affiliate programs, I earn from qualifying purchases.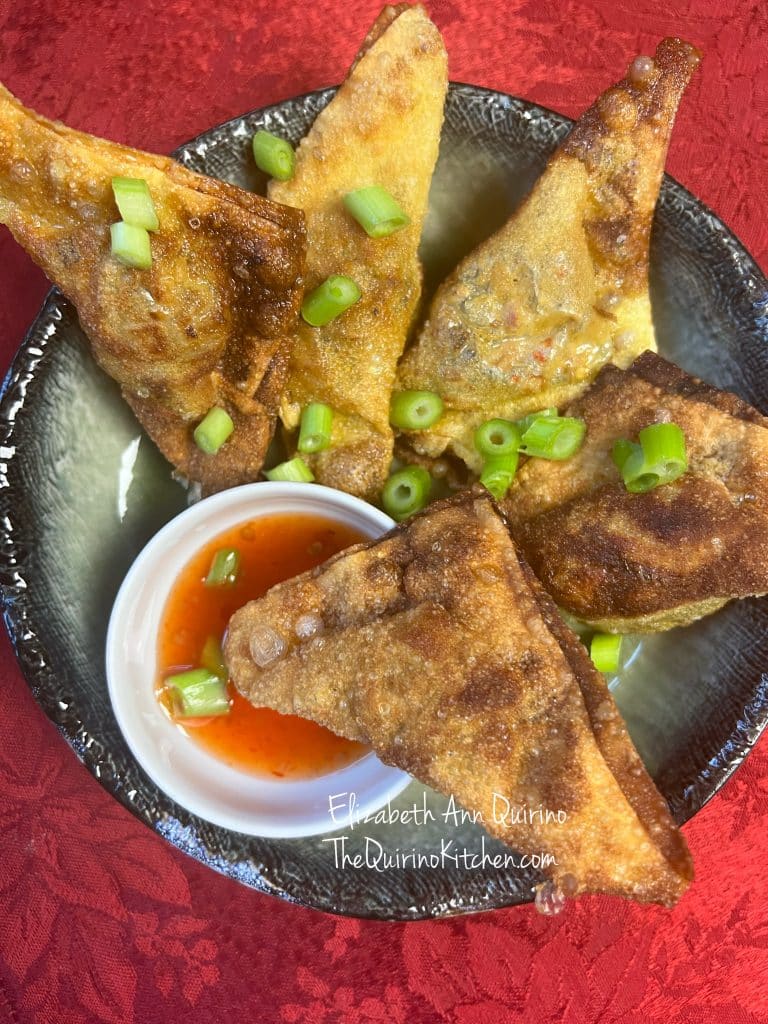 Crisp Pinsec Prito with Sisig dipped into a tangy sweet-sour sauce is what happens when there's leftover pork sisig. I have cooked so many dishes with sisig and the recipes are on this site: Sisig Tacos, Garlic Sisig Rice, the sizzling classic Pork Sisig itself; plus other variations like Bangus Sisig, and Tofu Sisig.
What is the Filipino Sisig?
Today's modern version of sisig is like a pork hash, consisting of finely chopped crisp pork belly, which was cooked thrice– simmered, grilled, then pan-fried. The predominant flavor of this pork entrée has nowadays evolved to a slightly citrusy, savory, robust-flavored dish with spicy notes deep within. Pork Sisig in present times, is served as bar food, appetizers, a side or main course.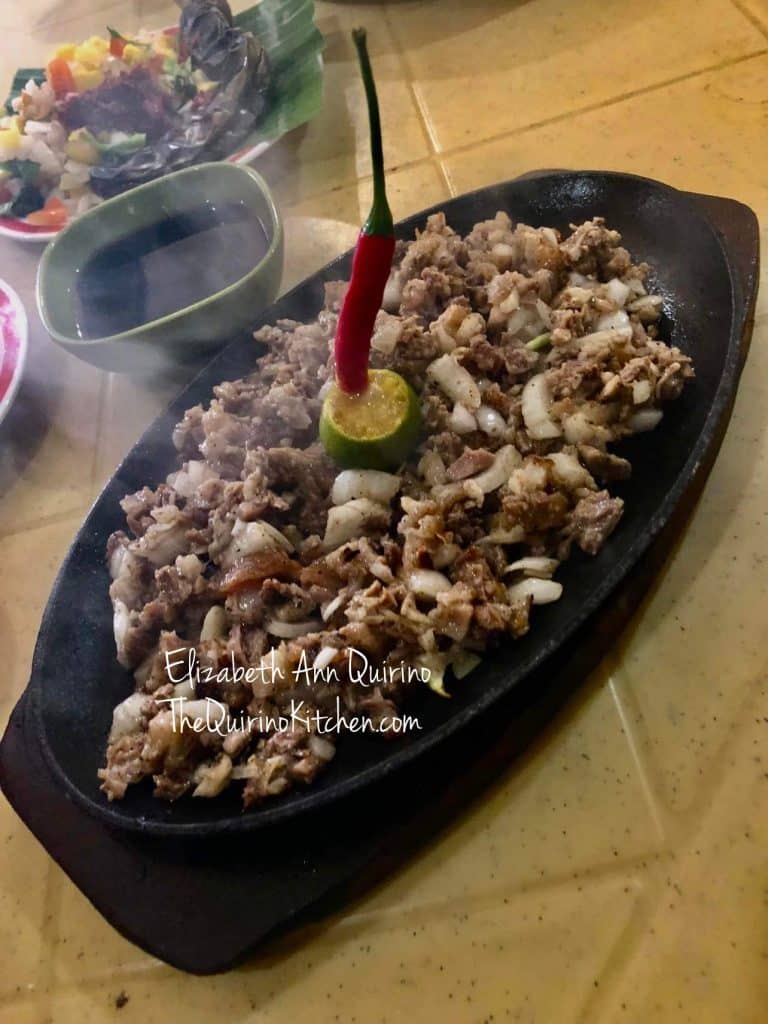 I took the large container of leftover pork sisig which I previously cooked. Days after, sisig can taste even more fiery, more exciting. I wrapped teaspoonfuls of the pork sisig with wonton wrappers. Then I let them sit in the refrigerator to firm up. Chilling them for at least one hour helps to make them even crispier after cooking, I discovered.
What is Pinsec Prito?
Meanwhile, Pinsec Prito are originally those crackling, fried triangle-shaped wontons with a savory ground pork filling. In the Philippines, pinsec prito are often on many Filipino menus, whether for home cooked meals or offered as restaurant fare.
I grew up seeing my father enjoy pork sisig for pulutan (appetizers) with his regular beer drink. And I was taught by my mother how to prepare traditional pinsec prito with a ground pork filling. So, I thought of combining these recipe ideas together, because why not when it is simply divine?
As the wonton triangles of Pinsec swirled in the hot oil inside the wok, the skins turned golden brown. It only took minutes to deep-fry because the sisig filling was already cooked. I took a bunch of crunchy Pinsec Prito with Sisig and dipped them into the spicy sweet-sour sauce. This is all you need right now, to remind you life is good.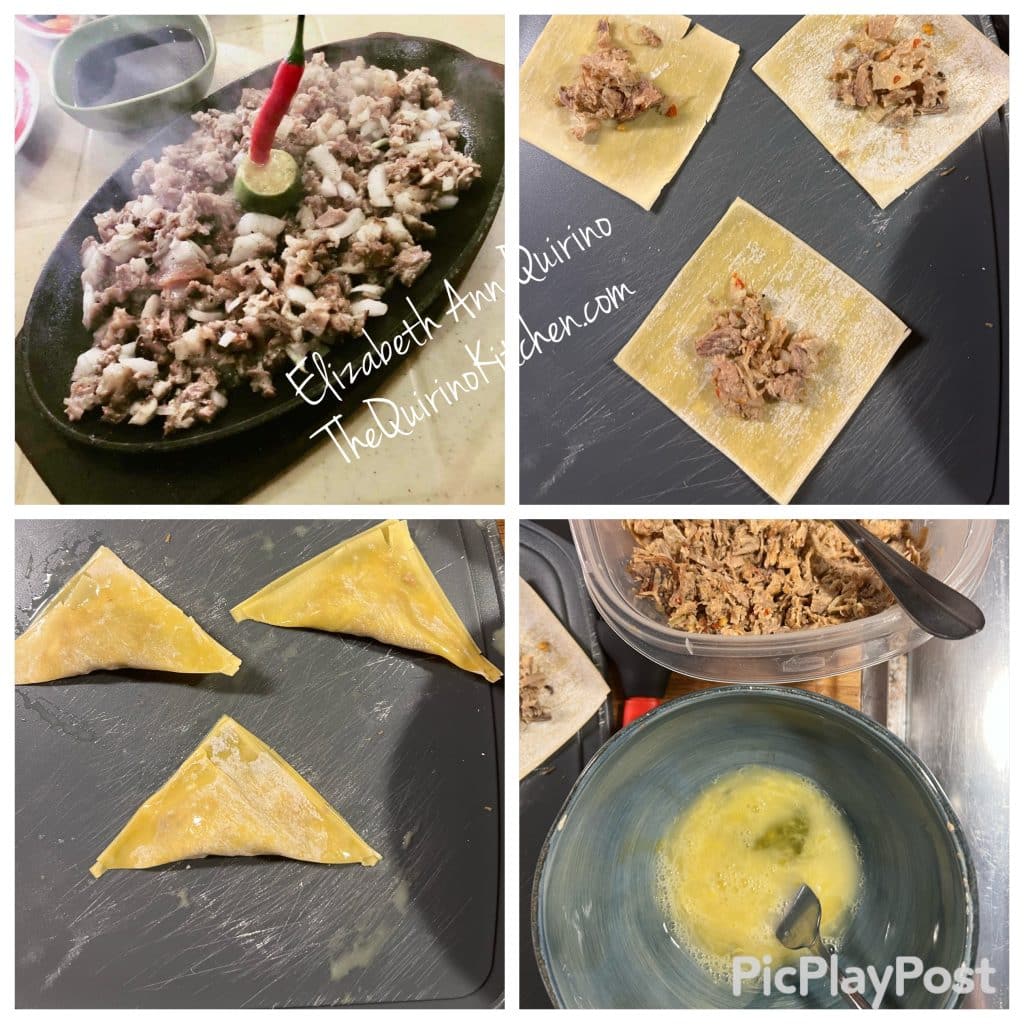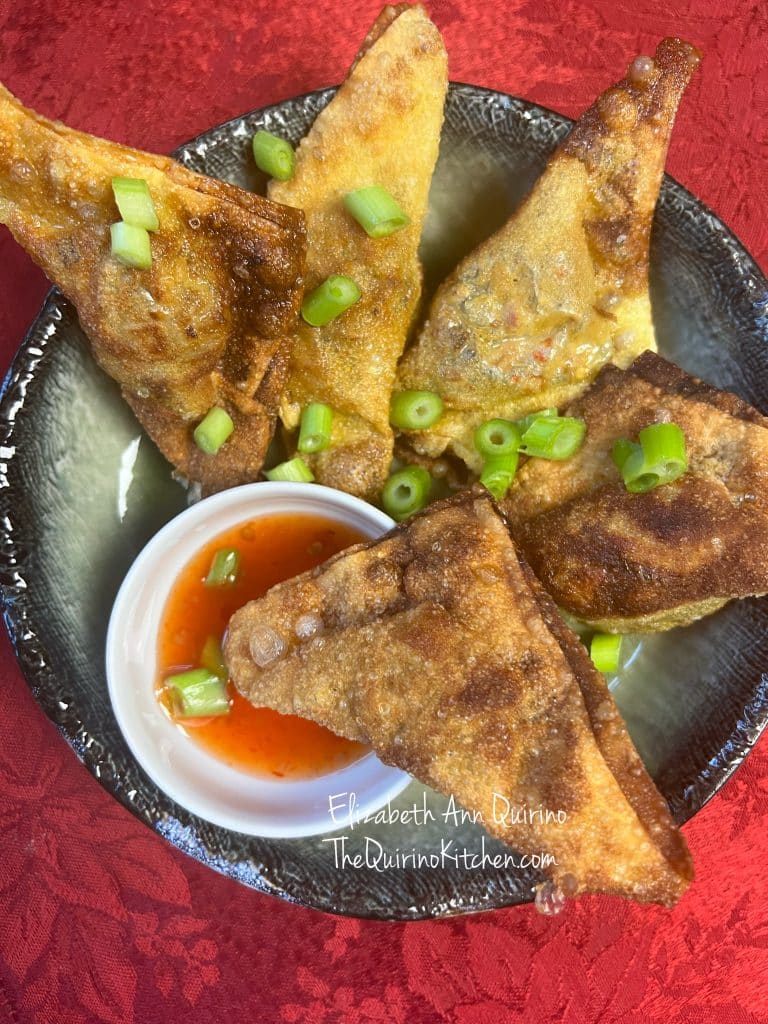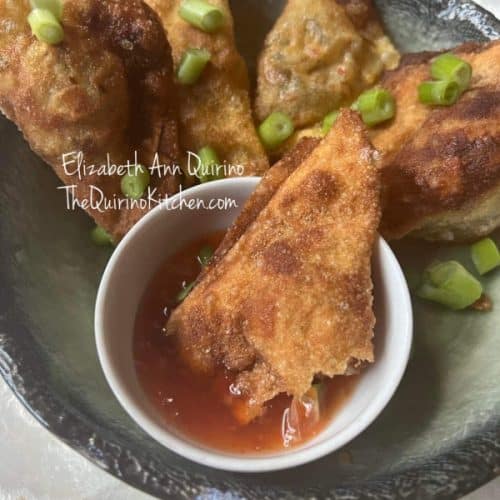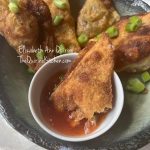 Print Recipe
Pinsec Prito with Sisig
In these Pinsec Prito with Sisig, crisp fried wontons of pinsec prito meet crunchy bits of pork sisig. Each of the crunchy wontons were filled with the popular Filipino appetizer pork sisig. Then, the pinsec were deep-fried, and in minutes we had crackling, bite-sized treats dipped into spicy sweet-sour sauce. Serve as appetizers, sides or a main dish. This is a recipe on The Quirino Kitchen by Elizabeth Ann Quirino.
Equipment
Mixing bowls, assorted sizes

Large wok or skillet (12 to 14 inches diameter)

Medium-sized Stockpot

Outdoor or indoor grill
Ingredients
For simmering the pork sisig:
1

pound

pork belly, boneless

1/2

teaspoon

salt

1/4

teaspoon

ground black pepper

4 to 6

cups

water, for simmering pork belly
For cooking the pork sisig:
1/3

cup

fresh or frozen concentrate calamansi juice;

or use lemon

2

Tablespoons

toyo (soy sauce – Filipino or Chinese brands)

1

whole

medium-sized red onions, chopped fine

2

cloves

garlic, minced finely

2

stalks

scallions, chopped;

reserve greens for garnish

1 to 2

whole

siling labuyo (bird's eye chilies), sliced

1

pinch

salt

2

Tablespoons

vegetable oil
For pinsec prito
1

whole

egg, for egg wash

1/2

cup

water, for egg wash

3/4

cup

vegetable oil, for deep-frying

24 to 30

pieces

wonton wrappers, square-shaped, at room temperature
For serving:
1 to 2

cups

sweet-sour sauce, homemade or bottled MaPloy Vietnamese sauce

steamed rice; if serving as a main dish
Instructions
To cook pork sisig:
In a medium-sized stockpot, combine the slab of pork and enough water to cover the meat. Season with salt and pepper.

Over medium-high heat, bring the water to boil, then lower to a simmer. Cover and cook the pork for about 25 minutes till completely done.

Remove the pork from the water and pat dry with paper towels. Let meat rest on a rack to air dry for half an hour to 1 hour.

*Tip: Keep the pork broth in the refrigerator or freezer for other dishes, like soups, stir-fries, saute, or stews.

Using the outdoor grill (or an indoor grill), grill the pork belly slab till it looks golden brown and roasted, with a crisp outer skin, about 8 to 10 minutes.

Chop the pork into tiny bits, like for a hash.

In a large bowl, marinate the cooked pork with calamansi (or lemon ) juice, toyo, onions, garlic, scallions, bird's eye chilies, salt and pepper. Keep in a covered container in the refrigerator to let flavors set, for at least 1 hour.

In a skillet, over medium-high heat, pour 2 tablespoons of vegetable oil. When oil is hot, add the pork sisig, including all the ingredients it was marinated with. Stir and toss around for 3 to 5 minutes till the pork is sizzling. Remove from stovetop and let the pork sisig cool on the counter.

*Note: I do a flash freeze of the pork sisig for about 30 to 45 minutes to hasten the cooling.
To wrap the Pinsec Prito with Sisig:
Make sure the wonton wrappers are at room temperature and properly thawed. Do not thaw in the microwave!

Prepare a large, dry surface to work on. Place the wonton wrappers side by side.

Mix the egg and water for the egg wash, used to seal the edges of the wontons.

Place a teaspoon of the cooked pork sisig in the middle of the square wonton wrapper. Brush the edges of the wonton with egg wash.

Fold the wonton like a triangle, bringing one tip to the other tip, folding over the pork filling. Repeat for all the rest of the wontons. This recipe will make about 24 to 30 pieces of pinsec.

Keep the uncooked pinsec in a covered container, in the refrigerator for at least 1 hour. Refrigerating the wontons before deep frying results in a crispier batch.
To deep-fry the Pinsec Prito with Sisig:
In a large wok or skillet, over medium high heat, pour the vegetable oil.

When oil is hot enough (around 350 F if using a thermometer), deep-fry the pinsec prito filled with sisig. For manual testing of the oil, insert the bottom of a wooden chopstick inside the skillet. If ripples form at the sides of the chopstick, the oil is hot enough.

Allow around 6 to 8 pieces per batch of frying. Do not overcrowd the skillet. There should be enough room for the wonton pieces to float around.

Cook each piece for 3 to 4 minutes, till they turn golden brown. Using a long turner or a pair of tongs, flip the pieces halfway through cooking.

Drain cooked pinsec prito on paper towels to remove excess grease.

Serve the pinsec prito with sisig while warm and crisp, with a side of sweet-sour sauce (homemade or bottled). A recipe for homemade sweet-sour sauce is here from a past blog post.

Garnish with chopped green scallions. Serve with steamed rice if desired.
Cook's comments:
If there are leftovers of Pinsec Prito with Sisig, keep in air-tight containers in the refrigerator or freezer. They last up to 3 days in the refrigerator, and up to 1 month in the freezer.

To reheat, simply pan fry in hot oil, or heat up in an oven toaster for 2 minutes.
Nutrition
Serving:
100
grams
|
Calories:
0.3
kcal
|
Carbohydrates:
0.1
g
|
Protein:
0.01
g
|
Fat:
0.01
g
|
Saturated Fat:
0.003
g
|
Sodium:
300
mg
|
Potassium:
2
mg
|
Fiber:
0.03
g
|
Vitamin A:
1
IU
|
Calcium:
1
mg
|
Iron:
0.02
mg
Notes on Nutrition: The nutrition information provided in the recipe links is an estimate and will vary based on cooking methods and specific brands of ingredients used.
Copyright Notice: Hello, Friends! Please DO NOT LIFT OR PLAGIARIZE The Quirino Kitchen recipes on this blog, my original recipes, stories, photos or videos. All the images and content on this blog are COPYRIGHT PROTECTED and owned by my media company Besa-Quirino LLC by Elizabeth Ann Quirino. This means BY LAW you are NOT allowed to copy, scrape, lift, frame, plagiarize or use my photos, essays, stories and recipe content on your websites, books, films, television shows, videos, without my permission. If you wish to republish this recipe or content on media outlets mentioned above, please ASK MY PERMISSION, or re-write it in your own words and link back to my blog TheQuirinoKitchen.com to give proper attribution. It is the legal thing to do. Thank you. Email me at [email protected]