How to Cook Tikoy or Nian Gao : Sweet Rice Cake for Chinese New Year
As an Amazon Associate and member of other affiliate programs, I earn from qualifying purchases.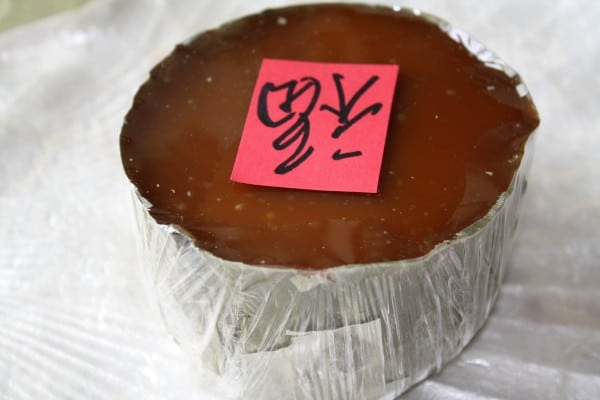 "Are you Filipino? Do you like Tikoy?" . "Yes and yes", I said, to the friendly server at my favorite Malaysian restaurant who was trying to sell me "tikoy". Tikoy (say 'tee-koy') is a steamed rice cake made up of glutinous rice flour, lard, water and sugar. Back in the Philippines, it wasn't Chinese New Year if we didn't have tikoy at home. Friends from the Chinese community always gave it to our family, as a gift. The Philippines was strongly influenced by a mix of cultures from neighboring countries. The Chinese influence was strong in all levels.

Chinese New Year celebrations center on two things: family and food. Asians and their kin travel from miles away to come together with their families on this moveable lunar celebration. Togetherness is a must. And food is abundant. The more food there is, the better. An abundance of food symbolizes prosperity and good luck.

Here in America, I search high and low in Asian markets every year for the traditional store-bought Tikoy. It can be eaten year round. But it is most popular in the Chinese New Year. It is known as "tikoy" in the Philippines. It is also known as "Nian Gao" in Mandarin, a homonym for the phrase "higher year", a good luck thought.

I spoke to the cook who made the Tikoy I bought. She described how she cooked this rice cake. She told me how she steamed the Tikoy for 24 hours straight. You could tell this pudding-like cake, with a gelatinous texture was exceptional.

In my American kitchen, I cook food to celebrate the Lunar New Year. It is interesting to hear what other Asian cultures traditionally cook. My niece, Tsui Chern grew up in Singapore, but now lives in California with her husband and daughter. Here's what she told me about their celebrations:

" We serve tikoy too, although we pronounce it differently. The word is actually a melding of 2 languages. The Hokkien dialect "ti" means sweet, and the Malay word "kueh" which means cake or pastry. We normally present it to the gods during the 15 days of Chinese New Year. The belief is that during these 15 days, the lesser/demi-gods go up to heaven to report on the mortals' behavior for the past year. So we mortals try to sweeten what they say with sweet foods, and "tikoy" is one of them."

The recipe below shares how to prepare store-bought Tikoy. And here is how to make Homemade Tikoy – Nian Gao click on my newest recipe here.
* For more Lunar New Year recipes, like Ube Tikoy, Pineapple Tarts, Asian Braised Pork Ribs, Char-siu Pork, Chicken with Chinese Sausages and more click here for links.
How to cook Tikoy or Nian Gao- Sweet Rice Cakes for the Chinese Lunar New Year
Tikoy (say 'tee-koy') is a steamed Chinese rice cake with brown sugar and molasses. In the Philippines, an entire steamed cake is given as a gift for the Lunar New Year to symbolize prosperity and good luck. We cooked the Tikoy by pan-frying to soften it up. Once pan fried, each warm slice was crisp on the outside while sticky soft inside. The yellow coating of the eggs are close in color to 'gold', a symbol of prosperity. The chewy, gummy consistency of the tikoy rice cake are supposed to make sure the luck 'sticks'. We enjoy these delicious, savory strips of tikoy rice cakes served as a snack or side during Chinese New Year. Tikoy is a hearty, heavy and filling snack that's also good all year long. This Asian in America recipe below shares how to prepare store-bought Tikoy. Serves 4.
Equipment
Large Skillet or Wok: 12 to 14 inches
Ingredients
1

whole (about 8 ounces)

Chinese Tikoy - Sweet Rice Cake

sliced in 2-inch strips, from Asian markets;store-bought tikoy or homemade

2 to 3

whole

eggs

beaten, for coating tikoy

1/4

cup

vegetable oil

for pan frying tikoy; add more as needed

for serving: hot tea
Instructions
Pre-grease with cooking spray a large, sharp knife and the cutting board for slicing the tikoy. Peel off the wrappers from the tikoy. On a large, dry cutting board, slice the tikoy rice cake in thin strips, about 2-inch length.

In a medium sized bowl with the beaten eggs, soak the tikoy strips. Make sure tikoy is coated evenly with the egg.

Over medium high heat, add the cooking oil to the large skillet or wok. After 1 to 2 minutes when oil is hot enough, pan fry the tikoy slices dipped in egg. The egg-coated tikoy should take a minute or two on each side to firm up to a crisp slice. Remove from the skillet and drain on paper towels or parchment paper to minimize the excess oil.

These are good for a snack or a side. Serve the slices warm with piping-hot tea.

Cooking tip: My niece Tsui Chern who grew up in Singapore suggested steaming the tikoy slices in a steamer to soften them. This is an alternative to pan frying. Each slice can be too sticky to handle, though, so be sure to pre-grease the knife, cutting board and insides of the steamer for easy handling.
Copyright Notice: Hello, Friends! All the images and content here are COPYRIGHT PROTECTED. This means BY LAW you are NOT allowed to use my photos or content on your website, videos, books, TV programs, media content  without my permission. If you want to republish this recipe, please re-write it in your own words and simply link back to this blog to give proper attribution. It's the legal thing to do. Thank you. Email me at [email protected]
Nutrition
Serving:
1
g
|
Calories:
118
kcal
|
Carbohydrates:
1
g
|
Protein:
1
g
|
Fat:
14
g
|
Saturated Fat:
11
g
|
Cholesterol:
2
mg
|
Sodium:
1
mg
|
Sugar:
1
g
Nutrition Notes: The nutrition information provided is an estimate and will vary based on cooking or baking methods and brands of ingredients used.
Did you love this recipe? I have more Philippine dessert recipes in my popular cookbook How to Cook Philippine Desserts, Cakes and Snacks.
If you need Filipino Instant Pot recipes, find more in my newest cookbook Instant Filipino Recipes: My Mother's Traditional Philippine Cooking in A Multicooker Pot. Buy my cookbooks and books on Amazon.com sold worldwide in paperback and Kindle format.
Copyright Notice: Hello, Friends! Please DO NOT LIFT OR PLAGIARIZE my original recipe, stories, photos or videos. All the images and content on this blog are COPYRIGHT PROTECTED and owned by my media company Besa-Quirino LLC. This means BY LAW you are NOT allowed to copy, scrape, lift, frame, plagiarize or use my photos, essays, stories and recipe content on your websites, books, films, television shows, videos, without my permission. If you wish to republish this recipe or content on media outlets mentioned above, please ASK MY PERMISSION, or re-write it in your own words and link back to my blog AsianInAmericaMag.com to give proper attribution. It is the legal thing to do. Thank you. Email me at [email protected].