Sotanghon Noodles with Bola-Bola
As an Amazon Associate and member of other affiliate programs, I earn from qualifying purchases.
"I want to write a cookbook with recipes of what I cook so I can share it with friends," said my mother, Lulu Reyes Besa.
Ever since I was a child, I often heard my mom wish aloud she wanted to write a cookbook to document her recipes. And deep in my heart I often wished I could write the cookbook for her someday. This is why I created my second cookbook My Mother's Philippine Recipes, a follow up to my first one How to Cook Philippine Desserts (2016).
My mom's life centered on giving, sharing and loving. Next to my dad, Gualberto S. Besa, my mom, Lourdes Reyes was the most unselfish person I ever knew.As we commemorate Filipino American History Month this October here in America I remember my mother's stories about World War II. My mom's family suffered loss and tragedy. They lost their home in Malate, Manila. When Bataan had fallen in 1942 my mom's brother, Guillermo "Willy" Reyes, was captured and had to make the grueling Bataan Death March, a 60-mile treacherous walk of American and Filipino soldier and were imprisoned in Capas, Tarlac.
There are more heroic stories my mom was known for and I have written about it in the last part of my cookbook. But to my dad, my sister Isabel and me, mom was just mom. When she married my dad, she moved to Tarlac, a province north of Manila. Throughout her life, mom's love for my dad, my sister and I outweighed everything else. She quickly adapted to the ways of a farmer's wife and honed her cooking, the Kapampangan way, which I described in my cookbook.
Looking back now, I cannot fathom how mom managed to cook fresh, new meals three times a day, every day of the week for us, mostly from fruits and vegetables my dad expertly grew in our backyard and farms in Tarlac.
And more than anything, mom loved to entertain. I have vivid images of the lavish multi-course meals she prepared for family and friends who stopped by from Manila, on their way to Baguio. Those visits from friends enjoying mom's cooking were one of the happiest memories I have. I helped put those meals together. Even if I was a child, I was given important duties of kitchen prep, washing vegetables, cleaning the rice grains, slowly graduating to measuring, stirring and eventually doing the dish by myself on my own. It is for this reason, I compiled a special collection of mom's recipes which I learned from her. I brought the lessons mom taught me when I moved to America. They were all in my heart and mind. I transformed mom's traditional cooking to home cooking in my American kitchen and in turn, my sons grew up with these meals on the table. Many of these recipes you will find in my new cookbook.
When we were designing the front cover for my cookbook, I couldn't decide which food photo to use. My two sons suggested, "Mom, why don't you use a photograph no one else in the world has?" My sons were right. No one else in the world had a mom like mine.
Not all of mom's recipes could fit in My Mother's Philippine Recipes Cookbook . So I am sharing with you a recipe for Sotanghon Noodles with Bola-Bola, a mainstay dish at our family table. From my mother, Lulu to my home in New Jersey, this easy, home cooked dish has always been relished by all of us, surrounded by friends and family and served with an abundance of love.
Sotanghon Noodles with Bola-Bola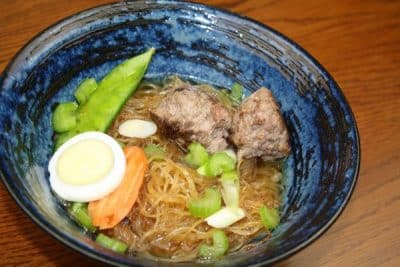 Sotanghon Noodles with Bola-Bola is a dish of cellophane noodles, meatballs and vegetables. Often, my mom cooked this for special family get-togethers. This recipe can be served in this amount or doubled if expecting guests. The base of this noodle dish is a saute of garlic, onions, celery flavored with patis (fish sauce) and calamansi, the Filipino lime. There is much versatility to this savory, filling meal. One can add or substitute chicken, shrimps and even tofu to the dish. Vegetables are limitless, too. Add vegetables in season if you prefer. I try to cook this dish as close to the recipe my mom used to make with hearty beef meatballs, crisp
sitsaro
(snow peas) and the silky sotanghon transparent noodles we love. This was inspired by Lulu Reyes Besa and is an Asian In America recipe. Serves 4.
Ingredients
1

pound

ground beef

for meatballs

1

medium

onion

chopped

2

Tablespoons

soy sauce

for meatballs

1

whole

egg

for meatballs egg

1/4

cup

breadcrumbs

for meatballs

1

teaspoon

salt

1

teaspoon

black pepper powder

1

16 oz. package

sotanghon noodles

16 oz., pre-soak in water for 30 minutes

2

cloves

garlic

minced

1

medium

white or yellow onion

chopped

1

stalk

celery

chopped, about 1/2 cup

1

Tablespoon

achuete or annatto seeds

1/2

cup

warm water

to soak achuete

1

cup

organic chicken broth

2

Tablespoons

patis

fish sauce

1

medium

carrot

peeled, sliced, about 1 cup

2

cups

snow peas

edges trimmed or 'sitsaro'

2

stalks

scallion greens

chopped, for garnish

1

Tablespoon

calamansi juice

for sprinkling (or lemon juice)

2

Tablespoons

for saute vegetable oil

1 to 2

whole

hard-boiled eggs

peeled, sliced, for garnish
Instructions
Make the meatballs by combining in a large mixing bowl the ground beef, onion, egg, bread crumbs, soy sauce, salt and black pepper. Mix well. Shape into 1-inch sized meatballs and put on a flat tray. You should have about 18 pieces. Refrigerate for at least 30 minutes to firm up while cooking the saute.

Pre-soak the sotanghon noodles in water for 30 minutes. Do not exceed soaking longer than thirty minutes or noodles get too mushy and clump together. After 30 minutes, drain the noodles and discard water. Set the noodles aside.

Take the achuete or annatto seeds and soak them in a small bowl filled with warm water. After about 20 minutes, the water turns a reddish-orange color. Strain the seeds over a sieve, while pressing down on them using a fork. Pour the warm water it was soaked in. Save the red-colored achuete water for the saute and set aside. You should have about 1/3 cup.

In a large skillet or wok, over medium-high heat, add the vegetable oil. When oil is hot enough, saute the garlic, onions and celery. After these soften, add the broth and patis (fish sauce).

Add the beef meatballs to the saute. Lower heat to a medium. Cover and cook till meatballs are done for about 15 to 18 minutes.

When meatballs are done, pour the achuete liquid to the saute.

Add the carrots and the snow peas to the skillet. Continue cooking for about 5 to 6 minutes till vegetables soften.

Add the softened, pre-soaked sotanghon noodles. Combine all the ingredients well till the achuete liquid coats the noodles. Cook for 5 minutes more. Garnish with scallions, hard-boiled egg slices and sprinkle calamansi (or lemon) juice just before serving. Serve warm.

Cookbook Author's Notes: Newly-published My Mother's Philippine Recipes Cookbook by Elizabeth Ann Besa-Quirino is a collection of traditional Filipino recipes from the author's mother transformed to modern home cooking in an American kitchen. The cookbook is available on Amazon.com in paperback and Kindle.
Nutrition
Calories:
368
kcal
|
Carbohydrates:
15
g
|
Protein:
24
g
|
Fat:
23
g
|
Saturated Fat:
9
g
|
Cholesterol:
84
mg
|
Sodium:
1940
mg
|
Potassium:
594
mg
|
Fiber:
3
g
|
Sugar:
5
g
|
Vitamin A:
3185
IU
|
Vitamin C:
34.2
mg
|
Calcium:
80
mg
|
Iron:
4
mg
Hello, Friends! All the images and content on this blog are COPYRIGHT PROTECTED and owned by my media company Besa-Quirino LLC. This means BY LAW you are NOT allowed to copy, scrape, lift, frame, plagiarize or use my photos and recipe content I wrote, on your website,books, films, television shows or videos without my permission. If you want to republish this recipe or content on another website, video, news article,or media outlets mentioned above please ASK my permission, re-write it in your own words and simply link back to this blog to give proper attribution. It's the legal thing to do. Thank you. Email me at [email protected]