Pasta with Filipino Tuyo and Vegetables: Herring in Oil
As an Amazon Associate and member of other affiliate programs, I earn from qualifying purchases.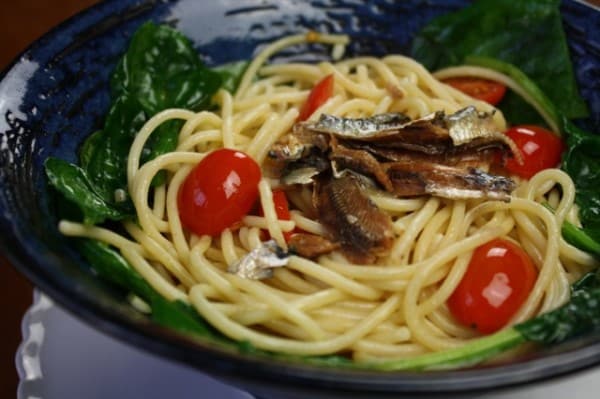 How would you like to feast on a pasta dish like this Pasta with Filipino Tuyo and Vegetables with no meat, but simply fish and vegetables after the big food binge from the holidays?
At our recent 3-day family reunion, our families did nothing else but eat, chat and take photos. This past weekend, when we got together, we gorged on huge meals, both Filipino and American dishes, with a Chinese banquet thrown in for good measure just before everyone hit the road again.
After our whole clan flew back to their homes, I knew I still needed to feed my family here in the house, but it had to be something light and easy.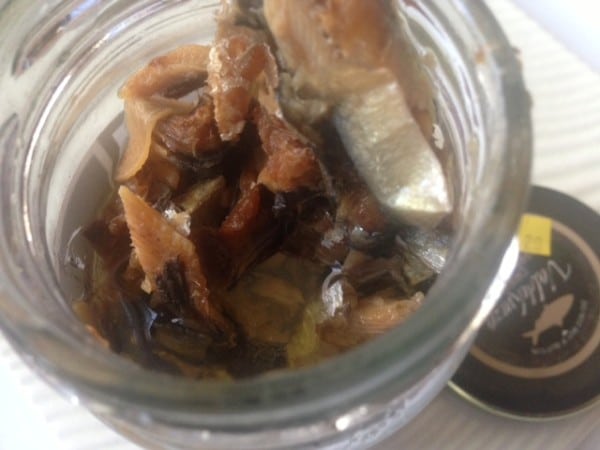 I spotted a bottle of tuyo (dried herring) in olive oil in my refrigerator. I completely forgot I bought a few jars when I was at the Asian grocery last month.
If you haven't had tuyo yet in your life, let me tell you what it's all about. In the Philippines, food preservation is a craft that has been mastered by generations due to the extreme heat in the tropics. Salted fish is one example. The dried fish or "tuyo" (say "too-you"), a Pilipino word which literally translates to the word 'dry', is really a 'poor man's dish'. But over the years, this tiny dried herrings, preserved in plenty of salt, has made its way to many dinner tables of Filipinos. I consider it sheer comfort food when I can enjoy fried tuyo with a bowl of sinangag (garlic rice), sunny side eggs and fresh tomato slice for breakfast.
Over the past years, new recipes emerged in the Philippines where the salty tuyo was preserved in bottles of olive oil, garlic and chilies. This method opened the door for bottled tuyo to be exported from the Philippines to the USA and other countries. Bottled tuyo has given many Filipinos overseas a chance to thwart their homesickness by relishing the salty, savory fish and be reminded of this simple delicacy from home.
It wasn't hard to come up with a Pasta and Tuyo concoction. Once the minced garlic was sizzling in the hot oil, I immediately tossed in the cherry tomatoes and flaked tuyo with a few tablespoons of white wine to dash the 'fishy' after taste. After a few minutes of reducing the wine to make sure I had achieved the right savory flavor, I tossed in the fresh spinach and the cooked pasta. I let the simmering extra virgin olive oil encase the thin pasta noodles till they glistened with a pearly sheen. The combined aroma of garlic and olive oil was a heady invitation all around the house.
I could not believe how such a little bottle of tuyo could give so much joy to our family meal, even after some serious food binging from the holidays.
Pasta with Filipino Tuyo and Vegetables: Herring in Oil
This Pasta with Filipino Tuyo and Vegetables: Herring in Oil has bottled tuyo as a star ingredient. Tuyo are herrings, tiny fish salted and sun dried for food preservation. In recent years, the tuyo, formerly a poor man's meal, has been elevated to gourmet level. Enterprising businesses in the Philippines created bottled tuyo, tiny salted and fried herrings in rich olive oil, chilies and seasonings. Nowadays, I buy a couple of bottles from the Asian or Filipino grocery and cook up a fancy pasta dish with it. This is an AsianInAmericamag recipe. Serves 2 to 4.
Ingredients
16

ounces (1 lb)

spaghetti pasta

cooked in water according to package directions

4

Tablespoons

extra virgin olive oil

6

cloves

garlic

peeled, minced

220

g

bottled tuyo (dried herring in olive oil)

flaked, include 1-2 Tablespoons of the olive oil from bottled Filipino tuyo

2

cups

cherry tomatoes

sliced in halves (or use 2 cups chopped large tomatoes)

2

Tablespoons

white wine

1/4 to 1/2

cup

reserve some from the boiled spaghetti pasta pasta water

2 to 3

cups

fresh baby spinach

washed

1

teaspoon

salt

1

teaspoon

ground black pepper powder

1

whole

lemon for the juice
Instructions
Cook the spaghetti pasta noodles in water according to package directions. After about 11 to 12 minutes, drain the pasta from the water. Run the pasta noodles through hot water to prevent them from sticking. Keep pasta on a colander till ready to add to the rest of the ingredients.

In a large skillet, over medium high heat, add the extra virgin olive oil. After 1 to 2 minutes, once oil is hot, add the minced garlic, tuyo (bottled herring), tomatoes and white wine. Continue cooking for 8 minutes more.

Add the fresh spinach leaves and the cooked spaghetti pasta to the tuyo-tomato mix in the skillet.  Incorporate the mixture well so that the olive oil and tuyo flakes encase the noodles. If noodle dish gets dry, add about 1/4 cup pasta water to moisten dish.

Season with salt and black pepper powder. Sprinkle lemon juice all over (optional). Serve the pasta dish while piping hot.

Where to buy: I buy bottled tuyo from Asian or Filipino groceries here in the USA. Or for my readers' convenience search on the Amazon.com

"Shop For It" tab

I set up on this blog. Use search term "

tuyo in bottles

".

Click here

.

Cook's comments: if tuyo is not convenient, use canned sardines in olive oil for this recipe. Check the bottled tuyo for spicy flavors or amount of chilies. If spicy flavors are not to your liking, omit adding the chilies from the bottled tuyo (or canned sardines).

Recipe notes: feel free to use other types of pasta preferred. This is a forgiving recipe and you can adjust or substitute ingredients to suit individual tastes.

Hello, Friends! All the images and content here are COPYRIGHT PROTECTED and owned by my media company Besa-Quirino LLC. This means BY LAW you are NOT allowed to use my photos or content on your website  without my permission. If you want to republish this recipe or content, please ask my permission, re-write it in your own words and simply link back to this blog to give proper attribution. It's the legal thing to do. Thank you. Email me at [email protected]
Nutrition
Serving:
1
g
|
Calories:
1141
kcal
|
Carbohydrates:
179
g
|
Protein:
32
g
|
Fat:
32
g
|
Saturated Fat:
5
g
|
Sodium:
1196
mg
|
Potassium:
867
mg
|
Fiber:
8
g
|
Sugar:
10
g
|
Vitamin A:
730
IU
|
Vitamin C:
36.8
mg
|
Calcium:
80
mg
|
Iron:
4.3
mg