Sardines Pizza on Pan de Sal
As an Amazon Associate and member of other affiliate programs, I earn from qualifying purchases.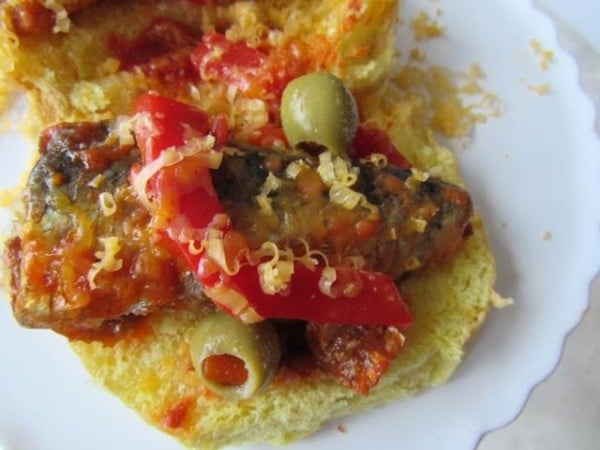 The idea to make these Sardines Pizza on Pan de Sal happened a few years ago, on Ash Wednesday, at church. I was seated in the middle of the pew between two loud blond housewives who were talking to each other over me. The housewives irreverently discussed aloud in church what they'd get for dinner after we were all done "getting our ashes", they both said. These two women had no qualms about talking loudly across the pew while I, a total stranger to them, watched them in disbelief on this first day of Lent in church. I had to intervene and asked them both "Please do you mind? We're in church!" They both looked at me in anger and stomped out of the church in a huff to continue discussing dinner, but not before giving me an angry backward glance. Seriously. There is a time and place for everything.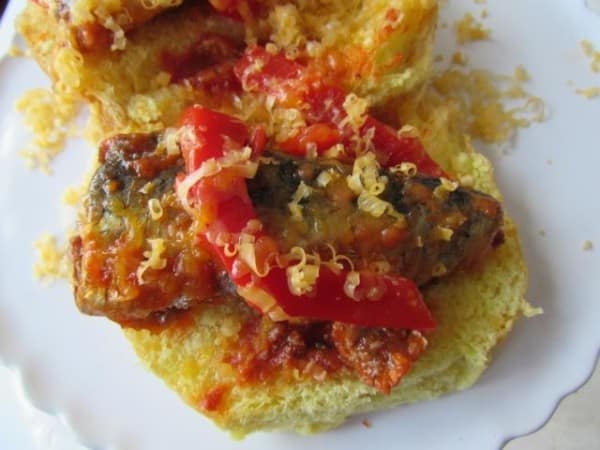 I did learn something from that. On a meatless day of fasting and abstaining from meat (for most Catholics) these suburban mothers were planning on ordering cheese pizzas for their kids. My own children were still of school age then. The cheese pizza idea gave me ideas. I went home and made cheese pizzas from hoagie bread.
And this is what inspired my Sardines Pizza on Pan de Sal. This week, for Ash Wednesday, I wanted a meatless pizza. I did not have homemade pizza dough nor did I have time to make it. I looked at the Pan de Sal (Filipino bread buns) I had on hand and knew that I had something there. Instead of merely cheese and tomato sauce, I added spicy sardines. Then I used the tomato sauce that filled the can, sliced bell peppers, sprinkled cheese and added green olives.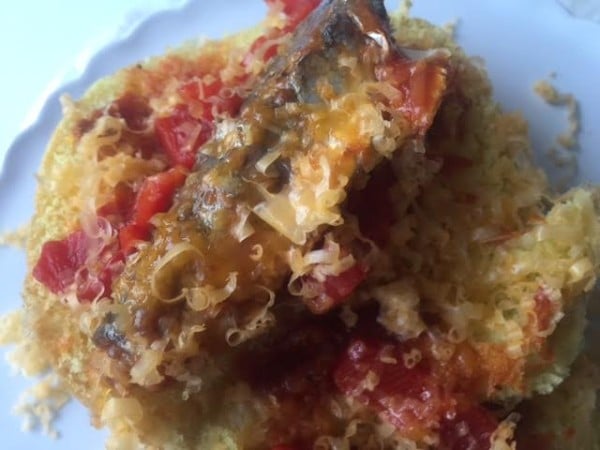 The best thing about this Sardines Pizza on Pan de Sal? I hardly cooked anything. I simply assembled the ingredients together. I shoved it all into the toaster oven to brown. After a few quick minutes, the Pan de Sal was a crisp base. The generous amount of tomato sauce in the can filled up the small bread buns. I grated lots of cheese and the curly tendrils adorned the top of the sardines and bun. Truly, everything is better with lots of cheese.
When we stopped to bite into the crisp crust of the Pan de Sal, the savory sardines with a hint of spicy chilies spread out further on the bun. With the combination of melted cheese bits and plump, salty green olives, the slices of Sardines Pizza were so indulgent, we forgot for a moment we had given up meat that day. Guilty as charged, folks.
Sardines Pizza on Pan de Sal
This Sardines Pizza on Pan de Sal was an idea that came to me when I was trying to make pizza with bread. We had a large supply of Pan de Sal (the Filipino bread bun). Sardines in cans are always a staple in most Filipino pantries. This time instead of serving sardines on rice, I put savory pieces on individual bread buns, topped with cheese and other flavorful ingredients. This is an AsianInAmericamag recipe. Serves 2.
*I shared how to bake homemade Pan de Sal in a previous blog post.
Ingredients
4

large

Pan de Sal bread buns (Filipino buns)

about 2 to 3 inches in length; or use hamburger rolls, hoagie breads

2 to 3

cans (each 4.3 oz./125 g. per can)

Spanish sardines

each can has about 3 pieces Sardines in tomato sauce

1

whole

medium-sized red or green bell pepper

sliced thin, seeded

1

cup

grated sharp cheddar cheese

1/3

cup

pitted green olives
Instructions
Slice open in half the pan de sal buns. In a toaster oven, pre-toast the buns in 325 F temperature for about 2 minutes till crisp. Do not let the buns burn.

Remove bread buns from the toaster oven. Spread the tomato sauce from the sardines. Place one piece sardine on each bun. Add the sliced bell peppers.

Sprinkle the grated cheese all over the bread bun with sardines. Toast these in the oven at 325 F for 2 to 3 minutes till cheese is melted.

Remove Sardines Pizza pieces from the toaster oven. Place on a platter. Garnish with pitted green olives. Serve while slices are crisp, piping-hot and cheese is melted.

Cook's comments: If Pan de Sal is not available, use hoagie bread or other types of bread buns preferred. Pan de Sal Filipino bread can be bought in Asian or Filipino stores here in the USA. In the Philippines, they are commonly sold in bakeries or supermarkets.My homemade Pan de Sal recipe is on a past blog post. Click here.

Hello, Friends! All the images and content on this blog are COPYRIGHT PROTECTED and owned by my media company Besa-Quirino LLC. This means BY LAW you are NOT allowed to copy, scrape, lift, frame, plagiarize or use my photos and  recipe content I wrote, on your website  without my permission. If you want to republish this recipe or content on another website or news article, please ASK my permission, re-write it in your own words and simply link back to this blog to give proper attribution. It's the legal thing to do. Thank you. Email me at [email protected]
Nutrition
Notes on Nutrition: The nutrition information provided is an estimate and will vary based on cooking methods and specific brands of ingredients used.
Did you like this recipe?I have more Filipino Instant Pot recipes in my newest cookbook Instant Filipino Recipes: My Mother's Traditional Philippine Cooking in A Multicooker Pot by Elizabeth Ann Besa-Quirino. I also have more classic recipes inspired by my mother's cooking in my popular cookbook: My Mother's Philippine Recipes. If you're learning how to cook Filipino food or a fan of Philippine cuisine, buy my cookbooks and books on Amazon.com sold worldwide in paperback and Kindle format.
Copyright Notice: Hello, Friends! Please DO NOT LIFT OR PLAGIARIZE my original recipe, stories, photos or videos. All the images and content on this blog are COPYRIGHT PROTECTED and owned by my media company Besa-Quirino LLC. This means BY LAW you are NOT allowed to copy, scrape, lift, frame, plagiarize or use my photos, essays, stories and recipe content on your websites, books, films, television shows, videos, without my permission. If you wish to republish this recipe or content on media outlets mentioned above, please ASK MY PERMISSION, or re-write it in your own words and link back to my blog AsianInAmericaMag.com to give proper attribution. It is the legal thing to do. Thank you. Email me at [email protected]